An enchanting 19th century home in the main square of the charming town of Pinos del Valle, situated 30 mins from Granada city and 25 mins from the sea. Ideal for families and couples seeking nature, tranquility, and beautiful views.
The house maintains its original 19th century essence, but is reformed and contains the comforts of home. You can enjoy the fireplace in the winter or the coolness that the house provides in the summer. Five people can comfortably stay here, and there is another bed available for children. There are two bedrooms. The rooms contain a queen-sized bed, a twin bed, and a queen sized sofa-bed in the living room. The cell winer is only accessible if you chose to have a tasting session.
Pinos del Valle consta de tres barrios, en el que se encuentra el apartamento es el de más solera y tradición. No existen aglomeraciones de turistas ni bullicio de personas. Es un lugar básicamente tranquilo y tradicional. Con la iglesia y el antiguo lavadero reformado como lugares de interés. Además de disponer del campo deportivo, con columpios para pequeños y mayores cerca de una zona de barbacoas debajo de una gran arbolada. Hay un supermercado al lado de la casa. Nuestro municipio es un sitio tranquilo y con encanto típico de esta parte de Andalucía. Con gente encantadora y cálida que permite una fácil conversación en cualquier momento y situación.
A very nice , proper and cosy house to stay! Communication was quick and helpfull. Very nice little village. We like to come back!
Jose
2015-11-01T00:00:00Z
Carmen wasn't here to host us, instead we were meet by her father, the charming Francisco who did everything he could to make our stay friendly and welcoming. Through our pigeon Spanish, a phone call from Carmen's brother, texts from Carmen and the wonderful Francisco our very short stay in Pinos was a pleasure.
Nick
2016-08-20T00:00:00Z
Cool host, cool house. Thank you so much Senior Francisco, Jose Norton Perez the Vl, who is the dog.
Tamas
2016-02-27T00:00:00Z
Carmen was not there, but her father ? welcomed us and he spoke speak French.
Dirk
2016-05-06T00:00:00Z
Carmen's place was definitely among our very favorite Airbnbs in Spain. Even though we arrived earlier as planned, everything was prepared for us and Carmen's father welcomed us to the apartment. The house is very old and furnished with a great and stylish mixture of antiques and modern furniture. We felt comfortable immediately. (The homemade wine of Carmen's family certainly helped, too) The apartment is located in a small village up in the mountains and has a nice church, a small supermarket and a bar/restaurant with good homemade food. If you go there by car, everything is within decent driving distance (Granada, Las Alpujarras etc.) and we highly recommend it as an initial point to discover the Sierra Nevada. A very authentic experience!
Flo
2016-06-11T00:00:00Z
We got such a warm welcome from the gracious family who owns this darling apartment (which is the bottom floor of their house). It is even more charming than the pictures, everything was so beautifully thought out. The decor was so beautifully done,what wonderful taste. The wood burning stove kept us cozy in January (but the thick walls would keep you cool in summer).They thought of everything (most complete kitchen we have found among rentals). The hilltop town is great to explore, and this little apartment, across from the church, was in the heart of it. This truly was our favorite stay in Spain.
Robyn
2016-01-03T00:00:00Z
Before we arrive to there, Carmen send us some tips to how to get there, it is really lovely. The house is very nice and clean. Carmen is wonderful, she prepared some refreshments for us. We have happy time in there, thank you Carmen.
凱帆
2016-09-22T00:00:00Z
Carmen was really helpful, the apartment was gorgeous, very clean. Pinos del Valle is a quiet little village with lovely walks.
Fran
2016-09-15T00:00:00Z
Room Type
Entire home/flat
---
Property Type
House
---
Accommodates
6
---
Bedrooms
Pinos del Valle, Andalucía, Spain
A restored, rustic and romantic three storey townhouse in a small, sleepy village with pool, terraces, wifi, outdoor bathing and two bedrooms. Lots of quirky and Moorish touches and plenty of space to relax and enjoy the wonderful Lecrin Valley, just south of Granada.
This is our holiday home. The moment we saw it we fell in love with it and we hope you will too. The house was restored about 10 years ago and is a comfortable place to stay with lots of typical Moroccan touches like the interior patio to cool you down; low, laid back lounging in the living room and shuttered windows with Juliet balconies. There is plenty of outside space for all weathers - sunny spots and shady places; views across an orange grove to a small stream and the terraced valley opposite; the pool, an outdoor bath and shower and all of it very private.
The house is on one of the main, narrow, traffic free streets of the sleepy little village of Saleres, which is in the Lecrin Valley, 30 minutes from Granada city and 40 minutes from the beaches of the Costa Tropical. The village of Restabal is a 5 minute drive or 20 minute walk and has several bars, two shops, bank, pharmacy and restaurants. Melegis and its Los Naranjos restaurant with fantastic valley views is just a couple more. There is fantastic walking in this area straight from the front door. The GR 7 walking route which stretches from Tarifa to Turkey passes right through the village or you can simply walk the track through the terraces to the neighbouring villages of Albunuelas or Restabal. And if you want walking further afield there is always the white villages of Las Alpujarras about an hour away. Besides walking there is great road and mountain biking in the area, again right out of the front door.
Room Type
Entire home/apt
---
Property Type
House
---
Accommodates
4
---
Bedrooms
Saleres, Andalucía, Spain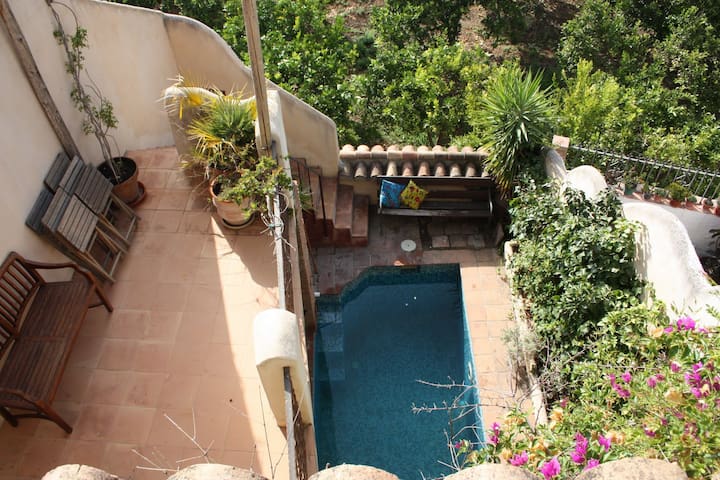 Charming sunny cottage, with private pool and stunning views on the lake and the valley, full privacy in a 5000 m2 orange garden, ideal for 2 or 3 families. Granada 30 min, beach 20 min, ski resort 60 min. Fully renovated 2016 first rent.
Enjoy this peaceful retreat at the outskirt of an authentic Andalusian village in the heart of the Lecrin Valley. Exceptional 10x8 swimming pool with jacuzzi surrounded by 150 sqm terrace. Fully equipped kitchen, living room with open fire adjacent to a huge sunny terrace. 2 bedrooms with balcony, view on the lake and ensuite bathrooms. 3 more bedrooms with view on the garden, sharing a bathroom. Incredible views from the multiple sunny or shady terraces, chill out, barbecue. Cool garden to enjoy a siesta laying under the orange and lemon trees. The cottage has been fully renovated in 2015 with traditional materials and full modern confort (central heating). More guests can be accommodated on mattresses in the 40 sqm activity room with adjacent bathroom and shower.
300 m from the cottage is the village of Melegis with a excellent restaurant, bar and small supermarket.
Perfect house and perfect location. Highly recommended. The house is beautiful and well appointed with a well equipped kitchen, including essentials such as olive oil, salt, pepper etc. - a small thing but really appreciated not having to buy all these things. Philippe was very accessible and responsive. We had a couple of issues which he did everything he could to respond to and fix as quickly as possible. The area is stunning and easily accessible from Granada and the coast. We would return
Shiv
2016-07-31T00:00:00Z
This great house in Le Valle- Melegis, had all we needed for a great stay- Travelling from a week i caves (SIC) in Niguelas- where the plumming decided to clog the last days, we were ready for more rom and ...well running water... The house managed us very well- we, a familiy with 6 children between 11 yrs and 11 months... with good friends and their daughter. Alas, lots of room and all facilities. Philippe was in touch everytime we needed anything and had friendly people help with whatever. The area has a lot to see with possibilities for excursions to the hills og Grenada or the coast all within safe range. We would love to come back!
Christoffer
2016-10-18T00:00:00Z
Philippe was a fantastic host - very easy to get hold of and responded quickly whenever we contacted him. He emailed us beforehand with a guide to the house and surrounding area which was extremely helpful! The house was absolutely beautiful. The views were beautiful and we all thoroughly enjoyed relaxing by the pool. We were a group of 10 and the villa was the perfect size! Very well equipped kitchen and the bathrooms/bedrooms were all great. The garden/terrace was the perfect place to eat and the oranges from the trees were delicious! Would very highly recommend this place - we were all sad to leave!
Amelia
2016-07-06T00:00:00Z
My family have had the most fantastic time staying in Philippe's beautiful country house. It was a very special holiday as my dad turned 60 and my sister flew over from Australia so it was so important that we had a magic place to stay, which it was! The most idyllic beautiful setting, relaxing poolside fun and what a great location in terms of being in the country side, yet close to all the hot spots! Thank you Philippe for a magic stay. Best, Helene
Helene
2016-09-28T00:00:00Z
The house was absolutely fantastic - even better than the pictures. We were a group of 9 (7 adults and 2 kids) where the house with its large terrace and pool was excellent. Philippe was a great host - quick to respond to all questions and supplied us with a helpful guide beforehand. Would definitely recommend and be happy to revisit. // David
David
2016-07-18T00:00:00Z
It is a beautiful house, with a wonderful view on the valley. Everything in the house is brand new, but is also has a very authentic feeling, with nice paintings and books. Its in a perfect location, half an hour from the coast and haf an hour from granada! Our stay was way too short!!! We will come back!
Suzanne
2016-09-19T00:00:00Z
Séjour inoubliable rendu chaleureux grâce au confort de cette maison, superbe, authentique, aux hôtes attentionnés. Son écrin d'orangers la rend discrète et le parfum enivrant de fleurs d'orangers vous poursuit j'usqu'au fond de votre oreille. Inoubliable !
Sylvie
2016-04-27T00:00:00Z
Philippes hus var ännu bättre än på bild. Huset låg fantastiskt mitt i en apelsinlund. Eftersom det var lite "out of season" så kunde vi inte nyttja poolen men jag kan tänka mig att den är helt fantastisk att ligga vid när det är varmt. Ett mycket estetiskt hus med fantastiska omgivningar. Dalen Lecrin har flera byar värda att besöka.
Katarina
2016-11-14T00:00:00Z
Room Type
Entire home/apt
---
Property Type
House
---
Accommodates
11
---
Bedrooms
Granada, Andalucía, Spain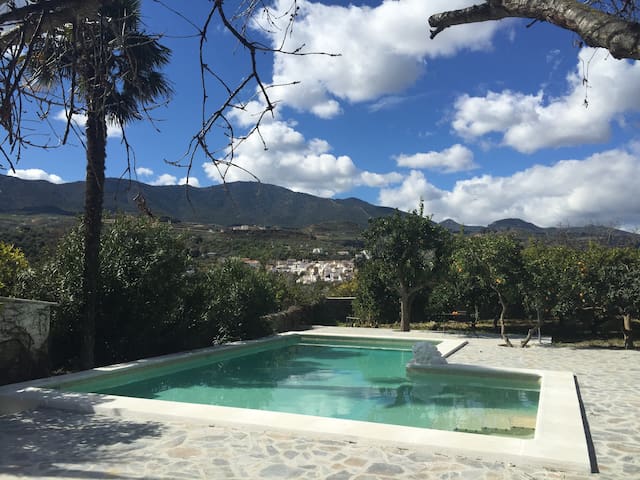 Camelstop is a quiet village artisan's house with an abundance of colourful and eclectic decor, filled with art, some of which is the owner's work. This exceptional house exudes character and charm, creating an oasis of calm and artistry. The roof terrace with its Moroccan style seating, is the perfect place for evening sun downers with bar-B-Q and small kitchen nearby to make cooking less of an ordeal. You will be transported in time to another world.
This house would suit two couples. The master bedroom has a super king size bed, the guest bedroom has a standard double bed. The ceilings are very high and there is plenty of space in the house to spread out. It would not be advisable to bring small children and only well behaved dogs would be welcome. I am an animal lover and understand the need to bring your pet with you on holiday.
Chite is situated in a beautiful valley filled with orange, lemon, almond and olive groves. You can ski an hour away, have lunch on the beach and visit Granada in 30 minutes. It is also ideal for walking enthusiasts. Embracing all that is good about the Lecrin Valley, Camelstop acts as a great base to explore the local area.
Room Type
Entire home/apt
---
Property Type
House
---
Accommodates
4
---
Bedrooms
Lecrín, Andalucía, Spain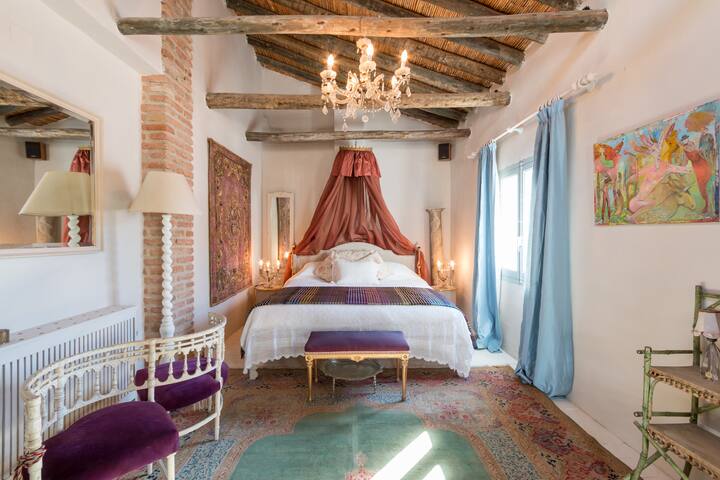 House with garden in authentic spanish village of Saleres in beautiful Valle de Lecrin. Close to the magnificent moutains of Alpujarras, only 20 minutes drive from Granada, and 40 minutes to the beach, the house is perfectly located for a great weekation.
This is a beautiful little house in an amazing location within a magic small town in the middle of the mediterranean mountains of south Spain. I rented the house for friends of different countries attending our wedding in the same village. They all loved the house. I particularly love the ample yard where you can seat and enjoy an unique view of an ancient mosque transformed into a Christian church, and the white houses of the village, cut against a landscape of fig, almond, olive and orange trees.
José Manuel
2016-08-22T00:00:00Z
Lovely village house with beautiful valley views, terrace, garden. Peaceful, quiet setting overlooking the church, village and river valley.
julia
2016-09-18T00:00:00Z
La localización de la casa es perfecta para visitar Granada y sus alrededores. En 40 minutos se llega a Granada y a las Alpujarras. Los alrededores del valle de Lecrín también merecen una visita (en especial, el barranco de la luna). La casa está bien equipada, es muy confortable y acogedora. Ahora en invierno, hemos echado de menos alguna calefacción o chimenea, y que el agua de la caldera saliera más caliente. Por lo demás, es un sitio totalmente recomendable para alojarse.
Juan Carlos
2017-01-04T00:00:00Z
Una casa acogedora, solo le falta calefacción o una chimenea
Javier
2016-12-11T00:00:00Z
Room Type
Entire home/flat
---
Property Type
House
---
Accommodates
6
---
Bedrooms
Saleres, Granada, Spain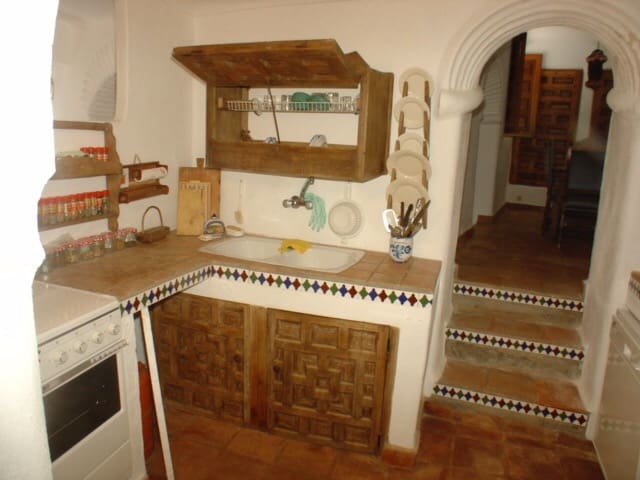 Our house, 'La Palomita', is full of original charm & is bright and comfortable. 3 outside spaces for different times of the day and 2 sitting rooms, one with a fireplace. Lovely for a family holiday, a romantic retreat or a place to work in peace.
Our house nestles in the heart of an Andalusian village in the foothills of the Sierra Nevada. Each room has it's own character and is decorated with unique pieces of furniture and fittings. Ideal for 4, but can fit 5. 1 Double Bedroom. 2 Single Bedrooms. Extra mattress available. Kitchen/Dining leads to large Pantry. 2 Sitting Rooms , the one downstairs is cosy with a fireplace or it can be cool and shaded in the hot weather, the other upstairs is fresh and bright. Tiled bathroom with bath/toilet and heated towel rail. Entrance Courtyard with shower and outside shell sink, perfect for breakfast in the morning sun. Rear Courtyard has a shaded area. Sun Terrace on top of the house for serious sunbathers!
The village is in a beautiful valley where oranges, lemons, olives and almonds grow in abundance. Fresh bread delivered every day, fish and veg delivered on other days. The coast is 35mins away, skiing in the Sierra Nevada 40mins away, Granada and the Alhambra 30mins away. Riding, cycling and trekking on your doorstep, free tapas in the many bars and restaurants, local markets. The Camel Stop is an exceptional eclectic shop in the heart of Chite, selling furniture, soft furnishings and clothes.
We stayed in this house for a month, and found it to be exactly as advertised and a great place to start our year off. The outside rain shower is great, and Wi-Fi also is of surprisingly high quality for a relatively rural area. The kitchen is also well equipped for cooking. All areas are well furnished and it is a charming unique place to live. Do bear in mind though that there are no shops in the village, but Lecrin (20 mins walk away) has a good range and a large supermarket is 10 mins drive away. As a few tips for the local area, we'd recommend: Trying out the endless free tapas in the local villages e.g. Bar Venecia in Pinos del valle, Los Naranjos in Melegis, Bar Nuevo in Lecrin. For the nearby beaches, our favourite was La Herradura but there is also Salobrena and Alumencar within 30 mins. There are also weekly food/flea markets in each. As well as the walks in Lecrin described on the trek sierra Nevada website, we also would recommend the walks in the Alpujarras and Monachil for those into that sort of thing. There are also a number of bread/fruit/fish delivery vans that visit the village - we'd recommend the 8.30-ish van for fresh loaves and croissants! Last thing - Gym was always on hand to help with any questions we had and to explain anything we needed to know about the house or the area. Overall a great stay, highly recommended.
Kasia
2015-10-12T00:00:00Z
We were there for almost a week. It was a great little house located very close to Granada and the beaches. We really enjoyed it. The house is magical with many little corners to sit in. Gym was super helpful and an amazing and interesting person to meet. I strongly recommend this house:)
Maayan
2016-06-13T00:00:00Z
We had a one month stay in Chite at a little village house hosted by Gym for Gisele and Hodi. The house had everything we required and a very good kitchen with plenty of cooking equipment. The outdoor shower was lovely in the hot weather and the rooftop perfect to relax in the evenings. We loved the proximate to Granada and other surrounding villages. Gym was a great contact and also very talented artist. She looks after the property beautifully and is on hand to answer any queries. As this is a traditional house it is important to have someone in hand who understands the idiosyncrasies. Thanks Gym and we will hopefully be back soon. X Sarah and Paul
Sarah
2016-07-23T00:00:00Z
Although we did not met Gisele personal, communication with her was pleasant and effective, the house manager helped us with the few things we needed immediately. We would come back.
Hana
2015-12-27T00:00:00Z
Authentic and very Spanish village experience. Lovely quiet location ideal for exploring unspoilt Spain, both Coast and Granada and surrounding mountain ranges. Motorway all the way from Malaga airport in 1 +1/4 hour drive - couldn't be easier ! Fascinating and full of character- a very memorable stay. Thanks Gisele.
Tim
2015-10-24T00:00:00Z
We stayed at this beautiful home for a month with our two boys aged 7 and 10. With 3 different outdoor areas plus a lounge areas upstairs and downstairs there was plenty of space to chill out and admire the charming features and treasures that can be found in this home. The kitchen was a joy to cook in with all the items you need plus a few special extras like a tangine. There is a bathroom inside but even though it was winter we actually loved to use the outdoor shower. There are plenty of shops a short drive away and there is also a few vans that visit your doorstop regularly selling, bread, fish etc. Our boys enjoyed the local soccer courts and we all loved getting to know Gym, the lovely lady who manages the property. Any issues and Gym was easy to contact and very helpful. Check out her shop the 'Camel Stop' which is next door - a wonderful treasure trove of beautiful and unique things! Thanks Gym for all your help and company, and thanks Gisele, we had a wonderful time staying in your special home.
kylie
2016-03-30T00:00:00Z
We had the great pleasure of staying at Giselle and Hodie's for a whole month as part of a three month travel of Portugal and Spain, and this was undoubtedly the highlight of our trip. The house is without comparison in its beauty and originality, and the homeliness of its snug interior is complemented by three wonderful outdoor spaces. Thanks to its cool ground floor and warm first floor it's perfect rain or shine (we would have suffered in the spring heat wave if it were not for the cool kitchen and inner sheltered terrace). Perhaps the most memorable aspect to Chite is its proximity to a vast number of diverse and stunning landscapes. Thanks to the website "treksierranevada", we were able to find two breath-taking walks in the mountains around Granada (Cahorros and Boca de la Pesca), as well as two relatively easy walks nearby at Melegis and Albunuelas. The walk by Melegis in particular became a favourite of ours in the evenings, as it is only a 10 minute drive from the house and affords the opportunity to drift through the peaceful orange groves surrounding the reservoir of the Lecrin valley. The other wonderful aspect to our stay was getting to know Gym, who couldn't have been kinder or more helpful (thanks Gym for being such great company and making us feel part of your Chite community!). On her advice we visited the lake at Pantano de los Bermejales – which has the most incredible azure waters, and virtually no one (let alone tourists!) in sight. It is a definite must for anybody who likes to swim and escape the crowds. We will never forget the month we spent in Chite and we are hugely thankful to Gym for all her kindnesses in making our stay, and for Giselle and Hodie for opening up their unique house to others. We can't recommend this lovely house and location enough -- we greatly hope to return ourselves someday soon! Ned and Joni
Ned
2015-05-19T00:00:00Z
The host canceled this reservation 65 days before arrival. This is an automated posting.
H
2017-02-02T00:00:00Z
Room Type
Entire home/apt
---
Property Type
House
---
Accommodates
4
---
Bedrooms
Chite, Valle de Lecrin, Granada, Spain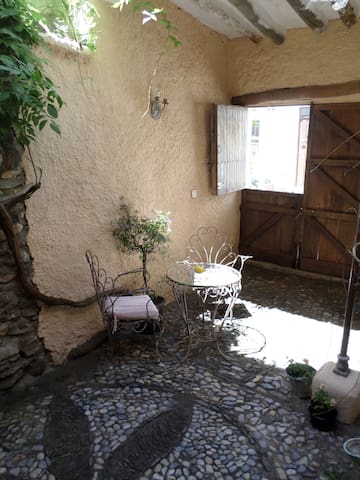 Mi alojamiento es bueno para aventureros y familias (con hijos).
Room Type
Entire home/apt
---
Property Type
House
---
Accommodates
11
---
Bedrooms
Melegís, Andalucía, Spain
Magnifica casa con piscina privada, jardín y fantasticas vistas. Además conexión a internet, en la encantadora zona del Valle de Lecrín, en el pueblo de Saleres, a 20 minutos de Granada, 30 minutos de la playa y 60 minutos de la estación de esquí.
Luxurious house with charming private pool and beautiful garden, views and internet, near the small town of Saleres in the Lecrin Valley area. 25 minutes from Granada, 35 minutes from the beach and 60 minutes from the ski resort of Sierra Nevada. Heating, wood burner, good views. Great pool with barbecue and garden furniture. You can enjoy spectacular sunsets from the large terraces, with views of the Lecrin Valley and Sierra Nevada. Feel the natural fresh air. The house has 5 spacious bedrooms, 4 bathrooms (1 en-suite) a 2 large living rooms, a fully equipped kitchen, heating, a wood burner. It is the perfect choice for a relaxing holiday in a natural setting. Pool available only June, July, August and September
Quite and calm Village
Room Type
Entire home/flat
---
Property Type
House
---
Accommodates
10
---
Bedrooms
Granada, Andalucía, Spain
Claro Del Luna - A tastefully furnished, appointed one bedroom townhouse, with one bathroom/shower and kitchen. A lovely private balcony that offers a super view of the surround area's. Sky Freeview TV and Free WiFi . Access to Casas Montserrat pool, bbq area, terraces tables and sun beds. Please note that in the Season, November - May, we charge for electricity at the rate of 0.2€ per unit used, as read from the meter, paid locally at end of stay or monthly.
Anfitriones excepcionales. Todo muy limpio y muy cuidado. El emplazamiento genial. Nos sentimos como en casa.
Carmen
2016-08-28T00:00:00Z
Deborah fue muy simpática. La casa estaba decorada muy bien y tenía todo lo necesario. A unían a limpiar y mantener la piscina con regularidad. La piscina la compartíamos con otras dos familias de casas vecinas también propiedad de Deborah. Pero muy bien
Paco
2016-08-08T00:00:00Z
Esta casita se hubica en un pueblo muy tranquilo donde la gente es muy acogedora y simpatica, esta justo a 30 km de Granada, 30 km de las alpujarras (donde puedes hacer rutas de senderismo) y 30 km de la playa (calas muy bonitas), lo que es perfecto para disfrutar de todo ello (a media hora todo). Nuestro anfitrión fue muy atento, agradable y simpático durate el proceso de reserva y cuando llegamos allí, nos recomendó unas playas muy bonitas en Almuñecar (a 40 min.), Cala Cantarrijana y La Herradura, las cuales visitamos y nos encantaron. Tenía un libro con toda la información práctica de la zona, las instrucciones estaban en ingles pero nos vino bien porque así lo practicamos. El pueblo contaba con supermercado, farmacia, panadería y diversos bares. La casita tenia piscina y el anfitrion iba a limpiarla de vez en cuando. En resumen nuestra estancia fue muy agradable y repetiremos en otra ocasión.
Sara
2016-09-26T00:00:00Z
Colin fue muy amable con nosotros desde el principio.Soluciono cualquier problema que pudimos encontrar, y nos hizo un bonito regalo. Repetiríamos de nuevo sin dudarlo.
Alejandra
2016-08-21T00:00:00Z
Todo ha sido perfecto. La casa estupenda y muy limpia. La zona muy bien situada, cerca de mar, montaña y ciudad. Nos recibió Collin y fue encantador, encima nos dejó un regalito de bienvenida que dmos buena cuenta de él. Recomendable
estibaliz
2016-03-28T00:00:00Z
Room Type
Entire home/apt
---
Property Type
House
---
Accommodates
2
---
Bedrooms
Pinos del Valle, Andalucía, Spain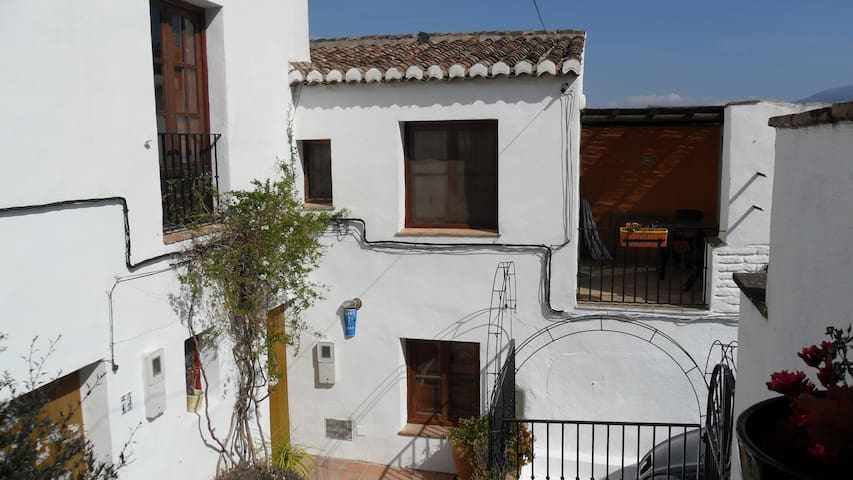 Pretty cottage with stunning views, unique environment, Andalusian decoration, surrounded by nature, located just a few kilometers from Granada, the sea and the mountains, perfect place to spend a few days to relax en enjoy the authentic spanish life.
The fountain House is a cozy place to spend a holiday and relax in the Valley Lecrin place. A few meters from a supermarket, with another supermarket in the vicinity and one minute from the bakery, two restaurants within walking distance. It is very well located, and no need to leave town unless you feel like visiting other places. The ground floor includes a hall, a large living room, a bathroom with shower and a large and fully equipped kitchen. There are windows of cloth to the terraces surrounding the house, and stairs lead to the pool and garden. Next to the garden, there is an orchard of orange and lemon trees. On the first floor are two bedrooms with two beds each, one bedroom with double bed and a spacious bathroom, all very bright. Down the stairs we climbed to a turret with panoramic valley views of the mountains. For now, the turret is used as a study, with all the light entering and open windows is a great place to paint. The house has double glazing and central heating, ideal for holidays in winter, a warm home and cozy to rest from a day of action on the slopes of Sierra Nevada, less than an hour's drive, or to enjoy a walk in the Mediterranean beach, half an hour away, and Granada 20 min by car.
Room Type
Entire home/apt
---
Property Type
House
---
Accommodates
6
---
Bedrooms
melegis, granada, Spain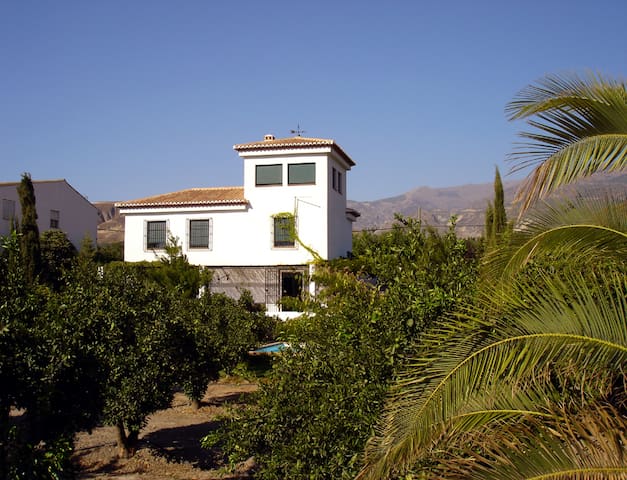 30 minutes from the most visited monument in Spain, the Alhambra in Granada, nestled on a hill in the Lecrin Valley, El MOLINO DEL AZAHAR, Estate of 6000m2, boasts a panoramic view of this green valley dedicated to Andalusian citrus and olive trees,
JUST OPEN May 2012 Do you dream of Disconnecting your daily life? This place is for You. 30 mn from GRANADA, The ALHAMBRA, the Alpujarras and the Beaches, El MOLINO DEL AZAHAR is nestled in the Lecrin Valley enjoying a unique micro climate. Facing south, with an exceptional view of this green valley dedicated to citrus and olive trees, detente is a golden rule. 2 dble rooms and 1 room for 3 await you in this natural scenery with a swimming pool sunny all day, a beautiful fireplace for a few days in winter and (if desired) a kitchen full of Mediterranean flavors made with local produce untreated, not to mention some good varieties of wine. Whether you choose to walk on the hill overlooking Granada's history and its multiple cultures, you ran the little streets of the Albaycin or prefer to dream in the gardens of the Alhambra, a symbol of the art Al Andaluz, or even visit the Science Park or the museum of Andalusia and finally vibrate to the sound of flamenco or wander in the tapas bars, access to Granada is very easy by the motorway 27km from us. You can rent by room or the all house. by room for two 75€ and for the all house in summer 255€ by night and the rest of the year 235 € Activities: Horse ridding, golf, kayak, paragliding, climbing, bike ride, beaches, and more... On site: swimming pool, petanque, table tennis, and a calendar of festivals, concerts etc ... are available. Workshop possible in cardboard or plaster with the hostess (URL HIDDEN) by e-mail. 4 seasons dazzle us every year, come enjoy! airport Granada 35mn, airport malaga 90mn If you dont want to drive we ll pick you up .... Caroll & Yann wish you Bon Voyage
you are infront of you a beautiful valley full of fruits trees and farest the mountains protections
On arrival at Molino Del Azahar, Caroll welcomed us with refreshments and some lovely tapas which was really appreciated after the journey. The villa and it's grounds are beautiful - better in fact that the photo's depict. The garden is fantastic - fruit trees, shady areas, table tennis,and of course the pool. The villa itself is well equipped for cooking and there are eating areas inside and out as well as a BBQ - (Supermarket 10 min drive away). Bedrooms spacious and tasteful though very warm on some nights even with the fan on full! (August) It was tempting to stay at the villa every day - but there are such good places to visit - Alhambra in Granada, being the highlight. Other places included the beach at Solabrena, the market at Orgiva, exploring the Sierra Nevada, and the Science Museum for when the kids had had too much sun! The local restaurant 'Los Narangas' (15 minutes walk from Molino Del Azahar) and was hospitable with great food in a pleasant if very quiet village. We had a great stay - kids favored the pool and the beach, I liked evenings eating and drinking under the stars. All had a lovely stay. Recommend. Tip: Give yourself plenty of time to check in if flying back from Malaga as security checks and queues were huge.
Paul
2016-08-31T00:00:00Z
Caroll was a great host. Upon arrival we were treated with her delicious home made lemonade and treats. The house is in a beautiful location just 25 min out of granada city. It's surrounded by lush vegetation, citrus and granada trees are all over! This place is very recommendable, I only wish we had more time to enjoy it.
Vita
2015-10-12T00:00:00Z
We had a great time at Carroll's place. The location is incredible and the views are amazing. Just what we were looking for. When you step out of the front door into the morning sun you are greeted by the hills and mountains around and the sound of birds and bees. The gardens are full of flowers and lemon, orange and olive trees. There were plenty of lemons around for us to use in our cooking and gin and tonics. Really special. The pool was totally ours for the week and this made the stay perfect. We cooled off with a swim whenever we were too hot and lit-up night swimming with the kids was fun. We could look up at the stars and watch the bats swooping. Carroll kept the pool very clean. We played Finnish skittles and table tennis in the mornings or evenings when that area was shady. There was enough to do so that we didn't have to drive off all the time looking for diversion. There was plenty of shade for our kids to be in the garden under the fruit trees. There was also a covered outside eating area so we could enjoy eating outside. This was lit up at night. The kitchen was large and well-equipped so cooking was easy and this made our stay economical. There is a huge supermarket 10 mins drive away or small ones up the road in the nearest town which were fine for things we forgot. Nice bar there too with pool and air con. We would definitely return, we had a great week there.
Polly
2016-08-05T00:00:00Z
Very nice place to stay in a lush garden with fresh oranges and citrus fruits. Delicious fresh juice on arrival of which the recipe is kept a secret. Caroll is a very helpful host
Frans
2016-05-02T00:00:00Z
After a couple of weeks travelling the main cities of Spain, Our desire was to find somewhere secluded and full of character to conclude our trip in peace and relaxation. 20 minutes down the freeway from Granada we hit the jackpot. Caroll was a wonderful host who welcomed us with open arms and fluent English, French and Spanish. She is a wonderful person, with a life lived and stories to tell. She is also a magnificent chef so we would recommend taking advantage of her cooking services! She lives next door on the property and so is readily available should you have questions about the area or need anything. We certainly felt like we had made a friend straight away. The property itself is stunning, set back in the hills and surrounded by pomegranate, lemon and orange trees and 360 degree views of the hills and mountains. You simply don't get tired of gazing upon that view. Your quarters are a beautiful building desperate to that in which Caroll lives. It is equipped to handle multiple occupants so would be wonderful for a family or a group of friends. Every aspect you need is there with beautiful rooms, comfy beds, lovely bathrooms and a stunning farmhouse kitchen that was a joy to cook and eat in. Although the temperatures outside can soar, the house itself remains cool and there is always a great pool outside your window to refresh. The area itself is detached but within reach. There are several little charming villages dotted around offering snapshots of Spanish life and basic necessities such as cafés, banks and small supermarkets. The local major supermarket (mercadona) is just a ten minute drive away back to the freeway. It really is a prefect way to enjoy all aspects of the area. In staying here you get the serenity and peace of rural Spanish life. In one direction down the freeway you can explore the Alhambra and tourist delights of Granada. Go the other way and head towards the beach. You have the best of all worlds. We will always take fond memories of our time here! Merci beaucoup Caroll!
Raquel
2013-09-28T00:00:00Z
Caroll is a wonderful host; warm hearted, friendly and helpful. You are immediately relaxed in her guesthouse. The location is breathtaking, beautiful and tranquil. The house is tastefully decorated, down to the last detail. There is a lovely pool, wonderful garden and view of the mountains. Would be very difficult to travel without a car as it is very remote. Caroll's directions with a car were perfect. You must go, worth every penny!
Vicki
2012-09-08T00:00:00Z
Carroll's house is a delight. The rooms are airy, the kitchen well equipped, the beds comfortable and the whole house exudes a sense of style. It feels like someone's home. Carroll and Jan live next door so can offer advice and help when needed. They are a wonderful, vivacious couple. The crowning glory of the property is the garden. In late April the citrus trees were crowded with fruit and blossom. The air was tinged with Jasmine. There were magnificent irises. The Garden will be a lifetimes work but the bones are good and Carroll and Jan clearly have the passion to create an Eden here.
andrew
2014-04-25T00:00:00Z
Il posto è veramente fantastico ed unico. La casa è immersa in un giardino con una piscina molto ben esposta. Al piano terreno la grande cucina in muratura è accogliente e pratica. Dettagli curati ovunque. Camere molto particolari e comode. Eccezionale il punto di osservazione all'ultimo piano. Insomma, un posto da non perdere. La posizione strategica consente di visitare Granada, la Sierra Nevada, il destro di Tabernas e la costa di Nerija. Un ultimo cenno sulla proprietaria. Una persona squisita ed accogliente.
Gpv
2015-08-31T00:00:00Z
Room Type
Entire home/flat
---
Property Type
House
---
Accommodates
7
---
Bedrooms
El Valle, Andalusia, Spain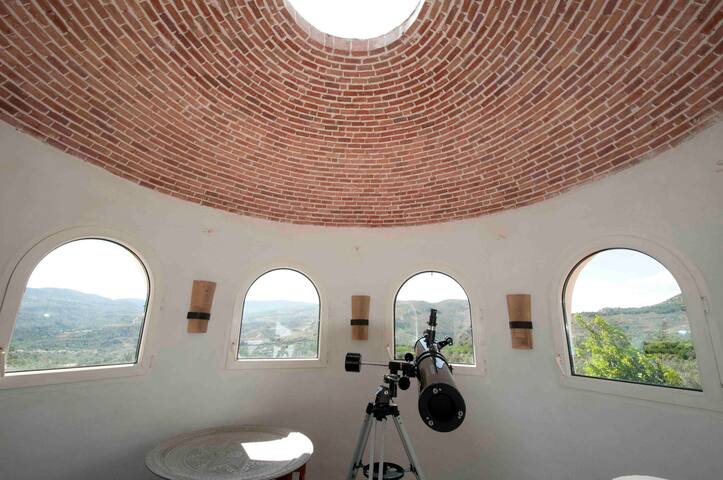 Great for families. The house is fully furnished & offers living room, kitchen, three bedrooms, two bathrooms. Pool, terrace with spectacular views over the valley Lecrín. Both the outside & the inside reflect typical Andalusian design & furnishings
★Typical Andalucian Village Home ★ Amazing Views ★ Great for families ★Stunning walks ★ Situated just 20 minutes from Granada ★ 40 minutes from the unspoilt Costa Tropical ★ 40 minutes away from the skiing slopes of Sol y Nieve. Casa Margarita makes an ideal holiday base for all different types of holiday from just relaxing in a typical Spanish village through to city visiting, walking or lounging on the beach or next to the pool or even trying your hand at a round of golf at the nearby Santa Clara Golf Course. Murchas is a small village with truly reflects Spanish village life and I feel sure that you would be amazed at the tranquillity that it offers and not to mention the amazing walks from the back of the house through miles of rambling citrus and olive trees. The house offers some spectacular views from the specially built roof terrace which is complete with outdoor dining and a barbeque. "Casa Margarita" is a very typical village house which I had rebuilt and restored in 2003. Both the outside and the inside reflect typical Andalusian design and furnishings but full of all the modern conveniences that you would expect for all your holiday needs. ★There are 3 bedrooms (2 twin & 1 large double with en-suite bathroom) ★2 bathrooms (one en-suite) ★Spacious open-plan lounge, kitchen and indoor dining areas ★ There are an additional two dining areas: one in a courtyard next to the small downstairs plunge-pool and another on a roof terrace overlooking some fantastic views of hills mingled with olive and orange groves. Another advantage of our situation it that we are only 20-30 minutes from Granada airport with daily flights from the North and South of England. Alternatively you can fly in and out of Malaga which is approximately one and a half hours from the property. Should you require any further details please dont hesitate to contact us through here.
Murchas is a local Spanish in the municipality of Lecrín , in the province of Granada , independent community of Andalusia . Near this town are the beautiful villiages of Talara , Chite , Melegís , Mondújar , Peloteos and Restábal . Murchas is a small village with truly reflects Spanish village life and I feel sure that you would be amazed at the tranquillity that it offers and not to mention the amazing walks from the back of the house through miles of rambling citrus and olive trees. Murchas has a bakers and small supermarket just seconds up the street from the house and is a great step-off place for walking in the surrounding countryside. Nearest restaurants, banks etc. are a two-minute drive.
Kerris had a beautiful house and we enjoyed our stay. It's all comfortable and everything is great.
Suhaina
2016-03-29T00:00:00Z
Room Type
Entire home/flat
---
Property Type
House
---
Accommodates
6
---
Bedrooms
Murchas, Andalucía, Spain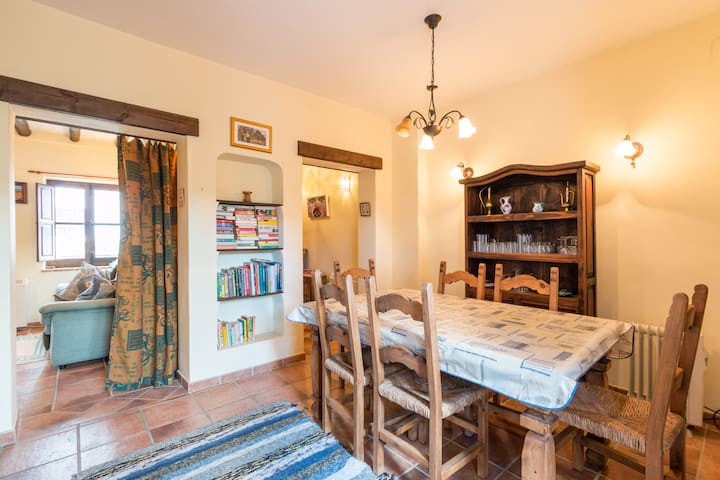 La casa esta situada en un lugar estratégico para visitar Granada Capital, Sierra Nevada, Las Alpujarras, el Valle de Lecrín y la costa granadina. Te va a encantar el lugar por sus vistas, clima y su naturaleza. Casa acogedora totalmente equipada para una estancia muy confortable y tranquila. Fácil acceso a autovía. Pueblo con increíbles vistas a Sierra Nevada y Alpujarras. Mi alojamiento es bueno para parejas, aventureros, viajeros de negocios, familias (con hijos), y grupos grandes.
Room Type
Entire home/flat
---
Property Type
House
---
Accommodates
10
---
Bedrooms
Pinos del Valle, Andalucía, Spain
La Fabrica - situated in the famous Lecrin valley, in an organic orchard with stunning views from bedrooms and patios. Yet 2 minutes walk from the bus stop and the GR7 route, and the village of Restabal, with shops, restaurants and medical centre.
This secluded farmhouse offers the best of many worlds - 1/2 hour from the city of Granada, 1/2 hour from the nearest beach at Salobreña, and 1/2 hour from the ski slopes of the Sierra Nevada. Well connected to bus routes, the GR7 and the village, it is a little paradise in itself, standing in its own grounds, 4 terraces of oranges, lemons, grapes, pears, apples, figs and kiwis. You will be able to help yourselves to whatever produce is in season. The house has 2 terraces, one large shady terrace in front of the living room, with hammocks, patio furniture, etc. Another roof terrace with panoramic views and daybeds, ideal for sunbathing. In the summer months we have the large splashpool, 5 metres diameter. The village, standing at the end of a large lake, is less than 5 minutes walk with supermarkets, bank, chemist, medical centre.
The Lecrin valley is famous for its glorious location - half way between the coast and Granada, in a valley of 3 rivers, a lake and many beautiful whitewashed villages. The Lecrin valley is green and lush, and full of fiestas and cultural events throughout the year.The GR7 walk is the Andalucian route that forms part of Europe walking route No.4, and our house is right on its doorstep.
Great to have been welcomed at the airport and driven back for a small fee it was very convenient. The house was great and we even had food in the fridge. Would recommend.
Aisha
2014-10-08T00:00:00Z
We (2 adults and 2 teenagers) had a wonderful stay at la Fabrica. Mar made us feel very welcome and went out of her way to help us, even though she was expecting a child very soon. Like settling us in, arriving after midnight! The house and situation were exactly as expected, with the 2 hammocks, the swimming pool, and the absence of mosquitos being the absolute plusses! There were some nice fiestas in the small village, with the unfortunate fireworks (well, only a loud 'bomb' rocket) at 8 in the morning :-) Too bad our stay was outside of 'orange season', but we can imagine it must be so nice around march... Instead now we had some smell of rotting fruit, but of course brilliant weather! We would definitely recommend the place!
Lm
2016-07-25T00:00:00Z
Vicente was the most hospitable and kind host, we didn't have any problems neither on the arrival nor on departure. The house is cosy and the farm - amazing (especially for those who don't live in the countryside). The big advantage of the place is it's nearness to Granada, it's really 30mins ride to enjoy the beauty of Alhambra and the old town, and Rastabal village is a nice and calm place to spend some holidays in. One thing to deal with was the bathroom on the lower floor what meant to us a walk up and downstairs outside in the cold of October whenever we wanted to take a shower or use the toilet. That leads me to another thing - as it's an old house, the beautiful wooden windows and doors aren't able to protect from much cold at night so you should carry a warm pjs (but there're also few electric heaters)!
Zuzanna
2015-10-12T00:00:00Z
we had a wonderful stay at Mars lovely place. Everything we wanted. Quiet, attractive, affordable. thank you.
Donald
2016-07-29T00:00:00Z
Nuestra estancia ha estado fenomenal, disfrutando de una casa en plena naturaleza y a veinte minutos de Granada. La casa cuenta con comodidades básicas pero una ubicación estupenda, con unas vistas maravillosas y un jardín de naranjos, que para nosotros ha sido lo más importante. Hemos podido conocer la ciudad y también el encanto del valle de Lecrin. La atención ha sido muy amable y familiar.
Igone
2016-03-30T00:00:00Z
we hebben een geweldig verblijf gehad. een heerlijk huisje, van alle gemakken voorzien. prachtig ligging in een rustig spaans dorp. Kleine supermarkt dichtbij. het contact met de verhuurder en Mar terplaatse verliep prima. vers fruit aan de bomen.
Ina
2016-07-01T00:00:00Z
Vicente nous a très bien accueilli dans cette jolie maison. Elle est très bien située, à 5 min de l'autoroute et à mi-chemin entre Grenade et la côte, et proche de la Sierra Nevada et des Alpujarras. Très agréable terrasse en bas et 2 jolies chambres à l'étage, par contre les toilettes sont en bas et l'accès entre les 2 étages se fait par un escalier extérieur. Sinon il y a un bon restaurant à Melegis, la commune voisine, qui s'appelle Los Naranjos.
Eric
2015-08-23T00:00:00Z
La estancia en la casa de Vicente fue muy buena. El trato por su parte muy amable, nos explico como acceder a las rutas y pueblos. Es una casa de pueblo con encanto rodeada de multitud de naranjos y limoneros. El valle de lecrin es precioso sobretodo en primavera. Recomendable
Oscar
2015-04-06T00:00:00Z
Room Type
Entire home/flat
---
Property Type
House
---
Accommodates
6
---
Bedrooms
Restábal, Andalucía, Spain
This beautiful house in charming village is available for rent mid April to October. Main house sleeps 9 (3 doubles & a kids room w/ bunk bed + single). Also an additional cottage, which can sleep another 2-4. Gorgeous pool & views.
The main house sleeps 9 people in 4 large bedrooms - all of which have ceiling fans, built-in wardrobes and doors to a balcony with amazing views. Configuration is 3 double bedrooms (queen beds) and a kids room, which has a bunk bed and a single bed. A baby's cot is also available. The house has new double glazed high spec glazing in the windows and doors for great insulation and heat control. All bedrooms have remote control ceiling fans and we've found that with the Lecrin Valley breezes fans are all that's required, even in the height of summer. The ground floor consists of a large living room with a lovely fireplace/woodburner and access to the garden and terraces. The large eat-in kitchen has plenty of room and all equipment and an outside terrace perfect for alfresco meals. There's also a very useful and spacious utility/pantry/store room. Also on the ground floor is a large shower room (main bathroom with bath is on the first floor) and a sunroom which contains the WiFi. There is a separate cottage which can be rented as an overflow for larger parties. The cottage sleeps 2-4 in a large double bedroom and huge living room wth sofa bed. It has its own separate terraces and kitchen/dining room. NB This property is also for sale. Please enquire if interested.
The house is situated in Chite, in the heart of the Lecrin Valley with easy access to the motorway north to Granada and south to the coast. Surrounded by orchards and flowers of the beautiful Lecrin Valley with views to Lake Beznar and the Sierra Nevada mountains; while just 25 minutes away from the Costa Tropical and Granada City. Perfect for walkers, cyclists, families, gourmet travellers and skiers (in the winter!), twitchers and anyone else who loves the countryside but likes being near amenities, the property has wonderful views up to the snow caps of the Sierra Nevada, across to hills towards the coast, and over the Lecrin Valley's beautiful green landscape and Lake Beznar – a lovely reservoir surrounded by walks, recreation areas and orchards and great for fishing.
Room Type
Entire home/apt
---
Property Type
House
---
Accommodates
9
---
Bedrooms
Lecrín, Andalusia, Spain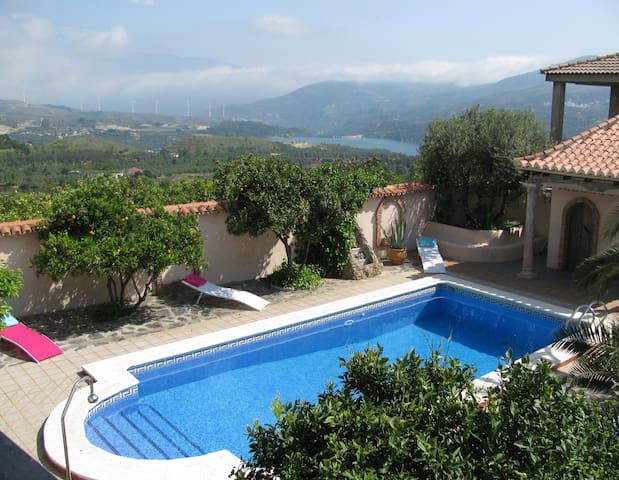 3 Bedroom holiday country house rental in Pinos del Valle, Granada. Edge of village, great views over the Lecrin Valley/Sierra Nevada (Granada-Costa Tropical, fly Granada/Malaga), house w/3 private terraces, lge pool, WiFi, lots of sun & local tapas
There are three fully-furnished quiet houses which sleep up to six people each, and can be combined to sleep up to 20 people, with a large pool. As a location Pinos del Valle is a key village in the beautiful Valley of Lecrin, 30 minutes drive to the Costa Tropical, the city of Granada and the Sierra Nevada pueblos blancos. It has two bar/restaurants and a vibrant local culture. The entrance is from a semi private patio with large wooden doors to the street. This gives privacy enabling the guest to use the patio and the pool in private, although you have other terraces as well. Entering each house there is an open plan living room, kitchen and dining area. The kitchens are equipped with electric hob/oven, fridge freezer, microwave cooker, and plenty of work surface and cupboards. In the living room area there are sofas, armchairs, and coffee table. Each house has table and chairs, music centre, and TV. The terraces also have tables and chairs, and views of the Lecrin Valley and the Sierra Nevada beyond. There are bedrooms on various floors, offering a choice of sleeping arrangements for up to 18 people, or for up to six people in each individual unit. We will be happy to advise the best options for your group.
Jardines de Pinos is situated on a corner of the village with clear views to the south, north and east overlooking the Valley to the Sierra Nevada. It is a quiet area which benefits from easy car access and no shortage of parking. There are several bar-restaurants including one a short walk from the houses, offering free tapas and filling Menus of the Day for those visiting in the winter, spring and autumn. The village has a cash machine, two pharmacies, two churches and several supermarkets; one famous as a butcher is open Sunday am. The village is ideally placed for taking daytrips to Granada, the beaches of the Costa Tropical, or the lush scenery of the Alpujarras. The Valley of Lecrin is a startlingly beautiful area which occupies one of the most privileged positions in Spain. The area itself is midway between the Costa Tropical, famous for its verdant cultivation of exotic fruits and sugar cane, and the city of Granada, home to the Alhambra and the Albaicin, Spain´s most potent historic attractions. So much history abounds around the city of Granada that it would be impossible to tell all here. Home to the last empire of Spain´s Moorish era, Granada was finally taken by Ferdinand and Isabella in 1492 after more than 700 years of Moorish civilisation, which shaped the city and the area for ever.
We had a good and relaxing holiday! The terace and swimmingpool were great. The appartment is cosy, but a bit messy. Tim (and Liz) are friendly people who help you find the right places. I would recoment the place for a relaxing break!
Daphne
2016-10-05T00:00:00Z
We spent a month at Tim's house in El Pinar and had a wonderful holiday. The house met all of our requirements and was a perfect home away from home. The kids practically lived in the swimming pool! The area was lovely and convenient with shops, bars and restaurants in El Pinar and surrounding villages. Close to the mountains and beaches - we made use of the many trails for walking and running. Tim was a fabulous host, making himself available to help us out whenever we had questions. I wouldn't hesitate to recommend this location and property to other families .
Samantha
2016-08-19T00:00:00Z
The hosts were very kind, we had good communication. The place is comfortable, the village is interesting itself and near other interesting places. Filling like being at home.
Anna
2016-06-05T00:00:00Z
Tim is a friendly, attentive and delightfully chatty host. He met us at the place/time agreed and showed us directly to the villa and around town. If you are looking for a quiet summer getaway amongs the Spanish mountains, this is your place. Many thanks Tim&Liz.
Blanka
2016-10-07T00:00:00Z
A friendly host, a nice view and a lovely village! Perfect for a peaceful stay.
Simona
2016-04-23T00:00:00Z
Una estancia Genial. Desde el recibimiento hasta la despedida, la atención fue maravillosa. La casa cumplió todas las expectativas, incluso las superó (las vistas desde la terraza, la piscina y las facilidades para unas buenas barbacoas, superaron las expectativas. El pueblo, de gentes atentas y buena gastronomía, estaba en el centro y a poca distancia de todos los lugares turísticos de interés en Granada. También el anfitrión facilito toda la información al respecto. Me extendería, pero lo mejor que puedo decir, es que he recomendado el lugar a familiares y amigos y estamos dispuestos a regresar muy pronto y disfrutar de la hospitalidad que nos han brindado. Gracias Tim, Maria y Elisabeth, hasta pronto!!!
Pedro Jose
2016-07-04T00:00:00Z
Arantxa, que nos recibió a la llegada, es muy atenta y nos indicó perfectamente todo lo que necesitábamos saber. Estuvo muy atenta durante nuestra estancia. El pueblo "Pinos del Valle" es un lugar muy tranquilo, muy agradable para pasear y hacer rutas y el alojamiento cumple con todas las expectativas cuando quieres estar tranquilo de vacaciones. Cómodo, limpio y con todo lo necesario. Lo recomiendo.
Fernando
2016-06-26T00:00:00Z
Wir haben eine sehr schöne Woche verlebt, in der es uns an nichts gefehlt hat. Besonders erwähnen müssen wir Liz, die gute Seele des Hauses, die sich ganz großartig um alles gekümmert hat.
Ursula
2016-09-03T00:00:00Z
Room Type
Entire home/flat
---
Property Type
House
---
Accommodates
6
---
Bedrooms
El Pinar, Andalusia, Spain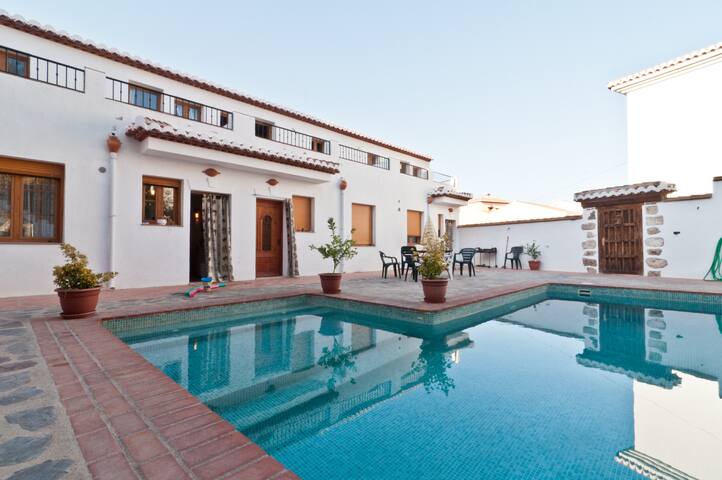 A really very beautiful mountain villa on a plot of 2 hectares with incredibly beautiful vistas entirely to yourself.Beautiful and large villa with everything you need for an unforgettable holiday!
Casa Golandrinos: A delightful country house on a mountain top with stunning views to the Lecrin Valley and the Mountains of the Sierra Nevada. The house is in a tiny village between Conchar and Albunuelas. But still just a few minutes away from the motorway, so it is easy to drive to Granada, the Costa Tropical, the Alpujarras and the other villages in the Lecrin valley. Everything's there in the house for an unforgettable stay: Large outdoor swimming pool (11 x 5 metres!) surrounded by wide terraces to enjoy the sun. In front of the house is a covered terrace with a large garden table for breakfast, dinner, or just a glass of wine to enjoy the surroundings. On the ground floor: a complete kitchen with all the furniture you need, a comfortable couch with a TV in the corner – there's even a separate room for quiet reading. A separate toilet with a washing machine for your laundry, and a large hallway complete this floor. First floor: Master bedroom with ensuite toilet, shower and sink, and outside terrace. Second bedroom with two single beds, a third bedroom with one double bed and one single bed. These two bedrooms share a second bathroom with a sink, toilet and a shower. And then there is a third bathroom: a really stunning Turkish bath! On the roof is a big terrace where you can overlook the whole valley! This really is a wonderful house in a natural setting with stunning views. If you want some more information don´t hesitate to contact us:
The House is with 2 other houses on a mountain slope, of which an owner is a Dutchman who lives there permanently.Very exceptional in this environment that was allowed to be built here.yet central for your trips to bv Durcal where a number of restaurants and tapa bars.
The house is large, airy and comfortable - combining a charming mixture of modern and traditional. Its situation for us was perfect - perched up high and with no other property in sight or earshot; and all around breath-taking views of the mountains. It is quiet and peaceful without being isolated, since the wonderful city of Grenada is so easily accessible, along with a number of small, local towns. We were made very welcome by Martin and the house and its facilities exceeded our expectations. This felt like the real Spain and we would definitely love a return visit.
Jane
2016-08-27T00:00:00Z
Room Type
Entire home/apt
---
Property Type
House
---
Accommodates
7
---
Bedrooms
Cozvijar, Andalusia, Spain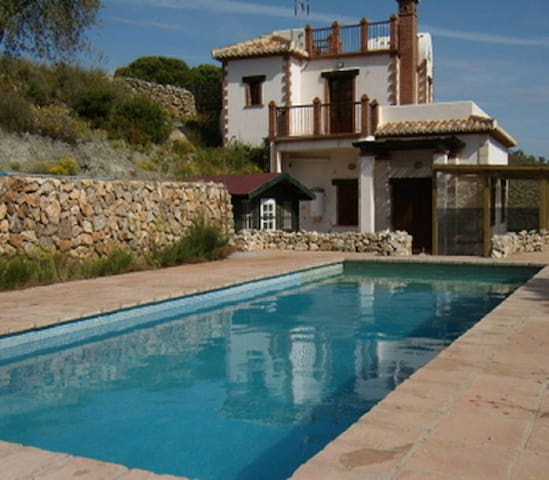 Casa Molino is a welcoming guesthouse catering for the independent traveler and located in the upper part of the hillside village of Pinos del Valle. The Red Room is a spacious double room with touches of rustic decor along with a contemporary feel.
Casa Molino is a traditional village house located in the upper part of Pinos del Valle close to the main church square. It has been reformed and updated by ourselves over the last 9 years to provide a spacious but welcoming house in which to enjoy your holiday. We have 3 rooms available for guests to choose from – 2 located on the ground floor and the 3rd on the second floor across from the roof terrace. To ensure guests have a comfortable stay all rooms have ceiling fans for the hotter months of the year and during the winter the house is centrally heated by a large log burner located in the hallway. Free Wifi is available throughout the house.
El Valle de Lecrin (The Lecrin Valley) is an area of outstanding natural beauty and is famous for its landscape of orange and lemon groves, almond and olive trees and fruits of pomegranate and grapes. The valley has been inhabited since prehistoric times due to its excellent climatic conditions and was chosen by the Moors for it's fertile land and they helped create the irrigation system we see today throughout the valley. Today it's amazing views up to the snow capped peaks of the Sierra Nevada mountain range, down through the lush valley to the waters of Lake Beznar and to the mountains beyond which run down to the Costa Tropical coastline make it an ideal location to be enjoyed by it's many visitors. Perfect for outdoor enthusiasts the area offers fantastic opportunities for walkers, rock climbers, bird watchers, cyclists, golfers, painters and skiers in the winter months. With excellent road links, it also makes a great base to explore the beautiful cities of Granada, Alcala la Real, Baeza, Ubeda, and Cazorla, to name but a few, and the coast of the Costa Tropical. The village of Pinos del Valle is split into two areas (upper & lower barrios) and has two churches with different historic interest. The upper part of the village contains bars, shops, bakery, pharmacy and bank. If the visitor would like access to more amenities & shops these can be found in the local areas of Lecrin, Durcal and Padul.  Local cuisine can be sampled in bars/restaurants such as Bar Venecia in Pinos, Los Naranjos or Puerta del Valle in Melegis, La Tasca in Niguelas, La Casita de Papel or Hotel Espana in Lanjaron, to name but a few. The best value meal to be had is a "menu del dia," usually served Monday – Friday from 1 - 4pm (some establishments will also serve on a Saturday). The cost for 3 courses with a drink can range from 10 – 13 euros per person locally. Visitors should also note that this is one of the last areas in Spain where a free tapas is served with beer or wine (some places will also provide tapas when soft drinks are ordered).
Room Type
Private room
---
Property Type
House
---
Accommodates
2
---
Bedrooms
Pinos del Valle, Andalucía, Spain
Restábal - Airbnb
:
Average

4.82

out of

5

stars from

156

guest reviews