My place is close to the city centre, parks, great views, and restaurants and dining. My place is good for couples, solo adventurers, business travellers, students and families (with kids). 1 bedroom of 2. The other double bedroom is listed under Warm and Cosy.
A relaxing atmosphere where you can chill out and unwind or re-charge after an exhausting day of walking, cycling or work.
Quiet and peaceful neighbourhood with free off road parking. There is a shop within a very short walking distance.
Amanda was a great, friendly host. She was really prompt about replying to queries and very helpful, providing us with info and a parking disc on arrival. The room was cosy, with spare duvet/blankets provided and a cheery stove (great for brightening a winter's night!) There were thoughtful touches provided in our room, such as complimentary coffee, tea and shortbread. Amanda is delightful to chat with and I felt like we were treated with a warm welcome. She has a lovely son and beautiful cat called Badger, who nearly made it back in my holdall.. We loved our stay here, which is within walking distance of Ripon, though also has plenty of parking space. Hopefully we will come and visit again. Thank you very much for having us!
Teresa
2017-01-15T00:00:00Z
Lovely host very accessible and good communication pre and during stay. Made my partner and I very welcome. Lovely house warm and cosy perfect for a short break. Would definitely recommend Amanda's place to everyone.
Helen
2016-12-30T00:00:00Z
We really loved this place. The host was great and the room was perfect. There was even a rain shower head. I definitely recommend this listing.
sean
2016-12-31T00:00:00Z
very nice room and bathroom in a house in quiet area but still in city . Luvley host .
NIGEL
2017-03-05T00:00:00Z
My first stay with Air BnB and I couldn't have asked for more. Lovely big comfortable rooms with everything you could possibly want in them. Great value for money. Amanda was such a lovely host, great communication and friendly from the first e-mail. Even gave us a lift into town! We booked out both rooms and next time we are in Ripon we will be back for sure. Highly recommended
Karen
2017-01-29T00:00:00Z
Very friendly host
Paul
2017-04-09T00:00:00Z
A great place to stay, Amanda and her son Chris made me feel like home. The place was exactly was it is described online. Highly recommended by me
Naveed
2017-01-30T00:00:00Z
Arriving at Amanda's house we felt immediately at home. Such a welcoming stay, Amanda and her son Chris were fantastic and made our stay so chilled . Liked our hosts style and everything was very clean. Thanks guys
Mary
2017-02-27T00:00:00Z
Room Type
Private room
---
Property Type
Bungalow
---
Accommodates
2
---
Bedrooms
Ripon, England, United Kingdom
This is an lovely outdoor space which was featured on Channel 5's programme To B&B The Best and we are based right next to the River Ure in a stunning location in Ripon about a ten minute walk from the city centre and Cathedral. The Rabbit Hole and land is a tribute to Lewis Carroll and Alice in Wonderland, so come and see the secret garden and feel real peace and tranquility. Perfect for that special anniversary, or as a retreat away from the pressures of life or to be creatively inspired .
Please read the details carefully because we want to meet your expectations and for you to enjoy this beautiful space. This is a spacious outdoor glamping venue and you will be staying in our self catering log cabin, which has had an amazing Channel 5 makeover. It has a double bed, two bedside tables and themed table and chairs, a fridge, an outdoor loo just a couple of metres from the cabin and a mobile washing sink. The sink does provide hot water and we now have an Eco shower which is just opposite the lodge. Don't worry about the review that says the shower wasn't working, we didn't actually have a shower at the time because it was being installed!! There is now a lovely warm eco shower outside so you have complete privacy. IN ADDITION: We now have a lovely outdoor infra red sauna so bring your costume!. The log cabin and garden has an Alice in Wonderland theme and you can wander through the gardens and see the various sculptures and gateway to the secret garden. Lewis Caroll's father spent 16 years in Ripon so you'll see lots of references to his work in the area. You can read more at therabbithole.space We have 200 metres of free fishing rights on our land and for a small charge (about £6) day tickets are available from many shops to be able to fish on Ripon Piscatorial water, which covers approximately 12 miles of the River Ure. We have a barbecue area next to the river and tranquil places to sit and reflect. Or you can sit at the Tea Party table next to the folly to enjoy your meals. The heating is from a wood burning stove and we have smoke alarms and carbon monoxide alarms in the lodge so very safe. Light the log fire, open the doors to the cabin and bring the outdoor to the indoors whilst being warm and cozy. Walk into Ripon for your evening meals as there are plenty of places to eat within a ten minute walk away. If you would like a special welcome pack, Champagne/Chocolates/Flowers, let us know when booking and we can arrange for it to be waiting for you on arrival.
As seen on Channel 5's To B&B The Best, this is a lovely quiet neighbourhood and many people pass by on their walks into the countryside. People often stop and take photo's of the animals that are unique to Ripon, Alpaca's are quite a novelty in the area.
We had a wonderful time staying at the rabbit hole cabin. It was a lovely getaway and I would highly recommend visiting. The attention to detail was great and the host went out of her way to make our stay enjoyable. Toasting marshmallows on an open fire by the stream was a highlight!
Lucy
2016-10-29T00:00:00Z
Amazing place. Pictures didnt do it justice. You need to come and visit this place. Spacious and comfy and very warm. So much space to chill outside as well and just a 10 minutw walk to the centre. Angela is amazing and tailored the stay by providing us with some extras. And breakfast is provided to. Amazing AIRBNB experience
Azman
2016-12-11T00:00:00Z
A very friendly greeting and really flexible about our arrival: we were early. Alice's chalet is very cosy and although the shower and loo are outside, they work well - the shower in particular - which had good pressure and was lovely and hot. The little chalet itself has a wood burner that kept us warm. Breakfast was more than generous as was dropped off by the door in the morning - a really nice touch.
Tudor
2017-02-26T00:00:00Z
Absolutely magical. Upon arrival the fire was lit and everything was well presented. The visitors guidebook was very informative and the hosts were fantastic, they were friendly and welcoming and made sure that we had everything we needed. The room and surroundings were well decorated and the attention to detail was incredible. The bathroom facilities although were unconventional were fantastic! Shower was nice and hot. We were able to bbq in the evening and was lovely and peaceful. Throughout our stay the hosts were incredibly considerate, providing breakfast both mornings, firewood (we didn't even have to ask, they noticed when it was running low) for the log burner, and checking that we were okay and if we needed anything. Very romantic weekend and looking forward to coming back!
Kate
2016-10-23T00:00:00Z
What a lovely environment to stay in! Right on the river, in a lovely garden, a pleasant 10-minute walk to the town centre. We were in such a hurry to find accommodation that we hadn't taken in all the information in the listing, but Angela and Andy were most welcoming and very generous with a pair of tired cyclists, and the summer house is just as described. It makes a most delightful campsite, though may accommodate one person better than two.
Barbara
2015-08-31T00:00:00Z
The Rabbit Hole is lovely and cosy but still quite spacious, really tastefully decorated with the Alice in Wonderland theme carried on within and without the cabin. The grounds outside are gorgeous with riverside seating areas perfect for having a drink with a view, and the amazing round table perfect for dinner or breakfast. The composting loo is also fantastic, and the outdoor eco shower! All amenities were in tip top condition and all extra comforts were provided making our stay really wonderful.
Lisa
2016-09-11T00:00:00Z
A lovely place very relaxed. The hosts are very lovely would love to go back very soon
kath
2017-02-12T00:00:00Z
We stayed for one night at The Rabbit Hole and it couldn't of been better. Angela was a very friendly and welcoming host and was happy to help us with anything we needed. The cabin was warm and cosy and we instantly felt at home. In the morning Angela provided us with a delicious breakfast hamper and she even let us feed the Alpacas! Would happily stay again.
Patrick
2016-10-09T00:00:00Z
Room Type
Entire home/flat
---
Property Type
Chalet
---
Accommodates
2
---
Bedrooms
Ripon, North Yorkshire, United Kingdom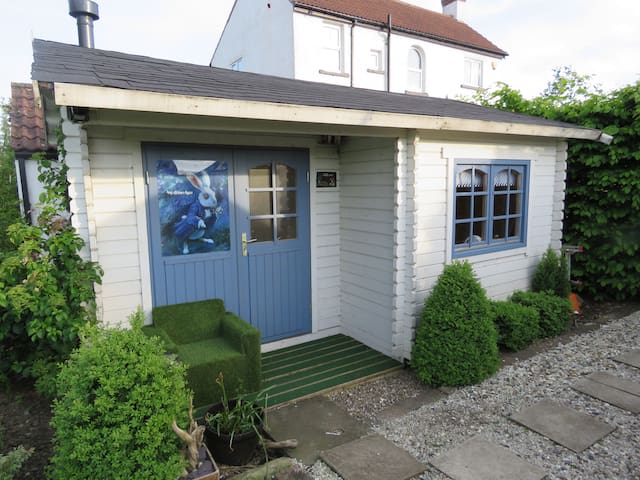 Carpenter's Cottage is a cosy friendly place for short breaks or longer stays, hidden in the secret garden of Ripon. Right in centre of this charming market town Carpenter's Cottage is surrounded by the Cathedral, cafes, shops, museums, cinema and restaurants. The large and secluded garden offers you great views to the nearby village of Sharow, difficult to believe you are in the middle of town! The perfect place to stay for a relaxing weekend or longer to explore Ripon by foot.
The Carpenter's Cottage was part of the joinery which was based here for many generations. What is left is a very private cosy cottage, with a great kitchen (Fully equipped with dishwasher, induction hub, micro-wave, grill and oven. Nespresso machine for great espressos and cappuccino.). And frequently mentioned in reviews: Probably the world's most comfortable bed! You could not imagine it is in the centre of Ripon as it is so quiet! Our great garden is about 1/2 acre. You can enjoy the views, meet our chickens and in Summer also taste some food sourced from our kitchen garden. You certainly will enjoy your lovely walks near the banks of the rivers Laver, Skell and the Ure.
How would you like to take a stroll through a charming, unspoilt, characterful city, where ancient buildings and traditions mingle with a wonderful selection of independent shops and restaurants serving locally-produced food and great coffee? If your answer is yes, then why not visit Ripon today! A unique historic market town, nestled in the heart of North Yorkshire, Ripon boasts splendid Georgian architecture and a cathedral dating back to the Saxon era. Situated where the Rivers Laver and Skell meet the River Ure, between the A1 and the Yorkshire Dales National Park, it is known as the gateway to the Yorkshire Dales. Ripon's Market Place has flourished for over 800 years and remains at its heart, a hub for all sorts of activities and bringing people together. The days of cattle and corn markets may be long gone, but the Market Place continues to be at the centre of contemporary shopping and is a great starting point for exploring the city. With river walks where you can take in unspoilt views, Thursday market day, the ancient cathedral, the Victorian Workhouse Museum and the ever-popular Ripon Racecourse, to name but a few attractions, there is much for the visitor to enjoy. For those wishing to venture slightly further afield, the UNESCO World Heritage Site at Fountains Abbey, the historic splendour of Newby Hall and the moated medieval manor house at Markenfield Hall are only a stone's throw away. A great place to visit or to stay for a while, Ripon has more to offer than you thought!
A really lovely little holiday home. Andre has converted what was once a carpenter's office into a delightful self contained cottage. Everything in it is crisp, fresh and new, with lovely colours and the most comfortable bed! But the best bits are the host; Andre and his family ( wife 2 children and large dog!) are delightful people. We were met by all of them and made to feel quite at home. This is Airbnb at it's best; a family home with people who know and care about the area.
Hannah
2017-01-18T00:00:00Z
The house is historic, cosy, central and well equipped. The area is picturesque and it's not hard to get to the sites. André and his family are very welcoming but not interfering. The pub next door is quiet but has great food and a good atmosphere. If you're thinking of eating in town on a Saturday night it might be worth booking as they were busy even when we were there in winter. Some minor issues with the wifi but overall very good. We would absolutely go back again.
Shannon
2017-02-20T00:00:00Z
This is a lovely spot for a short break for two in Ripon. The cottage couldn't be better placed for walking to all the must-visit places in the town. The cottage is beautifully finished and well equipped and your host, André, couldn't be more friendly or helpful. We also fell in love with his amazing dog! Ripon is a terrific place to visit and there is far more to see there than you might expect. Apart from the obvious places, the Workhouse Museum is a gem and the Woodlands Trust walks at Hackfell well worth a visit. And you must go to watch the Hornblower at 9pm in the square at least once. The Jolly Fryer's fish and chips are awesome and Lockwood's is wonderful for something a bit more up market. Great beer (but no food) a short crawl away at the One-Eyed Rat.
Nick
2017-03-26T00:00:00Z
The cottage is really cute and well decorated. We stayed for 3 nights and found it comfortable. As it's January, at night it can be chilly, but André provided us with an extra heater to keep the rooms nice & warm to watch TV cosily. Ripon and the surrounding area are really nice and the cottage is in an ideal location to explore the Yorkshire moors.
Matteo
2017-01-22T00:00:00Z
Lovely cottage beautifully decorated extremely helpful and friendly host we had a great weekend thank you so much!
Emma
2017-02-12T00:00:00Z
The cottage is lovely with lots of extra touches (we appreciated the nespresso machine!!) The weekend we went was a cold January and if travelling at a similar time would definitely recommend a jumper or two!
Ruth
2017-01-15T00:00:00Z
Great place to stay, close to the city centre with places to eat. The cottage is well furnished and comfortable.
Matthew
2017-02-10T00:00:00Z
The carpenters cottage was a really cosy little getaway, right in the centre of town, beautifully decorated and spotlessly clean. We had a great stay and Andre is a fantastic host.
Serena
2017-03-02T00:00:00Z
Room Type
Entire home/flat
---
Property Type
Guesthouse
---
Accommodates
2
---
Bedrooms
Ripon, England, United Kingdom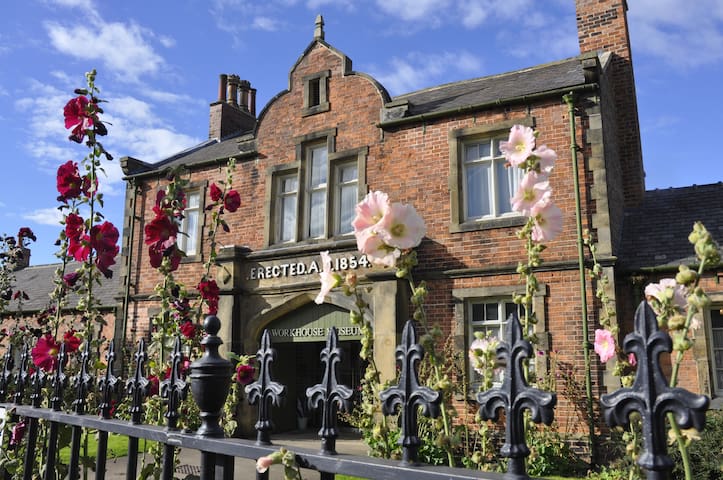 A three storey townhouse with one double or twin room with private facilities on the edge of Ripon town centre. Convenient for the Yorkshire Dales and Harrogate.
Sue & Alan were the perfect hosts; we were welcomed with a pot of tea and from then onwards they met our every need. Breakfast was fantastic - a great choice and well cooked & presented. In summary, we were made to feel very much part of the household and nothing was too much trouble
Peter
2016-09-18T00:00:00Z
I had a very pleasant stay! Sue and Alan made me feel very welcome. They went out of their way to help me and provided all that i needed for a very comfortable and relaxing stay. I had a good night's sleep and breakfast was great too!
Karen
2016-09-27T00:00:00Z
We had such a great time in Sue & Allens home! The room and private bathroom were perfectly clean and cosy. Sue even prepared a lovely breakfast for us, including delicious fruit salad and full English options. A superhost, indeed!
Heleen
2016-09-05T00:00:00Z
It was a very spacious room, the shower was very powerful, the breakfast was delicious and Sue, Alan and Hetty made us feel very much at home. Everything in the house was very clean and well presented, and it is just a few minutes walk to the centre of Ripon...we recommend highly.
Scott
2016-12-04T00:00:00Z
We had a perfect stay with Sue and Alan in Ripon. They were extremely friendly and welcoming - we didn't feel like paying guests at all. They welcomed us into their home, were interested in our trip and were extremely helpful in offering advice on things to do and places to eat. They even offered us a glass of wine in the evening! They provided a comprehensive cooked breakfast each day and there was no danger of going hungry. Their house is 5 minutes walk from the centre of Ripon and has off-street parking. We were given a key so that we could come and go as we pleased. The bedroom and bathroom were clean and comfortable with everything that we needed. They have a dog but she is very friendly and is kept out of the way of guests. All in all, a lovely stay made all the better by great hosts!
Rachel
2016-10-25T00:00:00Z
Very friendly and welcoming, would recommend highly!
David
2016-08-21T00:00:00Z
Sue and Alan used to run a four star B&B and this esentially is what they are still doing! Beautuiful big room, superb bathroom, excellent cooked breakfast (starting with choice of cereals and fresh stawberries!) Perfect location for town centre. Great to sit and chat with them over a glass of wine in the evening. Really felt like staying with old friends. Bellissima casa e padroni simpaticissimi, molto disponibili. La camera è grande e luminosa, come pure il bagno. Ottima la prima colazione, preparata in modo molto curato da Sue e Alan. La loro cordialità era eccezionale. La locazione poi è perfetta per il centro della cittadina di Ripon.
Marilyn
2015-10-21T00:00:00Z
Lovely spotless large room, in a beautiful house. Breakfast was perfect, and I really appreciated off road parking too. Superb location for the town centre. Will definately return.
kirsty
2016-09-16T00:00:00Z
Room Type
Private room
---
Property Type
Bed & Breakfast
---
Accommodates
2
---
Bedrooms
Ripon, United Kingdom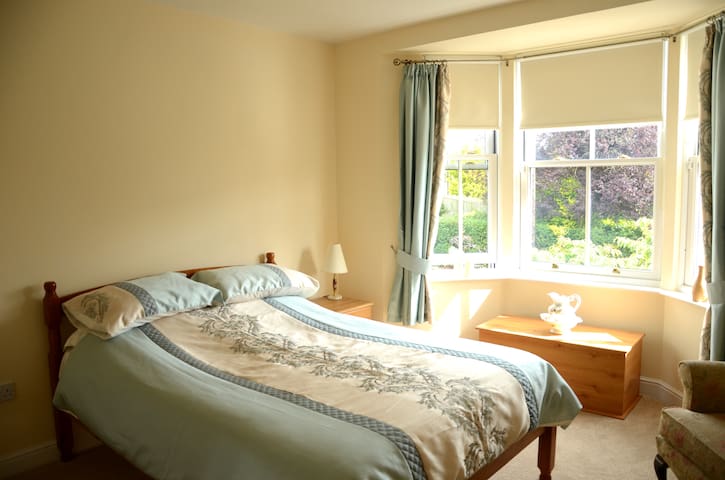 Stay in this beautiful barn conversion located in the quiet rural village of Sharow, on the edge of the historic cathedral town of Ripon. The property is perfectly situated for visitors to enjoy the Yorkshire Dales, North York Moors, the spa town of Harrogate and the city of York. The barn is approached from a private driveway, and provides a private sitting area, dining-kitchen, double bedroom with en-suite shower-room; all at ground floor level. Continental breakfast is £10 per couple extra
There are some great places to eat in Ripon which is only 10 minutes taxi ride away - costs about £6. My favourites are: Lockwoods Restaurant, Friends of Wine - more for drinks but do a sharing board type of platter, the best Italian is Primas and there is a new Tapas Bar called Manchega which is also lovely. It is advisable to book if you are visiting on a Friday or Saturday night.
Excellent accomodation and a great location! Nicola was very accomodating; she made collecting the key very easy when we arrived late and we had everything prepared for a continental breakfast in the morning. The outhouse is very nicely furnished with a modern kitchen and bathroom. The shower is amazing and the bed was incredibly comfortable. Would definitely recommend to anyone wanting to stay in Ripon or explore the dales.
Alun
2016-11-06T00:00:00Z
We loved staying in the guest suite, Nicola and her family were so welcoming but we felt we still had the privacy of our own space. It's beautifully decorated, clean and modern but cosy and comfortable. Every last detail has been thought about, all the utensils and cooking equipment you might need, the breakfast selection, cotton pads in the bathroom and a selection of games, the little things that gave you the comfort of home whilst being away. The surrounding area is stunning and peaceful and this lovely suite is the perfect location to stay in as it's not too far from York or Harrogate. When we arrived Nicola told me she was an Airbnb novice but I don't think that's true, she was a fantastic host and I think many more guests will enjoy their stay as much as we did!
Holly
2016-10-23T00:00:00Z
Nicola and her family were very welcoming. The guest suite is beautifully decorated and ideally situated for some rest and relaxation. We had a lovely stay here and would definitely be back
Gemma
2016-10-09T00:00:00Z
Awesome place, to a very high standard and superb attention to detail. Beautiful rural surroundings and the complimentary breakfast was way above and beyond. Definitely 5 stars.
alistair
2016-11-12T00:00:00Z
I had a lovely couple of days in Ripon. Nicola was so amenable and did everything to ensure I had a comfortable and relaxing stay. The food provided in the kitchen was much appreciated and the place itself has everything you could need. The bed was comfy, kitchen beautifully furnished and the sofa very relaxing. It is extremely high spec throughout and an extremely peaceful place to stay. The pub is a four minute walk away and had a couple of great real ales and the food looked good. I would highly recommend this property.
Dave
2016-10-29T00:00:00Z
The guest suite was stunning, everything had been thought of and finished to a beautiful standard! We had a great nights sleep and couldn't fault anything- it's a beautiful home. The hosts were so welcoming and lovely. The local pub did a fantastic Sunday roast and we had a pleasant walk into Rippon!
Jennifer
2016-10-30T00:00:00Z
Really beautifully presented guest suite. Very luxury feel and lovely people. We'll be back!
Frances
2016-12-23T00:00:00Z
Nicola is a fantastic host and her guest suite is beautiful. The location is perfect for a relaxing, quite weekend. It was our first AirB&B experience which will be difficult to better. Sure we'll visit again.
Sarah
2017-03-19T00:00:00Z
Room Type
Entire home/flat
---
Property Type
Other
---
Accommodates
2
---
Bedrooms
Ripon, England, United Kingdom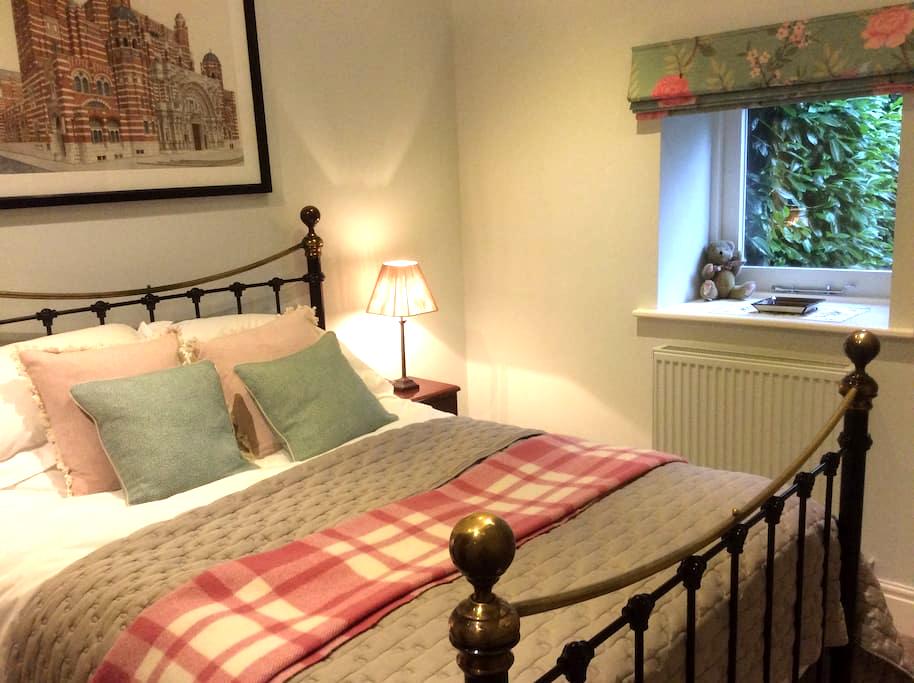 My place is close to the city centre, parks, and restaurants and dining. You'll love my place because of the comfy bed and the cosiness. My place is good for couples, solo adventurers, business travellers, students and families (with kids). 1 of 2 double rooms available. The other room is listed under Warm and Cosy 2.
A relaxing atmosphere where you can chill out and unwind or re-charge after an exhausting day of walking, cycling or work.
Peaceful and quiet location with free off road parking. There is a local shop within a very short walking distance.
Amanda's is warm and cosy, quiet area and I had a great nights sleep. Great wifi, also
Elizabeth
2016-11-25T00:00:00Z
Amanda was a great host. Really enjoyed the African style furniture around the place.
Andy
2017-03-26T00:00:00Z
Amanda's place is absolutely lovely and Amanda really went above and beyond to make us feel comfortable - from the lovely chats to the tips and treats. We will definitely be staying with Amanda again whenever we are in the area.
Gabriella
2016-12-31T00:00:00Z
Amanda's place is absolutely lovely this is the second time I've stayed there when working in the area. It was such cold weather when I stayed and there was a hot water bottle in the bed when I arrived and the whole place was really cosy.
Elizabeth
2016-11-28T00:00:00Z
First time staying in an airbnb had lovely stay very welcoming and great facilities
Laura
2017-03-27T00:00:00Z
Superb accommodation, the host was incredibly helpful and accommodating. Cannot recommend highly enough!
Michael
2017-04-07T00:00:00Z
They went above and beyond to make me feel welcome and the house feel homely. I came back to the fire on, a hot water bottle in my bed and a friendly greeting everyday. Amanda kept in contact before my visit and was amenable to make my stay as convenient as possible. Would definitely recommend staying in this lovely house.
Philippa
2016-12-16T00:00:00Z
Amanda and her son Chris have created a 'home away from home' type of accommodation. The house is perfect for cyclists as the bikes can be kept in the garage - Amanda was very kind to offer to keep it inside though. The room is cosy with all that you need for a comfortable stay. There is an inviting living room with a log burner stove which will tempt you to stay in reading or having a chat as part of the family - which includes a handsome black and white cat. Supermarket is just around the corner and the kitchen is well equipped is you fancy cooking. There is a modern bathroom with a supa dupa shower with lots of hot water and a jet system to massage your back if you wish. With plenty of cycling routes in the area, including the coast to coast 'Way of the Roses', I would highly recommend Amanda's house for those travelling on two wheels.
Richard
2016-12-11T00:00:00Z
Room Type
Private room
---
Property Type
Bungalow
---
Accommodates
2
---
Bedrooms
Ripon, England, United Kingdom
Beautiful Grade 2 listed Apartment with a contemporary feel. One minute walk from the city centre and 5 minute walk from the Stunning Ripon Cathedral. Private Parking & courtyard garden. Great location for Harrogate, York and other surrounding Towns in this beautiful Part of Yorkshire
Our Property dates back to the 1820,s. With some of its original Beams still in Place. Beware if you are particularly Tall!! We are only a few minutes walk from the Old market Square & yet we have our own Private Parking and Pretty little Walled Courtyard Garden ideal for Morning Coffee!
Nearby Cafe,s, Restaurants & Bars. The stunning Ripon Cathedral just a few minutes walk. Local walks, fishing & a short five Minutes Drive to the World Heritage Site Fountains Abbey
The house was very warm as Karen had taken the trouble to put the heating on and had provided essential items of food and drink.
Pam
2016-11-27T00:00:00Z
Great apartment, very convenient location and extremely clean and comfortable. Will definitely use again.
Jim
2017-01-02T00:00:00Z
Lovely place with very well-equipped kitchen, fresh fruit, beautifully clean, great location. Can be tricky to find but if you follow Karen's very clear instructions you won't have any trouble, and the central location is hard to beat.
Patti
2016-12-30T00:00:00Z
We loved it. Arriving on 18th December, very nice to find a Christmas tree in the flat, nicely decorated and the lights switched on. All the other positive reviews make the point this is a great place to stay. One fact: being on the corner of a busy road in the centre of Ripon, there is traffic noise, as you might expect. Thanks to double glazing, the noise is subdued enough not to be a nuisance (even for your reviewer, who lives in a house with zero traffic noise)... except for the smallest bedroom where the traffic noise is not good; in all the other rooms, it's not a problem.
Peter
2016-12-21T00:00:00Z
A superb apartment really centrally located in Ripon. It's full of charm and had everything we needed on hand. Karen was a fantastic host and made everything very easy as well as providing us with a lovely warm welcome. We visited in December and the apartment was really festive including a Christmas tree. We really enjoyed our stay and would love to come back.
Tamsyn
2016-12-07T00:00:00Z
A beautifully revived grade 2 listed apartment in a beautiful town. Karen was helpful and thoughtful from the start and even though we were late checking out, she gave us time to get everything sorted. Thank you for a lovely stay in Ripon, we would recommend this place to anyone thinking of visiting the area. A hidden gem!
James
2016-06-01T00:00:00Z
Description accurate. Very clean and tidy. Traffic noise at times but overall a great place to stay for exploring Ripon and surrounding areas. Can recommend.
Paula
2016-09-19T00:00:00Z
Lovely spacious apartment, beautifully restored with lots of character and everything you could possibly need for a relaxing break - it's even better than the photos! The beds were really comfortable, kitchen had everything we needed, very warm and cosy apartment (especially the snuggle chair!). The courtyard garden was very pretty, we just need to come back when it's warmer to make the most of it! Wifi was very good speed which kept the boys happy! Having the secure parking was brilliant, made such a difference after a long journey to know we didn't have to search for a parking space! The location is ideal for exploring Yorkshire and the apartment is just a couple of minutes walk to the centre of Ripon where there is a bank, Sainsbury's, Prezzo etc - great for getting your essentials. Karen was really helpful answering all of our questions before we arrived, she left a lovely welcome pack which meant we could have a nice hot drink and relax when we arrived, such a lovely thought. This was the perfect base for our holiday and will be recommending it to others and hopefully returning soon.
Kirsty
2016-03-26T00:00:00Z
Room Type
Entire home/flat
---
Property Type
Apartment
---
Accommodates
5
---
Bedrooms
Ripon, North Yorkshire, United Kingdom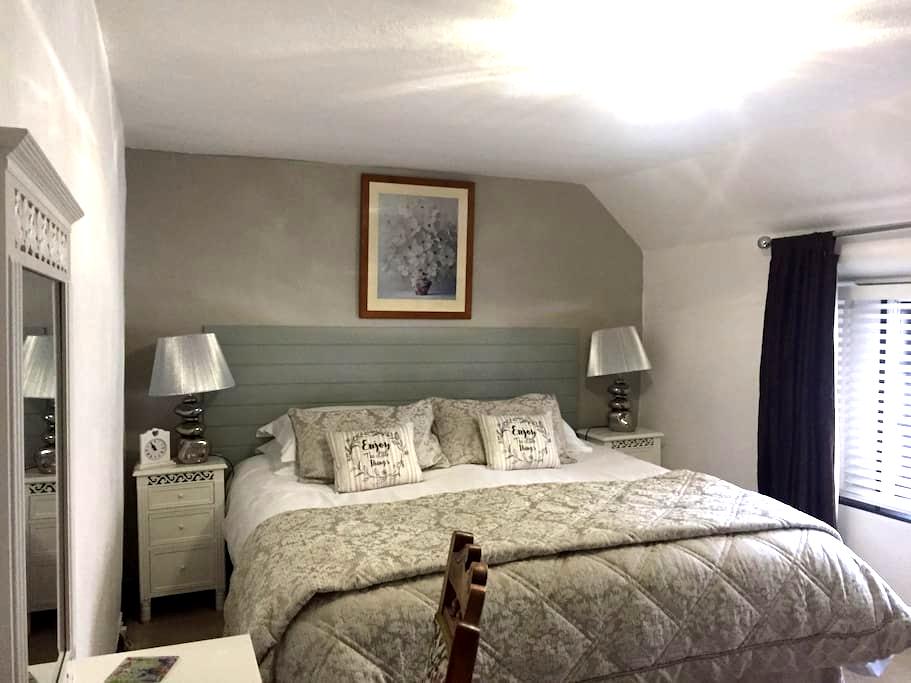 3 big double bedrooms (1 with ensuite shower room) overlooking gardens, free parking, garage for bikes, easy and pretty 10 mins walk by canal path or river to Cathedral & Ripon centre. 3 mins walk to Racecourse, short drive or beautiful walk through woods and along the ancient 7 Bridges path to Studley Royal Lakeside Cafe and Fountains Abbey. Healthy generous breakfast provided, tea and home made cakes on arrival. Hot drinks facilities in all rooms and a very warm welcome to all visitors!
We have beautiful countryside on one side of the house and easy access to Ripon on the other! Our rooms are spacious and light, one with king size bed, another having a double bed, and the other a large single/ twin bedded/ king size bedroom with ensuite shower room.
Ripon has 3 beautiful rivers, a World Heritage site within walking distance from our home and a Cathedral dating back to the 7th Century. Although technically a city it has the feel of a friendly town with a traditional market square. For cyclists and walkers it is Heaven! Ripon is the gateway to the Yorkshire Dales.
Phillipa is a great and warming host, who made me feel very welcome in her home. Her and her family are lovely to stay with, and always ensured that I was comfortable staying in their home. It's a lovely area, definitely recommended for beautiful scenery and walks. The room is spacious, homely and cosy to stay in. Would definitely stay here again!
Adam
2015-08-22T00:00:00Z
Highly recommended. Beautiful home and fantastic host. Immaculately clean and a lovely breakfast. Very many thanks.
Jim
2016-09-18T00:00:00Z
Philippa was friendly and helpful both before and during my stay. The room was very comfortable and well equipped and the breakfast fantastic. Will definitely return if in Ripon again.
Maggie
2016-10-01T00:00:00Z
A lovely home in a quiet residential area very close to the main ring-road around Ripon. The town centre is within easy walking distance and Phillipa is a fantastic host too! 5 stars all the way!
Dave
2017-01-20T00:00:00Z
Phillipa was amazing - she looked after us incredibly well after an 83 km cycle through the dales in the rain. We probably couldn't have managed the next day's ride without her hospitality and the great sleep we had. Plus, what a gorgeous place to stay!
Ella
2015-09-23T00:00:00Z
Phillipa kept in touch well beforehand. She was very welcoming. The location is indeed very attractive & the room was double-aspect & lovely. Phillipa took us on a beautiful long walk to the environs of Fountains Abbey, spending most of the afternoon with us & providing tea & cake at apposite times. She recommended the Water Rat Pub for dinner, by the river, where the food was delicious. Breakfast included home-grown raspberries. Altogether a fantastic stay & everything we could have wanted. We'd definitely go back - never knew Ripon was so attractive! P is an energetic, affable, well-travelled & very hospitable host.
George
2015-08-13T00:00:00Z
Yes. Very sweet and cosy. Lovely host
constance
2016-06-13T00:00:00Z
Massive thanks Phillipa for a fantastic couple of days / nights at your lovely house.. In Ripon for the first time, your friendly unobtrusive hospitality was perfect.. As was the amazing breakfast of porridge, fruit and toast with home made jam .. I won't mention the amazing meal you cooked or all guests will be expecting it ! See you same time next year
Bernard
2015-10-05T00:00:00Z
Room Type
Private room
---
Property Type
Bed & Breakfast
---
Accommodates
4
---
Bedrooms
Ripon, England, United Kingdom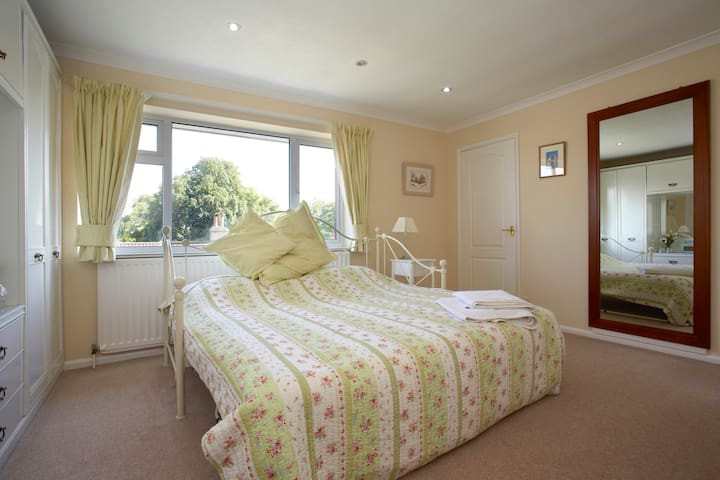 Baytree cottage is in the heart of the beautiful town of Ripon. It is only a few minutes walk from the market town centre and a stones throw from the city's magnificent cathedral. Baytree cottage is modern and stylish yet retains the cosy feel of a cottage holiday home. The cottage can sleep eight guests in four bedrooms and has two bathrooms making it perfect for families or groups. We are also happy to help and assist where ever we can, we look forward to welcoming you to Baytree cottage!
Beautifully presented property and a credit to the owner. Easy accommodates 6-8 people, easy walking distance of the town centre and looks out over the cathedral. Would certainly recommend.
David
2016-12-11T00:00:00Z
We stayed here for a family birthday and had a wonderful few days. The cottage is in a lovely location close to the centre and within easy reach of shops bars and restaurants. It is beautifully furnished to a very high standard and very well equipped. We enjoyed the walks in the area and feeding the ducks with our 6 year old. Laura and Nick are perfect hosts.
Gill
2017-01-08T00:00:00Z
Baytree cottage was absolutely gorgeous and had everything we needed for our 2 night stay over New Years Eve. Everything was brand new and it was furnished to a high standard throughout. The kitchen was well stocked with crockery and glass ware, with plenty of pots and pans available. The dishwasher was also a big help! The beds were so comfy (even the bunk beds!) and all the rooms were beautifully decorated, adding to the cosy feel of the cottage. The cottage was spacious, with plenty of room for all 8 adults. The location of the cottage was perfect, as it was only a short 5 minute walk into the town and there was plenty of parking available outside. Laura was a great host and fantastic at replying quickly to messages, which made planning the trip stress free. Nothing was a problem and she was happy to help with any questions we had prior to the stay. The only small down side of the cottage was that the fridge was very small, however we were able to leave a lot of our food outside in a cool bag due to the wintery weather conditions. I highly recommend staying at Baytree cottage and hope to stay again later in the year!
Sophie
2017-01-01T00:00:00Z
Host was brilliant in arranging key transfer and recommendations of local things to see, do and places to eat. The listing was exactly as described, with spacious bedrooms, a lovely lounge and kitchen area in the perfect location. Would certainly recommend any families/groups to stay here for beautiful countryside walks
Thomas
2016-12-29T00:00:00Z
Beautiful cottage with plenty of space for 7 people plus a toddler. Really well equipped and Laura was so welcoming. We loved it!
Flo
2017-03-05T00:00:00Z
The host canceled this reservation 305 days before arrival. This is an automated posting.
Merryn
2017-02-28T00:00:00Z
We had a wonderful stay at Bay Tree Cottage. The house is conveniently located for all amenities. We ditched the cars for the weekend and enjoyed lovely walks in and around Ripon. The kids loved the nearby park and playing at the river. The house itself is beautiful, and is larger than I imagined. All rooms have been decorated to a high standard and are extremely comfortable. This really is a home from home, with everything you need for an easy break. Laura was a wonderful host who delighted us with some personal touches. We had a terrific time and thoroughly recommend a stay at Bay Tree Cottage.
Kate
2016-11-27T00:00:00Z
Booked my parents this property as a surprise, they absolutely adored it. Very clean and well decorated. Wonderful views of the cathedral
Gemma
2017-02-04T00:00:00Z
Room Type
Entire home/flat
---
Property Type
House
---
Accommodates
6
---
Bedrooms
Ripon, England, United Kingdom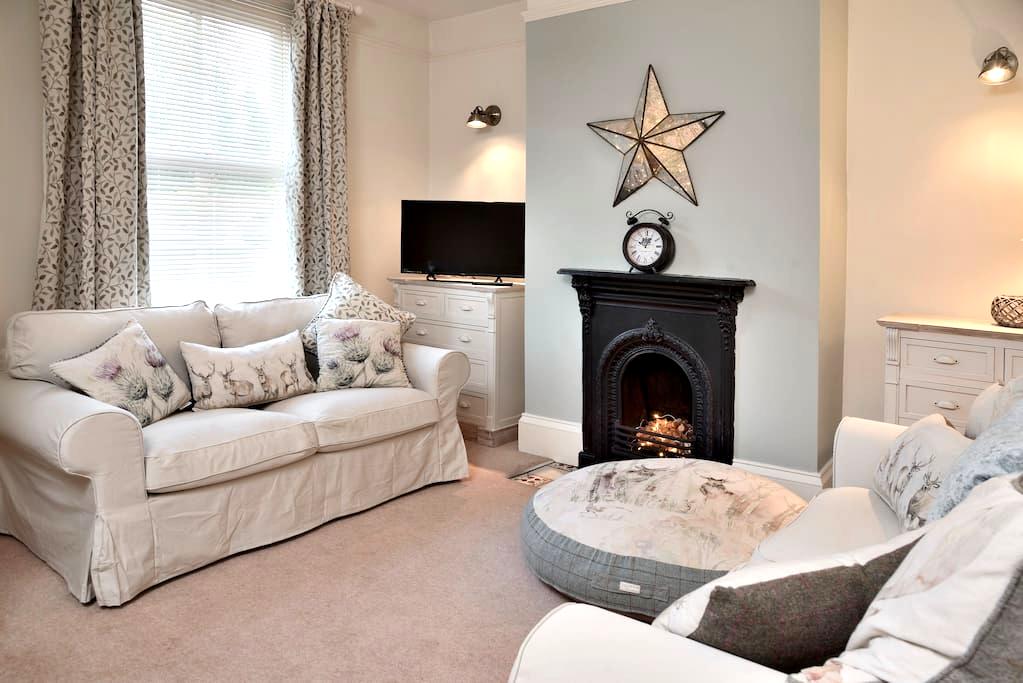 A WARM LUXURY APARTMENT WITHIN TWO MINUTES WALK OF THE ANCIENT CITY SQUARE, CATHEDRAL, PUBS, SHOPS, AND RESTAURANTS. SHORT DRIVE INTO THE BEAUTIFUL YORKSHIRE DALES, YORK 35 MINUTES AND LEEDS 45 MINUTES.
A LOVELY WARM APARTMENT OVER TWO FLOORS CONNECTED BY A SPIRAL STAIRCASE. LOWER FLOOR HAS A LARGE KITCHEN/DINING/LIVING AREA, A DOUBLE BEDROOM AND LUXURY BATHROOM WITH A BATH. UPSTAIRS IS A LARGE AIRY LOFT CONTAINING A KING SIZE BED, TODDLER COT, AND FUTON EXTRA BED. ENSUITE BATHROOM WITH WALK IN LARGE SHOWER. THE APARTMENT IS FULLY EQUIPPED FOR A COMFORTABLE STAY
Room Type
Entire home/flat
---
Property Type
Apartment
---
Accommodates
5
---
Bedrooms
Ripon, England, United Kingdom
Lovely holiday retreat set in friendly village with beautiful surrounding countryside. My cosy cottage is prefect for exploring the Yorkshire Dales, Fountains Abbey and local towns of Ripon, Harrogate and York. Spacious, refurbished, well equipped.
Welcome to Hillcrest Cottage nestled in the tranquillity of the Yorkshire Dales. The traditional cottage has been lovingly designed in sympathy to its character whilst maintaining the highest standards of modern comforts and conveniences. The large living room is the ideal setting for your family and friends to relax in, the inviting open fire for which logs are provided is perfect for cosy nights in toasting marshmallows. No traditional country kitchen would be complete without an oil fired Aga. Don't worry if you have never cooked on one before full instructions are provided. You will also find the kitchen is complete with all the modern utensils required for those who like to cook. There is also an inbuilt dishwasher for those who prefer to spend their time cooking rather than washing up. The spacious kitchen has room for six to dine and in addition there is also a separate dining room for more formal occasions. The utility room complete with a washing machine leads out to the cobbled court yard at the back of the cottage that can be used as additional parking for up to 2 cars. A country garden and lawn extend further and is ideal for children to play on or for summer barbecues for which garden furniture is provided. The light and airy main bedroom has the added luxury of a newly installed ensuite and an extra comfortable king sized bed. The two twin bedrooms can also enjoy a clean and bright brand new bathroom suite which has very recently been installed. The cottage comfortably sleeps 6 people with 1 double bed and 4 singles.
The beautiful Yorkshire Dales cannot be beaten on its quintessential charming villages and breath taking scenery. Kirkby Malzeard is a traditional farming village that has been unchanged for centuries both in the architecture and also in its friendly community. At the heart of the village is the award winning local butcher who offers a brilliant selection of local produce. He is only a few minutes walk away but I recommend you go early as his popularity can often result in a shortage of sausages at closing time. The other life line of Kirkby Malzeard village is of course the country pub. The Queens Head is open all year round and is a great little watering hole with a 8 minutes walk home to the cottage. Kirkby Malzeard is located within easy reach of the historic cities of Harrogate (half an hour drive) and York (one hour drive). In Harrogate the Royal Turkish Spa is a beautiful historic building that is a great excuse to visit for a day of pampering followed by afternoon tea at the world famous Betty's tea room. York too is overflowing with culture and heritage with many museums and great restaurants and of course York Minster is a must. The nearest towns to Kirkby Malzeard are Ripon and Masham both 15 minutes drive away. Masham is renowned for being home to two rival breweries Black Sheep and Theakstons both of which you can visit for their daily tours. Not surprisingly Masham is abundant with warm and friendly pubs and lovely places to eat out. Ripon too has great restaurants including Lockwoods and The Royal Oak and every evening at 9pm you can witness the ceremonial horn blowing that takes place in the market square which has been conducted without of fail for centuries. If you are feeling active there are plenty of energetic walks and cycle routes through the scenic countryside that can vary in distances and challenges depending on your ability. In 2014 the Tour de France rode jubilantly through the local area demonstrating the fantastic roads and landscapes Yorkshire has on offer for all fans of lycra. Fountains Abbey only 15 minutes drive away and is a spectacular ruin of great historical significance that has been very carefully preserved and managed by the National Trust to ensure its a great place to visit. Children in particular really enjoy exploring in the remains of the abbey and learning about the life as a monk that came to an end when Henry VIII arrived. Swinton Hall is located 10 minutes drive away and can be visited for a delux afternoon tea, a wedding or to take advantage of the luxurious spa. Swinton Hall has a very high reputation for its cooking school where you can take part in day courses that are highly recommended.
Excellent cottage, really well catered for to make any holidaymaker feel at home. Ilona has laid out very clear instructions for everything, and the place is just lovely! Thank you
Harsha
2015-08-17T00:00:00Z
Nice stay in a lovely cottage
Barry
2016-10-13T00:00:00Z
We thoroughly enjoyed our stay at Hillcrest. The cottage is beautifully situated with fabulous views over rolling fields. The cottage is beautiful and wonderfully kitted out with everything from really comfortable beds to wifi llona was the perfect host. She responded to our questions quickly and was extremely knowledgeable about the cottage and the local area. Highly recommended! Kevin and Rachel
Kevin
2015-04-13T00:00:00Z
Everything was perfect. What a beautiful house and location.
James
2016-06-23T00:00:00Z
Absolutely beautiful house in a stunning part of Yorkshire. The house is warm, cosy, immaculately clean and had everything we needed. We were a party of six ranging from 7 months to 69 years old and we all loved it. So much to do in the surrounding area, just wish we had been able to stay longer. Would highly recommend.
Rebecca
2016-10-29T00:00:00Z
It was very easy to find and access when we arrived, the house had everything we needed and really felt like a home from home. There was plenty of space for the family. We were sad to leave.
Rebecca
2016-09-16T00:00:00Z
I can only say I am lost for words. Our stay at IIona's cottage was wonderful. This is our first time to UK and our 5 nights staying at the stone cottage was a 5 star experience. The Aga cooker in the kitchen adds a lively session to our cooking sessions. I have never seen an Aga cooker before and never knew this Aga ever existed. The garden is also beautiful not to mention a BBQ pit, picnic table and chairs ready available for use which we did use for a nice BBQ at the Garden behind on our last night. This cottage is indeed planned out very well and IIlona has done a fantastic job as a Host. To those looking forward to a stay in Yorkshire, look no further. Ilona's Cottage is a must. Thank you IIona for having us..Your cottage has left a place in our hearts. Best Regards Nick Leong, Brunei
Nicholas
2015-07-14T00:00:00Z
This was a fantastic experience! A very nice and rather large cottage, perfectly situated on the outskirt of a lovely and quiet village, offering great views on the countryside surrounding it, yet close to many interesting places. We loved it so much that we immediately decided to stay an extra day. Communication with Ilona was easy and smooth, we received all the information required and instructions (house manual) well in advance, and everything inside the house was clearly explained and easy to find. Upon arrival, we were delighted to find a box of very nice cookies and a bottle of fresh milk, allowing us to settle in with a nice cup of tea. She is a perfect host! If you love cooking and never before had the opportunity, be sure to try the Aga cooker. If you have had the opportunity, you probably know what I mean ;-) A little patience and some planning is required, but the results of slow cooking are truly amazing! The butcher's shop a bit further down the street not only offers meat, but also has a decent selection of other food (dairy products, vegetables, ...) for breakfast and diner. If you don't like cooking, that is also not a problem: the village pub also houses a very nice Indian restaurant!
M4thm4n
2016-07-14T00:00:00Z
Room Type
Entire home/flat
---
Property Type
House
---
Accommodates
6
---
Bedrooms
Ripon, North Yorkshire, United Kingdom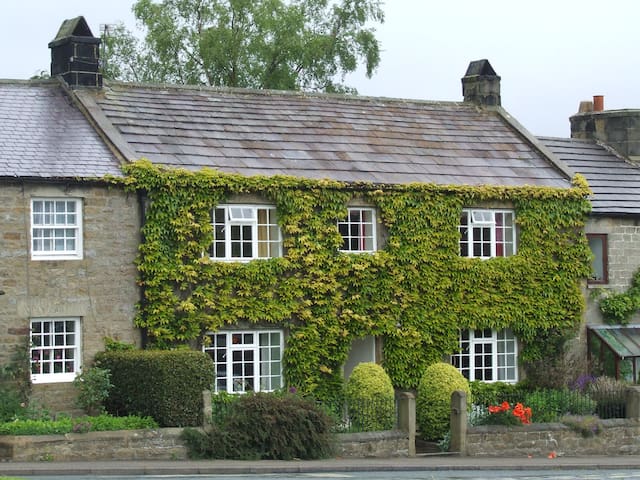 TOM is close to the picturesque Ripon Racecourse. 15 minutes walk from Ripon along the lovely Ripon canal Luxury widebeam narrowboat with all the facilities of a luxury apartment - full size bed, shower, kitchen, central heating, wood burning stove. Relax on board or stroll into Ripon which has lots to explore. Alternatively the boat makes a great central location for exploring York, Harrogate or the beautiful Yorkshire Dales. Please note the boat is not to be sailed by guests
TOM is 10.5 feet wide and 57 feet long. There are two bedrooms plus a sofa bed in the cabin. The galley is fully equipped and there's a luxury loo/shower room, central heating and a romantic log-burning stove. TOM's cabin Warm, comfy and fully furnished with a double sofa bed, an armchair and a TV. To convert the sofa bed, turn it 90 degrees and pull the lever. Bedding is stored in the wardrobe. There are games in the cupboard next to the steps near the stern doors and guide books for the local area. Please don't take these home with you! There is also a little paperback library of novels that other guests have left or swapped. Do feel free to read any of the books and even take one home if you don't have time to finish it, leaving another book in its place. About the log-burning stove A request – please do not burn anything but wood. No coal. No smokeless fuel. We've left you enough wood, kindling and firelighters for one evening and if you need more, the Shell garage in the centre of Ripon sells kiln-dried logs that burn nice and hot and are easy to light. Here's how to light the stove: 1.Put a couple of firelighters in the bottom and place a few small pieces of kindling on top, making sure you can still see the firelighters. 2.Open the bottom drawer slightly (this increases airflow) and push in the know on the front of the stove. 3.Now light the firelighters and as the kindling pieces start burning well, add larger pieces of wood. 4.When you have a nice blaze, close the bottom drawer and pull the knob out. 5.Now sit back and enjoy the warmth, adding more logs as required. Please clean out the grate before you leave – thanks! TOM's master bedroom This luxurious room has a full-size double bed with all bedding and towels provided. The LED bedside lamps have USB charging points built-in and the wall-mounted TV has an integrated DVD player. The double wardrobe is roomy, and also houses most of TOM's controls- more about these later. Those steps you see lead to the stern (rear) deck. Watch your head as you go through the door. You can slide the hatch cover back to make access easier, but be sure to close it if you want to lock the door before retiring. Alternatively, you could leave it open and sleep under the stars! TOM's little bedroom One of TOM's foibles, this. You can find this mini bedroom behind a folding door between the galley and the shower room. It's not spacious in here, but it's exciting for kids – ours fight over this room, much preferring it to sleeping on the sofa bed! TOM's shower room Pretty much like one you'd find in a house, but with a couple more of TOM's foibles. 1.The shower pumps its water up from a water tank, so you need to switch the pump on before showering. You do this with the pull-switch in the shower. Don't forget to switch it off afterwards. 2.The loo is just like a domestic one too, except that it drains into a holding tank, via a macerator pump. This means it can only handle toilet paper – please don't put anything else down as you may block the system. TOM's galley There's everything you need in here. Pots, pans, cooking tools and a Nespresso coffee machine. There's also a full cooker, a fridge, a freezer, a washing machine and a good old fashioned whistling kettle! The oven and hob burn bottled gas so you have to hold the switches in for a few seconds when lighting. Always use the extractor fan to avoid condensation and don't worry if the oven fan runs for a few minutes after turning off. Complementary washing tablets are under the sink and we've left a few Nespresso capsules by the coffee machine. The fridge and freezer will be switched off when you arrive. Turn the freezer on with the switch behind it – you can reach it through the small door next to the stove (the firelights/matches are also kept in here). Foible alert: The switch for the fridge is in the wardrobe. Please switch them both off again at the end of your stay, and leave the doors open – thanks! The bow (front) A lovely place to sit on warm evenings or sunny days. You reach it through a door at the end of the main cabin and there's a light so that you can see what you're reading (or drinking). Unsurprisingly, its switch is in the wardrobe, right at the other end of the boat. Obviously, you can set up the folding table and chairs at this end, or at the stern if you prefer. Note that there is no safety rail at the bow – something to bear in mind if you're holidaying with kids. The stern (back) The safer end if you have children with you – the rail is very strong and the canvas skirt extends across the two gaps in the rail. Care is still required, mind, and lifejackets for kids are recommended. You reach the stern deck up the steps and through the door in the main bedroom. more to come...
Wonderful, quiet and secluded location but an easy stroll to the lovely city of Ripon with its excellent restaurants and shops. The cathedral is a must visit as well as the local National Trust attraction of Fountains Abbey and Studley Royal Water Garden.
Lovely boat, beautiful area, Would recommend
Alvin
2017-04-01T00:00:00Z
Fabulous place to stay if you want to get away from it all but still have lots to do on your doorstep. Mark is a brilliant host and has thought of everything to make your stay a pleasure. The narrow boat was immaculately clean, lovely comfortable beds and nice and warm even when we had ground frost !
Karen
2017-04-09T00:00:00Z
Room Type
Entire home/flat
---
Property Type
Boat
---
Accommodates
5
---
Bedrooms
Ripon, England, United Kingdom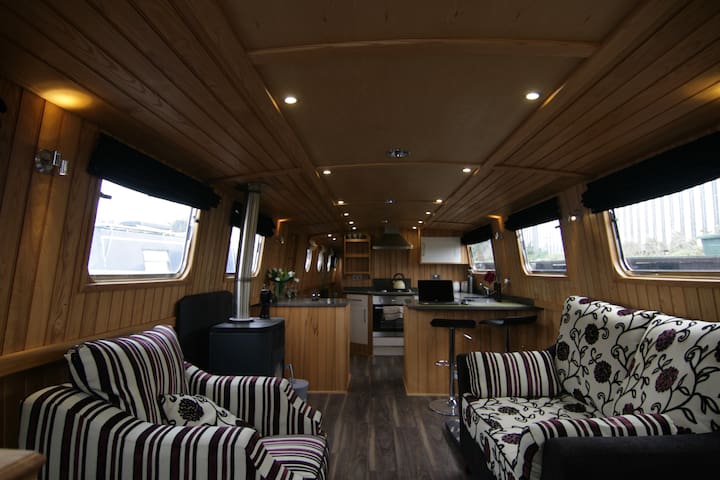 Fully modernised, grade 2 Listed Ground Floor STUDIO apartment in the heart of Ripon. Private Car Park & lovely Courtyard. Single room and Dressing room with Futon bed to the front of the Apartment.
Period cottage dating back to the early 18 hundreds.
Lovely Restaurants, Cafes & Bars. Just five minutes walk from our Stunning Cathedral and five minutes drive to the World Heritage Site Fountains Abbey! Gateway to the Amazing Yorkshire Moors but close to the Historical city of York and also Harrogate Spa Town
Karen was excellent in communication before arrival which made getting there super easy. The flat itself was perfect for us and very centrally located with a local shop next door and supermarket a few minutes walk. Our trip was short and we will probably go back to explore the wider area as there are lots of things we didn't see. Thanks Karen your place was perfect.
Clint
2016-06-01T00:00:00Z
This was a lovely apartment to stay in a location well placed for exploring the surrounding area (York, Harrogate, etc). The apartment was cosy and well stocked with everything needed for the stay. Really enjoyed our visit.
clare
2016-06-18T00:00:00Z
A beautifully restored building! Was spotlessly clean and really well equipped with everything you could possibly need to enjoy your stay. The welcome pack was lovely and Karen even bought some sweeties for our daughter which was enjoyed greatly! Ripon itself is a lovely place with many things to do - all accessible from the doorstep without having to use the car as this cottage is situated right in the centre of the city. A little further afield will get you plenty of days out with something for everyone - beautiful countryside, vibrant cities, river walks and museums/attractions aplenty. We had a great few days break here which was just what we needed. The million dollar question, of course, is would we stay here with Karen again. The answer is a resounding YES!! See you next year!!
Sharon
2015-10-05T00:00:00Z
The host canceled this reservation 25 days before arrival. This is an automated posting.
Marie
2015-09-29T00:00:00Z
Small apartment but has everything you need, v convenient location and great communication from host.
Annabel
2017-04-09T00:00:00Z
We had such a lovely time staying at Karen's apartment. All home comforts provided and so centrally located for all Ripon has to offer. We loved the luxury of lying in the enormous bed watching DVDs on the enormous TV. Great to have off street parking in the centre of town too. Especially enjoyed discovering the riverside walks and the little bookshop cafe practically next door. We would definitely recommend Cathedral Mews as a great place to stay in the centre of Ripon and hope to return sometime in the not too distant!
Lesley
2017-02-15T00:00:00Z
Karen's flat was perfect for our trip. Very cosy with all the essentials. Very close to the town centre and great that there is also parking. Karen was great at answering all our questions and very accommodating leaving tea and milk for our arrival. Would highly recommend this flat and hopefully will be back in the future!
Kate
2016-04-09T00:00:00Z
Lovely, extremely well fitted, apartment, perfect location for shopping, eating out, exploring the city and surrounding countryside. For any dog owners head for the local football/rugby/cricket ground for walkies then further along road on left join the canal walk back to centre.
Paul
2017-03-14T00:00:00Z
Room Type
Entire home/flat
---
Property Type
Apartment
---
Accommodates
4
---
Bedrooms
Ripon, North Yorkshire, United Kingdom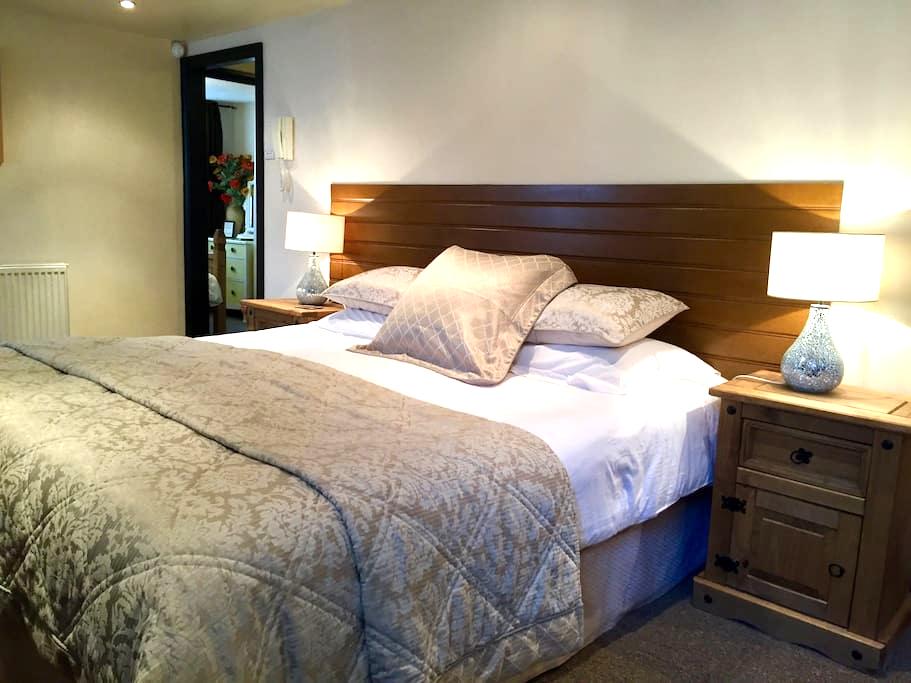 Our 3 bedroom home is a short walk from town and fountains abbey , parking is also available. The racecourse is also within walking distance. The room is a double double with views of the cathedral. Coffee making facilities and a fridge are also in the room. Plus the all important
Harrogate and the dales are all a short ride away.
Very safe and beautiful
We had such a lovely time. The room was very cosy and we were made to feel very welcome and were even given breakfast. We did a great walk to Studley Royal and Fountains Abbey which we recommend. Thank you so much
Rachel
2016-08-29T00:00:00Z
We loved so much! The comfy bed, the extra large room - 2 rooms in fact! You were both so welcoming with so many ideas of what to do in Ripon and further afield. Thanks also for the cereal for breakfast, much appreciated. Perhaps a chair or 2 for writing at the desk could be provided.
Ben
2016-07-25T00:00:00Z
The hosts were extremely welcoming and the room was very comfortable with en-suite. The location was excellent being only a few minutes walk from the city centre. The host is a mine of information and knows the area like the back of his hand. We thoroughly enjoyed our stay and would highly recommend it.
Keith
2016-05-16T00:00:00Z
I was made to feel very welcome right from the time of my arrival till the time I left
Elsie
2016-06-03T00:00:00Z
Room Type
Private room
---
Property Type
House
---
Accommodates
2
---
Bedrooms
Ripon, N Yorkshire, United Kingdom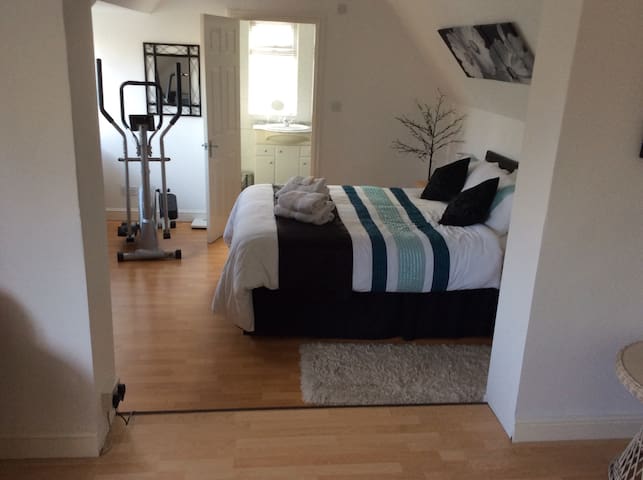 A large double bedroom in a house on the green of the quiet village of Baldersby. Five minutes from the A1 and the East Coast Mainline. Good access to West Yorks and North East conurbations as well as the National Parks of the Dales and N Yorks Moor.
We have a double bedroom with a small chair/bed for a young child. The room is spacious with a lovely view across a paddock, farm and far reaching fields. In the room there is a sink and plenty of storage space. There is a private bathroom next to your room. Parking is always available in front of the house.
Small North Yorkshire village, very peaceful.
A fine wicket, excellent innings. Hospitality knocked me for six! Wonderful accommodation and great hosts. Would heartily recommend.
Malcolm
2015-07-25T00:00:00Z
Lovely room - very comfortable bed and warm welcome from Rob & Sara. Thanks for having us!
Alice
2015-08-31T00:00:00Z
Rob and Sara's warm hospitality made me feel like home in their lovely house. They know the area very well and have shown me the best of yorkshire. il definitely go back again and they should be awarded as the best host in Ripon.
Roberta
2016-03-26T00:00:00Z
Rob and Sara are lovely welcoming hosts. Room was comfortable, bathroom lovely and modern and a good shower. Quiet rural location. Would recommend if you want a homely stay.
Glenys
2015-09-21T00:00:00Z
Beautiful house in a lovely, quiet location. A warm welcome and a great night's sleep. Private bathroom and breakfast too!
Gail
2015-04-11T00:00:00Z
Beautiful and quiet, comfortable and a warm welcome from friendly and helpful hosts.
James
2016-04-07T00:00:00Z
We had a brief but lovely stay with Sara and Rob. My many pre - visit queries were dealt with quickly and helpfully. Sara went out of her way to do everything she could to assist whilst we were there. Room and bathroom very comfortable. Great shower! Excellent experience.
Margaret
2015-06-07T00:00:00Z
A lvely place with welcoming hosts and a large room with a modern bathroom. Very quite village just next to the national Park.
Pascal
2015-07-10T00:00:00Z
Room Type
Private room
---
Property Type
House
---
Accommodates
2
---
Bedrooms
Ripon, North Yorkshire, United Kingdom
My place is close to public transport, nightlife, and family-friendly activities. My place is good for couples, solo adventurers, and business travellers.
All good lovely little flat bang in the centre of Ripon with parking - highly recommended.
Nigel
2016-10-30T00:00:00Z
This is a lovely place to stay- stylish and smart in a good location, just a short walk from Ripon centre and 50 yards from a very nice restaurant
Catherine
2016-10-02T00:00:00Z
The flat is very close to Ripon town centre. It was very clean and well equipped. The Welcome pack had a lot of treats (Fruit, KitKats and a selection of small cans of soda) which was very nice. It was apparent that the flat had been refurbished to a modern high standard.
Gary
2017-03-30T00:00:00Z
A pleasant and well located flat, and a great place to stay for a break in Ripon. Winston met us to let us in, and was very welcoming. Recommended
Peter
2017-03-23T00:00:00Z
Could not ask for a better host or cleaner & better equipped flat. Perfect for up to 4 adults, beautifully finished and a great location.
Daniel
2017-03-19T00:00:00Z
The host canceled this reservation 41 days before arrival. This is an automated posting.
Liz
2016-11-09T00:00:00Z
Myself and my family have had a very enjoyable stay. The flat is very modern and has been refurbished to a very high standard. It's location is ideal, being situated just a few minutes walk into Ripon town centre. It has the added bonus of off street parking and the flat itself looks out onto a lovely well kept garden. Communication with the owner has been excellent. We would definitely recommend a visit.
Emma
2016-10-09T00:00:00Z
Winston's newly renovated apartment was lovely to stay in. It was very tidy and looked great.
Stella
2016-09-25T00:00:00Z
Room Type
Entire home/flat
---
Property Type
Apartment
---
Accommodates
4
---
Bedrooms
Ripon, England, United Kingdom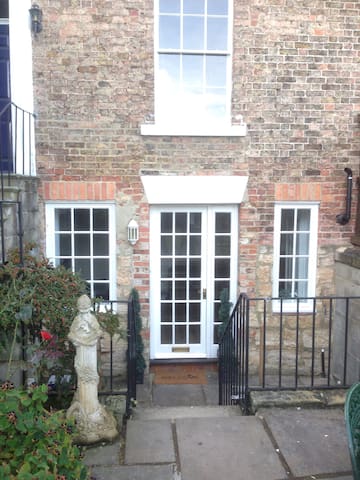 Charming Bed & Breakfast in the Yorkshire Dales, close to Ripon & Pateley Bridge. All rooms situated round a courtyard all with there own front door giving you the freedom to come & go as you please. Close to the magnificent site of Fountains Abbey.
Farmhouse B & B on a Working Farm, get away from it all in beautiful setting. Fresh Air, peace & beauty are all at St George's Court. Relax & unwind. Part of the Area Outstanding National Beauty & nestling on the edge of the Yorkshire Dales. We have 4 rooms at St George's court with one of them sleeping 4 being ideal for family use.
St George's Court is situated just outside the village of Grantley, 6 miles from Ripon, 9 Miles from Pateley Bridge & 11 Miles from Harroagte
Well signposted - easy to find, set in open countryside. Welcoming friendly host. Spacious, clean room, good bed - bedroom and en suite fitted out to a high standard, nice small touches. Delicious home made flat jack instead of the usual wrapped biscuits, with in-room tea and coffee. Charming and warm without being fussy. Excellent breakfast, fruit, fruit juice, cereal and 'full +' English breakfast. Open areas inside and out to sit and spend some time. Easy walking distance to outstanding pub food at The Grantley Arms.
Peter
2016-07-10T00:00:00Z
It was my first time in York/Yorkshire and I really had a nice time. Lindsey was really helpful and accommodating. She sent us a clear direction intructions. The room itself was really comfy and clean. Every daily essentials were available in the room. We missed out our first breakfast because we overslept yet made sure we won't miss it the second time around and It was indeed a "GREAT full English breakfast" experience. It was a fantastic weekend get away experience. Place,food, ambiance..I would definitely come back and stay at Linsey's B&B. ( oh and i just love the fairy's blue door and garden ) A must see!
Christine
2016-05-23T00:00:00Z
Both my wife and I have nothing but praise about our stay at Lindsey's farm. Good food, comfy beds, fabulous bathroom, and of course stunning Yorkshire countryside.
Derek
2016-10-14T00:00:00Z
Excellent place! Lovely room, really top class breakfast and great host. Would definitely recommend this place to anybody. Very useful information packs in the room too. Had an excellent time!
Mark
2014-07-21T00:00:00Z
Room Type
Private room
---
Property Type
Bed & Breakfast
---
Accommodates
2
---
Bedrooms
Ripon, United Kingdom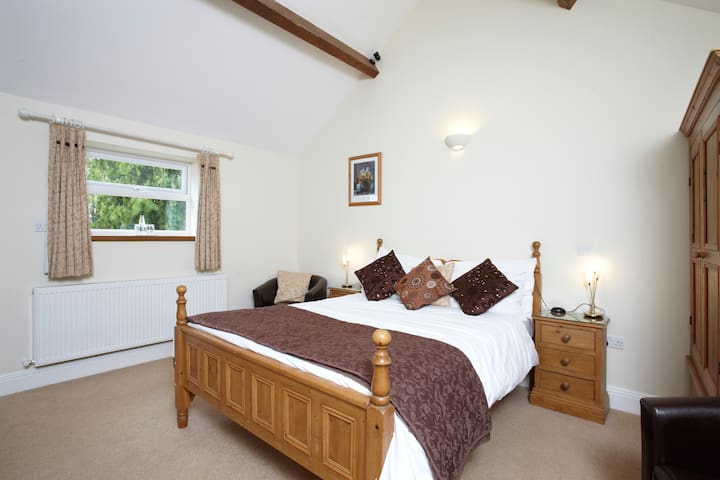 My place is good for couples, solo adventurers, and families (with kids).
The apartment has many contemporary design features including a circular window in the roof and floor to ceiling sash windows in the living area. A short walk to the cobbled market square where the hornblower sounds his horn nightly and convenient for all the local pubs, restaurants and shops (Booths independent supermarket is renowned for its quality food and wine). Ideal for visits to Ripon Racecourse and Cathedral, Fountains Abbey and the Yorkshire Dales. Harrogate is an easy 20 minute drive whilst York and Leeds are just 40 minutes away. This duplex apartment is accessed by a communal staircase to the first floor. From the entrance a hallway (with washing machine in separate cloak cupboard) leads to a large open plan lifestyle room with wood laminate flooring throughout. The kitchen area has modern fitted units, fridge/freezer and microwave, halogen hob and electric fan oven. The dining area easily seats 4 guests. The lounge has a feature white stone effect flame fire, TV and DVD with CD (DVDs, CDs, videos and books for guest use). House bathroom with travertine tiling throughout, Villeroy and Bosch bath with shower over, wall-mounted toilet, sink, underfloor heating and heated towel rail. Bedroom 2 is a double room with large fitted cupboard with hanging space. The spacious carpeted separate Master suite, with wooden french double sleigh bed and a wooden sleigh cot, is accessed up a feature spiral staircase through a door in the hallway. This room has a large circular window together with two velux windows and a lounge seating area with futon sofa bed for occasional guest use. The ensuite shower room has travertine tiling, underfloor heating and towel rail, Villeroy and Bosch wall-mounted toilet and sink and a double cubicle shower tray with power shower. Small separate room with hanging space. Pets welcome by prior arrangement. Designated parking space for one car at the front. Families welcome but please be aware of the spiral staircase up to the master bedroom.
Room Type
Entire home/flat
---
Property Type
Apartment
---
Accommodates
4
---
Bedrooms
Ripon, England, United Kingdom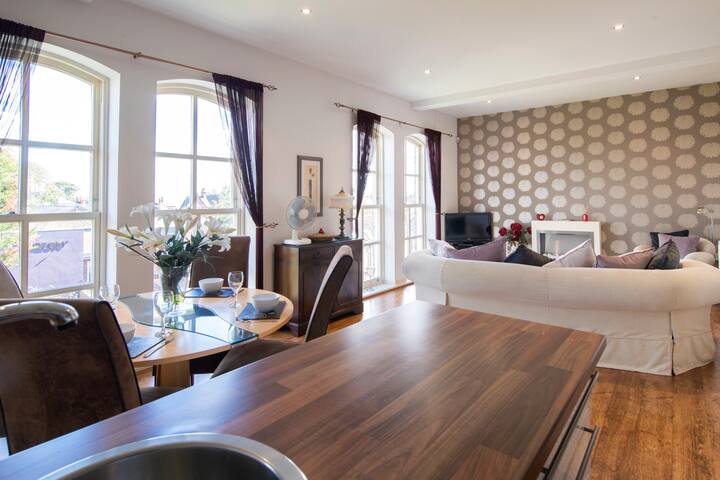 Enter dates to see full pricing. Additional fees apply. Taxes may be added.