Enter dates to see full pricing. Additional fees apply. Taxes may be added.
3 Bed & Breakfasts
· Rockport
3 Bed & Breakfasts
· Rockport
The Habitat Vacation cabins provide a getaway from the every day stress life throws at you. The cabins are located on the Lamar peninsula five minutes from downtown Rockport, Texas providing guests with access to the allure that the South Texas Coast has to offer. The Cabins sit on a 2 acre pond filled with both fish and alligators alike and is a nesting roost to the snow herons that have called this place home for years. Fishing and hunting guides, locations to eat, and events can be available upon request. Come see us !
The Habitat offers a serene getaway for people of all ages. Emphasizing the close niche in nature the Habitat provides guests with an experience that cannot be found elsewhere. Guests have access to the 2 acre pond stocked with bass, catfish, and other walks of wildlife as well. Each cabin has a kitchenette, grill, and its own bathroom complete with shower. Upon request fishing and hunting trips can be booked as well. Daily. If you want privacy we accommodate that as well.
The fact that it's a place of serenity away from the city. Each cabin has access to WIFI. Pet friendly.
Room type
Entire home/flat
---
Property Type
---
Accommodates
4
---
Bedrooms
0
Rockport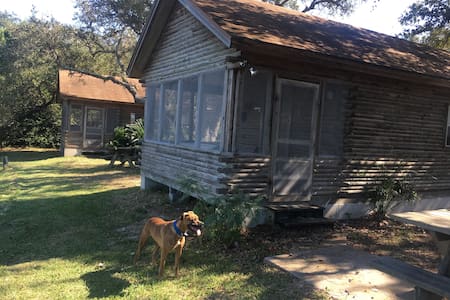 Easy to find. 3 blocks from the harbor, 8 miles to the ocean in Port Aransas. Walk to shopping. Small bedroom with attached livingroom. Guests are welcome to join us in the family room, or have a more private time upstairs.
Our place can be considered a town house. We live on the first floor the accommidations It is a perfect place to start your adventures. We have restaurants, the Realto theater which have a variety of great events that people can enjoy, and the perfect climate to enjoy exploring. The space is inspired by my 15 years of living on a boat and sailing all over the world. I might have some unusual decorating ideas. Guests are welcome to use kitchen and laundry room. We are always available to help with any questions you may have.
Parking easily available.
Room type
Private room
---
Property Type
---
Accommodates
2
---
Bedrooms
1
Aransas Pass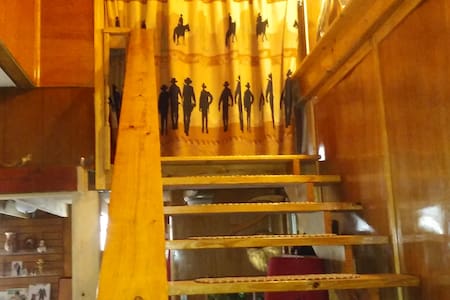 Come see why Blew Pony Stables BnB has earned AirBnB's SUPERHOST award nine quarters in a row! Super clean, quiet, comfortable accommodations for up to four people and their horses (or ride one of ours). Fishermen love this place, too! Plenty of room to turn the boat around, safe parking plus water/elect. Central location is perfect for exploring the local bays and beaches. Port Aransas, Corpus Christi and Rockport are all within an easy commute.
Though the vision for this space is to accommodate out-of-town horse owners that wish to bring their own horses for a gallop on the beach, horses are not required to be a guest. Ride from the barn on miles of shady trails in a private oak forest or take a short trailer ride to horse friendly beaches and trails. Maps and directions are printed in the Bunkhouse Guidebook. The rustic, cowboy themed "Mother-in-Law" apartment is attached to the main house, but has a private entrance, its own outdoor space, two queen beds, a kitchenette (microwave/coffee maker/mini-frig), private bathroom, free WiFi and use of the guest barn. Starbucks Coffee is complimentary. Several major attraction areas are within an easy drive, including: Corpus Christi, Rockport, South Padre National Seashore. The bunkhouse is located 8 scenic miles from the Port A Ferry that runs 24/7 to the ocean surf. Within a few minutes, there are several public, bay-side beaches and boat ramps for kayaking, bird-watching and fishing. Guests without trailers should use Gate 3 for private parking and easy access to the "Bunk House". Guest's with trailers should use Gate 1. The guest barn is approximately 30x40, panel enclosure with a three sided, run-in shed (see photos). Hay is available for sale. Check with innkeeper for price and cut. There is ample truck/trailer parking. Hook-up for LQ trailers is booked through a separate listing on AirBnB. The innkeeper is on-site and available for assistance, if needed. The Bunkhouse is an addition to the main house, but has a private entry and is self-sufficient so Guests can enjoy their privacy.
Blew Pony Stables Bed and Breakfast is located on a quiet, paved, dead end county road. Most neighbors live on small acreages with well kept homes and pastures with shady, old growth trees. It is the best country living, with all the conveniences of living in town. We are conveniently located 2 miles from shopping and restaruants, 4 miles from the local boat ramp and just 8 miles to the Port Aransas ferry that runs 24/7. Plan a nice dinner out at any one of Rockport's fine restaurants, visit the Aquarium in Corpus Christi, go deep sea fishing or watch baby turtles being released into the sea at Padre Island National Seashore. Whatever your interests, Blew Pony Stables BnB is perfectly located to accommodate your next adventure! The horses on the property are privately owned. Guest riding lessons may be arranged with notice (weather permitting). Closed-toe shoes are required. Children must be accompanied by an adult in the barn/arena area.
Kimberly is a warm and gracious hostess, so generous with her time and expertise with horses and tack. I've been to the Bunkhouse twice, and Kimberly feels like family. I am so happy to know her.
Janet
March 2016
Fantastic spot; wonderful host. The accommodations are quaint, as well as luxurious; I was pleasantly surprised by all the amenities - marvelous touches in the bathroom, and even a stocked kitchenette! Add to that, the beautifully rustic surroundings of the property, and a location just an easy excursion from the remarkably inviting beaches - perfection. In addition, Kimberly puts such gracious care into her role as hostess, one feels immediately welcome, and entirely at ease. I will definitely be back at my earliest opportunity! If you enjoy vacationing on a quieter note, at a bit of a distance from the crowds and commotion, and flourish with a sense of connection to the earth, you will find peace and joy here; I highly recommend the experience.
Mariya
August 2014
Kimberly did a fantastic job of making us feel right at home immediately. Our room was comfy, she gave a fantastic tour of the place and our kids loved it. We had a great experience!
Michael
July 2015
Kimberly was great, I had planned a motorcycle trip to her place from Austin on very short notice she got back to me promptly and was very kind. I ended up going down on the bike on the way (I am okay a little busted up but nothing major) needless to say that canceled our trip. Kimberly was understanding and great. I will come back next year. I love the concept that she has, I just wish I had horses to bring!
Tamara
October 2014
Kimberly stayed closely in touch with us before and during our stay via text. We also had a few opportunities to get to know each other one on one once we arrived. She is an extremely interesting friendly person with many life experiences to share. Due to a bad storm on our first night we lost power for over 12 hours. That also meant no water since it pumps with electricity. She hosted us at a local cafe for breakfast to make up for the inconvenience which was very enjoyable. Unfortunately the bad storm also meant we had to cancel our planned trail ride. Kimberly was willing to do it on Sunday but sadly we needed to head home. However, it was fun to get to meet her sweet horses, dogs and cat. The surrounding area has a lot of mobile homes so it isn't very picturesque but looking away from the road is a pleasant cow pasture complete with wildflowers. Since we were mainly in town for some birding opportunities and also since we couldn't ride on Saturday we were mainly on the property after dark. We watched a few movies and generally just relaxed at night. Kimberly has added a lot of unique touches to her space. I especially loved the "barn door" that closes off the bathroom. In only two years she has done a lot with her property and I know she has more improvements planned. If only I had my own horse to haul in for a chance to ride on the beach.:)
Cheryl
March 2016
Kimberly was a perfect host. Easy to stay in communication with, and very friendly. She showed us around the stables and let my kids help feed the horses. She gave us some great recommendations. I highly recommend her B&B!
Corie
September 2016
Felt really good about staying here. Kimberly was a great host--around enough to help us settle in but not overly much-- and it was obvious that she went out of her way to make my fiancée Stephanie and I comfortable in our stay.
Martin
February 2015
Kimberly is a very gracious host. The accommodations were spot on as advertised. Very laid back, clean and comfortable. Close to everything I needed including food and beach. Highly recommended.
Peter
September 2014
Room type
Entire home/flat
---
Property Type
---
Accommodates
4
---
Bedrooms
1
Aransas Pass