Enter dates to see full pricing. Additional fees apply. Taxes may be added.
3 Cottage Rentals
· Rosemary Beach
3 Cottage Rentals
· Rosemary Beach
Less than 10 minutes to the beach! Your own cottage on Hogtown Bayou. After soaking the sun at the beach, retreat from the crowds and toast the sunsets on your own pier, around the fire pit, or inside the large screened outdoor kitchen.
You'll stay in a brand new tiny house where you'll be amazed at how much space you have. This cozy cottage includes a private bedroom, full size bathroom and kitchen, and comfortable furnishings. Outside you'll enjoy a private, secluded 1/2 acre lot that backs up to brackish Hogtown Bayou. The property includes a private fishing pier and large screened gazebo with an outdoor kitchen. Less than 10 minutes from scenic Highway 30-A and Gulf Place public beach access; 15 minutes to Seaside and Watercolor. BR #2 is actually a 2014 model retro style camper complete with 2 twin beds, A/C, heat, sink, two-burner propane stove, microwave, refrigerator, and toilet/shower. The camper rents for $25 per person per night for up to two additional guests but is not available as a stand alone rental. For more information search for campdave-srb. Guests will have full access to the entire property. A local guest host is available by phone and may greet you at check in or during your stay.
The property is located at the end of a dead-end dirt street in a rural area of historic Santa Rosa Beach. It is just two miles north of Highway 98 off of County Hwy 393. It is a quick four miles straight to the beachfront and to the restaurants and shopping along popular highway 30-A. There are bike and scooter rentals nearby. Like our Facebook page @campdavesrb.
Very comfortable,clean and well worth being a little bit off the beaten path !
Gene
May 2016
We booked Camp Dave for Christmas weekend just a few days before our trip, almost on a whim, and it was a great choice for a holiday getaway. The tiny house itself is well-designed, clean as a whistle, and private. The amenities are wonderful--a firepit in which we roasted weenies for our Christmas eve supper, and later marshmallows for s'mores, a large, screened gazebo equipped with a summer kitchen, which we used for our Christmas Day repast, and a recently built pier and dock, from which my husband enjoyed fishing. There is also a dog pen for those wishing to bring along their four-legged family members, which we did not use. Dave was easy to connect with throughout our communications, despite it being just before, during, and after a holiday weekend. He notified us during the booking process that only one of his several kayaks was available for use during our stay. This was more than sufficient, as my husband was more interested in fishing than kayaking. He caught a nice keeper redfish, and had a great time doing so. I enjoyed a lovely late afternoon paddle, and wished for more time to explore. The camp is perfectly sited for easy access to all the attractions of 30A, and we had fun playing there during our brief stay, but it was lovely to return to the camp, walk out on the pier, look up at the stars, and enjoy the solitude. The only real issue that we had during our stay was some trouble getting network television reception. This appeared to be connected to the Netflix account, and a previous guest's failure to log out properly. It had not been resolved before we left, not due to any neglect on Dave's part, but rather because I had no interest in spending our brief time there fussing with the television. There is way too much to do! We look forward to another, longer visit to Camp Dave.
Sharren
January 2017
David is a great attentive host and answered all my questions :) This is a perfect getaway for 2. Small, charming cabin had everything needed and outdoor kitchen was a big plus. Kayaks available for use is a neat touch and getting to the beach is truly a straight, quick shot. We will come again!
Kirsten
September 2016
The place will surprise you upon arrival we were very shocked and couldn't believe how nice and cosy the place was. There are alot of words I could describe this place as Everything is new and fixed up right. I can't wait to go back and contact David about this . Very helpfull when needed . All the reviews on here I would agree on . My daughters usually don't recognize the place when they are going to sleep but this here boy I tell you . We were extra confurtable !
Jorge
July 2016
Gosh! What a great experience we had at camp David. It was more than we expected the property was so nice! David was so kind and honest. We will definitely be returning. Oh and just a few miles from the beach.
Tonya
August 2016
This place is smartly designed, clean as can be, with new and modern design and appliances. It has a beautiful private dock with a super cool waterfront screened in outdoors kitchen. (There's a modern kitchen inside, too, but if you wanted to have a waterfront cook-out at the end of your day, this place would be killer.) This spot is just around the bend from a waterfront park with a boat dock, too. So this would be an epic headquarters for a fishing trip home base. You could easily drive and turn around a trailered flats skiff in this fenced off property's driveway. The South Fort Walton area is one of the nicest resort areas I have ever been, too, and this was the perfect retreat, allowing me easy access to the local destinations from my very quiet, very private nearby headquarters. Most importantly, David is also an easy and fantastic host. He somehow knows just when to reach out to you, making sure that you are well-taken care of.
Jordan
April 2016
David is such an amazing host. He answered any question we had before our trip and stayed in contact while we were there. He made sure everything was perfect. The property is so beautiful! It's so peaceful and sitting on the pier was as relaxing as sitting on the beach. It's a straight shot to the beach about 5 minutes away. It's absolutely the best of a "lake" vacation mixed with the best of a beach vacation. Though the cabin is tiny, it isn't cramped at all. The layout utilizes every bit of space and feels very cozy. We will definitely be back to visit!
Rachel
September 2016
My husband and I went down to Camp Dave for 2 nights. Everything there is immaculate, well-planned, well-equipped. It is a beautiful setting, and David could not have been more helpful. We just loved it and would definitely stay there again. The place is comfortable and tastefully decorated. All plumbing was great! Plenty of hot water. Solid wi-fi and good cell connection. Convenient to beaches and shopping. Friendly, little brown rabbit on the property.
Joanna
June 2016
Room type
Entire home/flat
---
Property Type
Cabin
---
Accommodates
4
---
Bedrooms
2
Santa Rosa Beach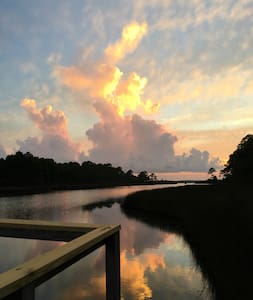 Our house has a inside cabin look. It sits on 5 acres of wooded land with 225 feet over looking the bay. It's has beautiful views. A great place for a vacation. We have a two person Kayak and two bikes. There is a 12 mile safe bike route which takes you through Hammock Bay. It's a short twenty minute drive over our 331 bridge to enjoy the pure white sands of Blue Mountain Beach. Panama City, Pensacola, and San Destin are well worth visiting during your vacation. Come visit us in Freeport.
Two bedrooms. One with a king size bed and the other with a daybed and a trundle. We also have blow up mattresses. The whole house is available. We be available if needed.
Room type
Entire home/flat
---
Property Type
Cabin
---
Accommodates
6
---
Bedrooms
2
Freeport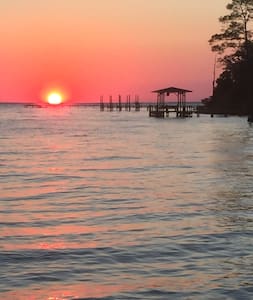 Stay on one of the prettiest lakes in north Florida. enjoy stunning sunsets and a beautiful sand beach with crystal clear water. you can enjoy wonderful cannoning kayaking and fishing. Pier Park and Panama city is only a short drive away.
Room type
Entire home/flat
---
Property Type
Cabin
---
Accommodates
4
---
Bedrooms
1
Chipley