İznik'e 8 km'de doğanın, yeşilliğin, tam ortasında cennetten bir parça. Kiralık dağ evimiz, arkadaş grubunuzla, ya da bir organizasyon çerçevesinde, özel gün kutlamalarına, yoga, resim, tiyatro çalışmalarına uygun 80 metrekarelik bir alana sahip.
----------------- Notice for the guest who knows us before: we take our electricity back again :)) --------------------------- 8km top of the town, you can see all city, from in front of the nature. You can come here with your friends to have a great time all together. The house is suitable for many kind of organisations, like yoga class, theatre class, tai, or painting etc... Also good for children. THey can learn how to be in nature,what is olive and what is the story behind. House and garden is perfect choice for weekends to calm and being in nature. So when you come here you will find fresh vegetables and fruits. You can walk in the forest and collect seasonal fruits from the trees, Our house has two floors, The house is 140 meter squere, In the first floor, there is two rooms with double beds, bathroom, livingroom and the kitchen. And the second floor, wich is all 80 m2, and has the view of all the gardens, the Iznik Lake, and the city. There are matresses for 14 people in the roof floor. After you come to iznik city center, you have to take a taxi to come.. Or we can make a shuttle service between city and the house. You wont be sory for chosen this plaece, People who came here, they came back :))
We enjoyed our time in Cerens place. Clean, peaceful and friendly atmoshpere. We recommend it all who likes to have an escape from city's crowd and enjoy the nature
Gokce
2013-11-04T00:00:00Z
We had wonderful days in this isolated and charming homely place. The house is well equipped and has a great upper floor viewing Iznik lake and the area. Ceren and Ali were wonderful hosts providing us with all the information and help we needed, and even picked us up from a nearby town, as we arrived (EMAIL HIDDEN)municating with Ceren was very smooth, responsive and easy (which we found out to be not that obvious in Turkey). The operation of the house's electricity system (generator), the water heating (heated with wood) and the general heating (fireplace) requires some handy skills and energy. We enjoyed it and felt it was part of the simple, natural and ecological atmosphere. Ali comes daily to work at the house's garden , but he is so gentle and charming that it didn't bother us at all. Thank you Cern and Ali for this vacation. we hope to come back soon.
Yakir
2014-04-18T00:00:00Z
The place was very cosy especially the second floor was very comfortable, the view of the lake from top floor was wonderful. Weather outside was pretty cold but wood burner heaters on both floors made inside nice and warm. We were 10 people, didnt have one single complaint. Definitely going to visit in spring time.
Ali
2013-12-16T00:00:00Z
We arrived Ceren's house on a snowy day. She heated the house before and during our trip gave us the directions on the phone whenever we needed. Very charming and hospitable. The stay that we had there was an escape from the city which resulted as a nice memory. I recommend her house to everyone who wants have some quiet time or fun with friends outside of the city in a village. Even though there is a generator the lack of electricity opens new possibilities. Such as games, conversations and enjoying the view even more.
Aytek
2013-12-10T00:00:00Z
Ev sahibimiz Ceren Hanım bizi güler yüzle karşıladı. Kiraladığımız ev tam olarak resimlerde görüldüğü gibiydi. Her fırsat bulduğumuzda küçük huzurlu bir kaçamak için kendimize harika bir yer bulmuş olduk. Çok teşekkürler Ceren Hanım
Gülden
2016-10-30T00:00:00Z
sessiz, huzurlu, doğanın içinde; geniş bahçeli, sevimli 2 dost canlısı köpek, 5 kedi kardeş ve harika manzarası ile çok tatlı bir ev ve ev sahipleri sizi bekliyor. temel ihtiyaçların varlığı ve ev sahiplerinin yardım severlikleri bizleri çok memnun etti. ayrıca evin dekorasyonu ve içinde bulunan kitaplar da harika. özellikle doğanın içinde eserlerini kaydetmek isteyen müzisyenler için burası beklenmedik bir ilham kaynağı da olabilir. sadece evin bulunduğu köyün elektrik şebekesinden kaynaklanan bazı problemler yaşayabilirsiniz (voltaj düşmesi ve elektrik kesintisi gibi) ama bu da güç kaynağı ile çözülebilen ufak bir dert. bu problemle karşılaştığınız takdirde ali bey'den destek ve yeteri kadar jeneratör yakıtı rica edip tatilinize rahatlıkla devam edebilirsiniz.
Ece
2015-01-03T00:00:00Z
La maison a beaucoup de charme et d'originalité. En pleine campagne, parmi les oliviers... et l'aménagement, en "lounge-dortoir" à l'étage du dessus est plutôt sympathique. Ceren et son mari sont présents et prévenants. En revanche deux points importants à signaler : 1/ la maison n'est pas du tout prévue pour des petits enfants. escalier vraiment dangereux (la petite barrière qu'on voit sur la photo fait 20 cm au-dessus du vide), les fenêtres ouvrent directement sur le sol et n'ont pas de garde de fou... 2/ Deux chiens, certes gentils, mais grands!, et du genre excités, donc les enfants en ont peur. il faut les empêcher de s'enfuir à chaque fois qu'on sort... on aurait préféré s'en passer ! La maison est du genre rustique, et par temps humide le poêle pour l'eau chaude n'est pas suffisant. Mais (en insistant un peu... pour avoir le vrai chauffage) on peut quand même avoir bien chaud. En conclusion : une maison rustique et sympathique, idéale pour les retrouvailles d'une bande de copains, mais pas très safe pour les enfants. Avec qq inconvénients quand même et un confort "rustique" lui aussi , qui justifierait de revoir le prix un peu à la baisse.
sar
2015-05-31T00:00:00Z
Ev sahipleri istediğiniz her zaman ulaşabileceğiniz, ihtiyaç duyduğunuz her konuda destek alabileceğiniz çok sıcak ve yardımsever insanlar. Evin içerisi çok temiz ve düzenli. Ayrıca içerisi o kadar çok ve farklı eşya ile dolu ki, evden çıkmak istemeyebilirsiniz. Kitap, dergi, müzik, müzik aleti, dekoratif eşyalar olarak çok zengin bir iç alan. Siz ne kadar içerden çıkmak istemeseniz de sizi dışarıya davet eden yine çok şey var, en başta muhteşem yeşil ve göl ve İznik manzarası, gezmek isteyeceğiniz geniş bir bahçe ve bahçede sizinle oynamaya davet eden Asya ve Kaya (köpekler). Şehirden o kadar uzak ama o kadar da yakın. Ben evde yemek yapmayı tercih etmediğim için kahvaltı ve yemekler için şehir merkezine gidip geldim, en fazla 10 dk içinde kendinizi şehirde bulabiliyorsunuz. Yalnız olarak huzur bulmak ve kafa dinlemek için birebir. Ailecek gidilebilir, keyifli zaman geçirilebilir. Şehirden uzaklaşmak, huzurlu ve sakin bir ortamda kitap okumak ve zihnimi boşaltmak niyetiyle gittim, beklentilerimi fazlasıyla karşıladı. Kesinlikle tavsiye edeceğim bir mekan.
Osman
2015-04-26T00:00:00Z
Room Type
Entire home/apt
---
Property Type
Villa
---
Accommodates
10
---
Bedrooms
İznik, Bursa, Turkey
İznik merkezde sahile sıfır müstakil bahçeli Harika villa 6 kişi konaklama yapabilmektedir.
Room Type
Entire home/apt
---
Property Type
Villa
---
Accommodates
6
---
Bedrooms
İznik, Bursa, Turkey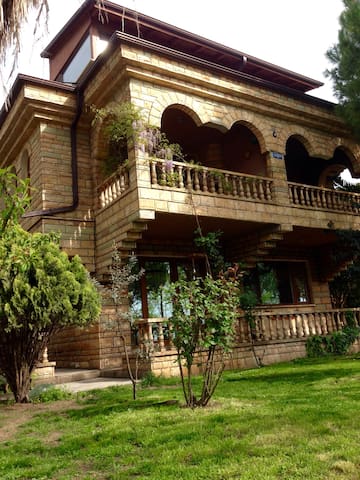 Tarihi mekan iznik 12 km gezilecek çok yeri var. Bursa 90 km mesafede keyifli ,neşeli vakit geçirebileceğiniz müstakil alan,sessiz ve huzur dolu tatil için arayınız.
Room Type
Private room
---
Property Type
Villa
---
Accommodates
6
---
Bedrooms
Yenişehir, Bursa, Turkey