Enter dates to see full pricing. Additional fees apply. Taxes may be added.
4 Lofts
· Saint-Pierre-Aigle
4 Lofts
· Saint-Pierre-Aigle
Nice and quiet loft beside our main house, close to the small city centre of Dormans, with attached private bathroom and free parking. To be shared : big garden
Only 1h30 by car from Paris and 55min by train from Paris. Looking for an escape in the lovely region of Champagne? Do not hesitate any longer. Dormans is located in the heart of the Marne Valley. If you are fond of wines or simply want to discover the secrets around the Champagne making process then this is your next place to stay to enjoy local products. Market every Saturday on the main square.
This space is perfect for a quick comfortable overnight stay. Communication with Clair was easy. Claire's mother was there to receive me and she is very nice and helpful. The location is great if you want to explore the Champagne wine region.
Jennifer
November 2014
So warm, welcoming, and helpful even though I kept her waiting by being late! Very easy, convenient, well provisioned, with private parking. And anywhere which has free ranging chickens clearly has the right attitude!
Ed
March 2016
Claire and her mother Silvia were an absolute delight to stay with! Dormans is very rural but was the perfect escape from Paris; not far but certainly a word apart. I was there for the grape harvest and was able to watch a lot of the picking and hike through the vines (and of course taste champagne!). Exactly, if not better than the photos and would be ideal for a getaway for one or two people. Definitely recommend!
Elizabeth
September 2014
I had a very good experience. I can recommend this place - it was clean, big enough. I did not meet Claire but her mom welcomed me. i can recommend it to other guests.
kati
November 2015
This is a lovely little stand-alone apartment in the garden. I was expecting a room in the house but it was more like having a tiny holiday home. It was cosy, had a good bathroom, microwave, kettle, coffee machine and a comfy sofa. It just a great vibe to it and we loved spending the evening there. Just a short walk into the nice little town and lots of good vinyards nearby.
Robert
September 2016
Warm welcome from German-speaking mother. Easy to rent a bike. Room is good equipped for the price. I could not operate the coffee machine but I may have made a mistake. Great view over wine fields and near the river. Brilliant outset for tour of Champagne and easy accessible from Paris. Nice dog.
Flemming Juul
July 2015
Claire mum's welcome me. All went well and good for a night stop over. Recommended.
Julien
February 2016
It was a great stay at Claire's place. Although she wasn't there, her mother was there to make sure everything is fine for me. The room was very comfortable and very very well decorated. I will DEFINITELY come back should I am going to pass by the region next time.
Ng
October 2014
Room type
Private room
---
Property Type
---
Accommodates
3
---
Bedrooms
1
Dormans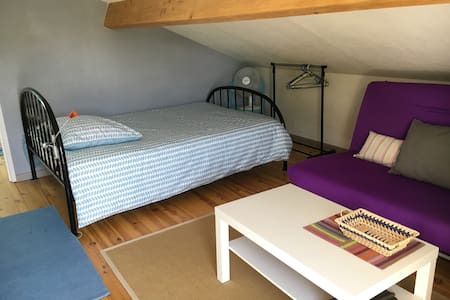 Ottima accoglienza in un ambiente sereno e famigliare. Abbiamo trascorso dei bei giorni di relax a base di champagne
Andrea
August 2016
Hôte très accueillant, disponible tout en étant discret. Nous avons passé un excellent séjour !
Astrid
December 2016
Très bon accueil d'Etienne et sa femme. Studio propre et très agréable.
Anne-Lise
September 2016
Excellente nuit passée dans le charmante fermette d'Etienne et sa femme, avec un petit studio, bien équipé et bien agencé, équipé d'un jeu de fléchette pour les amateurs et bien sûr tout le confort nécessaire. Le jardin, les animaux de la ferme, la décoration ainsi que la vue sur la colline vous replonge en enfance. Très bon accueil et bonne prise en charge. Hôte charmant, toujours prêt à apporter son aide et partager sa passion pour la Region. Avec l'amabilité qui le caractérise, Etienne nous a emmener découvrir des petits producteurs de Champagne et leurs installations. C'était parfait. Merci pour tous. Continuez dans votre réception d'hôtes. Adresse à ne pas rater.
Quentin
January 2017
Maison rustique et idyllique au coeur de la Champagne. Le petit village de Nesle-le-Repons est très charmant. Le point culminant de notre séjour a été un merveilleux dîner avec Étienne et sa femme Marie, avec champagne et pâté maison. Ils sont superbes hôtes. Je recommande vivement cet hôtel à d'autres. Rustic, idyllic home in the heart of Champagne. The small village of Nesle-le-Repons is very charming. The highlight of our stay was a marvelous dinner with Étienne and his wife Marie, complete with local champagne and homemade pâté. They are superb hosts. I would highly recommend this place to others.
Eric
November 2016
Room type
Entire home/flat
---
Property Type
---
Accommodates
2
---
Bedrooms
0
Nesle-le-Repons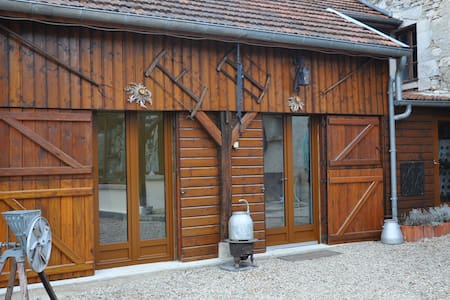 Je n'ai malheureusement pas eu la chance de voir Mélanie en personne mais tout a été soigneusement préparé à l'avance. L'appartement est tel que sur les photos, extrêmement agréable et bien placé. La communication est facile avec l'hôte, c'est un appartement que je recommande vivement !
Maxence
October 2016
Room type
Entire home/flat
---
Property Type
---
Accommodates
6
---
Bedrooms
3
Meaux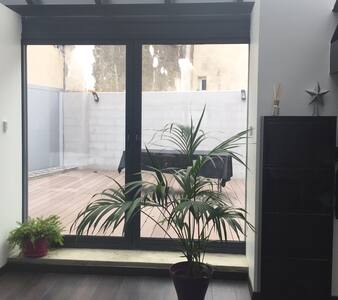 Emilie's house was a real pleasure to stay in. The open plan kitchen- living room was perfect for a big group like ours, and the bedrooms all good sizes, modern and well kept. We loved the outdoor space and the ability to eat outdoors. We would definitely recommend this place to friends!
Anjali
June 2016
Wonderful house, perfect for large groups visiting Disneyland Paris.
James
August 2016
Great location and nice place to stay for Disneyland
Alexander
July 2016
They were very nice! The house is clean, spacious and well furnitured. We will come back an other time!
Kristien
January 2017
It was one of the best Airbnb experience I have ever had, the house is huge and well decorated, we are welcomed upon our arrival and everything was perfectly explained including the local detail. The garden is lovely, we love everything in the house, we will recommend Emilies as a host to everyone.
Jerry
October 2016
Jean-Yves nous a accueilli avec beaucoup de gentillesse et de disponibilité ! Le loft a tenu ses promesses : chaleureux et fonctionnel. Le marché du dimanche était le petit plus du week-end, avec aussi la boulangerie et ses excellentes pâtisserie à deux pas de la maison. Nous y avons passé un très bon moment en famille.
Sarah
February 2016
Accueil très chaleureux, maison très agréable , moderne, spacieuse (super déco), boulangerie excellente à 2 mn (sympa pour le p'tit déj) et restaurants très bons à proximité , bref, tout pour réussir un long weekend en famille à Disneyland qui n'est qu'à 7mn de la maison…grâce aux bons tuyaux de Jean Yves pour le trajet et le parking. Jean Yves a eu la gentillesse de nous offrir à volonté café, eau, jus de fruit et nous préparait chaque jour le poêle à bois. Sans oublier la présence de l'adorable chat que nous avons failli ramener dans nos bagages… !!! Merci encore à notre hôte et à son adorable fils.
Alexandre
March 2016
Le logement est parfait pour une grande famille (nous étions 4 couples avec 4 enfants dont 3 bébés), l'espace de vie adaptée à la capacité d'accueil, la Terrace est aussi immense. Disney se trouve à 6 km en voiture. Le quartier est très calme et il existe une boulangerie à 5 minutes à pied du logement. L'accueil bien comme la disponibilité de l'hôte a été superbe, et dedans on peut retrouver tout dont nous avons besoin en cas d'oublie. À refaire quand les petits auront grandit.
Ruben
October 2016
Room type
Entire home/flat
---
Property Type
---
Accommodates
10
---
Bedrooms
4
Saint-Germain-sur-Morin