3 blocks from Highland Park's most popular shops, eateries and bars, The Crow's Nest is a studio cabin situated in a private backyard with a large deck, offering a 240º view of rolling hills and the San Gabriel mountains - a cozy and bright getaway.
This cute little urban cabin has everything you need to make your stay in HLP memorable! - kitchenette with mini-fridge, microwave, toaster oven, 2 burner hot plate - bathroom with compact sized shower (30" wide x 27" depth) - comfortable bed with quality linens - futon couch - wifi -space heater and portable AC unit - vintage record player - french doors leading to large deck, perfect for your morning coffee or evening cocktail - 3 minute walk (3 blocks) to the cafes, bars, and shops on York Blvd - close access to freeways and metro station (1.3 miles) makes it easy to access the greater Los Angeles area
Local places on York Blvd that we love (all super short walks) Coffee: Cafe de Leche, Highland Cafe Drinks: The York, Johnny's, Block Party, The Hermosillo, Sonny's Hideaway Breakfast / Lunch: Highland Cafe, The York, Belle's Bagels (takeout only), Kitchen Mouse Dinner: Town Pizza, Sonny's Hideaway, Ramen of York, El Arco Iris, Dessert: Donut Friend, Scoops (ice cream) Cheap Eats: U-Pick Cafe, El Huarache Azteca, Charlie's Taco Truck
Booked this little gem for my son and I when we visited Occidental college. It was perfect. A really great space, wish we'd stayed longer. Very quiet and secluded. Deck space is great bonus. The Bed is comfy, and all the niceties if you were staying longer.
Steven
2016-04-22T00:00:00Z
Amazing place! Highland park is such a cool area! We loved out stay here, everything was perfect, and super considered!!! Highly recommended! Gorgeous spot!
Katie
2016-04-30T00:00:00Z
Lisa & Aaron we're great hosts & very welcoming. The Crow's Nest was a great place to stay. Well equipped, very clean & the outdoor deck provided commanding views over the surrounding area, a really nice place to relax after a busy day. We would 100% recommend to anyone, and would love to stay at the Crow's Nest next time we're in LA.
Matt
2016-02-13T00:00:00Z
It really nice place to stay. Clean and comfortable.
Wasu
2016-02-29T00:00:00Z
One of the best airbnbs we've ever stayed in!! A++++++
Luke + Samantha
2016-12-11T00:00:00Z
Lisa&Aaron made our stay at the cabin perfect! Late check-in was no problem at all. The cabin is a lovely place and we would have loved to stay longer. We totally recommend to stay at the crowd's nest! :-)
Lisa
2016-10-14T00:00:00Z
The space was extremely clean and inviting. We loved all the natural light that comes in through the windows. The hosts were helpful when my friend hurt her ankle. They brought us an ice pack and made sure we had everything that we needed. The area is absolutely lovely, every corner has charm. The view from the crows nest is amazing, we really didn't want to leave. We also had the best sleep ever, the bed is so comfortable. It is easy to get around by uber or lyft, there was always a driver around. We would definitely stay here again and highly recommend.
Taylor
2016-03-04T00:00:00Z
We loved everything about our short stay at the Crow's Nest in Highland Park...Lisa and Aaron have created a gorgeous, relaxing hideaway in a fun neighbourhood and it was a real pleasure to stay here in their cosy cabin. Everything you need whilst away from home is provided.. And more! Loads of finishing touches which really made our stay special... the Beatles Abbey Road on vinyl is one of my favourites and now will always remind me of the splendid view across Highland Park to the mountains - thank you for everything!
Claire
2017-03-15T00:00:00Z
Room Type
Entire home/flat
---
Property Type
Cabin
---
Accommodates
2
---
Bedrooms
Los Angeles, CA, United States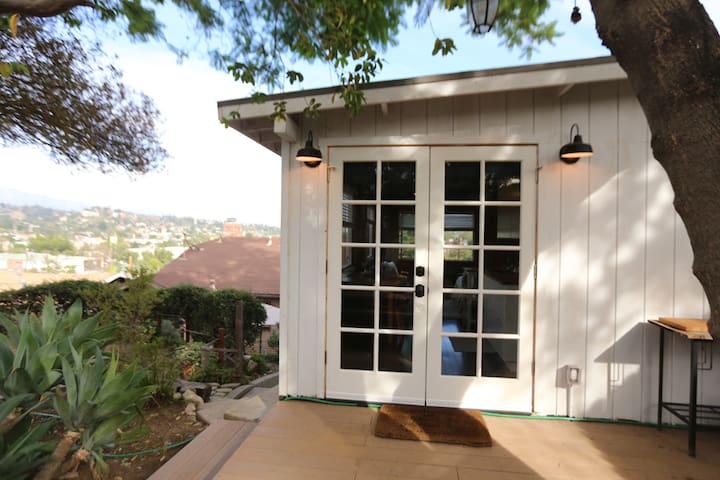 A beautiful, quiet guest house nestled in the hills overlooking downtown LA surrounded by trees and birds.
Nestled in the hills of Mt. Washington overlooking Downtown LA and Elysian Park, this quaint back house studio is surrounded by a serene garden full of butterflies, hummingbirds and the occasional flock of wild parrots. The home is walking distance to cafes, restaurants, supermarkets, buses, the LA River and the Gold metro rail line that runs North to Highland Park and Pasadena and South to Downtown LA and East LA (with connections across the city). The property is in the middle of a quiet, safe hill full of great old houses and incredible views to Downtown and the San Bernardino Mountain range. There are many great parks and places to hike, run and explore within walking distance. Highland Park is an eclectic neighborhood not too far away with lots of great restaurants, cafes, and shops. Atwater Village is also a short distance and offers some great restaurants, cafes and an excellent Farmer's Market on Sundays. Eagle Rock is another great neighborhood not too far away. The home is styled with an eclectic mix of mid century furnishings and textiles with some modern amenities including a brand new kitchenette with an electric stovetop, tiled bathroom and laminate wood floors. This is a great place to unwind and relax. There is a TV with roku (good for netflix and streaming) and plenty of great indoor and outdoor areas to read and work including a picnic area, firepit and lounge at the top of the terraced back yard with views to Downtown skyscrapers, Elysian Park, the Griffith Park Observatory and the Hollywood Sign on a clear day. Please note, there are some steps to access the casita so try to bring stair-friendly luggage!
Mt. Washington is one of LA's best kept secrets. It's minutes from downtown, surrounded by Highland Park, Atwater Village, Glassell Park and Eagle Rock and filled with great little gems. The Self-Realization Fellowship has their HQ on the top with gorgeous gardens open to the public and there's some fun little parks and stair wells hidden throughout. Great restaurants, bars, cafes and shops close by including a pocket of shops, a local bar, taqueria and grocery store a few blocks away at Figueroa and 26th.
I received several text messages prior to arriving which made my wife and I very comfortable. The space was clean, centrally located and very relaxing. We made use of the picnic table in the back and had a delicious breakfast while taking in the view. The bed was comfortable, the shower was great and we had everything we needed for a very memorable stay. We spent most of our time visiting friends and family and did not get around the neighborhood at all. We will definitely recommend this Garden Guest House to our friends and traveling family members. Thank you very much for the wonderful accommodations. Robert & Allegra Lewis.
Robert & Allegra
2016-03-23T00:00:00Z
Ethan was wonderful, warm, and attentive.
Nathan
2016-10-02T00:00:00Z
The place is perfect! Great location and Ethan was always available for help, and he has a very helpful list of tips and neighborhood info.
Mariana
2015-01-25T00:00:00Z
The back house is bright, cozy and well maintained. Perfect for a couple. My daughter and her husband enjoyed staying there and found the bed very comfortable.
Dea
2013-12-02T00:00:00Z
I stayed at this lovely cottage for a couple of days and was quite pleased at the accuracy of its description. It's located in a fairly quiet area of north LA. Ethan provided a nice list of things to do & places to eat nearby and in the city, which I didn't expect but was happy to see. For those looking to spend time at the beach ( like I did), I would recommend having a car.
Mariama
2016-10-29T00:00:00Z
Staying at Ethan's place was really fantastic! I had only just arrived in LA all the way from Australia and not only was he the most gracious and giving host but the Garden House is beautiful, quiet, comfortable and clean. The garden itself is beautiful too and so nice to relax in with a good book! Being without a car I found it really easy to get to public transport nearby, and Ethan was always very ready to help and prompt to reply if I needed help, and really made me feel at home. The neighborhood is really quiet and lovely too, perfect for a great getaway and especially if you don't want to be sleeping somewhere where you'll get woken up by traffic! It felt like a little paradise in a big city. So thank you very much to Ethan for giving me a home away from home when I needed it!
Louise
2013-04-01T00:00:00Z
Ethan's place is really great! Exactly what I needed- clean, cosy, quiet and in a great location. It was a quick walk to North Figueroa Street buses and the Gold Line train. It was nice to spend an afternoon in the backyard with a view of Downtown LA and the surrounding hills as the sun set. Ethan was a great host, quick to respond to any questions or requests that I had. I would definitely stay again the next time I'm in Los Angeles.
Justin
2014-12-15T00:00:00Z
I loved staying at Ethan's backyard house! I was there for a whole month and it was just perfect for someone who wants her privacy but also likes to know that someone is in the house next door. Ethan took care of everything I needed and answered all my questions and gave me lots of suggestions for stuff about the neighborhood and LA in general.
Alexandra
2014-02-01T00:00:00Z
Room Type
Entire home/flat
---
Property Type
Cabin
---
Accommodates
2
---
Bedrooms
Los Angeles, CA, United States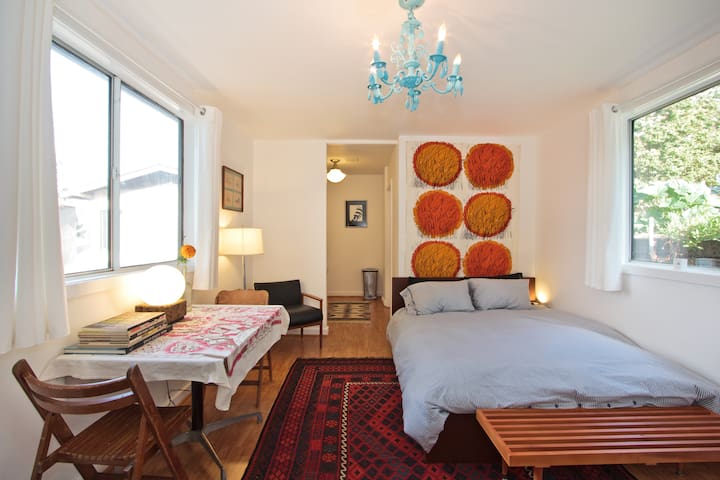 Roomy and luxurious guesthouse a little ways away from our house. Surrounded by mature trees and perched atop a small ravine. In the beautiful foothills of Pasadena - removed and peaceful, but very close to the Rose Bowl, Old Town Pasadena, and the Huntington Gardens. Just a few miles away from Downtown LA!
We have a queen bed w/ a soft down comforter, a queen size sofa bed, a flat screen TV, modern appliances, and beautiful finishing touches from my family - such as fresh flowers! :)
Pasadena is an older city in LA, but it's filled with sunlight and natural beauty. It's gorgeous here year-round! Two of the most delicious ice cream places are about a mile east and a mile west of our guest house. Mother Moos is about a mile east in the town of Sierra Madre and Carmela's is a mile west on Washington Blvd in Altadena.
This lovely guest house is exactly as depicted on the site. The lead up conversations with the hosts were informative and reassuring. We spent 10 days here and enjoyed the tranquillity and beauty of house and the surroundings. Leisurely mornings on the balcony with a view on the ravine and the mountains in the far vista. The house was fully stocked for our long stay. We lacked for nothing. Food shopping (Whole Foods and Vons) is just 6 - 8 minutes away. We highly recommend this delightful location to anyone looking for a retreat away from the madding crowd but close to services nonetheless. Thank you Faisal and Misbah for your welcome.
Kathryn
2015-10-10T00:00:00Z
This is a lofty, spacious mid-Century modern studio decorated with many high-end furnishings and linens that reflect the hosts' sophisticated and cultivated tastes. It is large and spacious with soaring open ceilings and idyllic views of the forests. Our hosts Faisal and his wife were very gracious and provided us with a warm welcome. The location is towards the NW hills of Pasadena and feels more like Napa or Marin than SoCal. If you're looking for the perfect weekend getaway from SoCal's typical commercial bustle, this place is highly recommended!
Helene
2015-07-11T00:00:00Z
My wife and I traveled here for our honeymoon. It was the perfect vacation spot. Such a clean, tidy and spacious spot to relax. We had everything we needed. It was very private yet still close to LA if you wanted to go there. Faisal and his wife were both excellent hosts. Very friendly and if we needed anything, all we had to do was ask. We look forward to staying here again! We highly recommend their place!!
Cody
2016-07-29T00:00:00Z
This was the perfect "getaway" for us -- the cabin is very comfortable and beautifully decorated. The neighborhood is very nice and it felt like being in the wilderness but with all the comforts of home. Faisal was very welcoming and gave us more than the essentials to make us feel comfortable. We highly recommend staying here!
Jenny
2015-09-01T00:00:00Z
Great hosts and location!
Thomas
2016-06-28T00:00:00Z
We had a lovely time at Faisal's guest house. We didn't want to leave! Faisal was warm and welcoming. The guest house was well decorated, extremely clean, comfortable, private and had a lovely view of oak trees. It was a mini retreat! We enjoyed sitting on the porch and watching the doves and bluejays. We had everything we needed. Thank you Faisal for a much needed getaway and retreat for the soul. It exceeded our expectations! We will be back and recommend it to friends.
Jennifer
2015-05-16T00:00:00Z
Faisal's place was better than I expected in every way. It was private, and ideally located, in a gorgeous neighborhood with all amenities nearby and easy to get to from Burbank and downtown LA. The pictures do not do this place justice. The main thing I'd like to note is the very high quality of everything outfitted in this place. The linens, kitchen, furniture are all very luxurious and comfortable. Faisal was very friendly but we had ample privacy.
Ryan
2015-12-18T00:00:00Z
What a piece of paradise Faisal has here!!! I grew up in So Cal, and it's not my favorite place. What Faisal has created changed my looking, and I can see why people like living there still! It's the best LA has to offer, for sure. We came to town for a wedding in Pasadena. There was a long gap between the ceremony and reception, and we were able to come back here and enjoy some time with a few family members, relaxing in the outdoor seating area, enjoying a beautiful, QUIET, peaceful setting. I can't say enough how gracious Faisal and his family were. We would come stay here again anytime!
Margaret
2016-09-19T00:00:00Z
Room Type
Entire home/flat
---
Property Type
Cabin
---
Accommodates
4
---
Bedrooms
Pasadena, CA, United States
1

–

3

of

3 Cottage Rentals
Enter dates to see full pricing. Additional fees apply. Taxes may be added.