CASA ESTUPENDA LINDANDO BOSQUE, A 1 H DE BARCELONA EN COCHE o TREN. A 15 MIN DE MONTAÑA DE MONTSERRAT EN COCHE (SERVICIO TREN MUY CERCA) ,NATURALEZA PURA, CON POZAS NATURALES, TODOS LOS SERVICIOS EN EL PUEBLO, PISCINA PRIVADA PARA DISFRUTAR EN LOS DIAS DE CALOR. PISCINA MUNICIPAL A 10 MIN CAMINANDO, SUPERMERCADO, FARMACIA EN PUEBLO, AMBULATORIO CERCA. REALMENTE UN LUGAR TRANQUILO PARA EL DESCANSO, ESCALADA, SENDERISMO Y MUY BIEN COMUNICADO PARA LLEGAR A PLENO CENTRO DE BARCELONA. PLAYA A 1 H.
Room Type
Private room
---
Property Type
Bed & Breakfast
---
Accommodates
2
---
Bedrooms
Castellbell i el Vilar, Catalunya, Spain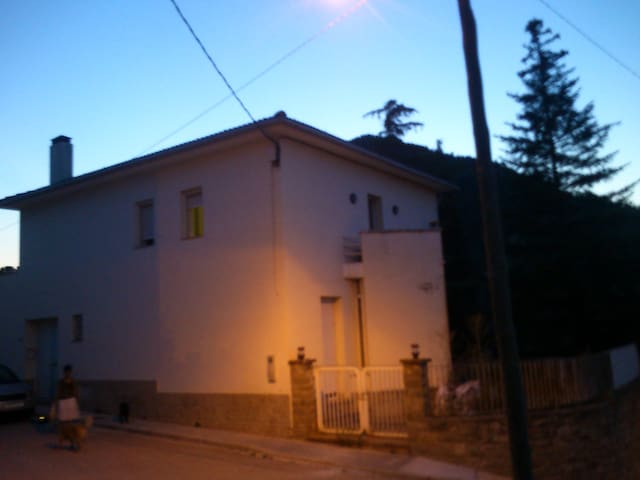 Spacious double room with private bathroom. It features an outdoor porch 25m2 exclusive use, where you can spend delightful evenings watching beautiful sunsets. It is part of a Catalan typical farmhouse, built in 1834. The price includes self-service, a light breakfast, consisting of: coffee, tea, milk, biscuits and muffins. If you wish, you can serve, at extra cost, a full-lacto ovo vegetarian breakfast.
Spacious double room, equipped with a private bathroom. There is room also has a nice outside porch of 25m2 exclusive use, with 2 comfortable sofas where you can spend delightful evenings watching beautiful sunsets. It is part of a Catalan typical farmhouse, built approximately in 1834, and facing the magic mountain of Montserrat, in the heart of Catalonia. The farmhouse is located between the Natural Park of Sant Llorenc and the magical mountain of Montserrat (with the possibility of visiting the monastery and its beautiful hermitages or climbing the many climbing routes and via ferrata). We are only 60km from Barcelona. The nearest town, Castellbell i Vilar, is 3.5 km. It has 2 train stations (RENFE and FFCC), restaurants, barbershops, bakeries and supermarkets, pharmacy, medical service, etc. The price includes self-service, a light breakfast, consisting of: coffee, tea, milk, biscuits and muffins. If you wish, you can serve, at extra cost, a full-lacto ovo vegetarian breakfast that includes, apart from the above, our biological jams, juices, bread, and rich organic eggs from our chickens. Our house has a swimming pool (open from June to October), private access road, water fountain, barbecue (only in winter), and private forest roads, henhouse, etc We have free wifi. Free parking. We can do your laundry at an additional cost. Check in after 21pm. It has a cost of 10 € additional.
tranquility, peace and security in a magical setting.
My girlfriend and I have been on a two month trip throughout western Europe and our stay with Carles was by far one our favorites experiences. His home is beautiful, remote from the town so it was nice to be in the quiet mountainous region of Castellbell i el Vilar. From the cabana there is a perfect view of Montserrat. More than anything else Carles´ food was phenomenal. I could easily write this review solely about his culinary skills. You don't have to eat every meal at home but after trying his food you will definitely want to. Carles and his girlfriend, Mariana, are highly recommended hosts!
Seth
2014-08-10T00:00:00Z
Carles was great. He always made sure we had everything we needed. The farm house we stayed in was totally amazing. We loved that we were out in nature with, dogs, chickens, roosters, and miles of hiking paths. The country breakfast that was prepared for us each morning was like out of a storybook fairy tale. We had a wonderful stay there and highly recommend it to anyone who wants to visit Montserrat.
Marc
2014-10-17T00:00:00Z
Great!
Gal
2014-10-15T00:00:00Z
Wonderful, thank you Carles!
Meri
2014-08-16T00:00:00Z
This is such a wonderful place. Nicely decorated and spacious room, wonderful view on the mountains and a wonderful host. Carles gave us advice on places to eat, visiting Montserrat, a wine tour in the area and the walking paths near his house. We loved walking with the dogs every day and relaxing at the nice big swimming pool afterwards. A real five star experience! Note: You should really come by car as the place is at the end of a 1 km bumpy private road.
Sam
2016-08-27T00:00:00Z
2 fantastic days! Our best airbnb experience!Thanks a lot Carles and Mariana, we hope to come back very soon and stay longer :)
vincent
2015-07-17T00:00:00Z
Fantastic! We were met with the warmest welcome and felt completely at home straight away. The location was great as long as you have your own transport (the dirt driveway was a little difficult on a bike). The dinner that was cooked for us was absolutely delicious and the dishes kept coming out! The room and bathroom were very cosy with the pool only meters away. Highly recommend, it was the perfect place for our first Airbnb experience. Thankyou very much!
Kelly
2016-08-19T00:00:00Z
Wow - what a find! We had such an incredible time at Carles place. The most stunning location overlooking the mountains and the gorgeous Monsterrat range. With a pool, sun loungers and pagoda to relax under- so tranquil and relaxing. The room was really quaint, cosy and tastefully decorated. We were treated to Carles delicious cooking - at a really reasonable price, it was quite the feast of food. Truffe and Dimingo the dog were there to greet us each day, as were Oscar the cat and Lugi the kitten. We felt so at home here, and would absolutely love to return! Thank you Carles and Marian for a wonderful stay.
Melanie
2016-09-04T00:00:00Z
Room Type
Private room
---
Property Type
Bed & Breakfast
---
Accommodates
2
---
Bedrooms
Castellbell i el Vilar, Catalonia, Spain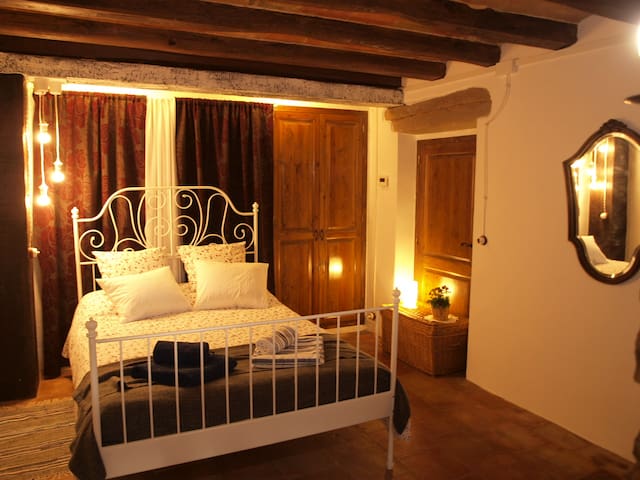 Preciosa casa con 7.000m2 de jardín, habitaciones dobles (calefacción, tv, terraza con vistas). Baños amplios y equipados, con ducha y bañera hidromasaje. A 13km del Monasterio♡
La casa se divide en dos, de forma que nuestros invitados tengan total privacidad. En la pequeña viven Jordi y Bienve, excelentes anfitriones♡ La grande dispone de 4 habitaciones, una de ellas individual y el resto dobles, amplias, con TV, armario, calefacción, terraza con vistas a Montserrat, baños amplios con ducha (uno de ellos con bañera de hidromasaje). El jardín es enorme, puedes pasear y respirar aire fresco por nuestro paraíso particular♡
Estamos en una urbanización familiar y muy tranquila en pleno Parque Natural de Montserrat, perteneciente al bonito e histórico pueblo de El Bruc (7km), con súpermercado, farmacia, estanco, panadería, bodega ... Y a tan solo 13km del Monasterio de Montserrat♡
We absolutely loved our stay! The house is very beautiful with a small nice pool and a really good view over the village. Our room was big, clean and had a nice terrace also. Jordi and his wife are so kind and nice - perfect hosts and we definitely felt like home. The food was delicious, they are using only local products gathered around the village and nearby friends, so it was really fresh and well made. There is also a ranch nearby where you can go horseback riding, Jordi also knows the people there and arranged us a ride and also took us there himself. The location is perfect to visit all nearby cities and nature parks - Montsserat (monastery and hiking trails), Cardona, Collbato (the caves of Salitre - amazing!). We only wished we could stay for longer and we definitely recommend it to everyone who wants to have a really nice vacation outside the city, there is a lot to do and to discover.
Janeli
2016-07-23T00:00:00Z
Very beautiful home.. And scenic countryside.. Pili's Mom & Dad are very nice people. We felt at home at their place. The catalan food made by her mother was very delicious. Their house was very clean and well maintained with lot of old things preserved very nicely. Great collection of wallclocks (32) some of them nearly 300 years old. In only one day we felt attached to her mom & dad.. Very nice couple.. Will visit again..
Sarvesh
2016-06-18T00:00:00Z
We came from Barcelona to spend a night at CanGifre with hopes of exploring Montserrat Parc. George and Welcome were incredibly welcoming when we arrived, and made sure that we had everything we needed. They spoke very little English, but made every effort to communicate with us using (SENSITIVE CONTENTS HIDDEN) translate and the little Spanish that we knew. When we arrived, they prepared us a tradational Catalan lunch (15 euros each) and drove us to and from Montserrat Parc, where we hiked for 4 hours (20 euros.) When we got back to CanGifre, we had another traditional Catalan meal (15 euros each.) The food was delicious and fresh--all the veggies were from the garden and the seafood was caught by a friend of theirs. We had to catch an early flight from Barcelona, so George graciously woke up early to drive us there (50 euros.) Their home is beautiful and custom-built, and George and Welcome treated us like family.
Jacy
2016-07-18T00:00:00Z
CanGifre: "The place to be" around Montserrat. Jorgi and "Bien Benita" were great hosts and very friendly. After 2 days hiking it was pure luxure to have this big appartement/house for me. Everything is very high standard and the balcony/terrasse directly to my room has a great view to Montserrat. If you want they make dinner and breakfast for you for small money. This is adorable and with good classic spanish ingredients. Next time I will bring some friends and only make holidays at CanGifre :) Thank you Pili for organizing everything. Thanks Jorgi for training my french and thanks "Bien Benita" for beeing great. Jacob
Jacob
2016-05-26T00:00:00Z
Jordi and Bienve are excellent host, they were really friendly and we felt like at home. The food they provided was delicious. Their place is very well located, super clean and big. The stay was excellent and I'm looking forward to come back.
Giorgio
2016-05-10T00:00:00Z
Everything was very good!
Walter
2017-03-27T00:00:00Z
Wonderful host, we were not able to share one language but with a lot of humor and curiousness we lerned a lot from each other. The house and the room was very nice, the bathroom wonderful and we found everything as expected. Thank you.
Clio
2017-03-21T00:00:00Z
We liked the apartment, it was clean and with the great view to mountains - we were really impressed! The landlord was communicative and friendly, we also took breakfast consisting of cheese, tuna/bacon-ham, grilled bread, tomato, butter, juice, jam and coffee. We are so glad that staid in the apartment with so nice housekeepers!
Ильдар
2016-07-16T00:00:00Z
Room Type
Private room
---
Property Type
Bed & Breakfast
---
Accommodates
2
---
Bedrooms
Urbanización Montserrat Parc (El Bruc), Catalunya, Spain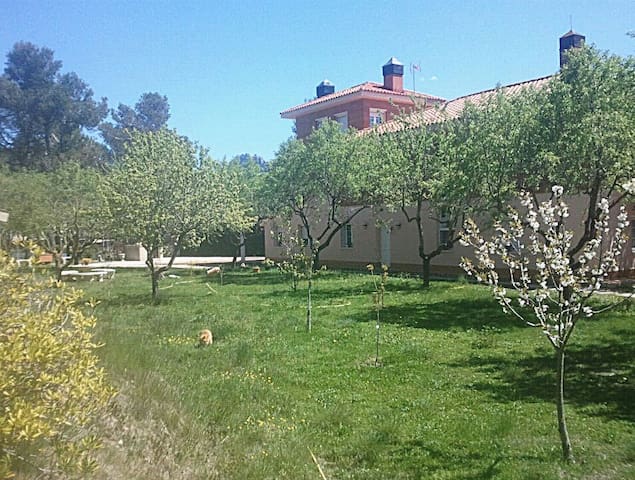 Fantastic spacious room, the entire top floor of the house is available to guests. Two single beds and a sofa bed located in a library. own bathroom with tub for two. Elevator. In the center of town.
A great room-library occupies the entire top floor of the building. Accessible by elevator or stairs. Own bathroom. Incredible views of Montserrat. Spacious and bright. A fantastic library at your disposal, a whole floor for you, with lots of light and spectacular views of Montserrat. A bathroom with tub for two. Breakfast included. Párquing available to guests. a library with hundreds of titles at your disposal. Yes, I try to explain what they can do in the area and they feel at home. I can guide them without problem for excursions they want to do in the area. Collbató is a small medieval village located in the foothills of the mountain of Montserrat. The house is located in the center, and also is two minutes from the start of hiking trails. It can be reached by car and by bus line (the Spanish Igualadina).
The possibility of excursions, visit the village located in the fala de Montserrat. Collbató is a beautiful medieval set. The house is located in the center but also is two minutes from the beginning of fantastic excursions.
This was the start of our family trip, we drove with our 2 year old straight from a long day of flights... arriving to this charming village which is very convenient from bcn airport (30 min or so). It can be a tad bit tricky to find the address via gps the first time, but ask around, everyone knows Elies :) we got to feel like locals for a couple of days with private parking, and a wonderful space with a magnificent view, huge tub and even a kitchenette. Elies was a gracious host and I wish I hadn't been so very tired upon arrival as he had interesting stories (a great way to shake off my very rusty Spamush). Muchas Gracias Elies! Einat, Afi & Ariel
Einat
2016-07-16T00:00:00Z
Elise was in contact with myself at all times! Give us plenty information about how to go everywhere from his home also told us any nice and interesting histories! Help me in person to solve a small problem and explained to my about the people who live around how close they were and how they help each other!
Narciza
2016-08-19T00:00:00Z
Amazing apartment in very special location.
Josh
2016-01-09T00:00:00Z
Our short staying (just one night) was vert nice. The house is beautiful and romantic, our room is very cozy with many books, comfort beds and bathroom and with unforgettable view. Elies is so delicate gentleman, we wished to speak Spanish better to talk more. Thank you, dear Elies!
Inna
2015-06-23T00:00:00Z
Elies is a very very nice guy! It's true, we had a language barrier which made it difficult to communicate, nevertheless he was an amazing host! In the entrance to his apartment stands a old gramophone (that still works!), when we asked him about it he played it to us and then offered to show us the town. After a quick trip (after all it is a small town), he took us to the neighbor building which apparently he also owns, and we've entered and discovered a fully 19 century apartment with the entire furniture still in place that had belong to his ancestors. With a lot of music instruments laying around (guitar, harp, piano, buzuki, accordion, and more). According to Elies he owns around 1000 instruments! That was very unexpected for us, and made the trip an amazing experience! Thank you very much Elies!
Or
2014-10-02T00:00:00Z
We had a lovely stay with Elies, the village of Collbató is very charming, and there is a huge market on Sundays in the town centre. The view from the room is incredible as you can see Montserrat in all of its glory right in front of you — a great view to wake up to in the morning. The bathroom is nice and warm with a huge bath. The elevator was very helpful as we had some heavy luggage to get up to the second floor. There are some great walks nearby as we walked up part of Montserrat and the town. The caves are unfortunately closed at the moment due to a rockslide, but they would have been the icing on the cake if we were able to see them. We'd happily stay with Elies again and recommend him as a great host.
Kate
2016-02-03T00:00:00Z
Our stay with Elies was very comfortable. His house is a very interesting space with a magnificent view of Monserrat.
Ditta
2016-02-24T00:00:00Z
Elies was a very giving man. He saw his sincerity even though we did not speak any of his languages. We would love to visit again and see him, his assistant and Betty Boop.
Anna & Russell
2015-06-18T00:00:00Z
Room Type
Private room
---
Property Type
Bed & Breakfast
---
Accommodates
4
---
Bedrooms
Collbató, Cataluña, Spain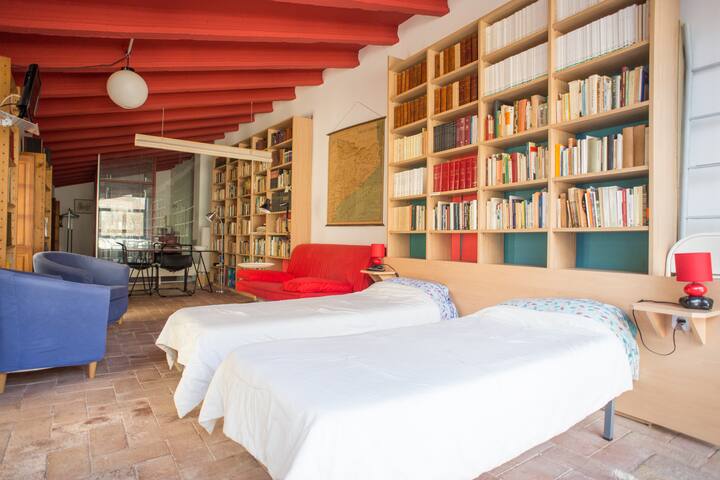 Preciosa casa en pleno parque natural de Montserrat. 5 habitaciones dobles y baño privado (muy amplio y equipado). Jardín de 7.000 m2 con montaña propia y excelentes vistas. Un paraiso particular♡
Disponemos de 5 habitaciones privadas, dobles, amplias, equipadas, con baño privado y vistas preciosas, os encantará :)
The host was most welcoming, especially considering our late arrival time. Contact was good and language barrier was dealt with very well via phone translation
Marc
2016-06-26T00:00:00Z
Outstanding hosts! Awesome rooms, very comfortable. Take the home cooked option for dinner, quality and quantity was outstanding. Definitely recommend this place.
Paul
2016-07-23T00:00:00Z
Very nice and clean house. Space is huge and sunny place.
Peter
2016-11-09T00:00:00Z
I felt welcomed and enjoyed my short stay at Montserrat. Thank you. Steve
Steve
2016-07-16T00:00:00Z
Our stay was amazing! Our host Jordi is a really sweet and polite. He really made us feel at home. The facilities were amazing and the rooms are clean. The view from our balcony to Montserrat was beautiful! I would definitely book this house again if I would go to Barcelona :). It's only a 30min drive!
Susanne
2016-10-10T00:00:00Z
The room itself is very nice, with two twins that make up a king bed (made with separate bedding). There are doors onto an upper terrace which had wonderful views of the valley and Montserrat. Huge bathroom, shared with other guests in the BnB section of the house. Lovely house built by the owner with lovely gardens and grounds. Helpful and friendly hosts! We gave our stay here a 3 star rating because of two main things: accuracy and communication. We were surprised that breakfast was not included in the rate, and was another 14 euro upon our departure. Also, our booking went smoothly but when we called for help locating the place in the dark, there was no answer :(
Dave & Jan
2016-10-20T00:00:00Z
Really liked the accommodations! Wonderful views from the terrace of the mountain of Montserrat! The owners are very nice people! Fed delicious breakfasts and dinners! All recommend!
OLESYA
2016-09-04T00:00:00Z
We thoroughly enjoyed our stay with the CanGifres. The house is lovely and luxurious. The room and bath were excellent and of high quality. We highly recommend the optional meals. They were delicious. The CanGrifres are lovely people and made us feel most welcome. We very highly recommend staying here.
Nancy
2016-07-06T00:00:00Z
Room Type
Private room
---
Property Type
Bed & Breakfast
---
Accommodates
2
---
Bedrooms
Montserrat Parc, Catalunya, Spain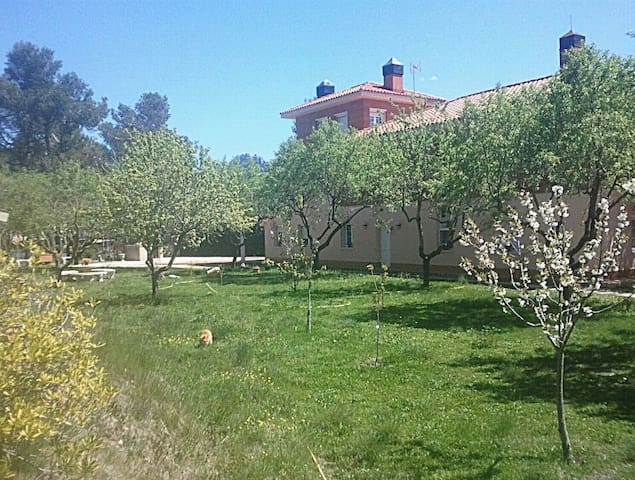 1

–

5

of

5 Bed & Breakfasts
Enter dates to see full pricing. Additional fees apply. Taxes may be added.