Laissez parler vos envies dans ce cadre vintage et atypique! Un endroit idéal pour les couples qui désirent un moment d'évasion, avec un jacuzzi 6 places vous attend dans la véranda.
Le lieu est idéal pour se détendre entre amis ou se retrouver en couple. Egalement proche du Salon des Expositions (Ville Pinte) Il s'agit d'une location à la nuitée et pas d'une location de villa 24h/24h. Dès lors, pour les locataires qui souhaitent réserver plusieurs nuits, veuillez prévoir des sorties pour vos après-midi. Description : Une chambres de 10m2 avec lit double, décoration baroque. Cuisine équipée, salle à manger, véranda avec coin détente (jacuzzi) et coin cinéma. 2 toilettes, une salle de bain avec douche, baignoire d'angle et double lavabos.
Maison 150m2 en Quartier pavillonnaire, très calme, centre commerciale O'parinord à proximité, restaurants, MacDo, pizzeria etc... Idéalement situé, proche de Paris, 15 min du stade de France, du Parc des Expo (Ville Pinte), 10 min des aéroports CDG et Bourget.
Hosts were excellent very responsive and informative, house was a dream and had the best experience staying there in a life of luxury. House in an excellent location- a 10 minute walk from the train station to the house, 20 minutes from airport and a short journey into Paris! great neighbourhood and perfect for a couple getaway!
Matt
2016-09-15T00:00:00Z
Even though we were held up and arrived very late we were made to feel relaxed and welcome. very comfortable bed. Thanks
Sarah and Sergio
2016-10-18T00:00:00Z
Superbe Maison ! Nous avons pu apprécier la piscine en ce dimanche ensoleillé à plus de 30 degrés. Eva est une personne sympathique et l'expérience a été top. Je recommande l'annonce fortement. Nous espérons renouveler l'expérience avec Eva dans le cadre de nos barbecues TakeABref !
Ouss
2016-07-12T00:00:00Z
とても優しく丁寧なホストさんでした☺︎
MIHO
2016-10-16T00:00:00Z
Très bon accueil et bonne communication avec l'hôte. Attentive, discrète et sympa. Quartier calme et logement situé à moins de 10 min de la gare. Très belle maison, bien entretenue et bien décorée. Correspond parfaitement aux photos. Le seul bémol et que la réservation concerne uniquement l'une des chambres et tous les autres équipements, y compris le jacuzzi sont à partager soit avec l'hôte(qui reste sur place) soit avec d'autres locataires s'ils sont présents. Toutes les chambres sont à l'étage et côte à côte.
Inès Brigitte
2016-04-14T00:00:00Z
Endroit parfait pour un weekend ensoleillé. La maison est bien décorée et les hôtes très sympathique.
Fabien
2016-08-15T00:00:00Z
Room Type
Private room
---
Property Type
Villa
---
Accommodates
2
---
Bedrooms
Le Blanc-Mesnil, Île-de-France, France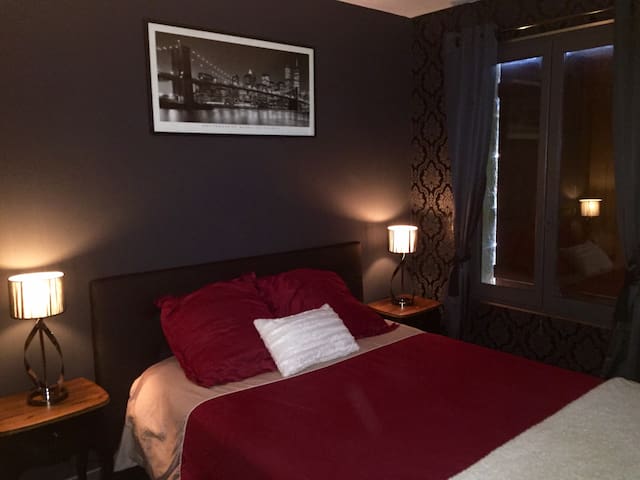 Tranquille tout confort, internet. Idéalement située à 2 pas d'un parc de 31 Hectares. A seulement 25km d'Eurodisney et 20km du Roissy Charles de Gaulle, 15km du chateau de vincennes et 10 de porte de Bagnolet. Bus et Station Autolib à 5 mn.
Une des premières maison à l'architecture typique, chargée d'histoire datant du 18éme siècle. Histoire du plateau les Seigneurs et Châteaux d'avron Lorsqu' arrivèrent les premiers habitants des lotissements de Beauséjour et du Bois d'Avron, dans la seconde partie du XIXème siècle, ils découvrirent des vestiges de fondations et de murs de ce qui avait été un château. Ces découvertes étaient d'ailleurs confirmées par la tradition orale des communes avoisinantes, les derniers édifices n'ayant fini d'être démolis que deux décennies auparavant. Il y avait donc eu un château au Plateau d'Avron, plusieurs peut-être, car ceux-ci étaient souvent reconstruits sur les bases des précédents. La rumeur à cette époque était que c'étaient les ruines du ''Château de la Reine Blanche''. Le fief de la Montagne : Aux XVème et XVIème siècles, il n'y avait pas qu'un château sur le Plateau d'Avron : on y trouve la trace également ''du fief de la Montagne'', probablement une ferme fortifiée, mais qui était également demeure seigneuriale comme l'indique Hector Espaullard : « Des appartements de maîtres devaient y être annexés car les seigneurs du fief y faisaient de longs et fréquents séjours ». La (re)construction du château d'Avron est estimée entre 1635 et 1650. Plusieurs deniers datant de 1649 ont été retrouvés dans la maçonnerie de la terrasse, actuellement rue du Bois-Châtel, à la fin du XIXème siècle.
The host canceled this reservation 24 days before arrival. This is an automated posting.
Farshid
2016-12-04T00:00:00Z
Room Type
Entire home/flat
---
Property Type
Villa
---
Accommodates
5
---
Bedrooms
Neuilly-Plaisance, Île-de-France, France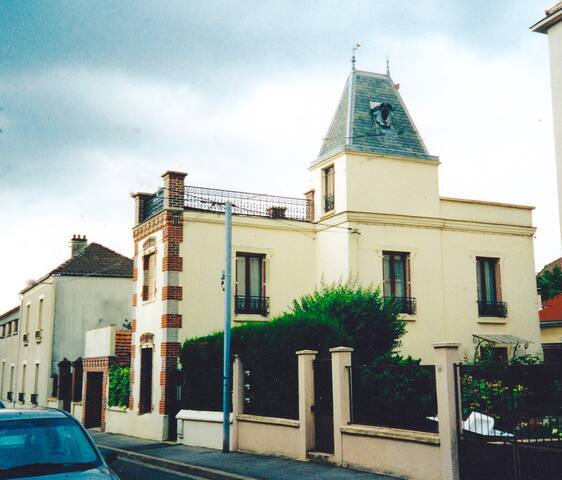 This is a private villa newly furnished with one bedroom, lounge, kitchen is fully equipped, shower room with toilet, bedroom with a king size bed. The villa can accommodate up to 4 people as the lounge comprise of one sofa bed, double size. It can be suitable for a couple with 2 children. You could stay one day, more than one day or even a long time. It's really a holiday home because it contains everything a family and guests needs to have a nice holiday. It is beautifully decorated and can suit a family or friends that want to share. There is a garden with flowers and a terrace for our guests. Wifi and parking car free. The place is very central. By train, It is only around 12 to 15 minutes to Paris, Gare du Nord, 10 minutes to Charles De Gaules Airport, 5 minutes to Parc des exposition, 5 minutes to stade de France, and 5 minutes to Bourget Airport. Autoroute A3 one minute from our place, A1 and A86 five minutes from our flat. Every RERB train stops at Aulnay train station and we get a train every 2 to 3 minutes. Aulnay Sous Bois train station is a central place where we could make several jonctions The price is 52 euros per person per night and 11 euro for each extra guest. The price include breakfast with tea, coffee, orange juice, bread, cereal and fresh fruits. Freshly laundered towels and linens are provided. Around, it has a mini market, pharmacy, bakery, grocery, shoemaker, pizzerias, hair dresser. Shops, restaurants, outside markets are near and accessible in the city. The Aulnay Sous bois RER B train station is about 8 mns walks from the villa. Hope to see you very soon, you will be warmly welcomed.
The little house is so nice and clean. The hosts are so nice and extend a warm welcome to their guests. We got beer for welcome and a few days later because we arrived exhausted. Wonderful i will be back.
Justus
2014-07-07T00:00:00Z
Our stay at Santa was great!! She and her husband are really kind, they help us in everything. Recomending us good restaurants, and leting feel like home. The house is clean and cousy. And the location is just prefect close to the airport and to parc des exposicions. 100% recomended, and amazing price
Ermen
2013-09-30T00:00:00Z
Ram and Santa are great hosts, Ram picked us up at Aulnay sous Bois train station and drove us to their home (and dropped us again on departure). It is approximately an 8-10 minute walk from the RER and there is a nice bakery on the way. If you have a Mobilis ticket for the day anyway, you can also take a bus that stops 2 minutes from the apartment. Everything in the apartment was spotless and exactly as described/pictured and the hosts welcomed us with a drink in their own home next to it, explaining everything, handing over city/transportation maps, WiFi password etc. They prepared food and drinks for us in the kitchen already as well. Absolutely zero complaints and we will definitely come and stay again, will already book now for two years from now for the next trade fair I need to visit.
Thomas
2015-06-18T00:00:00Z
Santa and Ram may be the most hospitable people we have ever met! They greeted us on arrival and invited us into their home (which is separate from the apartment) for drinks and a short "get to know you" chat. They then showed us the apartment, provided us with maps and instructions on how to get to the center of Paris, and helped us to park our car in the secure, off-street parking space. The apartment is very comfortable and cute. It is newly built with all the modern amenities, including wifi. (The only thing it does not have is a washing machine, but I suspect that Santa might let you use theirs if you ask. We did not need one, so it was not an issue.) The apartment is also super clean and tidy. Santa and Ram provide coffee, tea, juice, fruit, bread, butter, and jam for breakfast. The location of the apartment is really good. It is in the suburbs away from the really crazy Paris traffic. The airport is just 10 minutes away by car. The train station, which takes you to the airport or to the center of Paris is less than a 10 minute walk. The train ride into Paris takes about 20 minutes and costs $2-3 each way. Please note that the ticket machines in the station do not take American credit cards, so you must have enough euro coins available to cover your fare. The neighborhood where the apartment is located feels safe, and there are several restaurants, fruit stands, and a bakery within walking distance. We stayed for only one night, but I believe Santa and Ram's place would be an excellent location and a good value for anyone who wants to spend several days exploring Paris. Plus, you would get to meet some really nice people!
Michelle and John
2014-07-14T00:00:00Z
Santa and Ram's place was small but comfortable, and they were the most friendly hosts we stayed with on our Europe trip. The guesthouse was fine and clean, but the sofa that folded out into a second bed was uncomfortable. Also, the home isn't in the nicest or most central part of Paris, but getting to all the main attractions is pretty easy from their house. incredibly nice family to stay with.
Austin
2013-08-05T00:00:00Z
We stayed with Santa and Ram for 2 nights in order to visit Le Bourget Air Show and to see the fantastic city of Paris in the spare time as well. It's really a cute place in a safe neighbourhood, kept new and very clean. You'll have everything you need for your stay in the Paris region. Everything is easily reachable by the RER B train (take Le Blanc-Mesnil as your stop to remain within zone 1-3 to safe 50% on your Paris Visite tickets - It's a 7 minute, easy to find, walk to the appartement from there. Santa and Ram are fantastic hosts, really taking care of everything imaginable and making you feel home at their place. You can even get a ride from the train station when you arrive and depart with your heavy luggage. To make it short at the end: Me and my collegue would always come back and we can truly recommend this holiday home!
Björn
2015-06-20T00:00:00Z
I can not say enough about what an amazing place this is to stay. But I will try my best: First, the place is very clean, well organized and no clutter. This made us feel immediately comfortable and at ease. Second, we were welcomed very warmly and immediately felt like we belonged during our stay. Third, the place they offer is perfectly arranged for guests with everything that you would need to live comfortably while traveling. Fourth, they went over the top and provided us with some food when we arrived and even fixed us a dinner one evening. (Santa's cooking is amazing!) We felt very spoiled while staying here. When we are back in this area we will definitely stay here again.
Nathan
2015-05-17T00:00:00Z
Santa and Ram were the most wonderful and hospitable hosts we could have possibly had. Our flight arrived later in Paris then expected and Santa and Ram waited up almost until 1am to greet us. Prior to showing us into their very charming coach house they welcomed is into their home, offering us tea and beer and chatted with us. They were so welcoming. We stayed in their lovely coach house on their property just across from their home. It is so nice and clean inside. It is very well decorated and Santa and Ram had graciously stocked the fridge for us with juice and water and snacks. They even had fresh fruit for us for breakfast. We unfortunately couldn't stay for very long to enjoy their apartment because we only had a less than 10 hour layover in Paris but for the short time we were there, we truly enjoyed it. Ram was so kind he even offered us a ride to the airport to catch our morning flight. We didn't want to imposition him so we took a short taxi to the airport but it was so kind of him to offer. I highly recommend this apartment!!
Katelyn
2014-06-08T00:00:00Z
Room Type
Entire home/flat
---
Property Type
Villa
---
Accommodates
4
---
Bedrooms
Aulnay-sous-Bois, Île-de-France, France
This room is located in a big villa 15 min from the big center Paris. You
My house mates are very polite and they can show you around Paris as you like. There is also a big garden with an open kitchen for some barbecue.
There is a big shopping mall in the neighbor with a lot of shops and restaurants. The villa is located in a quiet neighbor with a park close to the station.
Room Type
Private room
---
Property Type
Villa
---
Accommodates
2
---
Bedrooms
Rosny-sous-Bois, Île-de-France, France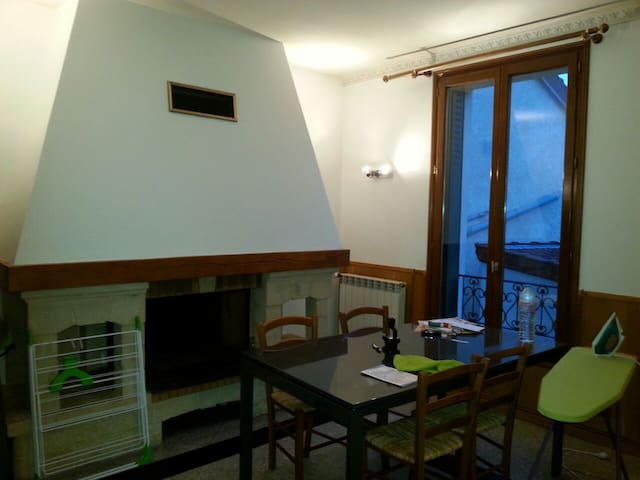 Enter dates to see full pricing. Additional fees apply. Taxes may be added.