1 bedroom, 1 ba, & living room, (no kitchen) duplex. Adjacent to a state park with hiking trails and river. Private entrance. Auto parking space. Great for bicyclists! Ideal for single guest will accomodate two. Sleeps 2. 1 double bed and a futon.
State park entrance. Ancient redwood forest & river. Hiking trails. Local radio station, books, dvd player, wifi available. Outdoor seating.
Inside redwood forest. Quiet neighborhood. Close neighbors within view.
The host canceled this reservation 3 days before arrival. This is an automated posting.
kathy
2017-02-15T00:00:00Z
Room Type
Entire home/flat
---
Property Type
Cabin
---
Accommodates
2
---
Bedrooms
Garberville, CA, United States
AVENUE OF THE GIANTS. River frontage camp on 15 private acres with redwoods and lovely meadow. Near Humboldt Redwoods State Parks. This is a campground but with two sleeping cabins, each sleeps two. Swim, kayak, and sing around the campfire. Pet-friendly. Hot water outdoor shower. Two bathrooms. For more than four guests bring tents and sleeping bags. Fresh water, outdoor shower. Outdoor kitchen and picnic tables, cooktop & BBQ. Grocery, gas and cafe less than a mile away.
This 15 acre campground is at the end of the private drive. Although this is a campground there are two small sleeping cabins each sleeps two people. There is an outdoor kitchen complete with running water, utensils, pots and pans, a three burner stove and a barbecue, plus tables for preparation and eating.
This campground is at the end of the private drive and is very private. The property is surrounded by redwoods, douglas fir, pepperwood, laurel and other trees. But, there is a meadow and plenty of sunshine. There is direct access to the Eel River and beachfront from a trial right at the campsite.
Marc and his wife met us at the site. They gave us a detailed description of how to get there from Hwy 101. It's super easy and quick! It's at the end of a lane and out of earshot of neighbors. The place has a big open meadow, which is perfect for stargazing. There are lots of redwoods and you can mosey down to the river. There are two tiny houses that are adorable and comfortable. The bathrooms and outdoor shower are functional and have hot water. We loved lounging around the fire pit, the hammock, and the many picnic tables. Solar lights are scattered around, along with battery powered lanterns. The outdoor kitchen was very functional, and includes a sink with running water! Yay! We are lucky we found this place at the last minute: I wanted a place where my mom could get a comfortable, quiet night's sleep, my adult children could camp or sleep indoors, and I could sleep under the stars and swim in a river. AND my son had to bring his dog, which excludes us from lots of places. We got more than we asked for! Marc and his wife supplied s'mores ingredients, toilet paper, and so many other amenities that they also use for their family gatherings. Thanks so much!
Ingrid
2016-08-04T00:00:00Z
This was the best camping experience I have ever had. The place is adorable. Cabins are bigger than I expected and the view was fantastic. Marc and his wife were amazing hosts. They even left us stuff for Smores. Lots of extra amenities here - you don't need to pack much when you stay here. Pretty much bring your food, clothes and toys the rest is pretty much already there for you. Surprisingly the outdoor kitchen was so nice to have. Running water sink, fully ready three burner camp stove and a BBQ ready to fire up. Ample place to prepare your meals and tons of places to sit and eat. Also to note, large spot for a fire and lots of chairs around it. Large picnic tables for playing games (which they have provided a bunch) and places for younger kids to play. The river is gorgeous, unfortunately we went too late in the season to enjoy it but we will absolutely be booking again for next summer. Thank you to the hosts!!!
Kimberley
2016-09-05T00:00:00Z
What a lovely, peaceful place to bring our large family glamping. My husband and I stayed in the cosy cottage which stayed cool. The kids decided to sleep on a tarp in the meadow to watch the amazing stars. It was so easy to make and serve meals for a large group of people. Jeanette's kitchen has a nice porclean sink, large 3 burner stove and a large,easy to use BBQ which we used as an oven as well, making a large quiche in a cookie sheet.There is abundant comfortable seating and a wonderful camp fire. We brought our own wood and spent many happy hours morning and night sitting around the fire telling stories, playing games and just being together. We have 5 boys who love back packing and roughing it and I prefer a place I can get a hot shower, sleep in a bed and have a easy place to cook. This was a perfect blend for our family. Often a rental comes with huge deposit and cleaning fees. Marc and Jeanette do not tack on those fees and that made staying here with a large group affordable. We had a joyful, peaceful time and can't wait to come back. Louis and Linda Altic.
Linda
2016-08-17T00:00:00Z
Room Type
Entire home/flat
---
Property Type
Cabin
---
Accommodates
4
---
Bedrooms
Miranda, CA, United States
This deluxe cottage has a queen bedroom, full bath (linens and towels provided), full kitchen, dining area, full size sleeper sofa in the living area and basic cable television. Enjoy relaxing or grilling dinner on your deck overlooking the river.
Great well equipped cabins with TV and wifi - perfect when it was a rainy weekend! Great grill to make our Thanksgiving dinner on!!
Will
2016-11-25T00:00:00Z
Par.
Mike
2017-03-16T00:00:00Z
Room Type
Entire home/flat
---
Property Type
Cabin
---
Accommodates
4
---
Bedrooms
Garberville, CA, United States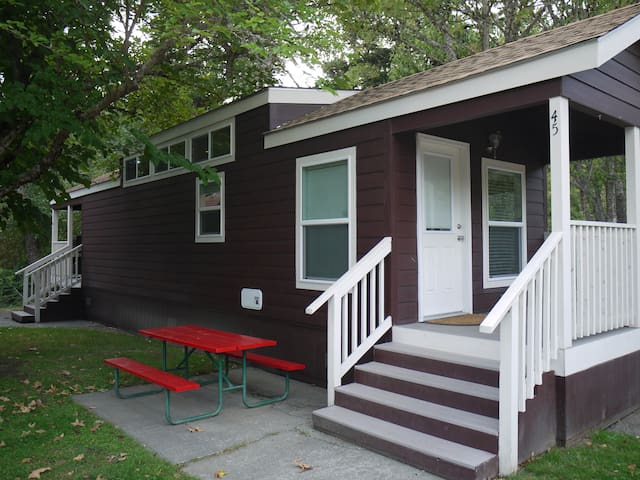 Mendocino Magic is a 600 acre private retreat with trails, private lake and breathtaking views for private events and weddings, but also for your smaller group gathering in our Jennifer Cottage. The property is conveniently located about one hour's drive from the town of Mendocino on the coast, and Fort Bragg. 30 minutes south to Willits and 40 minutes North to Garberville. You may not want to leave though, as usually we are the destination you need. Lots of outdoor space to relax and unplug.
Mackenzie was very accommodating and pleasant to communicate with. It rained most of our weekend, but she leant us some rain boots and we braved the elements to experience a lovely hike around the lake and cottage. I'd go back in a heartbeat :)
Pearce
2017-01-22T00:00:00Z
Room Type
Entire home/flat
---
Property Type
Cabin
---
Accommodates
6
---
Bedrooms
Laytonville, CA, United States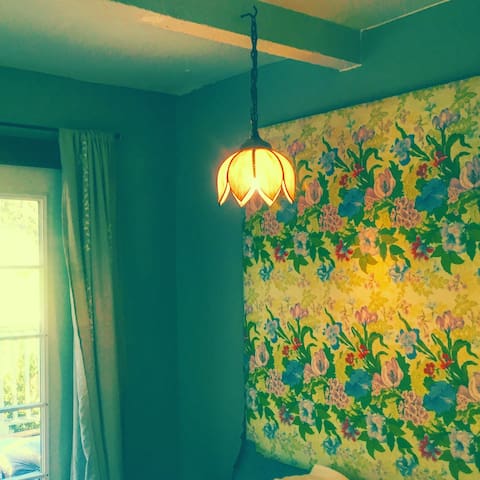 Unplug, unwind, restore your senses at Clara's Cottage, a romantic, private, quiet garden retreat on the spectacular Mendocino Coast.
Clara's Cottage is located in Inglenook on several acres, just 10 minutes north of Fort Bragg in a unique microclimate with very little fog, tucked behind the MacKerricher dunes. Access to the dunes and MacKerricher State Beach is located at the end of our private lane. Clara's Cottage is a small, warm space with lots of light and easily heated with a glass-front wood stove (firewood provided). The studio accommodates 2 with a firm queen-size bed. There is a well-equipped kitchenette for light food preparation. A Weber charcoal BBQ is available for use off the outside patio area. Clara's Cottage has an indoor 1/2 bath and an outdoor claw foot tub/shower located in a serene and private garden setting (think hot tub, hot springs ambiance). Owners reside on the property and greet guests personally and enjoy making recommendations for restaurants, activities, hikes, etc. There are abundant opportunities for hiking, bird watching and beach-combing nearby. The cottage is equipped with excellent hiking and bicycling guidebooks. The cottage has no TV, phone or WIFI. Cell phone reception is spotty on the coast; internet cafes are located in town. NO PETS, NO SMOKING. Nightly rate includes 11% county bed tax. Guests are expected to have a high regard for personal property and leave the cottage in the condition it was found - there is no additional cleaning fee. There is a refundable security deposit. Check-in time is 3pm - 10pm; check-out is 11am.
Clara's cottage is an adorable and relaxing getaway only 25 minutes from Mendocino. We loved the peaceful and quiet location, heating the cottage with the wood stove, and preparing dinner in the fully equipped kitchenette with wine we'd just picked up in nearby Anderson Valley. Last but not least we made it to the dunes just down the road on our last morning and were completely blown away by its beauty. If you are looking to relax and unwind for a few days, this is the perfect place. Thank you Tenaya for hosting our first visit - we look forward to coming back in the summer! What a beautiful spot.
Mikyo
2017-01-16T00:00:00Z
Staying at Clara's cottage was like a dream but better. Tenaya is a wonderful host. The dunes, the ocean, the whales, the redwoods, what else?
Samir
2017-02-14T00:00:00Z
Once upon a time, in a land along the coast, there was Clara's Cottage and Tanaya too! My partner and I just returned from a quiet and lovely stay at Clara's Cottage in Inglenook. Although the weather was not the best, it rained constantly, with very few breaks in between, 'we seized the moment' and enjoyed every aspect of the property and Ft. Bragg. The outside tub was a real treat....even in the rain. The water is so soft, our skin felt like silk afterward. I'm sure the homemade lavender salts Tanaya left, helped too. We can only imagine how augmented the stay would have been if the weather was on our side. The outdoors is the treat. Secluded, meticulously kept with touches that make you feel completely removed from mainstream society. We loved it, will be back. And certainly enjoyed Tanaya's warm welcome and feeling of privacy. Betty & Kevin
Betty
2017-02-21T00:00:00Z
Clara's Cottage is nothing less than heaven on earth and Tenaya is the perfect host. Whatever image you have constructed of this place, it will fall flat when you see the reality, so be prepared. If you want a cozy quiet place with a warm fire, a secret garden with claw foot tub, and a short walk to virtually private dunes and the most beautiful beach, book now. You could not regret it.
Max
2016-12-26T00:00:00Z
Tenaya hosted my girlfriend and I for two nights - it was my first stay on Airbnb as an employee, and my first stay at an airbnb - period! The experience was absolutely amazing. Tenaya is wonderfully kind - she provided delicious treats and jam and great conversation. The cottage, the smaller of the two on her property, is an amazing retreat for anybody looking to disconnect - with an outdoor garden bath and an enormous queen-size bed, it's hard to decide whether to stay in or go out. We spent a lot of time in the nearby state forest and some time on the beach at sunset. Fort Bragg is beautiful in November. Thank you for the amazing stay - I'd absolutely stay again, and I'd recommend it to anybody who's looking for a few nights under the stars.
Dustin
2012-11-05T00:00:00Z
This is our happy place. Tenaya and Ed have built such an amazing space; Clara's cottage has everything you need and nothing you don't. Great in rain or shine; cold or hot weather. We always enjoy our stay and always look forward to our next visit.
Daniel
2015-11-16T00:00:00Z
Clara's Cottage was everything we were hoping for and more. Tenya was welcoming, but not intrusive. All of the previous reviews are accurate. Dunes are a skip and a jump from the home. Outdoor bath was phenomenal, and lack of cell phone reception was a saving grace. I had the opportunity to reconnect with my husband, no technology interruptions.
Tara Lynn
2016-02-29T00:00:00Z
Tenaya's place is simply magic. From the homemade goodies awaiting us, to the primer on how to keep a wood stove going, Tenaya was a thoughtful hostess. We were returning guests, and the cottage was just as magical and inviting as we had remembered it. Thank you!
Melanie
2017-01-08T00:00:00Z
Room Type
Entire home/flat
---
Property Type
Cabin
---
Accommodates
2
---
Bedrooms
Fort Bragg, CA, United States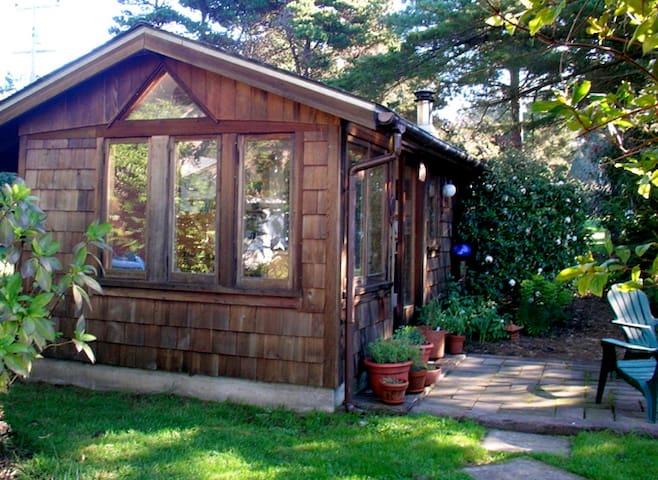 Charming log cabin in peaceful setting. Walking distance to downtown Victorian Ferndale, restaurants, parks, hiking trails, historic cemetery. My place is close to the beach and family-friendly activities. You'll love my place because of the outdoors space, the light, the neighborhood, the comfy bed, and the kitchen. My place is good for couples, families and solo adventurers.
Super chill place with a good vibe and great location. Comfy beds and pillow. Not fancy but homey a d quite. Easy walk to town
Jon
2016-12-29T00:00:00Z
Amazing!
jolina
2016-09-10T00:00:00Z
5 Star host
Craig
2017-04-09T00:00:00Z
The place is a super cute cabin, just a short walk from Ferndale Village. We had a great time!
tristin
2016-08-22T00:00:00Z
This place is in such a beautiful location. Close to downtown Ferndale-highly recommend this for others traveling in the area!
Carolyn
2016-10-10T00:00:00Z
The photos don't do justice to this adorable log cabin. We just loved both the house and Ferndale. The cabin is larger than is evident from the pictures and was both rustic and perfectly comfortable at the same time. It was easy walking distance to the town and, though we did not meet him face to face, Thomas was very accessible through texting and had clearly thought through this experience, leaving easy to find WIFI instructions, for example. Everything was really clean and the beds were comfortable and the towels were new. My teenagers fell in love with the idea of staying in a real log cabin and said it was the best Airbnb experience we've had so far. We wish this was our house!
Clair
2016-11-27T00:00:00Z
We had a really nice stay in this cozy cabin. Thomas had extra blankets prepared for us 7 people. :)
Grace
2016-09-04T00:00:00Z
Room Type
Entire home/flat
---
Property Type
Cabin
---
Accommodates
6
---
Bedrooms
Ferndale, CA, United States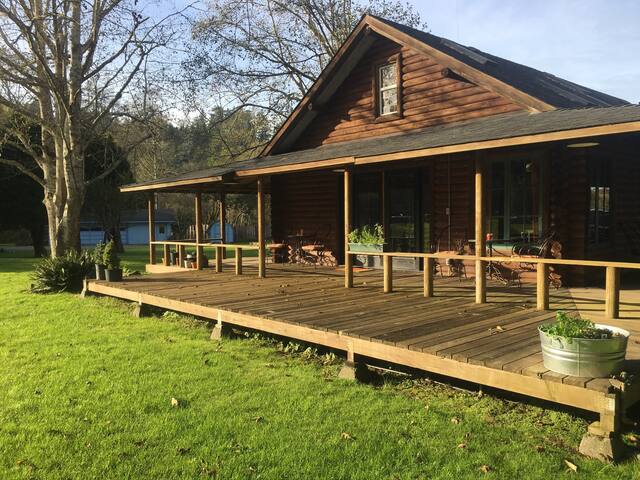 Minutes from the Avenue of the Giants,Tour of the Unknown coast, Ferndale and rivers. Nestled in the redwoods and quiet quiet quiet. Rustic and romantic for the outdoor person/s
This little cabin has lovely views that overlook the pasture and the redwoods. It is located within 5 -30 minutes of everything you might need from groceries to the ocean, rivers, redwood paths of the Pacific Northwest. Avenue of the Giants is only 10 minutes away, it is a good base for the Tour of the Unknown bike race, or visiting the Kinetic sculpture race. Good dining, great beer, wine etc. Humboldt is famous for many culinary delights.
The neighborhood is very quiet and rarely do you hear much more than a barking dog. The orchard is home to deer and other wildlife and there are great hikes nearby.
Jennifer's cabin was great, and just as described. We didn't get the chance to meet Jennifer but she made sure we had everything we need to check in and was in contact throughout our stay.
Connor
2016-06-08T00:00:00Z
I wish I could live here! Jennifer's place is incredible: sweet, cozy and beautiful. There are artistic touches everywhere-from the gorgeous red doors to the beautiful wooden countertop. The main space is one room, but it is very well-designed and has everything you need. It rained almost the entire time we were there, and the cabin stayed warm and bright with a great wood stove. The outdoor bathtubs are amazing, as is the outdoor shower. The entire property is beautiful and inspiring. We also really enjoyed spending time with the resident cats and Jennifer's dog, Apollo. Jennifer was extremely communicative and helpful, before and during our stay. She is kind and warm, and gave us great recommendations from restaurants to dirt bike rides. She even brought us some homemade apple cake she had baked from apples on the property. Thanks for an excellent stay!
Julie
2016-10-18T00:00:00Z
The little redwood cabin was perfect and Jennifer was a great host. Her property is gorgeous and the cabin has tons of charm. This is a great little base for exploring the redwoods and the Humbolt area. Thanks!
Philip
2015-06-25T00:00:00Z
Stunning views all around, perfect setting. Everything you could ever need was in the cabin with the occasional cute note that gave you the how to. Jen was an amazing host and helped our Southern California fire starting and keeping disabilities. We were so grateful for this little cabin of serenity amongst the Giants. It's a must-stay if you are in the Humboldt area.
Kaila
2016-01-11T00:00:00Z
What a little gem of a place. Myself, hubby and 5yo son stayed here for only 2 nights.I really wished we could have stayed much longer. The property is amazing and the cabin is cosy and eclectic with an outhouse toilet with a lovely view. We loved it here, it was so quiet and peaceful with visiting deer and their faun. Jennifer is an amazing host and woman. She she is very helpful, creative and a wealth of knowledge and experiences. We felt very very welcome and Jennifer was so patient with our son who asks lots of questions. I could have happily lived here. Jennifer, Thank you so much for sharing your property and a few days of your life.
Emily
2015-09-07T00:00:00Z
Janet was very welcoming, social and accommodating. The room was cozy and the property was in the midst of the redwood forest and good for late afternoon and night hikes.
robert
2015-08-15T00:00:00Z
Thanks Jen for the amazing stay. We thoroughly enjoyed our time in your gorgeous little cabin.
Joshua
2016-02-05T00:00:00Z
What can I say! We absolutely loved our stay here! Found the place easily thanks to great directions. Cabin was clean and stocked up for everything we could need. We soon made ourselves at home and were super cosy throughout our stay' Jen was so helpful suggesting things to do and asking if we wanted her to light the fire for us. The outdoor shower was amazing with great views !! We'd definitely come back! Thank you!
lucy
2015-05-16T00:00:00Z
Room Type
Entire home/flat
---
Property Type
Cabin
---
Accommodates
2
---
Bedrooms
Rio Dell, CA, United States
Architecturally exquisite! Set in quiet,beautiful,peaceful, gardens with large pond. Gorgeous custom-made furniture, Bose surround-sound, spa-like glass block shower. Radiant heat. Deluxe latex bed. Short walk over dunes to deserted Ten Mile Beach.
Stunning Asian-inspired jewel set in gorgeous Japanese gardens with pond. Sand dunes and ocean steps away with private access from quiet neighborhood, making this section of beach relatively deserted. Dunes hold heat and burn off summer fog so the Inglenook area is a sunbelt, yet only 10 min from Ft. Bragg. Custom furniture from local fine woodworkers, Bose surround sound, wi-fi, bamboo heated floors, fully equipped kitchen, glass block spa shower with impeccable craftsman details everywhere. There is a 2 night minimum. All fees are included. Owner lives in main house on the property. On-site massage available from licensed professional- a total treat. Yoga mats and props available.
It's a private lane with private access to the entire Ten Mile Beach Preserve. Very safe and although it feels rural, you can be in Ft Bragg in 10 minutes.
We had such a relaxing time at Lindsay's Zen Jewel - just what we needed for a weekend getaway! The in-floor heating kept us warm and toasty. It was also easy to make our own meals as all basic cookware were provided. I would highly recommend this little place!
Sibo
2011-02-28T00:00:00Z
Lindsay was a fantastic host. Even though she had recently had surgery and was getting around on crutches, she insisted on giving us a full tour of the house. She was polite, friendly, and professional throughout. The place itself is impeccable. It's comfortable and beautifully designed. The gardens are fantastic and the fire pit was a nice place to enjoy a fire and a glass of wine.
Justin
2014-11-21T00:00:00Z
Lindsay's house is truly the jewel of Northern California. My boyfriend and I loved the soothing atmosphere her house exudes and enjoyed every part of it. She has exquisitely designed this property (the main house, the cottage we stayed in, and the garden) in an elegant Zen theme. It's a piece of art, yet very functional; there is sleeping space that you can close up with sliding doors, storage space divided by Japanese Noren curtain, wrap-around veranda covered with translucent eaves, and multiple large window panels through which we can view the serene garden filled with exotic plants, etc. Lindsay is well organized that we found directions/local information all in the guest book that was very handy. And most of all, she welcomed our arrival in a very warm manner, and was available for any questions we had prior to and upon our visit.
Hiromi
2014-07-12T00:00:00Z
I don't have the words to say how much I enjoyed this place. It was so relaxing and beautiful I wish I could have stayed longer. Lindsay is an incredible host who provided us with a lot of information about the surrounding area. She was also very friendly and just added to the serenity of this incredible property. We will be back!
Bacilia
2016-03-23T00:00:00Z
Lindsay was so easy to communicate with, the whole process from start to end was smooth. She was a very sweet and kind host who we would love to see again!
Angela
2014-02-24T00:00:00Z
Our stay at the Zen Jewel was nothing short of magical! We loved the energy of the place and of Lindsay! Lindsay made our stay wonderful and helped us pick the best places to see, hike and eat at. I highly recommend the Zen Jewel for anyone who wants to unwind, disconnect and see some of the most breathtaking nature that the US has to offer. We will come back for sure!
Jen
2014-05-17T00:00:00Z
Lindsay was the perfect host! She made us feel so welcome and comfortable, had wonderful recommendations for our stay, and maintains an amazing Japanese garden and grounds. It was like staying in a work of art! My husband and I stayed at the cottage for a long weekend, and spent some of our best time out on the dunes near the ocean. We'd come back any time, and were so happy during our stay! Thank you, Lindsay!
Dorothy
2016-06-22T00:00:00Z
The cottage was perfect - beautiful and peaceful, exactly what we wanted. I would definitely return.
Sarah
2014-07-28T00:00:00Z
Room Type
Entire home/flat
---
Property Type
Cabin
---
Accommodates
2
---
Bedrooms
Fort Bragg, CA, United States
This small house sits on the edge of the Mill Pond at Mendocino Magic, the 600 acre outdoor events destination in Northern California. Wake up in the morning on a deck, access trails and the private lake, listen to crickets and pond creatures nightly under a canopy of unfettered starry skies.
The pond house is a serene little getaway studio on the Mill Pond at Mendocino Magic. Queen sized bed as well as a twin daybed, full bath and kitchenette. Great destination for couples for the weekend, and your stay includes use of the kayaks and paddles on the property's private reservoir, and miles of hiking trails.
Laytonville is a quirky little town and it's really fun! There are several bars and restaurants to visit; we recommend Boomers on the 101 as they feature black and white images of the property in the 1940s when it was a working lumber mill.
Room Type
Entire home/flat
---
Property Type
Cabin
---
Accommodates
3
---
Bedrooms
Laytonville, CA, United States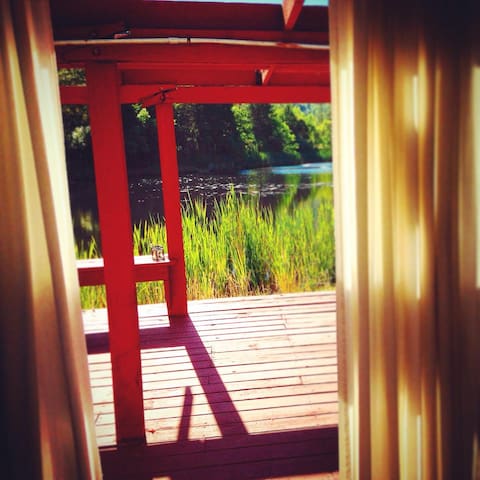 Rustic-chic cottage nestled in a eucalyptus grove along Hwy 1. Just minutes from the magical dunes and ocean panoramas of Mackerricher Park and a quick drive to all the local attractions. Also – check out our newly-listed House of the Forest Dunes. A bigger space with full kitchen. Rent out both spaces on the property for one of the best deals on the coast for large groups!
The space is a lovely 650-square-foot redwood-shingled cabin with bedroom (queen); kitchen (sink, counter, single induction burner, minifridge); full bathroom, and living room (pull-out couch) with loft (full-sized futon mattress). The cabin is well insulated and on cold winter nights, there are a couple of space heaters, which usually does the trick, or you can fire up the wood burning stove and make it super warm and cozy. There's also a small table for eating meals and stereo to plug your mobile device into. The cabin is about 50 yards from our house, and there are trees and a fence between them, so you're entirely private except if we happen to see each other in the driveway. We are right off of a sparsely driven stretch of Highway 1. Family vacation, romantic getaway, artist retreat -- it's a perfect spot for all your Mendo needs. The area around the cabin still needs to be landscaped – it's not picture perfect yet – so there's a substantial discount from what we will charge we create the magic garden of our dreams. But if you don't care about that stuff that much, it's a great bargain for lovely lodging on the coast.
We live across the street from peaceful horse pastures. On the other side of the house are the dunes and the ocean. We have neighbors, but the property is surrounded trees and you won't see anyone else. 20 minutes North is the trailhead to the Lost Coast. 7 minutes South is Fort Bragg... We're a great location for a Mendocino vacation, Ideally situated between the Northward attractions of Pacific Star Winery and Westport and Fort Bragg/Mendocino to the South. And of course, the dunes. We're just two minutes to an entrance to the park. Our guests spend a lot time out there walking, meditating, playing music, adventuring, stargazing... Walk or drive a little ways inland brings you to deep expanses of redwoods on hundreds of miles of old logging roads...
The cabin was very cozy and clean. It was enough for four of us. Both Jason and Lauren was an excellent host. His taco breakfast was awesome. The main attraction of the place was dunes. It was like at your own private back yards. There was no one mile after miles to disturb you. We spent most of our time playing in the dunes. Both my kids loved playing in the dunes and they wanted to go back again.
Bijoy
2015-08-16T00:00:00Z
We had a great time spending Christmas there. Although the weather was very wet and rainy, we were comfy and cozy inside with a sensation of being in the Alps with the wood burning stove. You have everything you need to cook, the beds are so comfy that we would have spent the whole day sleeping if the surroundings were not stunning and calling for a walk! We recommend Jason as a host, he is great!
Alexandra
2015-12-29T00:00:00Z
We had a great weekend at this cozy and comfortable cabin. We were lucky enough to meet Jason in person. Everything was exactly as photographed on AirBNB site. Jason had great reccomendations on beach access, cafes, etc. We would definatley go back
Nada
2016-06-20T00:00:00Z
The cabin is by the side of Highway 1 and on the edge of sand dunes(consider it as a beach but extra wide). Though small(its a cabin anyway), the cabin is very clean and tidy, with all the possible accessories you may need(mugs,glasses,bottles,bowls,hot water...), and the price is very attractive. Jason our host is very hospitable and helpful, we had a nice talk next morning. Me and my friends enjoyed our stay very much. Will come the next time if possible.
GUOJIAN
2015-08-13T00:00:00Z
don't let the entrance fool you -- this cabin is absolutely wonderful, really comfortable. a great place to relax. we had the best night's rest of our entire trip here!we passed it on our first attempt to find it just because it's right on the turn of the road -- but we quickly realized that we'd passed it. very sweet and cozy, my boyfriend, brother and I really enjoyed our stay.
Prema
2016-07-18T00:00:00Z
Jason is a great host and his recommendations were excellent. Our kids loved the loft and the place was clean. We had a great time on our trip.
Haj
2016-07-02T00:00:00Z
This cabin was exactly as it is described. It was really clean, had a toasty fireplace, and was a short distance from the sand dunes. Jason was really good about giving us instructions on how to use everything in the house (even the stove top that you plug in). The beds were comfortable and the location felt off-the-grid. Would definitely recommend it to anyone who wants to get away and relax for a few days.
Stacie
2016-01-03T00:00:00Z
Jason provided lots of information on things to do. There was a problem with the stove and he got his maintenance guy out there the very next day( on a holiday weekend!) and got it fixed. Much appreciated.
Margaret
2016-09-05T00:00:00Z
Room Type
Entire home/flat
---
Property Type
Cabin
---
Accommodates
6
---
Bedrooms
Fort Bragg, CA, United States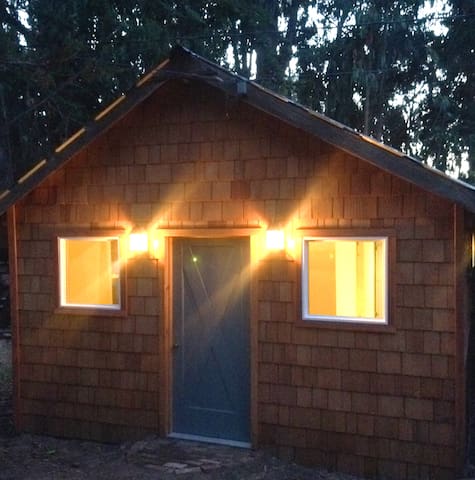 Otter's Den is located on the Ten Mile River. It is off the grid and surrounded by nature and wildlife. Close to beaches and sand dunes. Rustic, but comfortable with queen bed, propane heating and cooking, hot shower, outdoor privy and big firepit. Kayaks included.
Otter's Den Otters' Den awaits those wanting an intimate experience with nature. Secluded in the alder woods on the bank of the river, this little hand-built rustic cabin is surrounded by a natural wonderland. Sitting beside the river or kayaking on it, you can watch families of otters, ducks and geese. Egrets often roost in the trees across the river. Seals also frequent this tidal stretch of the river and foxes make their dens in these woods. Otters Den is a real escape--it is off the grid and out of WiFi and cell phone range (cell service is available 1 mile away). Along with beautiful views of the trees and river from large south windows, the studio cabin has a queen bed, a glass front propane heater, a cozy kitchen with a full sized propane fridge, propane cook top and large sink. Propane and LED lights illuminate the interior. Outside is an enclosed hot shower, a redwood privy, a Weber BBQ, outdoor table and chairs around the large fire pit. Wood for the fire pit is available at most stores and from vendors along the highway. Bring your own charcoal for the BBQ. Perfect for those seeking a retreat from the hubbub of city life and an immersion in nature, Otters' Den is still only 20 minutes from Fort Bragg with it's galleries, fine dining opportunities, Farmers' Market, many festivals, great shopping and other activities. It is 5 minutes from miles of beach and sand dunes. Perfect too for abalone divers. The site is also available for events and camping—when the cabin is not occupied by those seeking to renew themselves in the beauty of nature. Otters' Den is part of a large property with other residences. Use of kayaks is included. A two-night minimum is encouraged. Also available by appointment are guided nature tours, tarot readings, and visits with our flock of friendly sheep. No dogs please—you can play with ours. Recent refurbishing will make your stay even more enjoyable and are reflected in our rates.
Our neighborhood is one of the most beautiful on earth. Ten Mile Beach and its dunes is just five minutes away and is the longest undeveloped beach in California. On the north side of the Ten Mile River folks can walk on lovely Seaside Beach. The river itself is very gentle for kayaking and folks can expect to see many birds including kingfishers, great blue & other herons, ducks & geese, as well as many kinds of hawks and other species of birds. Seals and otters can be seen in the water. The area also is home to other wild life such as deer, foxes & racoons. The river valley and its wetlands are a constantly changing tapestry of colors.
Otters' Den is hands-down one of the best and most unique Airbnb rentals out there. If you like nature and are craving a bit of an escape from the rat-race, this is your ticket. The hosts were kind and pleasure to meet, and the rental itself does not leave anything for want. 5 stars on all counts, and we will certainly be back.
Matt
2016-07-30T00:00:00Z
The Otters' Den is a true escape and is exactly as relaxing as it sounds. My boyfriend and I stayed for a long weekend to get away from the city and unwind. It was exactly what we needed and we're already looking to come back! The house sits right on the bank of the Ten Mile River, which we explored all the way to the ocean by way of kayak, everyday! It is very quiet and secluded, yet only a few miles from town and from many sights along the coast. Judi and Pat met us when we first arrived and gave us a tour of the space. Everything was ready for our stay including preparations for a fire in the fire pit and even fresh blackberry jam! They were very thoughtful to ensure we had everything that we needed. We even left a few items behind and Judi was sweet enough to mail them to us within two days. We would absolutely recommend spending some time at the Otters' Den to anyone looking to enjoy a very beautiful part of the North Coast!
April
2014-07-29T00:00:00Z
Staying at Otter's Den was lovely! After a quick tour of the grounds, Leu left us by ourselves to relax. The place is cozy but has everything you need, even some board games! We used the fire pit every night and kayaked on the river. Otter's Den is a very relaxing spot and we will definitely be back!
Anna
2014-08-20T00:00:00Z
This was our second time at Otter's Den and it is truly among our favorite places to visit. Team Otter are communicative and helpful. The space is calm, peaceful, clean and quiet - it is a gem.
Alixandra
2016-09-13T00:00:00Z
We absolutely LOVED staying at the Otters' Den. What a special, magical, offbeat gem! It was neat, clean, rustic, and well maintained. The kitchen was small but totally usable to make great meals. Our host Leu gave us a nice, simple tour and then left us alone - we really needed a getaway and didn't see a single other human being until we got to the beach. No calls! No emails! Hooray! We spent most of the time outdoors and called it "cabin camping", which is really the best of all worlds. Cook and eat outside by the fire or on the riverbank, kayak down the river out to the ocean, and still come back to a warm cabin, cold drinks, and a comfy bed. We definitely hope to come back!
Justin
2014-08-11T00:00:00Z
The Land of Enchantment. That is the perfect description of the Otter's den. A cozy, comfortable cabin and it's breathtaking surroundings. I brought my sister here for her birthday and she described the days of tranquility in the cabin as the most fun she has had in years. We kayaked on the serene river, explored the near-by ocean beach and dunes, and were treated with the utmost respect and welcoming that one could want from our hosts, Judi and Raven. Fresh flowers were set out in various places welcoming us and wishes for a happy birthday. The cabin was equipped with everything we could have needed, including a beautiful little fireplace. The bed, bedding, and pillows were soft and comfortable. I am a traveler and have visited countless places, and I can honestly say that I will be returning to the Otter's Den as soon as possible. The time spent there was one of the most pleasing, peaceful, and pleasurable I have ever experienced.
Connie
2014-10-06T00:00:00Z
Love it here! Great vacation spot!! We will def. be back!
Vanessa
2015-10-11T00:00:00Z
Going to the Otter Den was like a dream vacation for us. We had no idea how beautiful the cabin and area would be. Judi greeted us in the drive way when we arrived and showed us out to the cabin. It is completely secluded from the rest of the property. The cabin, shower room, outhouse, and land were all extremely clean and well kept. We loved taking the kayaks out to the ocean, and along our way we saw a few otters and several seals along with dozens of varieties of birds. We brought all of our own food to cook and just enjoyed staying on the property. We cannot wait for the next time we get to spend time at the Otter Den. Thanks Team Otter!
Bekah
2015-05-10T00:00:00Z
Room Type
Entire home/flat
---
Property Type
Cabin
---
Accommodates
2
---
Bedrooms
Fort Bragg, CA, United States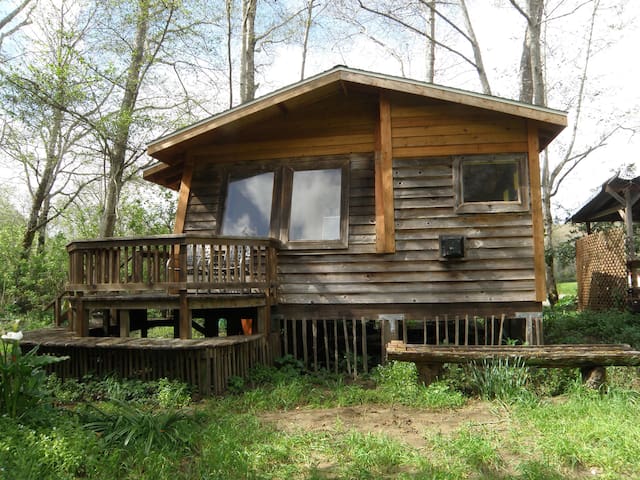 Unplug, unwind, restore your senses at Rose Cottage - a romantic, private, quiet garden cottage retreat on the spectacular Mendocino coast.
The Rose Cottage is located in Inglenook on several acres, just 10 minutes north of Fort Bragg in a unique microclimate with very little fog, tucked behind the MacKerricher dunes. Access to the dunes and MacKerricher State Beach is located at the end of our private lane. The sun-lit cottage is situated in a serene landscaped garden setting with expansive deck, gas bbq & firepit. The studio cottage accommodates 2 with a firm queen-size bed, bath with tub/shower combo & small, well-equipped kitchen facility. Wood heat with firewood supplied. Owners reside on the property, greet guests personally and enjoy making recommendations for restaurants, activities, hikes, etc. There are abundant opportunities for hiking, bird-watching and beach-combing nearby. The cottage is equipped with excellent hiking and bicycling guidebooks. The cottage has no TV, phone or internet. Cell phone reception is spotty on the coast; internet cafes are located in town. NO PETS, NO SMOKING allowed. Nightly rates include 11% county bed tax. Guests are expected to have a high regard for personal property and leave the cottage in the condition it was found - there is no additional cleaning fee. There is a refundable security deposit. Check-in time is 3pm - 10pm; check-out time is 11am.
We couldn't possibly have asked for a better home base in Fort Bragg. Meticulously put together, clean, beautiful, and wonderfully located- plus Tenaya was friendly and communicative. If you have a chance to stay here, do it.
Monica
2016-06-06T00:00:00Z
Our weekend at the Rose Cottage was fantastic! Tenaya made sure that we were comfortable and had everything that we needed while giving us space and privacy (and also taught us how to operate the wood stove). The cottage has a very well-equipped kitchen and is situated in a beautiful garden. The beach and dunes are very accessible. Would definitely recommend to a friend, and would love to find a weekend to come back.
Kate
2016-03-22T00:00:00Z
A truly wonderful experience! We couldn't have asked for anything more from our stay or our host. Tenaya greeted us with fresh muffins and berries, and provided some wonderful advice about what to do in the area. The kitchen was extremely well stocked, and made cooking breakfast every morning a delight. We would stay here again every weekend if we could!
Cameron
2015-08-31T00:00:00Z
Rose cottage is a beautiful place to stay. Ideal base for seeing the Mendocino coast. The cottage is well and very thoughtfully equipped and Tenaya is a very friendly and generous host. We had a great few days there, thoroughly recommend it.
Amanda
2016-05-16T00:00:00Z
Tenaya was very welcoming to Frankie and I. She, and her sweet dog Dora, greeted us on arrival, showed us around and brought us some lovey homemade muffins and jam, strawberries and coffee. The house is even more wonderful in person, clean and cozy with everything you need. The gardens that surround the house are spectacular and the only sounds you will hear are from the birds and the ocean. There is a really cool fire pit as well that we enjoyed sitting around at night. This place is very quiet and calm, no tv, phones, or any other interruptions, its a perfect getaway.
Kristen
2016-04-19T00:00:00Z
Wonderful cozy cottage with everything One could wish for in order to power down and relax. Tenaya and Ed were the sweetest hosts providing us even with some munchies to get comfortable. The dunes, the Ocean, the surrounding made the stay perfect. Definetly grade A :)
Ingrid
2014-02-20T00:00:00Z
I can't say enough about Tenaya and The Rose Cottage. My mom and I spent 3 days here and it was truly wonderful. Tenaya is a gracious host and the cottage and grounds are one of a kind. The cottage is cozy and lovingly decorated and Tenaya provided us with delicious homemade muffins and jam the first day. I highly recommend this place and we will be back!
Luisa
2015-04-24T00:00:00Z
First of all, Tenaya and Ed are fantastic hosts! We were welcomed with homemade muffins, blackberry jam, and applesauce. Delicious! Rose Cottage is all one could ask for in a Northern California getaway: quiet, a wonderful backyard with lots of wildlife to gaze at, and amazing sand dunes! The cottage itself leaves nothing to be desired. It has a fully equipped kitchen that makes staying in and cooking a lot of fun. The place was very clean and Tenaya and Ed thought of providing everything one can think of. This is as close to paradise as it gets. So, Tenaya and Ed, thanks again for being terrific hosts!
Armin
2016-08-19T00:00:00Z
Room Type
Entire home/flat
---
Property Type
Cabin
---
Accommodates
2
---
Bedrooms
Fort Bragg, CA, United States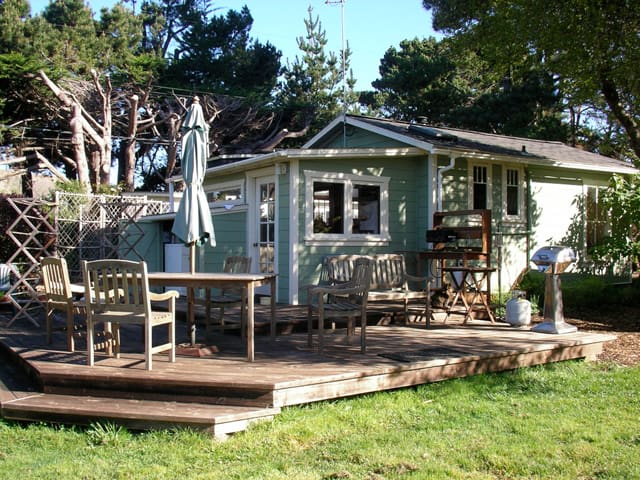 1

–

12

of

12 Cottage Rentals
Enter dates to see full pricing. Additional fees apply. Taxes may be added.