Enter dates to see full pricing. Additional fees apply. Taxes may be added.
One of the coolest rustic houses in the coolest small town in America. The Stone Tower House was built in 1984 by a master a stone mason. The stone tower is made of granite as is the base of the house, and creative flooring is eclectic. Its rumored, he used granite pieces from an historic building that was taken down in CT, whether its true or local folklore - who knows, but its nonetheless breathtaking. We aren't the fanciest house in Woodstock, but if you're looking for cool...that's us!
Featured on TLC's Family Reunion series debut in Woodstock, The Stone Tower House embodies all that is Woodstock, NY. Experience all of Woodstock in this fine example of architecture and landscaping. The two-story 2500+ square foot house boasts a two and a half story stone tower that boasts views of the Catskill Mountain range, Berkshires, valley of downtown Woodstock and much more. One of the coolest rustic houses in the coolest small town in America. The Stone Tower House was built in 1984 by a master a stone mason. The stone tower is made of granite as is the base of the house, and creative flooring is eclectic. Its rumored, he used granite pieces from an historic building that was taken down in CT, whether its true or local folklore - who knows, but its nonetheless breathtaking. We aren't the fanciest house in Woodstock, but if you're looking for cool...that's us! Hand-carved stone stands at the entrance to the property, and a 20ft+ Easter Island-styled statue greets you as you enter the property. The floors on the main floor are made of a unique squared butcher block, in which the massive stone fireplace sits atop. The fireplace straddles the sitting room and living room where you can enjoy the wonderous view either inside or venture outside to the deck and hot tub. The large open kitchen flows into the dining room, and with a step down you can partake of the four season solarium. A walk up the stairwell located in the tower will take to you the 2nd floor bedroom area. There are three bedrooms, 2 baths and a laundry facility that are accessed off the barreled corridor. A king in two of the bedrooms and a queen and twin daybed in the other room, there are also two queen sofa beds in the living room. The separate bath and shower in the master suite enjoy stunning views. The chalet also features a lovely lighted garden and gazebo that sits behind carved stone and iron gates. Chalet sleeps up to 11 people. Weekday pricing is for 1-2 people only. Additional guests are more, $25/person/night. Weekend pricing is up to 11 people. $1200/3 nights Thanksgiving (3 night min - Thurs, Fri and Sat) $2000/week for Christmas week $2500/week for NYE week and $2000/2-3 nights NYE We do not book Sat-Sat reservations. Access to the full house except for locked owners closets. ** Weekday only rate for two guests includes: the master bedroom, master bath and powder room. If more than two guests book, then the 2nd/3rd bedrooms and 2nd guest bath will be available. Very little unless requested. We are available by phone, text, email 24 hours/7 days and have someone nearby for quick response.
Trailways Bus from Port Authority NYC to Woodstock town center and will also drop off at the Bear Cafe Complex.
Erin was very welcoming and nice. Communication was very easy, and she was very responsive. The place was wonderful. We had an excellent time! Thank you Erin!
Matt
February 2016
This was an absolutely gorgeous house and location! It was a wonderful place to spend a cozy weekend away from the city. The house is unique, but comfortable and the view is spectacular. It is really close to town so exploring is made easy. The host was extremely accommodating and responded quickly to any correspondence. It was worth every penny and I can't wait to go back!
Amanda
December 2013
The host canceled this reservation 121 days before arrival. This is an automated posting.
Rebecca
My group absolutely loved this place! The view from the tower was gorgeous, we loved hanging out in the hot tub, and we spent the evenings around a fire. The open floor plan in the downstairs was perfect for our laid back hangout. It was nice to be able to some people cooking in the kitchen, some working at the dining room table, while others socialized in the living room. Very convenient distance from town. What a wonderful weekend away!
Zara
October 2016
Great house for a little getaway. There is a tower and it's awesome sauce.
Amir
January 2017
The host canceled this reservation 42 days before arrival. This is an automated posting.
justine
We had such a fantastic time at the woodstock tower villa! We couldn't have asked for a better reunion site. Erin was so accomidating to take such a last minute reservation. From the tower to the landscaped grounds and furniting, this place deliveries a unique vibe. We would absolutely come back in years to come.
Maegan
August 2016
This house was great for our group of 10. Amazing view and the deck and yard were perfect for enjoying the outdoors. Definitely a unique house.
Jeff
May 2015
Room type
Entire home/flat
---
Property Type
---
Accommodates
8
---
Bedrooms
3
Woodstock
"Blandina's Hideaway Villa" is centrally located along a winding country road, nestled between Kingston & Rosendale, NY. It's close to all things fabulous in the beautiful and historic Hudson Valley.
"Blandina's Hideaway Villa" is centrally located along a winding country road, nestled between Kingston, Rosendale, and Hurley; close to all things fabulous in the beautiful and historic Hudson Valley. It's a charming one bedroom villa with private bath, a small kitchenette, cable and wifi,and complete with free range chickens and farm fresh eggs. Gourmet Breakfast or Brunch is available for an extra charge, as well as dinner. Please ask about meals in advance. HISTORY: Blandina's Hideaway Villa was named after Blandina DuBois DeWitt who was born in 1731 and died on November 4, 1765 at the age of 34. She was said to be a beautiful, young, well educated, and popular French girl who lived "up the hill" and caught the eye of "Charlie" DeWitt who lived "down the hill." Using his little brother as a chaperone, Charles courted her during the non-growing season with activities like sleigh riding. Eventually, Charles asked for her hand in marriage. Blandina married Charles of "Greenkill" and bore him five children. It is believed she passed away during the birth of her sixth child, whom also didn't survive. Charles' claim to fame was impressive. He was a Colonel in the Revolutionary War, had served as a delegate to the Continental Congress, and was a well-respected politician and businessman, but he was best known as the BEST flour miller of his time. His flour mill was an critical part of feeding General Washington's Continental Army. History tells the story that Martha Washington only used flour milled from the DeWitt Mill. She said, "It was the finest flour in all the land." As the DeWitt Mill was located "down the hill" and Blandina DuBois lived just "up the hill," history leads us to believe that Blandina lived on the land of my villa. Therefore, I've named my garden "Farine Jardin de Blandine", French for Blandina's -Flour- Garden and the villa is honored to be known as Blandina's Hideaway. And, Blandina's grave is located in The Old Hurley Cemetery just 10 minutes from the villa. There's a poem etched on the grave of Blandina (DuBois) DeWitt. It's worn and covered in lichen. It's said to be written for her by her children some 201 years ago. I left no stone unturned in researching Blandina and found the only person still living who knew what the poem says. Now that I have gained this information, I will share it with all of you. Enjoy! "Thou the Dread Gulph hast past whilst o'er thy urn Five Children Deer, and Husband lov'd do mourn From Fondest Love cut off in prime of life we mourn The Mother fond and Dearest Wife Hence Ne'er to see thy Lovely face Again until we inter on Zion's Blissful plain." You will have your own area, separate from my living space. Blandina;s Villa has a private entrance and Private Bath. You are welcome to use the fire pit area and walk the grounds of the house. Feel free to picnic in the yard. I have provided an outdoor table with umbrella and chair set for your use as well. I'll be available for all your needs while you stay at the Villa if you should need assistance with anything please just ask.
We live in a quiet neighborhood on a private setting. We are just steps away from the Wallkill Rail Trail, so bring your mountain bikes or your hiking boots and enjoy miles and miles of endless trails to explore. Check out the caves in Rosendale, about a 30 minute hike from the house. The Rail Trail is pet friendly, (Leashed animals only) and please clean up after your dog's waste as to keep the trail nice for everyone. Car: Recommended "Blandina's Hideaway Villa" is the perfect little place for two people to get away from it all. Our Villa is nestled just off of a winding country road in the heart of the beautiful and picturesque Hudson River Valley. We are half way between Kingston and Rosendale. Historic Uptown Kingston features the Stockade area which was preserved from the British burning in 1777. The Senate House housed New York State's first capital and is located 10 minutes from the villa. There's lots to see and do in uptown, including a fabulous Farmer's Market every Saturday morning. Historic places like the Old Dutch Church, Bogardus Tavern, and the four corners of the oldest buildings in Kingston. Nearby Hurley boasts a main street of houses from the 1700's, the historic cemetary where Blandina lies, and their Stone House Day and Corn Festival in July is a very popular event. The Kingston waterfront on the Rondout Creek is known as "The Strand," is also located 10 minutes away in Kingston's downtown area. The waterfront is home to the Clearwater, the environmental sailing sloop made famous by folksinger Pete Seeger and to the large tour boat Rip Van Winkle and the more intimate boat, the Teal. All depart from the docks at the Kingston Maritime Center, just down the street from the Trolley Museum and the boat building school. For personal water recreation, bring your own kayaks (or rent some) and paddle up the Creek, head out toward the river, or put in at Kingston Point Beach. From there, one can kayak to Rhinecliff and Tivoli on the east side of the Hudson.There are several fabulous restaurants and lots of fun nightlife in the downtown area. Bring your mountain bikes as we are only a half a mile from The Wallkill Valley Rail Trail where you can ride your bike all the way to New Paltz, and soon, to Highland and the Walkway Over the Hudson , and over to the Dutchess Rail Trail. Just a few miles into the trip, you'll cross Rosendale's newly renovated (railroad) trestle bridge hundreds of feet above the Rondout Creek. There, you can stop off in Rosendale at some of the funky venues or continue on to New Paltz for a cold drink or a bite to eat. Not a biker? If you prefer, you can take a nice walk or a run/jog on the rail trail, but note: There are NO motorized vehicles allowed on the rail trail. Rosendale was made famous 100 years ago by J.J.Roebling's Rosendale Cement Company. The strongest cement in the world was used to construct, among many things, the Brooklyn Bridge. Rosendale's bohemian atmosphere has much to offer as there are a few cute cafes, a fabulous cheese shop, art studios, restaurants, bars, sushi, pizza, an old movie theater, and more. The villa is located perfectly! Its close to everything wonderful! Our area is so well known for its natural beauty. Be sure to bring your camera as you'll want to capture all that our area has to offer. Mohonk Mountain House, Mohonk Preserve and Minnewaska State Park, are some of the areas most beautiful hiking/ biking/ climbing/ walking areas. These places are all located ridges of the Shawangunk Mountains; "The Gunks." You can reach all these places within a half hour of the villa. New Paltz is a happening fun college town with a Starbucks and lots of great shops, restaurants and pubs. It's a short trip to the Kingston-Rhinecliff Bridge over the Hudson River. There, you'll find another beautiful area to explore. Rhinebeck offers a wide array of upscale shopping, eclectic dining, and features the oldest Inn in the world, The Beekman Arms. There are specialty stores, like my favorite, The Grand Cru Beer and Cheese Shop. If you travel a little further south on the historic Old Post Road (Rt.9), you'll find Hyde Park, NY. It is the Presidential home of Franklin and Eleanor Roosevelt, the Culinary Institute of America, and the Gilded Age mansions of Cornelius Vanderbilt and Ogden Mills. The Presidential Library and Museum is a must see! If you are a skier or rider, I recommend taking a trip to Hunter Mountain, known for its world class snowmaking, located about 45 minutes away, or to Belleayre Mountain. In June, Hunter is home to Mountain Jam and there are several other festivals,such as Tap NY and the German Alps. If you're looking for high adventure, Hunter Mountain has the world's longest and highest Zip-line. Hiking trails and camping sites are numerous in the Catskills, including North Lake, Kaaterskill Falls, and Platte Clove. Tannersville is a great little mountain top town with some shopping and a few restaurants and bars. If antiqu...
My partner and I decided to make a last minute trip upstate for the July 4th weekend and were lucky to stumble upon Blandina's Hideaway Villa. We both moved to NYC recently from Chicago, so we were looking to explore what the Hudson River Valley has to offer. Jean was a wonderful and gracious host. Her Villa is a great escape from the city - it feels like a little farm with her vegetable garden, chickens, and dogs. We brought our dog as well, and he had a great time running around the yard...we also took him on a 3 hour hike along the beautiful rail trail just up the road. We took Jean up on her offer for breakfast, and it was delicious, she is an excellent cook! Lastly, Jean is an experienced traveler, and knows her way around the cute little towns of the Hudson River Valley and the Catskills. She gave us several recommendations for towns, restaurants, and bars to visit nearby. We had a great time and plan to be back later this summer or fall!
ADAM
July 2015
I could not have asked for a better experience! Jean was accommodating, available, easy to communicate with and very welcoming. The Villa is essentially your own private studio sans kitchen, but Jean does have the necessary essentials handy (mini fridge stocked with some treats, a Keurig, and a few other snacks, along with glassware and mugs). The decor was beautiful and the place was spotless. Comfy bed, and great shower. Beautiful yard with guinea hens and chickens roaming about. Highly recommended!
Julia
June 2015
Jean was super attentive. We stayed for five days and couldn't have asked for a better time. Her breakfasts were great too!
Jay
July 2016
We have a wonderful night at Jean's place! The photos didn't even do it justice. Jean was very welcoming and made sure we had what we needed upon arrival, and let us know if the morning that there were extra tomatoes to be picked from her garden :) All in all a wonderful experience!
eva
September 2015
We had a delightful stay at Blandina's Hideaway. Jean was as perfect a hostess as we could have asked for. Friendly and super-available to us, it was great to meet her. The hideaway is attached to her home, but is totally private, with a separate entrance. It's immaculate, and as comfortable as anything we could have put together on our own. The bed itself was comfy, and the linens felt like home. There's a sitting area with couch, chair, coffee table, and TV that was a terrific place to chill out before getting into bed. The bathroom has a mediterranean feeling, and the towels were softer than any hotel! She welcomed our beloved dog, Mickey, who had his first encounter with live poultry! (Jean has chickens hanging out on her property.) The space is totally original, with photos and artifacts from her travels. Our home is very much like that as well. We have a strong preference for spaces that are unique, personalized, and authentic representations of the people who curate them. There was absolutely nothing generic about Jean's rental, and that helped us feel even more at home. We had a short stay, but we wished we could have spent more time at Jean's, just enjoying the space! We'll *never* stay in a hotel again in that area, as long as the hideaway is available!
Lauren
June 2015
The Hideaway Villa was perfect for our 2 nights in the Kingston/Rosendale area. It was super clean, cute, well-appointed and just enough of a "country" departure from our city life. The villa had DVDs to choose from when we arrived rather late on our first night, toiletries, snacks in the pantry area, and of course - fresh eggs from the chickens! The chickens (or more particularly, the roosters) help make sure you are up bright and early to start your day, which is great because there are so many nearby towns and trails to explore. Jean was a friendly and responsive host - we weren't able to try her breakfast menu this time around, but it looked scrumptious! Would definitely consider staying at the Hideaway Villa again.
Megan
September 2016
This little cottage is a total "find" - a wonderful gem! Jean is so friendly and knowledgeable. She made us feel extremely welcome. The cottage has everything any guests could ask for. Great all around experience. Highly recommend.
Joyce
August 2016
We had a great time zipping around to Kingston and Rosendale (about 7min away). Jean was super flexible with our last minute reservation and when we got to her place, the room was lovely and decorated with memories from her travels. We loved hanging out with her beautiful chickens and generally felt really at home home!
Deborah
October 2015
Room type
Private room
---
Property Type
---
Accommodates
2
---
Bedrooms
1
Kingston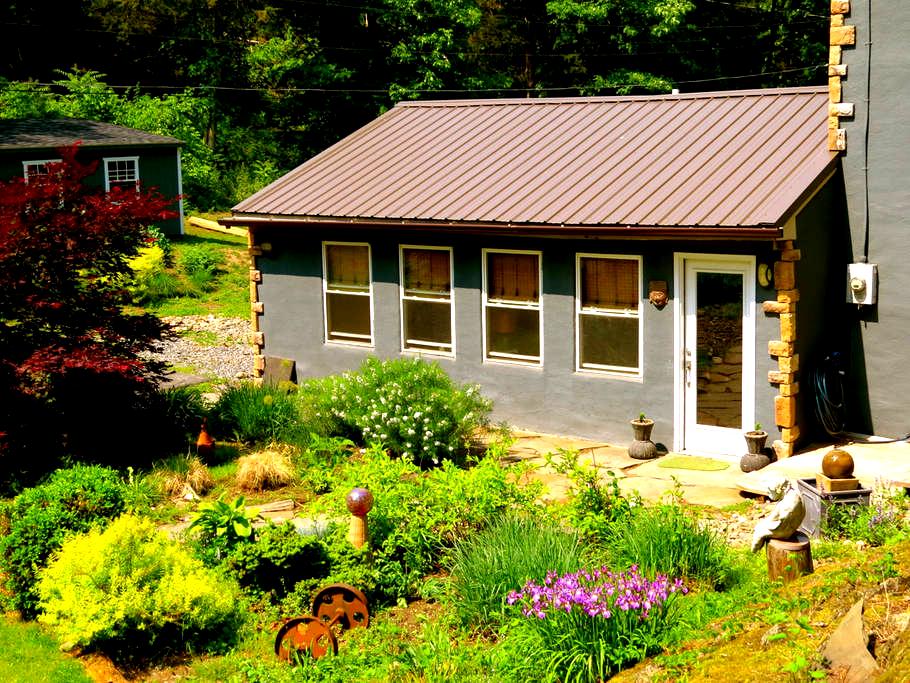 Welcome to "Church Des Artistes"! We have converted an 1800's church hall into a unique home/studio dwelling with high ceilings, farm kitchen great for family and friends gatherings and large enough for many chefs to bump elbows.
The entire church living space is now available for booking your family & friend reunions -! We are an artist and composer who have lived and worked in our circa 1860 church for 20 years, our children have grown and we are ready to travel. The chapel has a 'great room' with soaring 24" ceilings, a balcony, a Steinway grand piano, comfortable chairs and couches to relax in and turbospeed wireless broadband signal throughout the building. There are four beautiful bedrooms which sleep up to 10 people, each bedroom has armoires, desks and settees for retreat and rest, three of the bedrooms are upstairs and one is on the first floor. The three full bathrooms are all on the first floor, two have claw-foot tubs, one a huge soaker and the other has a gloriously high pressure shower as does our third tub which also has jacuzzi jets. The kitchen is the original church kitchen boasting a 8 burner cast iron stove, antique pine cupboards, a large farm table that will seat ten, or the harvest table in the great room seats 10. There are 2 sinks, plenty of chopping work tables, a collection of pots and pans for cooking. We provide dishes, cutlery and glassware. When the weather is fine we recommend eating outside in our private courtyard garden, there are farm tables and chairs available for dinning outside. The Church is located in the Historic Rondout area in Kingston NY. and is close to the Rondout river and the Hudson river. There are restaurants, cafes, galleries, antique shops, marinas just down the hill from us. Kingston abounds with history. Kingston's farmers market runs every Saturday and Tuesday from May through September hosting many of our local farmers and fresh organic produce can be found at our local CSA Monday Wednesday and Friday. The uptown Stockade district was burned by the indigenous Esopus tribe of Lenape Indians in a war with the colonialist New Netherlanders and later British soldiers in 1777. Kingston became the first capital of New York State in 1777 and is still a very happening and beautiful place to explore both the history of the state and a vibrant contemporary arts scene hosting numerous musical and arts events like the O+ festival and "First Saturdays" Art openings", The Kingston International Festival of the Arts, and great new restaurants and pubs sprouting up each season. We provide towels and linens, we also provide separate towels for trips to nearby lakes and swimming holes. The washer and dryer are available for use. PLEASE NOTE: The required Ulster County 2% tax and the 8% NY State tax is not handled by Airbnb and we will need to collect taxes due upon arrival. Full access to our church kitchen, fantastic for chefs with an 8 burner gas range and outdoor bbq. Also use of the Great Hall and all 4 bathrooms. When you book the entire space we hand you the keys @ check in and leave for the duration.
Julie and Peter are amazing hosts! Their home is a stunning place to get away for a few days and recharge. I would strongly recommend to anyone looking for a really unique experience in the Hudson Valley to reach out to this lovely couple.
Adam
July 2013
So I join the long list of people that have written glowing reviews about their stays with Julie and Peter. The house is beautiful, the pictures don't do it justice. I was made to feel very much at home and my hosts were extremely helpful with any and all requests I made. I enjoyed my stay thoroughly. I would gush some more, but will hold back. Many, many thanks, Peter & Julie
Sebastian
April 2013
Pete and Julie have a magical place, the pictures don't lie! The home is full of charm with hotel standard amenities, the beds are cloud nine comfort with clean and plush linens, the bathrooms are a delight with clawfoot bath tubs and one with a whirlpool, and the kitchen is a chefs dream. Also they are pet friendly, for a small fee they allowed us to bring our Boston Terrier. 10 people can sleep comfortably if one sleeps on the giant couch in the living room, though it is the coldest room in the house they have plenty of blankets and space heaters to keep warm. That's how we did it and it worked out perfect. This house was a delight to experience!
Iris
December 2013
Wow - Just wow. This place is incredible. From the enormous church ceiling to the cast iron oven and endless kitchen supplies to the rows and rows of vintage novels and art books. YES! Book it.
Jena
January 2014
Had a great stay at this absolutely stunning home. Extremely easy to get to and from the slopes and very large home with more than enough space for a large group!
Xavier
March 2013
A group of us rented the whole house for 3 days over New Years, and it was spectacular. For one, the place is breathtaking and incredibly unique. We found everything set up with care - even an apple cobbler waiting for us in the oven! Peter and Julie were incredibly helpful and patient with any questions we had while they were away. While there were 10 of us staying there, it never felt overcrowded while we were hanging out in the house. The only drawback was that a couple rooms had to sleep 3 people .
Allison
January 2013
What can I say about Julie and Peter's beautiful home that hasn't already been said? Julie and Peter have a magnificent home with a lot of history and charm. As hosts, they are most accommodating, and have plenty of great suggestions as to where to go in town and what restaurants to eat at. The house was a plenty spacious for my large group of 12. I would absolutely recommend visiting with Julie and Peter.
Zach
July 2015
Room type
Entire home/flat
---
Property Type
---
Accommodates
12
---
Bedrooms
5
Kingston
Enjoy your own private villa overlooking the lush new vineyards at Robibero Family Vineyards in New Paltz . Within a short drive of all the Hudson Valley treasures. Complimentary wine tastings and cellar tours for you and your quests
Room type
Entire home/flat
---
Property Type
---
Accommodates
4
---
Bedrooms
1
New Paltz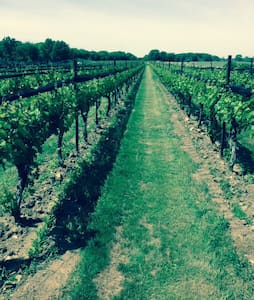 Breathtaking glass, wood & stone modern villa on 12 acres. Cantilevered on a 200' granite cliff over the Hudson. Gourmet kitchen. 10' screen media room. Huge deck, Jacuzzis, steam showers, sauna, hot tub, pool, tennis. 70 mile views. Total privacy.
An architectural masterpiece set in nature's most stunning creation. As magnificent as any European locale yet only 1.5 hours from NYC. One of the greatest estates built in the Hudson Valley in modern times. A private oasis constructed of the finest materials: Limestone, beechwood, electronic lighting controls & more. Its vistas are brought inside through floor-to-ceiling 10' operable glass throughout. Whether staring at the river with its leisurely ships floating by from every bedroom, the hot tub, the salt-water pool (seasonal) or the great room with its huge fireplace, you will enter a state of meditative relaxation never thought possible so close to Manhattan. The only house visible from the villa is FDR's Birthplace & Summer White House, now a national park and Presidential Library. Dine (or take mini-courses) at the Culinary Institute of America, also visible across the river from the villa or any of the superb locally-sourced restaurants in the area or cook your own meal from ingredients bought at the world renown local farmer's markets. Explore the Hudson Valley, with every imaginable site less than 45 minutes away - from antiquing to apple picking to Robber Baron mansions to skiing. Or stay at home and play tennis on the lighted court (seasonal), swim (seasonal), hike the grounds, entertain on the expansive deck, relax in the hot tub or one of the 3 Jacuzzis, 2 steam showers or 2-person real lava-rock sauna. Play ping pong, air hockey, play music, play video games, watch movies on a 10' high-definition screen. Stroll or sit in the private sculpture garden or do nothing at all & still feel like you've got it all. The entire villa is open except the mud room, garage & a few closets. The concierge is available to greet you and for any issues that require an in-person interaction. Your host is usually available by phone for items that can be answered verbally.
This is a property for elite guests who require privacy similar to that provided by an island retreat. It sits on a secluded point accessible by one road and is bounded by private homes on either side and 1,000' of riverfront. There is ample parking on the grounds. The house is 10 minutes from the Poughkeepsie Train Station with service from NYC via Amtrak (1:20) & MetroNorth (1:50). It can be reached by car via I-87 or the Taconic Parkway. Ask the host for exact directions or use GPS. The property has been accessed by helicopter. Stewart Airport is the closest public airport for commercial flights; Dutchess County Airport is the closest private facility. The house is only safe for toddlers with continuous direct supervision. Responsibly-aged children should be monitored. The house is sited in a stunning natural landscape that can be challenging. Guests assume all responsibility for monitoring children and, given the home's perch over a cliff, for their own safe behavior when on the deck and on the property generally.
The house looks exactly like in the pictures. The view is breathtaking; the design of the house, outside and inside, is really well-thought. Bud is a great host and very reactive in case you have a question. I strongly recommend to spend a few days there.
jean-marie
April 2016
The home is a fantastic spot - it worked incredibly well for our large family - swimming, tennis, bbq, drinks over the Hudson - all added up to great days back to back to back - Bud is a wonderful host - attentive , responsive , passionate about the home and the area - couldn't recommend the whole experience more highly...
Tim
August 2016
My wife and I decided to get out of the City for the long Valentine's Day weekend and settled upon this "Hudson Valley Masterpiece." And "masterpiece" might not do this place justice. Wildly luxurious, sexy, modern, elegantly decorated, spacious, and with gorgeous views of the Valley. We absolutely loved the vibe and couldn't stop commenting on how the entire ambiance just seemed to scream "relaxation." Unfortunately it was the winter and we didn't have the opportunity to partake in some of the warmer weather activities (tennis court, pool, etc), but we can only imagine how lovely this place would be during a sweltering summer day or a crisp autumn evening. And then there's the owner, Bud, who went out of his way to make us feel at home, providing detailed instructions for all the appliances in the house and a comprehensive list of restaurants and other nearby attractions. It was clear he genuinely cared about our having the most outstanding experience, which we most assuredly did. Outstanding stay. 10/10. Highly recommended.
Ann
February 2016
Room type
Entire home/flat
---
Property Type
---
Accommodates
8
---
Bedrooms
4
Highland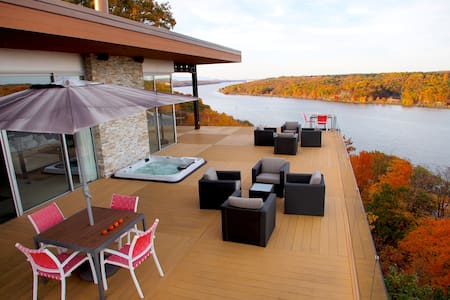 Welcome to the Mountain House, The Perfect 4 Season Getaway. Boasting 8 bedrooms, 6.5 baths and a dining room table that seats 22 there is room for the whole family! Sitting on 5 acres with views of 4 of the highest peaks in the Catskills.
8 Bedrooms, 6.5 Bathrooms, Sleeps 22 Welcome to the Mountain House. Sitting on five beautiful acres with views of 4 of the highest peaks in the Catskills, this is the perfect family getaway spot for all seasons. In the winter months there is easy access to ski resorts, Windham Mountain (5 mins away), Hunter (20 mins away), snow tubing and snowmobile/ATV rentals. For the rest of the year, nearby activities include: multiple golf courses (3 in Windham proper, 5 additional within a 40 minute drive), hiking/bicycle trails, swimming in rivers and lakes, state parks, mountain biking, fly fishing, zip-lining and Zoom Flume Water park. This beautiful 3 level vacation home boasts 3 master suites, 5 bedrooms, 6.5 bathrooms, 3 fireplaces and an outdoor fire-pit. The main floor contains: - a chef's dream kitchen that includes, 2 ovens, 2 dishwashers, granite counter-tops, and counter seating for 8. - a dining room with an 18 ft long oak table that seats 22. - a large great room with a wet bar and gas fireplace. - an indoor spa room with an 8-person Jacuzzi. - a large deck accessible from great room and dining room. Deck features a large grill and seating to enjoy spectacular views of Windham Mountain and the Catskills other highest peaks. - a master suite which includes a sitting room with gas fireplace and TV. - stereo with iPod connection and speakers throughout floor, with volume control in each room The upper level consists of: - a master suite with a gas fireplace and a balcony with spectacular views. - a loft living room with TV. - 2 bedrooms and a full bathroom. The lower level has: - an entertainment room with TV, billiards, Foosball table, and darts. - a large living room with TV, wet bar, and large wood burning fireplace. - 4 bedrooms and 3 full bathrooms. - stereo with iPod connection and speakers throughout floor, with volume control in each room Also offered with rental is complimentary, Concierge Service for booking: wait/cooking staff, spa services (in-house or off location), tours, golf and much more! The whole house. Locked doors or cabinet/closets with zipties are off limits. As much as is necessary, generally a meeting prior to check in to deliver the key and or greeting when you arrive for a tour of the house.
Views of the Catskills, 5 minutes to Windham Mountain and 20 minutes to Hunter. Car recommended; Can arrange car services if necessary. 40 minutes to Hudson Amtrak 1 hour to Albany International Adirondack Trailways bus service to the center of town.
Beautiful home with lots of room for the guests. We had common space to spend time together and everyone had their own private space if they needed it. Loved the huge backyard and firepit as well as the kitchen amenities that helped us feed 22. Owner was very responsive to questions and issues and the entire stay went very smoothly. Thank you!
Jessica
July 2015
The Mountain House was exactly what we were looking for in Windham. Close to town and close to the slopes yet far enough away to feel secluded. Very peaceful property and perfect for large groups. Derrek was very easy to work with and I appreciate all of his help with our big group!
Emily
January 2017
This was a great house! I was there with my family including 2 adult children, my sisters family including 4 adult children and my mother. It was perfect. There was plenty of room for everyone to be comfortable and have their space. We were close to the mountain so we skiied and were easily able to get back and forth from the mountain. Some of us walked into town while others walked around the area. The check in process was easy and the house was spotless when we arrived. I highly recommend this house to extended families and those that like to have their space...
Jodi
January 2017
The house is very close to town center with lots of restaurants, just a short drive to different hiking places in Catskill. Very spacious house with enough bedrooms to sleep our 20-person party. Love every aspect of the stay.
Felix
July 2016
What a beautiful space? Our group drove up from the New York City area and the drive was absolutely. The house provided plenty of space--we were 19 total--and its location was perfect for all of our outdoor activities (running, cycling, hiking, golf, lake activities). Leading up to our stay and through the weekend I had a few questions for Derrek, and he always responded promptly. I would definitely stay at the Mountain House in the future!
Chas
July 2016
Room type
Entire home/flat
---
Property Type
---
Accommodates
16
---
Bedrooms
8
Windham