Enter dates to see full pricing. Additional fees apply. Taxes may be added.
Gorgeous loft from 1886. Close to the hustle, tucked in a quiet neighborhood called 'Lighthouse Park' on Anastasia Island. A charming rental with a private courtyard and cozy elegance that has everything. The eclectic neighborhood offers many amenities-tennis courts, lighthouse, fishing, kayaks and paddle boarding. Walk/bike to the beach or all the attractions St. Augustine offers. Centered perfectly to hip new restaurants and entertainment. This is the perfect location for the perfect vacation.
Adorable! Great little spot away from hustle but close enough to be downtown in 5 minutes! Wonderful (URL HIDDEN) thoughtful. Highly recommend a visit. Great communication throughout 2 night stay.
Nancy
January 2017
Room type
Private room
---
Property Type
---
Accommodates
2
---
Bedrooms
1
St. Augustine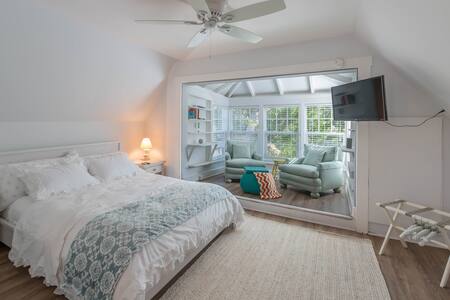 This modern lofty space is completely unique to this town. With an open floor plan, concrete floors, brand new kitchen, bath and a spectacular view, loads of space, close to town. And the view? Amazing!
Judging from it's industrial exterior, you would not guess the surprise that awaits you inside. Situated on the San Sebastian River, you are tucked away in an open, airy, lofty space with a vaulted ceiling and beams. A large deck is just beyond the sliding glass doors, that is the perfect spot to enjoy a Florida sunset. From the two queen size beds you can gaze out the glass doors at the marsh, a few herons or wood storks just might greet you each morning. If you need to hop into the hullabaloo of the city, you can walk down the street to The Ice Plant and many other downtown attractions. The best breakfast in town is only one street away at The Blue Hen. If you feel like staying in, the loft provides a well kept kitchen, stocked with whatever tools you might need. Go ahead! Open all of the glass doors, prepare a beautiful meal and dine al fresco. You'll be sure to enjoy this unique and magical spot for your St. Augustine adventure. You have all 2500 square feet of this beautiful loft to yourself, as well as the back deck. We live pretty close to the loft. If you need us for anything, we are just a phone call or text away. You most likely won't see us, as there is no need for keys. We'll give you the access code to get in.
The neighborhood is one of the most sought out places to live due to it's prime location, unique local flair and some of St. Augustine's coolest new restaurants like The Ice Plant and Distillery ( you have to try their handcrafted cocktails!) and The Blue Hen Cafe ( most yummy breakfast and lunch). On Sundays there is a farmers market at the very end of Riberia St. (the street you are on) at Eddie Vickers Park. In that park is also a playground and a public pool at the Wille Gallimore Center. The past 3 summers it has been free thanks to the Jacksonville Jaguars. There is a scooter and bike rental shop at the corner of King St. and Riberia, along with more restaurants like Flavors eatery and a fancy new burger joint called Burger 123. (Although, we think the Ice Plant Burger is the best!) You can walk to downtown to most of the attractions and even catch the Red trolly that takes you around downtown. Like we mentioned before, the scooter/ bike rental shop is at the end of Riberia St. To get to Vilano or St. Augustine Beach, we recommend driving. If you need any baby related items such as a pack n play, a side bedrail or highchair, don't hesitate to ask.
Had a great time at the Loft! It was so beautiful and clean. The location is perfect, it's right down the street from the Ice Plant and historic district is really close. This is now where I'll be spending all my weekends in St. Augustine :o)
Rachel
July 2016
The marsh front loft is beautiful. David was extremely attentive and ready to help with anything I might need. It's a very big space and very private (no neighbors except the Crossfit gym). If you like to workout, Vulcan Crossfit is in the other tenant in the building. So convenient! Alex (the owner) is great. Even though the gym and loft split the building (only two tenants), i never heard the music (only once I was woken up to someone doing olympic lifts). I worked out there twice and did yoga once. it was great. There were a few big bugs one night, but never saw them again. It's a great space.
Jim
May 2016
AMAZING !!! A cool, tranquil oasis in Old St Augustine. Sit on the porch and listen to songbirds serenade you from the marsh. Relax on the super comfortable bed and read one of David's great classic novels. Walk to everything in Old town , including the Ice Plant and the Blue Hen for breakfast. We will be back, what a great getaway
Eileen
May 2016
David was an excellent host! His "loft" style apartment was clean and airy, full of light with spectacular morning and sunset views right off of the deck over looking the marsh! Morning coffee with heron and egret started our day off gloriously! The deck even had a gas grill for outdoor cooking. The inside of the loft was roomy yet very comfortable and fun with the billiard and air hockey flip table! The decorating was tasteful and well done...and gave me some great ideas for re-doing my kitchen! Thanks David...we had a great time!
Suzanna
December 2015
David and Jenna's place was fantastic. It was exactly what we had hoped. A wide open loft with a view of the Marsh and close enough to historic St. Augustine that we did not have to travel very far. We would have walked everywhere, but we were there at the end of June and beginning of July, so it was hot and humid. The furnishings were perfect, the amenities were all we had hoped for and David and Jenna were always just a quick text away if we needed anything or had questions. Thank you very much for everything and when we return to your area we will definitely look to stay in your place.
Warren
July 2016
Exactly as depicted in the site description. David and Jenna text us ahead of time to let us know all was ready. Gave insights to groceries, overview of incidentals, as well as access to washer/dryer and security info. We couldn't have been more impressed. Lovely lovely lovely.
Heather
August 2016
David and Jenna's marsh front Loft in St. Augustine is a unique and wonderful vacation experience. Coffee on the deck in the morning with the seabirds and happy hour at night with the whole of St. Augustine in walking and biking distance, wow, we could't have asked for anything more. The location made it feel isolated yet everything was so close. The beds were comfortable, there was plenty of room for our bikes so they didn't have to stay outside, the his and her bathrooms were an interesting curiosity at first, but very convenient!! The AC worked great during a week where heat indices hit over 100 degrees F. Despite our July vacation timing, the deck was quite comfy with NO BUGS (I swear) in the mornings and evenings. David and Jenna were prompt when we needed something, which was only when we were departing to inquire about where to put the trash (the can was full) and they said not to worry about it. The only things I would change or be prepared for are: no fans (we bought one at Target), no curtains/sunshades (we came prepared with eye masks for sleeping in), no microwave and I would add a coffee table or 2, but the bar stools doubled for that pretty well. All in all a great vacation, we'll definitely book this again.
lynda
July 2016
Everything was as described and David was excellent with recommendations and with answering any questions we had.
Glenn
October 2016
Room type
Entire home/flat
---
Property Type
---
Accommodates
4
---
Bedrooms
0
St. Augustine
Upstairs garage loft style accommodations. Private entranceway. Bridge of Lions to downtown is within eyesight. Park and just relax. The beach at Anastasia State Park is one of the best! A stone's throw. Restaurants abound in our area
Located in historic North Davis Shores Coffee and Tea service available. Refrigerator too. We live in the main house. We keep an open door policy at 12 O!
We're nestled between downtown Mantanzas River and Salt Run at the other end of the street. Always a refreshing breeze! Off street parking. If your here to be near downtown...this is a perfect location. Feel free to use the 2 beach/carry chairs for your adventures. Located at bottom stairs. Plenty of space to store your bikes or surfboards. The loft area is all open-the toilet has a half door for privacy, but does not close. We do not allow pets.
If this place is available, you are going to regret not booking it. Pegg was the greatest host and a genuine person, wish I could've stayed longer. I know she had her own life to live while we were there but every time we walked up, she greeted us and told us another amazing experience to have only a walk away. The location can't be beat and the price for experience is unreal.
Dan
June 2016
Peggy and her husband were really accommodating! The room was amazing if you like rustic finishes! Her husband did an excellent job building it! He even adjust my girlfriend's new bicycle!! We took our bikes for a quick ride to downtown! Awesome experience! Will stay there again for sure!!
Edgardo
July 2015
Pegg puts you up in a beautiful, secluded garage apartment with an enormous bed and basic amenities. With a small bathroom area which includes a private shower, and a mini-fridge pre-stocked with a handful of bottled waters, this location was perfect for my partner and me. The location is quiet but within walking distance of Colonial Square. We were a short drive from the Lighthouse, St. Augustine beach, and other restaurants and stores if you need to get away from the touristy downtown area. Pegg and her partner Jay were lovely individuals. The second night of our stay included a heavy thunderstorm. Pegg left us an umbrella outside the apartment that we were able to use that evening. I would highly recommend this very reasonably priced location for couples looking for a quiet, private place to stay that is within walking distance of St. Augustine's most iconic downtown attractions.
Christopher
March 2016
Pegg & Jay are amazing hosts and the location of this loft style room can't be beat! Pegg met us as soon as we arrived and went over the basics, she even made us delicious muffins with jelly. The room has everything you need comfortable bed, mini fridge, a/c, shower, in a prime location location near 7 Lions Bridge on the beach side. Highly Recommend staying here, 5 star hosts!
Nikko
April 2016
Pegg and Jay are wonderful hosts and the location is outstanding! The bridge of lions is pratically a stones throw and the beaches are very close. Everything went smoothly and the room is very private and accurately described. We will definitely be staying here again for our next trip. Thank you for your hospitality!
Mark
May 2015
My experience was truly amazing and could not have been possible without finding Peggie's and Jay's loft on AirBnB. The purpose of my trip was to "wow" my girlfriend for her birthday. Let's just say that this trip did more than just wow her and now it's hopeless for me to do a better trip next year! We had a wonderful time thanks to these great hosts and there amazing loft.
Thomas
December 2015
Loved staying at Pegg and Jay's place. The location was perfect for hitting the beach during the day and walking over the bridge at night to go downtown. Pegg and Jay were incredibly nice and accomodating. The room was nice and private over the garage and had everything we needed for the night.
Joan
May 2015
Pegg met us as soon as we arrived and showed us to our room. The place is very clean with all the amenities that were stated. King size bed, fridge, private entry way, bathroom/shower, a/c, coffee and a handout to popular destinations/restaurants in St. Augustine. The location is awesome as it is a short 10 minute walk across the Bridge of Lions and your in the heart of downtown. I will definitely book Blissfully Eclectic when I come back again. Thank you Pegg!
Steven
March 2016
Room type
Private room
---
Property Type
---
Accommodates
2
---
Bedrooms
1
Saint Augustine