In a very quiet location on the edge of a fishing village in Stenivala, Agnantema villas are built on the slope of a hill. Cottage is newly built ,few minutes from the beach Glyfa with turquoise waters. From villa you'll have amazing view of the sea
Room Type
Entire home/flat
---
Property Type
House
---
Accommodates
4
---
Bedrooms
Στενή Βάλα, Θεσσαλία Στερεά Ελλάδα, Greece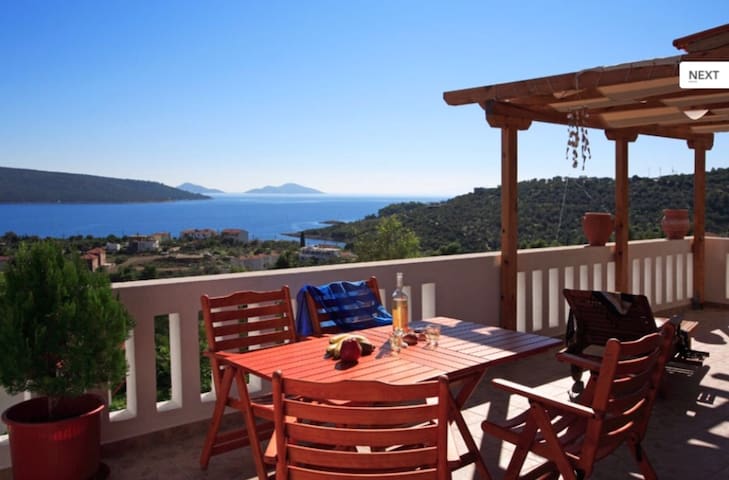 Sleeps 4. 1 bedroom apartments, one spacious guest room that includes the living room, the kitchenette and one big sofa bed. It's comfortable for 4 person and is ideal for families and couples. 11 km from the Port of Patitiri, and 100 metres from sea
Peristera View maisonettes are suitable for anyone who needs to pass his vacations in a quiet place next to the beach but also enough close to villages with restaurants and night life.
Remote, peaceful, enjoy the silence of the wind & the view of the sea.
Yannis
2016-08-14T00:00:00Z
This is the place! Look no further.
Näva
2016-10-21T00:00:00Z
Great house with everything you may need, 2 bathrooms, 1 big bedroom, one very charming terrace etc., very clean, very close to a nice beach. Bill was really helpful with everything, even hiring a car. All was perfect, I definitly recommend it !
Elise
2016-08-18T00:00:00Z
Bill was a great and helpful host. The place is serene and the house has great view and all the amenities anyone could ask. Surely recommended!!
Γεώργιος
2016-09-11T00:00:00Z
Room Type
Entire home/flat
---
Property Type
House
---
Accommodates
4
---
Bedrooms
Alónnisos, Thessalia Sterea Ellada, Greece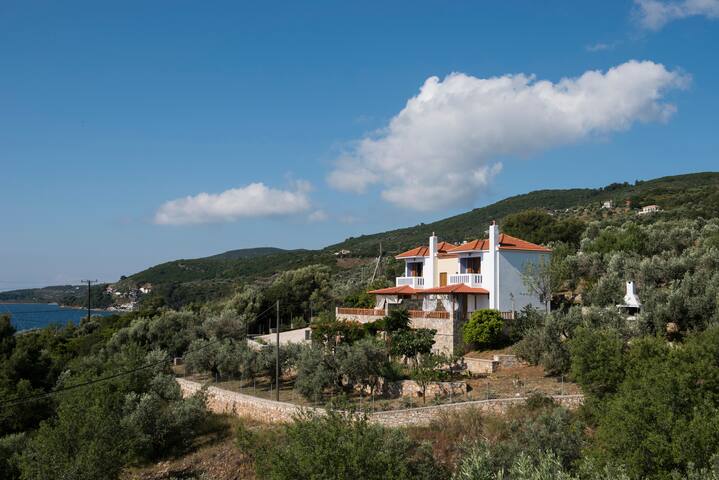 Set amidst a lush olive grove Villa Adelphia is a luxury eco-design ensemble with a picture-perfect view of Greece's Marine Park. Made up of three suites and a fourth shared kitchen and living space, the complex features a 25-metre swimming pool and barbeque facilities. It is an exclusive corner of paradise close to bone-white pebble beaches and sleepy villages on an uncontaminated island. Ideal for unwinding in close contact with nature or holidaying with friends without renouncing on privacy.
Villa Adelphia can sleep 12 - 20 people. Designed and conceived by an Italian architect as an ecological paradise, it was faithfully constructed with the utmost respect for the surrounding landscape. Slotted flawlessly between olive trees and color-shifting Aleppo Pines the stone units are almost invisible viewed from afar. The three independent suites are spaced a short distance from one another, and immersed in silence. Villa Adelphia is a haven of calm set within a three-acre olive grove, a place to recapture the natural rhythms of life, enveloped by the scents of strawberry trees and maritime pines and lulled by the hypnotic sound of cicades. The Villa's sought-after position allows for an unparalleled 360-degree view of the sea and of the other islands that along with Alonissos make up Greece's first ever Marine Park - the largest protected marine oasis in Europe. Light years away from the chaos of mass tourism Alonissos is one of the few Greek islands to remain intact. Studded with hidden bays and cushioned by lush trees and an infinite parade of flowers and aromatic plants, it is a one-off destination for anyone seeking calm and balance amidst uncontaminated settings and crystalline waters. Between the three suites the Villa has six bedrooms (details follow) and can sleep up to 20 guests, (including sofa beds.) The suites take their name from the islands scattered in the distance - Adelphi, Peristera, Joura – and each features a generous sea-front veranda. The fourth shared area includes a kitchen, large lounge area and sleekly furnished veranda with panoramic view. COMFORT AND DESIGN Design-wise the Villa Adelphia knits stylish warmth with functionality. With a stripped-back design and using the highest-end materials the units were conceived to meld into the landscape. The roofs are ventilated and covered by typical stone tiles, while the thoughtful interiors include chestnut beams on the ceiling and wooden floors in all the rooms (except for the micro-cement bathroom floors). The lounge and suite verandas feature a stylish teak floor and are equipped with sofas, armchairs, coffee table, or chairs and dining table. Meanwhile, the spacious and airy bedrooms – dotted with contemporary art - feature large French windows overlooking the sea and romantic four-poster beds. A fireplace in the communal living room and a large dining table seating up to 12 people makes for a convivial area, ideal for parties. Also communal, the kitchen is large, modern and fully equipped. THE SUITES ADELPHI SUITE (up to 6 people) Two large bedrooms, one with a stone wall and shower in the room. Both rooms have en suite bathrooms. The veranda overlooks the small Duo Adelphoi islands. Room 1: one four-poster bed and a sofa bed. Room 2: one four-poster bed. PERISTERA SUITE (up to 8 people) Three bedrooms with en suite bathrooms and a veranda with large dining table and view of the island of Peristera. Room 3: One four-poster bed and a single sofa bed. Room 4: One double bed. Room 5: One four-poster bed and a single sofa bed. JOURA SUITE (up to 4 people) This completely independent suite features a bedroom with en suite bathroom, kitchen, refrigerator, external dining area and barbecue. The veranda overlooks the island of Joura. Room 6: one double bed and a sofa bed. THE POOL A short walk from the suites and perfumed by the scents of lavender and rosemary, the sleek 25-meter pool is all about relaxation, with comfortable sun loungers, a barbecue area and shaded chill-out area equipped with sink, fridge and a large semi-circle sofa with cushions. For laid-back evenings or after-hours parties the pool area is kitted out with a hi-fi stereo system and lit up by LED lights (with colors of your choice.) RELAXATION AREAS Within the olive grove guests can enjoy various relaxation areas equipped with chairs and tables, three barbecue areas tucked amidst the olive trees and a shaded area under a canvas with an impressive stone table for outside dining. SERVICES We offer the following services (included in the price): Private parking Daily cleaning Bed linen and towels (linen sheets) Two cots for infants up to 2/3 years Air con Internet / wifi Stereo / IPod player Supplies of bottled water Nespresso machine and capsules Electric kettle Dishwasher Hairdryers Shampoo Outside laundry room with washing machines Irons
SURROUNDINGS A pleasant 15 minute walk along a scenic path starts just 300 meters from the villa and takes you to the gorgeous Lefto Ghialos beach and the quaint fishing village of Steni Vala, where you'll find markets, interesting shops, delicious eateries, and a diving center. The stunning Glyfa beach is only 5 minutes away by car. Meanwhile, another short drive brings you to the old town of Alonissos, Chora, perched on the mountain slope that dominates the two sides of the sea. Villa Adelphia is located in Isomata, on the way to the small tourist port of Steni Vala. Alonissos is the most remote of the islands of the Northern Sporades, and one of the few remaining un-spoilt Greek islands. ALONISSOS ISLAND It is home to the first National Marine Park in Greece, where you can find rare species of sea birds, dolphins and the friendly Mediterranean monk seal. According to the myth, Stafylos (meaning "grape"), son of Dionysus and Ariadne, lived in Alonissos, and the island has forever been famous for producing excellent wines. Transparent seas, ravishing beaches, sublime food and charming towns make this island a truly unforgettable holiday escape. HOW TO REACH ALONISSOS - By plane to Skyatos then ferry to Alonissos (40 minutes). - By plane to Athens then bus or taxi to Agios Konstantinos and ferry or hydrofoil to Alonnisos (3 and a half hours). - By plane to Thessaloniki then bus or taxi to Volos and hydrofoil to Alonnisos (3 and a half hours). At some points in the year there is also a hydrofoil from Thessaloniki (3 1/2 hour). - By helicopter from Athens.
Room Type
Entire home/flat
---
Property Type
House
---
Accommodates
16
---
Bedrooms
Alonnisos, Thessalia Sterea Ellada, Greece
Mourtero House is located in the settlement of Mourtero, 300 metres away from the beach. Surrounded by a garden, it offers self-catering accommodation overlooking the Aegean Sea from its patio
Room Type
Entire home/flat
---
Property Type
House
---
Accommodates
3
---
Bedrooms
Mourtero, Thessalia Sterea Ellada, Greece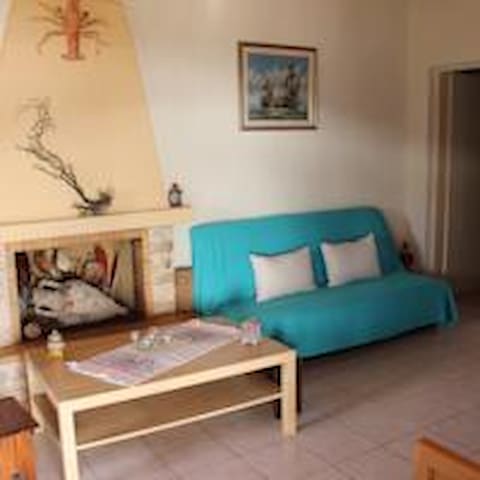 To Fisherman's cottage is a name and thing, on the edge just above the sea of the beautiful and quiet area of cotton Alonnisou will feel the sense of simplicity and authenticity of life of fishermen.
Room Type
Entire home/flat
---
Property Type
House
---
Accommodates
3
---
Bedrooms
Αλόννησος, Μαγνησίας, Greece
Beautiful, well equipped hillside villa. Sleeps 6 in 3 ensuite bedrooms all with balcony and views of the exceptional crystal clear waters of The Marine Park. A few minutes walk through an olive grove to a secluded beach and great tavernas and cafes.
Super spacious villa set in private hillside garden.
There is everything you might want for a relaxing holiday in beautiful surroundings.
Room Type
Entire home/flat
---
Property Type
House
---
Accommodates
6
---
Bedrooms
Steni Vala, Thessalia Sterea Ellada, Greece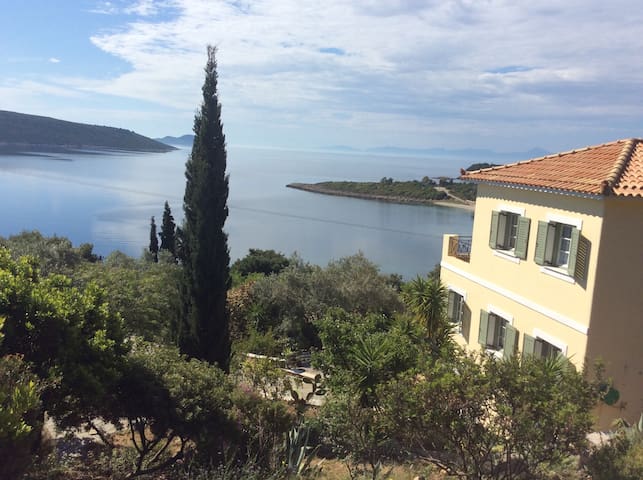 2 apartment villa situated in an 4000 s.m olive grove by the sea. 4 bedrooms, 3 bathrooms, lounges,verandas,barbecue place ,parking space.
The tremendous combination of a green landscape with the private beach with blue crystal water. 7-8 Preferably 6 adults 2 children
Peace, landscape, isolation, beautiful sea. Enjoy the unique environment and facilities
Cette Villa est extraordinaire, tant par son emplacement que par son organisation. Costas est un hôte charmant et très prévenant, nous nous sommes sentis très bien accueillis et nous avons passé de merveilleuses vacances dans cet écrin idyllique!
Judith
2016-08-28T00:00:00Z
Room Type
Entire home/flat
---
Property Type
House
---
Accommodates
8
---
Bedrooms
Alonissos, Sporades, Greece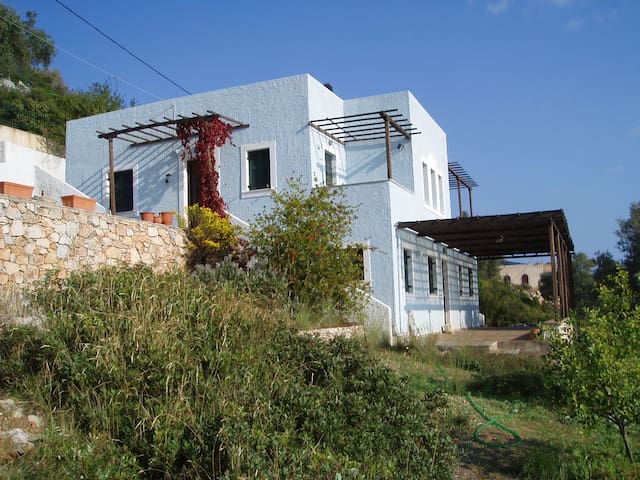 Ο χώρος μου είναι κοντά σε 15 meters from the Beach. Λόγοι που θα σας αρέσει ο χώρος μου: Very quiet , surrounded with olive trees and flowers. Ο χώρος μου είναι κατάλληλος για ζευγάρια, οικογένειες (με παιδιά) και κατοικίδια.
Christou Houses(Flower Houses) are located on glyfa beach about 10 km away from the port.A very beautiful scenery with the crystal blue sea about 15 meters from your staying,surrounded by an olive grove and a lovely colourful flower variety will offer you a relaxing,enjoyable with no stress vacation.Glyfa is placed 400 meters away from the small village of Stenni Vala,where you can find supermarket and lots of taverns to choose,with sea view.
Room Type
Entire home/flat
---
Property Type
House
---
Accommodates
5
---
Bedrooms
Steni Vala, Thessalia Sterea Ellada, Greece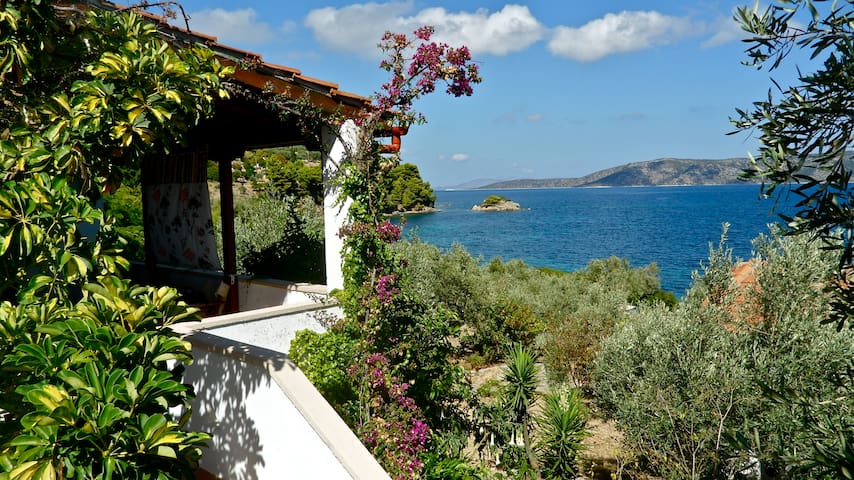 Sleeps 4. A private tranditional house/villa with 2 bedroom apartment, one spacious living room, the kitchenette and the balcon. It's comfortable for 4 person and is ideal for families and couples who seek privacy in an idyllic quiet place near to the sea.12 km from the Port of Patitiri, 2 min on foot from the most famous beach of Alonissos
Total relaxation in one of the most beautiful surroundings on Alonissos. The beach is just in front, approximately 2 min away on foot, making your vacations experience amazing!
Room Type
Entire home/flat
---
Property Type
House
---
Accommodates
4
---
Bedrooms
Sporades, Greece
Beautifully designed house on Alonissos, Greece with 3 bedrooms. Built in 2009 above Tzortzi Gialo Beach and Bay, looks to Kokkinokastro and around corner to Lefto Gialo cove and good restaurants. Outstanding water views. Easy to maintain. 10 mins north of Pattitiri port.
THE HOUSE IS NOT AVAILABLE BETWEEN 15 JUNE AND 25 AUGUST 2017. SECOND BEDROOM HAS TWIN BEDS OR A KING-SIZE BED, PLUS DEDICATED BATHROOM. THIRD BEDROOM WITH DOUBLE BED IS IN LOFT OVERLOOKING LIVING ROOM Spacious traditionally-influenced house on large block of land (1 1/2 hectares) with magnificent water views, privacy, peacefulness and 5-10 minutes to glorious beaches, restaurants and the port. Vehicle needed. Rental rates are based on a couple renting and are negotiable according to the season. Rates will increase for more than 2 occupants. Hot water heated by electricity. Apart from summer, Alonissos has much to offer at cooler times of the year - with bushwalking, other beautiful walks and peace. A geographically stunning island. Many traditional festivities. House has a traditional fireplace. Winter would suit a writer or student and rent would be reduced in such months. No air conditioner or heater. Heating would need to be electrical in winter. Interior fireplace is only heating. SUMMER ART CLASSES GIVEN BY SALLY WHOSE WORK IS HUNG INTERNATIONALLY. DRAWING AND PAINTING CLASSES ARE FUN AND INSPIRATIONAL. FOR FURTHER INFORMATION CONTACT Greek mobile number given upon request.
Alonissos is in the Sporades group of islands north of Athens (250kms). Largely untouched by massive tourism. A very green islands with many pine trees and olive trees. House has magnificent water views including classic Alonissos view of Kokkinokastro. Close to restaurants at Leftos Gialo (1 min by car or short stroll) and taverna at Tzortzi Gialos (5 mins). 5-10 mins by car from main port of Pattitiri and from Kokkinokastro. Faces south. Many beaches in area nearby.
What a gem! A beautiful ocean view and very comfortable house. Outside terrace with fire place was amazing. The best beach + restaurant is around the corner. It is a green and quiet environment. Bed is a dream: Matras is very thick and so comfortable! Felt so relaxt and rested after our stay. Also, if there was anything Ian & Sally responded very fast via internet.
carlijn
2016-09-09T00:00:00Z
We had a lovely and magnificent stay with Sally and Ian and we truly hope to be able come back soon. The house is just great. And so are Sally and Ian. And Alonissos of course..
Guus
2016-06-16T00:00:00Z
The house is even better than we expected and the place is wonderful. Thanks Ian
Vasco
2016-09-01T00:00:00Z
More than a great, comfortable space, beautifully equipped, with the personality of a real home, this house was so soft on the eyes, and had an inner warmth and peace to it. Ian and Sally have obviously put so much of themselves into it. We felt truly spoilt to stay here.
Roland
2016-09-17T00:00:00Z
Room Type
Entire home/flat
---
Property Type
House
---
Accommodates
6
---
Bedrooms
Alónnisos, Thessalia Sterea Ellada, Greece
Το Limani cottage βρίσκεται στο πανέμορφο ψαροχώρι της Στενή Βάλας. Η θέα προς το μικρό λιμανάκι της θα σας ενθουσιάσει. Οι παροχές και η αρμονία θα σας καλύψουν πλήρως, η διακόσμιση θυμίζει το σπίτι του ψαρά με όλες όμως τις ανέσεις!
Room Type
Entire home/flat
---
Property Type
House
---
Accommodates
4
---
Bedrooms
Steni Vala, Thessalia Sterea Ellada, Greece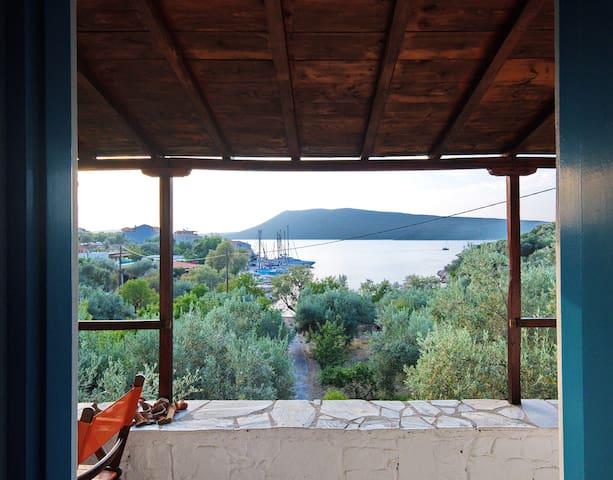 The house has its private terrace with panoramic view to Peristera island as also our guests can reach a private beach just two minutes walk from the house. There is also access to a common BBQ for all the guests. The houses are built in a proprietary olive grove where are safe your family as well as your pets. Last but not least, you are able to use private parking area inside the olive grove..
Everything was OK!
Christoph
2016-08-03T00:00:00Z
Room Type
Entire home/flat
---
Property Type
House
---
Accommodates
5
---
Bedrooms
Alonnisos, Thessalia Sterea Ellada, Greece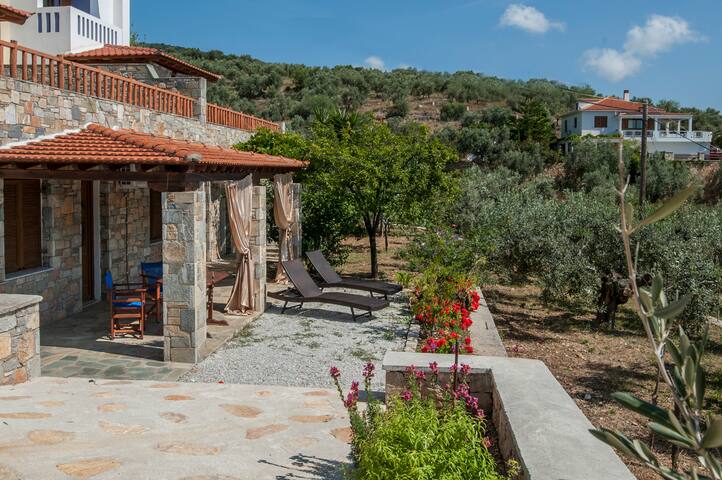 My place is near the beach and great views. My space is suitable for couples.
Room Type
Entire home/flat
---
Property Type
House
---
Accommodates
4
---
Bedrooms
Sporades, Greece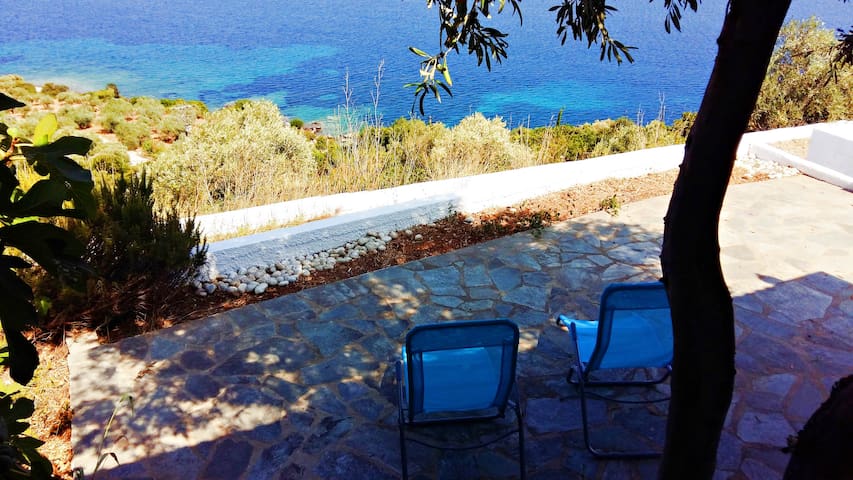 Directly on the shore, warm water for swimming and snorkeling, spectacular sunsets, pine tree shaded, forest nature trails. Secluded and peaceful. Minimum stay one week. Rental car recommended.
Peace, quiet, wonderful swimming, forest hikes.
Away from the hustle and bustle of the port on the preferred pine tree forested side of the island. Nicest secluded sandy beach.
The house wasn't available when we first contacted Arnie & Kiki, so after getting to know these wonderful people over messages a little better, they kindly let us stay at their daughter's house next door. What can I say, the view is incredible, amazing location, much nicer than the pictures with the sun setting right in front of the house and a beach really close so you can wake up by swimming in it which is one of my favourite thing on holiday and rarely possible! There is a lot of privacy, so you get lost in the sounds of cicadas from the rich pine forest that come right up to the edge of the cliffs, and the sound of the sea gently caressing the rocks. We've never seen so many stars at night! The sea water is as clear as a swimming pool and the aquamarine colours just stunning. We loved the old town and the many wonderful beaches. Make sure you book a jeep and bring your sneakers! Worth visiting this little paradise on earth.
Athena
2015-08-17T00:00:00Z
Room Type
Entire home/flat
---
Property Type
House
---
Accommodates
7
---
Bedrooms
Alonissos, Greece, Greece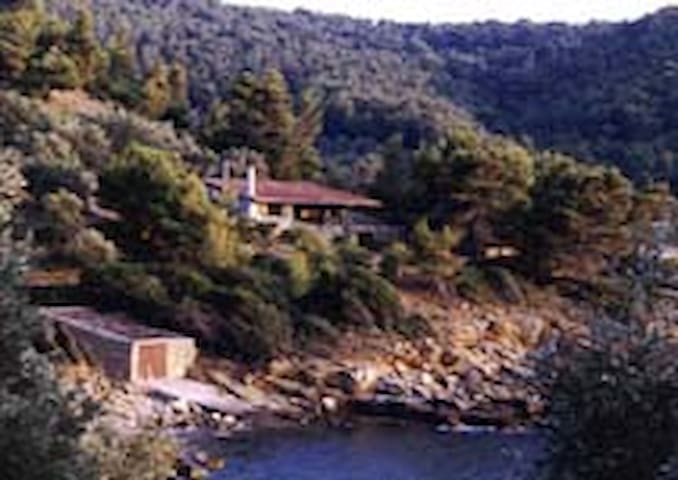 Facing the Aegean Sea, you will enjoy two separated sea houses with large terraces offering a beautiful view. The access to the sea is down by a private path wich leads to the cove and a small beach area. The estate is surrounded with olive trees fields and laurels. Ideal for families, friends. It offers peace and solitude. A twice weekly housekeeping service is included (more is to be charged). Magda is an excellent cook, can do an extra shop and cook for you and your guests (to be charged).
Room Type
Entire home/flat
---
Property Type
House
---
Accommodates
6
---
Bedrooms
GR, Greece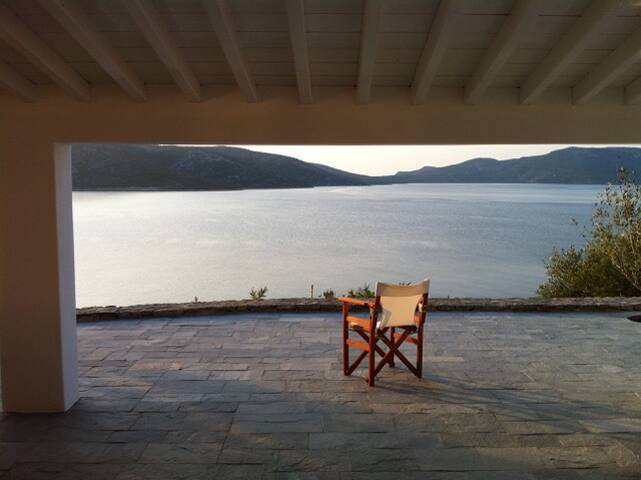 If you are looking for a holiday villa in a remote natural setting, this is the place for you: 2 double rooms, 2 bathrooms, tasteful antique furniture, terrace and 5 hectares of organic parkland sloping to a secluded beach.
Alonissos is the unspoilt island of the Sporades archipelago. Those who visit are enchanted by the green landscapes, the turquoise water, the solitary beaches and the Marine Park, one of the last places in Europe where Monk seals live. Our villa is located in the island's most enviable spot: amongst pines, olive trees and a luxuriant Mediterranean bush that reach a small secluded beach some 30 meters below the villa. We own the five hectares of the villa's surrounding parkland. Sunset from our terraces is breathtaking and wholly immersed in nature. From our villa you can either walk down to the small untouched beach in our bay or discover the footpaths leading to nearby beaches. However, the villa itself is so beautiful that you won't want to leave too often. Therefore, the villa combines sustainable architecture (the use of traditional local materials, antique furniture, carpets and large fireplace) with all the comforts of a luxury house. The outdoors are dominated by one big terraces where it is possibile to enjoy breakfast and meals. Star gazing, drinks at sunset and candlelit dinners are all unforgettable at our villa. Indoors are organized on two levels, as the villa is built along the hill's slope. The main body of the house, is the living room with fireplace and open plan fully equipped kitchen and dining area, 1 double bedroom and 1 bathroom. On the lower level there are 1 double bedroom and the other bathroom. 4 people can live here comfortably. Electricity is provided by the solar panels installed over the roof of our other house just 100 meters above. Laundry service is included in available upon request. The caretaker of the villa can be contacted in any moment for assistance. In essence, if you are looking for a luxury holiday villa in a remote natural setting, this is the place for you. Services on request and upon availability: •Land Rover Defender 90 •6m fishing boat
If you are searching for a secluded place, for a break from hard business work you will find here the perfect place.
Room Type
Entire home/flat
---
Property Type
House
---
Accommodates
4
---
Bedrooms
Sporades, Greece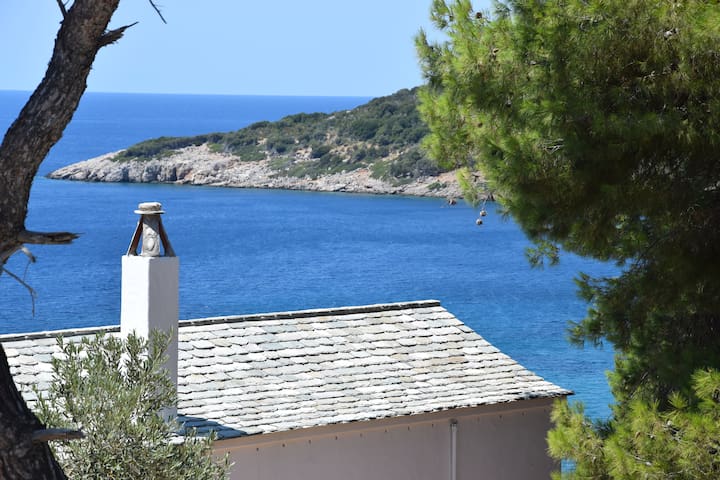 Beautiful house, 3 min away from the local Votsi Beach, can accomodate 4 guests. With playground. Ideal for families or for two couples.
Room Type
Entire home/flat
---
Property Type
House
---
Accommodates
4
---
Bedrooms
Votsi, Thessalia Sterea Ellada, Greece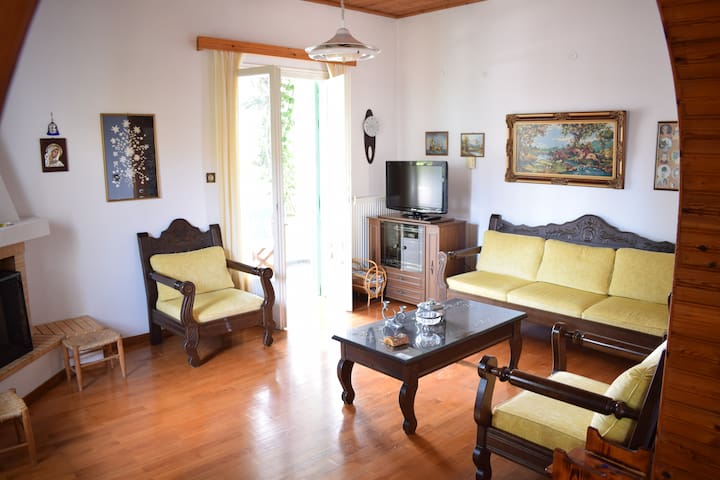 KAMELIA VILLAS IN VOTSI IS A BLOCK APPARTED FROM 4 MAISONETTES ONLY A FEW METRES AWAY FROM THE AEGEAN SEA.
In Mplatsoyka place in Votsi, just 2 kilometres away from the port-centre Patitiri, into a green with perfect view in Aegean sea property, you' ll find our block Kamelia Villas. Each maisonette can offer hospitality to 4-5 persons. There are 2 bedrooms, living room, dining room, full equiped kitchen and a bathroom. One bedroom is downstairs and the otherone is up in the attic which is interior connected with a wooden stair. Both maisonettes have balcony with great sea view. Ideal choice for you that desire quiet for your holiday but also direct connection with the centre Patitiri. Cleaning and changing linens and towels every 3 days.
The villas are 10 minutes far on foot from the picturesque harbour of Votsi where you can find taverns, cafes and a very quiet beach with green-blue water to enjoy swimming. In just 300 metres there is the centre of the village which has mini markets for yous shopping.
A perfect place for vacation on Alonnissos! We loved everything about the villa! It appeared to be even more beautiful in real life, than on the photos! All our friends visiting us said it was the most beautiful villa on the island! The house is big, well-decorated and equipped, and very clean, the territory is green and spacious, swimming pool is a perfect place to rest in the afternoon and the location of the villa is very comfortable - close to Votsi (restaurants and shops) and the Homeopathy Academy, but in a very calm area. The owner - Miss Maria - is a very nice and friendly lady, she showed us the house when we arrived and treated us with her home-made marmalade (It's delicious, visit her shop in Patitiri). Thank you, Vassiliki, for your help and assistance in all our questions. It was so nice to have correspondence with you and meet you on the island! We will be happy to stay again at the villa next year!
Ivan
2016-05-28T00:00:00Z
A very nice place for vacation on Alonnissos. The house is well-equipped and very clean. You can walk in 5 minutes to Votsi, where you can enjoy the sea, restaurants and shops. Patitiri is about a 20 minutes walk away. Consider renting a car if you want to travel elsewhere on the island. We were greated by Miss Maria at our arrival. She showed us the house and offered us some local backery and marmalade. We met Vassiliki on our trip to Steni Vala. She was very welcoming and helping when needed. Thank you.
Julien
2016-07-16T00:00:00Z
Le foto pubblicate su airbnb non rendono giustizia alla casa, dal vivo è molto più bella! La villetta è immersa nel verde e le sue due verande affacciano sulla piscina (bellissima) da un lato e sul mare dall'altro! La posizione è comodissima a cinque minuti a piedi dal porto di Votsi e dal mare. La signora Maria è molto disponibile e si fa capire benissimo pur parlando solo greco
serena
2016-07-28T00:00:00Z
Room Type
Entire home/flat
---
Property Type
House
---
Accommodates
5
---
Bedrooms
Sporades, Thessalia Sterea Ellada, Greece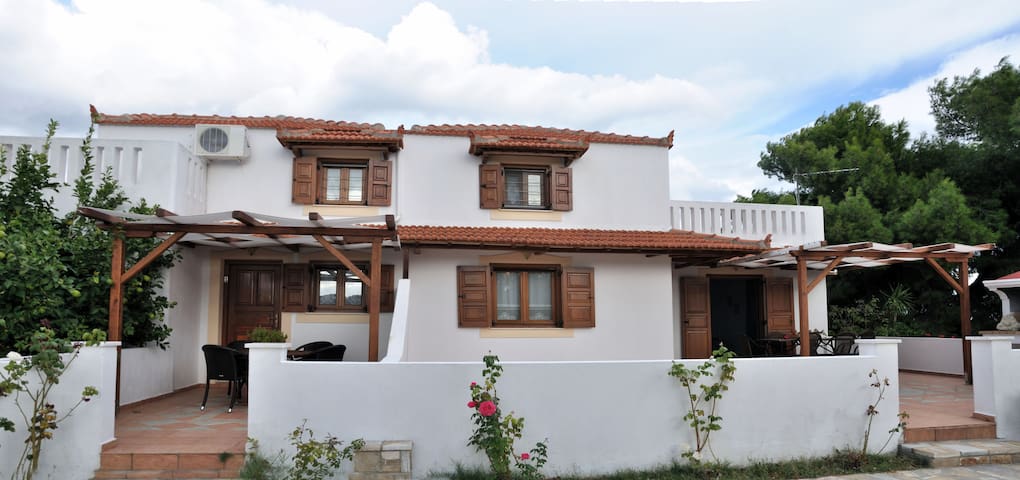 1

–

18

of

24 Home Rentals
Enter dates to see full pricing. Additional fees apply. Taxes may be added.