Sleeps 4. 2 bedroom penthouse apartment with a large rooftop terrace and a large balcony offering spectacular sea and mountain views. Free Wi-Fi. UK Live TV and android box with streaming of movies, TV shows, kids channels.Peaceful location in luxury gated complex with a range of on-site facilities.
2 bedroom penthouse with a rooftop terrace located in SeaTerra Reserve. A gated complex located in a truly exclusive setting amongst a mountainside conservation area, with unmatchable 180 degree views of the azure Mediterranean Sea and Mountains. This complex really does offer you the unspoilt Med. Breathtaking views of the mountains, sea and lush vegetation that sweeps above and below the apartment. All rooms air conditioned. Amazing location with some of the best views in North Cyprus. Complex offers a wide range of on-site facilities which include 3 outdoor pools, children's pool and indoor heated pool, Sauna, Jacuzzi, fully equipped gym, games suite with pool table and amusements, landscaped gardens, children's play area, gated security and Mini golf. 10 minutes to championship level golf course. 25 mins drive to Kyrenia harbour. 10 Minutes walk to secluded pebble beach and 15 minute drive to Alagadi sandy beach and Kaplica sandy beach with loungers, umbrellas and beachside restaurant and bar offering local fresh seafood and cuisine. An on-site restaurant & bar are available for your convenience at the Reserve with regular entertainment nights. This modern and airy penthouse apartment is most suited to adults and families who wish for a relaxing, peaceful but most importantly stress-free holiday. Most tastes have been catered for, enabling guests to enjoy themselves and make the most of beautiful North Cyprus! The private rooftop terrace is furnished with sun loungers, BBQ and table and chairs to maximize the apartment's stunning views. The apartment is well-equipped and there is everything you could think of! The complex boasts 3 swimming pools surrounded by sun-loungers and umbrellas. The large main swimming pool and kid's pool are visible from the apartment. There is also an indoor heated pool. The grounds are beautifully landscaped to create a perfect setting in which to relax. There is also a gym, mini golf, children's play area, games room, sauna and Jacuzzi. On site restaurant is available for you to use. Golf The Korineum Golf & Country club is just 15 minutes drive. It features 18 international standard holes, 3 academy holes, a driving range and a Pro shop where you can hire or buy equipment. This fantastic facility includes two restaurants, pro shop to buy/rent equipment, driving range and a spa & fitness centre. No membership required to play golf. Very beautiful and panoramic mountains & sea view. Beaches There is a beautiful quiet pebble/rock beach 10 mins walk from the complex and sandy beaches exist locally - car is required. Kaplica Beach, just 15 minutes drive east from property, is a lovely sandy bay overlooked by the ruins of Kantara Castle. Alagadi beach (where the turtles hatch every year) is approximately 20 mins away by car. Acapulco Hotel (with a lovely sandy beach and Aqua Park for children) is approx 15 mins from SeaTerra Reserve heading towards Kyrenia. How to get here Taxi airport transfers can be arranged where the driver is waiting for you with your name on a board. Approx £35 each way from Ercan airport & £55 each way from Larnaca airport. You pay the driver cash on arrival. Larnaca airport is 1 hour 15 minutes. Ercan is the nearest airport in Northern Cyprus 30 mins drive to SeaTerra Reserve - fly from UK via Turkey. EasyJet now fly to Larnaca from Gatwick at cheap prices so is Monarch. Nearby The nearest village is Tatlisu, 5 minutes away by car. The larger village of Esentepe is a 10 minute drive. Kyrenia/Girne with it's beautiful harbour, boat trips, castle and shipwreck museum, the abbey at Bellapais, St Hilarion castle and the capital Lefkosa (Nicosia) are all under 30 minutes drive. There are unspoilt Cypriot villages to discover scattered around and further afield the Karpas conservation area with it's fantastic beaches and wildlife for a 1/2 day or day trip. Other things to know There are many restaurants, casinos, supermarkets and banks on the way to and in Kyrenia. Closest big supermarket is only 10 mins drive. There are many historic places to visit including stunning Kyrenia Castle (a must see!), St Hilarion and Buffavento castles, and Bellapais Abbey. The beauty of North Cyprus is the relaxed way of life that locals live to. No one is ever in a rush, and as such the service you receive in restaurants is second to none. Trust me, you will not be disappointed! Karpaz Pennisula: Ideally located to explore Famagusta & Karpaz. Many beautiful beaches of golden sand can be found on the north and south coasts. Some are easy to find as they have a hotel nearby but others have to be searched for. It is worth at least a day of your holiday, to discover for yourself one of those areas that still have the essence of ancient Cyprus. We have a cot bed with proper mattress and a baby highchair for your use should you require.
This area is incredibly beautiful. The continuous view of coastline and mountains is a delight every single day.
Inna and Carls support - prior to and during our stay was outstanding. Professional welcome package - with all necessary details, personal recommendations and arrangement of airport transfer and car rental all worked out perfectly. Questions during the stay was answered promptly with exact driving specifications where to find what.
Ryan
2016-10-23T00:00:00Z
Our holidays in Inna and Carl's apartment was just great! Everything was clean and ready for us. The rooftop has an amazing view, the rooms are really cosy and the all place is just incredible in general. Inna and Carl made our arrival really easy. They explained us everything we needed to know. If you have any questions about the apartment or even about what you should visit, they will answer you quickly and with all the details you need. I couldn't expect a better way to welcome us.
Leila
2016-08-15T00:00:00Z
Me and my girlfriend stayed at the flat for a week and it was perfect. The flat is in a complex hidden away between the sea and the mountains and had everything we needed. It had its own rooftop with furniture for breakfast and dinner which had an amazing view of the sunset every night. It even has a small BBQ, TV, air con, water cooler, fan, candles, lanterns and more. The Internet was strong with a good selection of movies for the DVD player. The flat came fully equipped with all cooking utensils and the fridge was stocked with a few essentials on our arrival which was a pleasant surprise. 2 of us stayed at the flat but it was big enough for 4 (2 double rooms) and it was still 30 degrees at the end of September. The complex has a pool and a small restaurant as well as games room and gym, but we preferred to drive around and explore the fantastic beaches and areas along the coast. Their restaurant recommendations were really good and communication was very good with a same day response if not within a couple of hours. We would definitely come back. 1 essential is to hire a car to maximise what northern Cyprus has to offer
Bert
2016-10-03T00:00:00Z
This is a great apartment and an ideal location to be based from if visiting a lot of locations. When I arrived the appt was clean and well presented and the furniture had been placed outside ready for my arrival. The appt boasts a huge fridge so you can stock up with cheap fruit and veg and and still have plenty of room to chill beer. The bedrooms are a decent size with storage and they'll be no arguments as they are also the same size. There is a washing machine so you can save on luggage. And, if you are feeling lazy there is a dishwasher too! The reserve has good pools and for early morning lengths the indoor pool is ideal - I was they only one in the pool on the days I used it. The onsite gym is small but perfectly adequate for most peoples' needs. If you are into geocaching there is a great little route just to the north of the reserve and locations all the way to Kyrenia.
Mike
2014-08-15T00:00:00Z
The place itself was great, please keep in mind that there is no internet access inside the apartment: even if you purchase one separately - it simply doesn't work. The only option is to go to the pool area where it works OK. Great pool, cafe and cute ice cream bus visiting every day at 4 pm!:) You will need a car for sure.
Anatoly
2015-07-14T00:00:00Z
We had an amazing trip. The property is just as described set in a beautiful unspoilt location. The apartment has all amenities you would require its spacious and clean and the rooftop terrace is the icing on the cake with views for miles. The facilities in the resort are all well maintained 3 great outdoor pools and a play park. The restaurant serves nice food at a low price and there are plenty of other choices a short drive away. The hosts really couldn't have done more to help. They were easily contactable from the beginning and throughout our stay. We had a problem with our car hire (we booked independently) and Inna was quick to resolve our problem and had a different car delivered less than 3 hours later. A tip for anyone booking if you are flying into Larnaca some car hire companies won't allow you to drive from South to North Cyprus! I would recommend booking airport transfers and car hire through Inna & Carl for peace of mind. We will absolutely visit again!!
Lianne
2016-09-13T00:00:00Z
Lovely apartment exactly as described, the complex it's on has good facilities and staff are very friendly. The views from the terrace are amazing and great to watch the sunset from, in addition to sunbathe
Charlotte
2016-08-24T00:00:00Z
Квартира, как и практически всё жильё на Северном Кипре небольших размеров. С чистотой не все в порядке, хотя стоимость уборки составляет 70 евро. Без авто делать там нечего. До пляжа далеко, кафе на территории просто тихий ужас. Единственный плюс - это терраса и вид с неё.
Яна
2015-08-29T00:00:00Z
Room Type
Entire home/flat
---
Property Type
Apartment
---
Accommodates
4
---
Bedrooms
Kyrenia, Tatlisu, Cyprus
This fabulous two bedroom garden duplex apartment is situated on the lush foothills of the Five Finger Mountain Range in the Esentepe/Girne region of north Cyprus. Pool on site, golf course just minutes drive away. Perfect for families.
Strategically located to maximize the Mediterranean Sea views on one side and mountain views on the other, this quality apartment benefits from a large terrace with sea views. There are two bedrooms and two bathrooms (one en-suite), and the apartment benefits from elegant arched windows leading to the spacious front terrace with traditional wooden pergola.
Distances (car): Beach - 2 minutes, 10 walk Marina - 2 minutes, 10 walk Golf Course - 10 minutes Cultural Sites - 5 minutes Walking Trails - on-site Kyrenia Riviera - 40 minutes Ercan International Airport - 40 minutes Larnaca Airport - 90 minutes
المكان جميل جداً جداً ورائع .. مميزات المكان : منظر خيالي نظافة راقي جداً مطعم داخل المجمع مسبح جميل يوجد بار يوجد مغسلة ملابس إطلالة بحرية فاتنه يوجد سوبرماركت كبيره جداً بالسيارة ( خمس دقايق ) يوجد مطاعم على الطريق فيها حفلات موسيقية جميلة ملاحظات على المكان : بعيد من العاصمة ( ٤٠ كيلو ) طريق جبلي لكنه سهل لا توجد غساله داخل السكن لعشاق الأماكن المنعزلة المكان جميل جداً جداً التعامل كان راقي جداً ومحترم وسعر المكان يعتبر رخيص مقارنةً بالمكان الرائع
Abdulrahman
2016-09-23T00:00:00Z
Room Type
Entire home/apt
---
Property Type
Loft
---
Accommodates
6
---
Bedrooms
Girne, Girne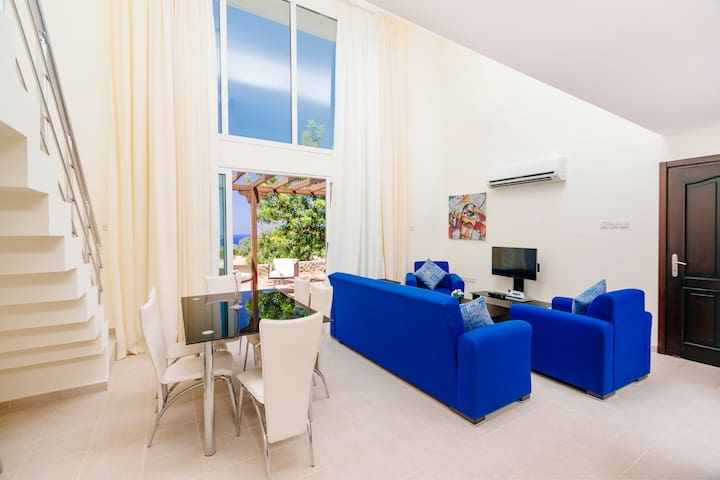 Рядом с моим жильем Уеденненный комплекс в английском стиле . Чистое и безлюдное море недалеко от комплекса. На территории 3 бассейна. Кафе. Джакузи. Сауна. Тренажерный зал, тенисный корт . Баскетбол . и волейбол. площадки.. Вам понравится, ведь в моем жилье есть атмосферность и пространство у дома. Мое жилье подходит для этого: пары, соло-путешественники, деловые путешественники и семьи (с детьми).
Room Type
Entire home/flat
---
Property Type
Apartment
---
Accommodates
4
---
Bedrooms
Girne
Апаратменты 2+1 расположены в живописном месте возле городка Татлису. С одной стороны открывается прекрасный вид на горы, с другой на море. Апартаменты находятся в комплексе Sweet Water Bay. В комплексе: 3 бассейна, сауна, джакузи, тренажерный зал, площадка для футбола, баскетбола, теннисный корт, детская площадка. ухоженый сад. До моря 5 минут, есть песчаная бухта и галечная. От аэропорта Ларнаки - 82 км, от Эрджана - 40 км.
It is wonderful place located in really quite and secure area. We were staying only for 1 night during our 2-days autotrip. We did not have wifi, but in our exhausted condition it was ok. Thank you!
Sofia
2016-09-18T00:00:00Z
Останавливались в этих аппартаментах с семьей. Квартира просторная, чистая, вся мебель новая, для отдыха имеется все необходимое и даже мангал. Владельцы очень приветливы. Обязательно порекомендую эти аппартаменты своим друзьям и знакомым.
Andrey
2016-10-02T00:00:00Z
Room Type
Entire home/flat
---
Property Type
Apartment
---
Accommodates
6
---
Bedrooms
Girne, Girne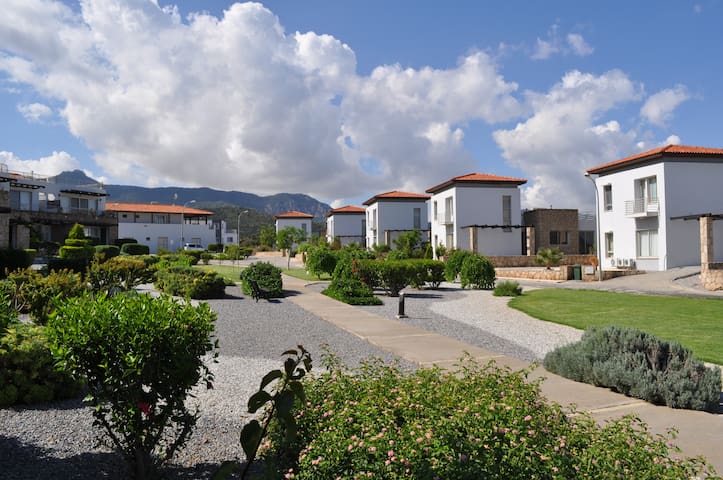 Penthouse with a rooftop terrace and stunning views of the sea and surrounding mountains. Ideal for couples or families of 4 with young children. Located in a rural setting with onsite pools, gym, playground, games room. restaurant/bar. Several restaurants/bars and supermarkets within 5 minute drive. International golf course 18 holes with day spa 15 minutes drive.
An ideal holiday in the sun. There is a toddlers pool for the very young children and 2x larger pools available. On site restaurant and bar or cook your own meals in the penthouse which has all the cooking facilities and utensils including fridge/freezer. Fly into Ercan airport which is 15 minutes drive from apartment or fly into Larnaca airport in south which is a 45 minute drive. Transfers can be booked in advance for additional cost from airport to penthouse.
This is a peaceful quiet rural setting surrounded by national park and pine trees. Watch the thousands of stars in the sky from the rooftop terrace in the evenings. Several local taverna and restaurants/bars within a 5 minute drive. During the summer go to Alagadi beach(20 minute drive) to enjoy a golden sand beach or in the evening to watch green turtles lay their eggs on the beach. The Acapulco Hotel (30 minute drive) is great for visiting for a few hours for water slides and Casino. The 18 hole International golf course is 15 minutes drive and has a spa treatment service with an excellent buffet restaurant. Drive to Kyrenia town, Famagusa or Nicosia for a day trip of exploring the history and culture (all within 45 minute drive). Or just relax by the pool and enjoy the sun.
Room Type
Entire home/flat
---
Property Type
Apartment
---
Accommodates
4
---
Bedrooms
Tatlısu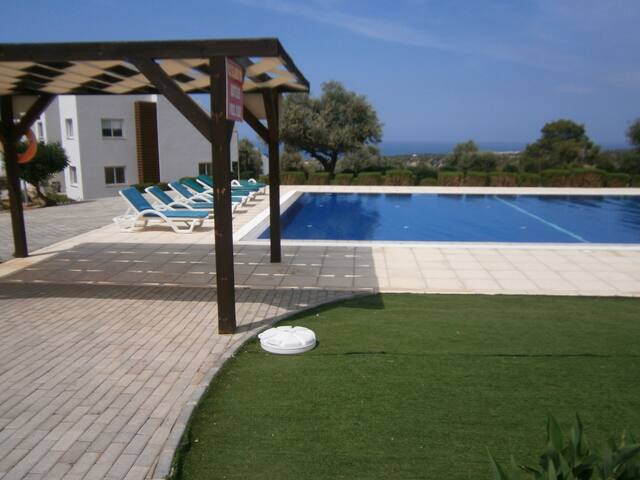 A wonderful sea front Penthouse in a nice Holiday site called "Sea Terra Bay". Very quite and clean Location.
The wonderful terrace is amazing, very huge with a 360degree view to the sea and the mountains... 2 nice bedrooms and 2 bathrooms with a huge living area and a kitchen with a view to the nature. 5 persons can use that flat.
everything is green and your are totally in nature. The Holiday site is great with many activities. There are supermarkets and Restaurant in the near...
We were met at the accomadation by Gokhans representative who was very helpful in showing us around the appartment and describing the services available locally. There was a basket of food awaiting us which certainly helped as we arrived on a Sunday. We cannot fault the accomadation. The facilities are well appointed and modern. The location is lovely and perfect for anybody who wants to relax. Gokhan even altered his own holiday to allow us to have the dates we required. Brilliant!
tracey
2016-07-04T00:00:00Z
Amazing penthouse! Gokhan gave us lots of good information via email before our arrival, he's great. The place is fantastic. The penthouse is located in a nice complex and when we went there (end of july 2014) we were almost alone, without neighbors, so everything was quiet and peaceful as we wanted. The penthouse has got a great view of the coast and 2 minutes from the house there's a nice small beach, with even wooden platform where to laid down. The house is nice and well organized. You can find everything inside, clean and good quality. Kurshad, the house-keeper, was super friendly and gave us an induction of the house. There was some fresh food in the fridge and even a local mobile phone we could use to call him if we would have any need. The terrace on the roof is beautiful, great view and well set up if you wanna have a barbecue or star at the stars in the night. The price was good as well, considering we were in high season. We truly recommend this penthouse and Gokhan! Have fun an enjoy stunning north cyprus!
Pietro & Laura
2014-08-01T00:00:00Z
The apartment is just as beautiful as it is in the photos. We stayed 3 night, I'd recommend it to anyone who wants to spend a few days in Kıbrıs. The location of the apartment is perfect in the middle of main places to visit. All was clean and very professionally prepared for our arrival. Gokhan was contactable at all times and very helpful.
Melike
2016-05-23T00:00:00Z
Wir hatten einen tollen Urlaub in dieser Ferienwohnung und ich kann sie wirklich uneingeschränkt weiterempfehlen. Der Ausblick von der Dachterrasse ist unglaublich schön, selbst der Ausblick aus dem Küchenfenster ist toll. Die Wohnung ist gut ausgestattet, uns hat nichts gefehlt. Alles war gut organisiert, da vor Ort ein Housekeeper als Ansprechpartner jederzeit erreichbar ist. Gökhan hat auch einen Mietwagen für uns organisiert und dies auch zu einem guten Kurs. Ein Auto ist unverzichtbar, da vieles nicht unmittelbar erreichbar ist. Die Ferienanlage war auch sehr schön und ist sehr ruhig gelegen, für Partyurlauber sicherlich nichts, uns hat es super gefallen. Alles in allem kann ich das Penthouse zu 100% weiterempfehlen
Janine
2015-08-20T00:00:00Z
Room Type
Entire home/flat
---
Property Type
Apartment
---
Accommodates
5
---
Bedrooms
Tatlisu, Kyrenia/North Cyprus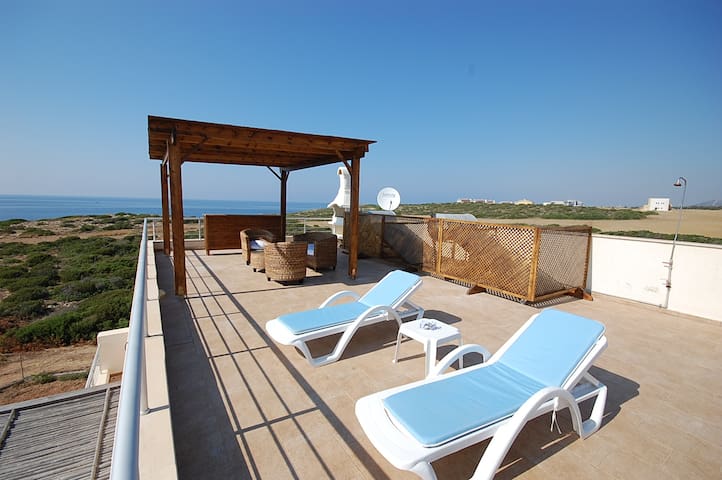 The real seafront three bedroom bungalow with uninterrupted views to Mediterranean
This property is strictly non-smoking. Villa Sea View is one of the premier villas at the award winning Sweetwater Bay development in North Cyprus. The development offers a full range of facilities including 2 large pools (one heated), a children's pool, sauna, jacuzzi, table tennis, games room, fully equipped gym, children's play area, tennis court, basketball court & poolside Bar, open daily offering bar snacks/food & at night to meet & make friends.The villa is situated just a few hundred meters from the shore line and boasts stunning uninterrupted views of the beautiful Mediterranean Sea. The villa has been tastefully decorated and furnished to the highest standards and has all the facilities required for a relaxing and enjoyable holiday. There is a large terrace giving plenty of shade for outdoor dining and loungers for use around the private pool.
Room Type
Entire home/flat
---
Property Type
House
---
Accommodates
6
---
Bedrooms
Tatlisu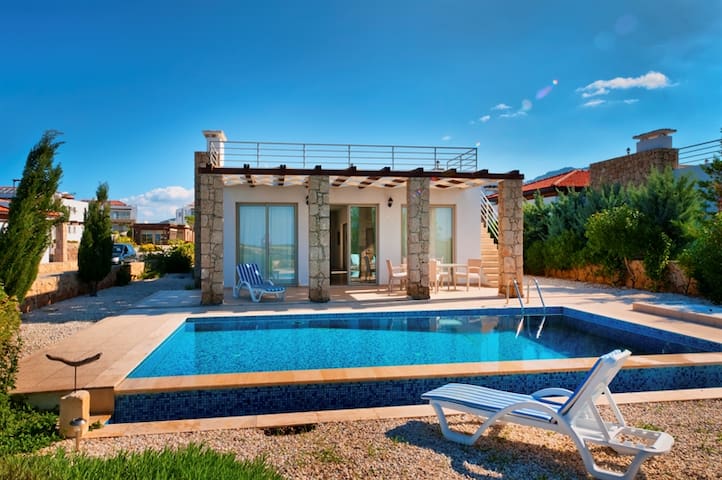 Perfect Location to Explore the Hidden Beauty of Northern Cyprus. You'll love my place because of the ambiance, the people, the neighbourhood, the outdoors space, and the light. My place is good for couples, families (with kids), and big groups. There are some excellent activates in North Cyprus. The top five are: St Hilarion Castle, thought to be the castle Walt Disney designed their castle on. Bellapais Monestry. Kyrenia Harbor, with great resturants. Kyrenia Castle. Alagadi Turtle beach
This new high-end property is located in an exclusive, secluded development in the north of the island has stunning views of both the Mediterranean and Kyrenia Mountains, and includes all mod cons such as Wi-Fi, large 3D screen TV and DVD player. This unique property has interiors designed exclusively by a bespoke interior designer. The full villa is for the confirmed booking. The price is the same whether 1 or 10 people stay.
Lovely, quiet neighbourhood. Large pool right next to front door.
It was really a plessure to meet with Stephen. He was really a great host. He helped us a lot for all manners. I would suggest everyone to stay there.
Tunahan
2017-03-20T00:00:00Z
Room Type
Entire home/apt
---
Property Type
Villa
---
Accommodates
10
---
Bedrooms
Gönyeli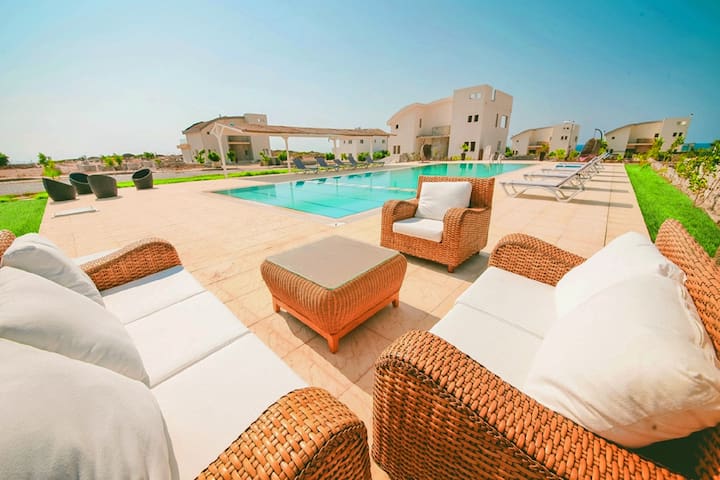 Denna bekväma och moderna nyrenoverade lägenhet är i bästa skick och ligger i ett lagom avstånd till Nicosia och Kyrenia på norra kusten. Garden lägenheten har egen stor terass och utsikten är fantastisk och en av dom allra bästa i detta område. Gångavstånd till strand och de fantastiska bergen liksom till lokala restauranger. På Crystal Bay finns egen restaurang med proffsig personal och pooler samt cykeluthyrning minigolf biluthyrning mm. Hyr bil och ta Er till naturreservatet Karpas eller till huvudstaden Kyrenia eller till det delade Nicosia. Vandringsleder och sportaktiviteter erbjuds oxå i området!!
Standarden Utsikten Känslan av lugn och ro Restaurangen Personalen
Fritt att ströva omkring i området och upptäcka natur och trevliga människor. Välsmakande restauranger i närheten. Badplats på gångavstånd. Pooler inom området.
Room Type
Entire home/apt
---
Property Type
Apartment
---
Accommodates
5
---
Bedrooms
Güzelyurt, North Cyprus, Turkey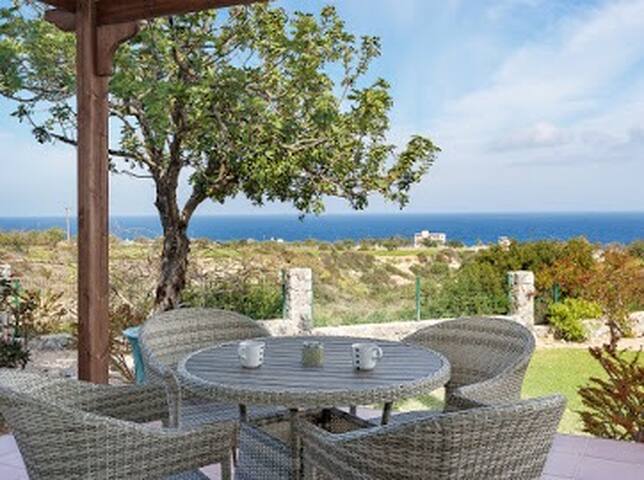 With fantastic sea views and amazing scenery relax in the comfort of our 2 bedroom apartment. We have everything you need for the perfect holiday. All our rooms are air conditioned, wifi is available and we also have high chair and travel cot for younger children.
2 Bedroom ground floor apartment with spacious open plan air-conditioned living area, which is also suitable for the disabled. Enjoy the panoramic sea and mountain views from our terrace, with large communal swimming pool adjacent. The gated complex has full range of facilities for the family including restaurant/bar, 2 outdoor and 1 indoor pool, sauna, gym, mini golf and games room, making the site suitable for all year use. Lovely sandy beaches only 15 min drive, 18 hole international golf course just 10 min away. Ideal for all types of holidays such as walking, scuba diving, conservationists, horse riding and many historical sites to visit for the explorers. A car is recommended to get around and explore this beautiful island. Driving is relaxed and easy with good road links to Ercan airport, Kyrenia and Famagusta. The new coast road to the Karpas makes for a very enjoyable journey with stunning views to the sea and mountains.
We love our complex, it's set back way above the road, so there's no noise, our apartment is in a conservation area in u K Monm mm P
The apartment was exactly as described in the listing. It was very clean and extremely comfortable. Malcolm was very helpful from the get go, answering questions, giving directions and being patient when our bad internet made communication sometimes difficult. The location of the apartment is beautiful. A car is a must for getting around and seeing this amazing part of the island. We'd Love to return!
Mhairi
2015-07-21T00:00:00Z
Thanks for hosting us, Malcolm. We have spent very enjoyable Christmas holidays exploring some of the beautiful corners of Northern Cyprus from your quiet place.
Koen
2016-12-31T00:00:00Z
We reserved this apartment on the morning that we we're driving up from Protaras in the south of Cyprus, Malcolm responded promptly and helpfully from the off. The apartment itself is fantastic, the view from the terrace are beautiful, it's really well laid out and homely, and on the off chance that you can tear yourself away from the pool there's plenty of games/DVD's and TV to keep you occupied. Staying in the North of Cyprus is a million miles away from the over developed south of the island, so if you're after a few days away from it all, then this peaceful, beautiful place is for you.
Andy
2014-07-25T00:00:00Z
What a wonderful part of the world to be in, with such a relaxing space to stay! Really worth it and exactly as described! Couldn't have wanted anything more. If your looking for some peace and quite away from the hustle and bustle, this is perfect. But defiantly recommend hiring a car as everything is a drive away and all worth exploring!
Lizzie
2016-08-14T00:00:00Z
Malcom's apartment is perfect! Everything is fitted as the description. Sea Terra Reserve is the place to relax. We were travelling all around the island from Paphos to Ayia Napa and Malcom's apartment was the perfect stay in North Cyprus. We ate both at the restaurant of the resort and on our own, cooking for ourselves thanks to the "Tempo" market which is close to the Sea Terra Reserve. Malcom was very accurate, thoughtful and careful with the information to enter in the apartement and to enjoy our stay as best we can. I really recommend Malcom's apartment to couples or to families which are looking for nature, for cultural heritage (ex. Kyrenia, Bellapais, Salamis..) and for relaxing time.
Cinzia
2015-05-25T00:00:00Z
Our host made us feel welcome. The apartment was fully equipped. The listing description was accurate and above our expectations. We had a comfortable location within the neighborhood. The neighborhood was nice and quiet and the scenery was amazing. We highly recommend his place.
Yves
2016-10-10T00:00:00Z
Beautiful location had a wonderful stay!
Jennifer
2017-02-10T00:00:00Z
We had a lovely time. The apartment was well worth it!!!!! Great location, even though my map wasn't much of any help to us :D Pool was great too!!!
Lenka
2016-07-21T00:00:00Z
Room Type
Entire home/flat
---
Property Type
Apartment
---
Accommodates
5
---
Bedrooms
Kyrenia, North Cyprus, Cyprus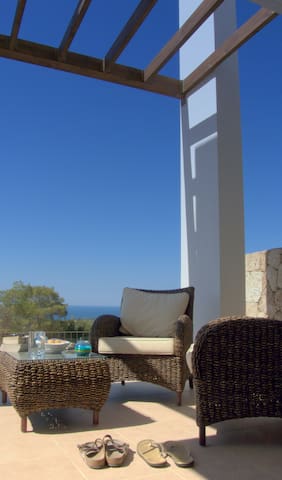 Hi we are Hege and Erlend and we offer you our new fantastic, 2 bedroom, two double beds, AC in all rooms, 1st floor garden apartment with easy access. Located in the beautiful complex SeaTerra Reserve. Free High Speed Wifi The apartment is delicately furnished with brand new furniture's. Amusements such as pool 3 pools, mini golf, restaurant & bar, cooled activity center with TV, pool table, table tennis, fitness room and more. We are happy to assist regarding transport or rental car.
The location of the SeaTerra Reserve gives it an incredible 360 view with the magnificent Mediterranean sea in front and the beautiful mountain scenery in the back, but still is within walking distance to the Mediterranean Sea. SeaTerra is normally a quiet place so there should not be any noise that will wake you up or bother you. But since it is a vacation place, it will also vary by the guests that visit.
Room Type
Entire home/flat
---
Property Type
Apartment
---
Accommodates
4
---
Bedrooms
Tatlısu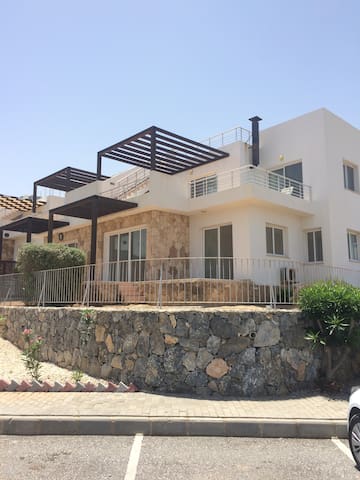 Beautiful light and airy sea view garden apartment with high ceilings and full height windows opening on to private patio for alfresco dining. Large communal swimming pool, petanque court, and purpose built gym. All set in gorgeous landscaped grounds
Crystal Bay View is a private residential apartment complex consisting of 9 blocks of 5 apartments, set in spectacular spacious grounds. Every apartment has their own private entrance with no communal hallways. The complex is set in spectacular countryside about 30minutes drive from Kyrenia, and only 5 minutes drive from the beach and supermarket. A car is essential to enjoy the area, as there are no shops within an easy walk.
Crystal Bay View is a beautiful complex which is well maintained and set in stunning countryside with fabulous mountain and sea views. It is situated off the main road being along an unmade lane so is very quiet and ideal for a getaway from it all holiday. It is also within easy reach of all the antiquities and castles that North Cyprus has to offer.
Chrissy and her husband are lovely hosts. We made our booking very last minute but they responded really quickly and made sure everything was ready for our arrival. They even had a food pack ready for us in the fridge so we didn't immediately had to run to the supermarket. Their apartment is very clean and with all the necessary equipment. The kitchen is complete as we mostly cooked our own meals. We enjoyed the piece and quiet and we could easily leave the window open for sleeping. They have fitted fly screens throughout what is defenitely a big advantage to keep the bugs out. The upstairs bed is nice and comfortable, which I could use being 5 months pregnant. We didn't use the downstairs bedroom since it was just the two of us so we used it to store our empty suitcases. The place has good WiFi reception and also a good radio and tv with chromecast which is a nice bonus. We defenitely recommend this place, the site is also really nice and well kept with beautiful flowers and trees and a nice refreshing pool. We are hoping to visit again soon!
Ann
2016-04-16T00:00:00Z
Chris and Arth are amazing hosts. I have to say this time was my best Airbnb experience so far... Chris responded super fast and helped me in any possible way: she arranged a rental car for my stay, I got great driving directions, little start package of food and drinks... The apartment has a spacious master bedroom, a comfortable bed and a fully equipped kitchen; all you need to experience the Turkish Republic of Cyprus. Great location to reach different kind of beaches and bays or numerous hiking trails in the mountains with stunning views. Chris and Arth even suggest bars, restaurants and some must sees for their guests. I couldn't have asked for more. Thank you so much for having me there! I'll definitely come back :)
Carolin
2016-05-28T00:00:00Z
Crystal Bay View is a perfect location to visit Cyprus and also to relax and swim in the beautifyl pool! Chissy is a very pleasent person, who helped us a lot, she answered every question we had and gave us all the information we needed! I suggest everyone to book Chrissy's apartement: clean, beautiful and confortable! Thanks to Chrissy we had the chance to rent a car, that has been very usefull for our trip!
Beatrice
2016-08-21T00:00:00Z
Chris was really quick at answering any questions we had and helping with directions etc. The apartment was lovely, exactly as described, well kept and very clean. Lots of helpful details and information. Chris and Art are really good to chat with.
Paul
2016-06-27T00:00:00Z
Chrissy ist eine sehr hilfsbereite, freundliche und zuvorkommende Gastgeberin. Sie hat sich sehr herzlich um uns gekümmert und beantwortete sehr schnell alle unsere Fragen sowohl vor unserer Anreise als auch während unseres Aufenthalts. Die Wohnung ist im englischen Stil eingerichtet und bietet viel Platz für 4 Personen. Die Küche beinhaltet alles notwendige was man braucht und hat eine große Arbeitsfläche. Es gibt ein Schlafzimmer im oberen Stock mit einem großen Doppelbett (180x200cm) und ein weiteres Schlafzimmer im Erdgeschoss mit 2 Einzelbetten. Es sind 2 Badezimmer vorhanden. Vor den Fenstern und Türen befinden sich Fliegengitter um Insekten abzuwehren. Wifi, TV, DVD, Roku Streaming Box und Chromecast tragen zur Unterhaltung bei. Die Terasse bietet im Sommer ein schattiges Plätzchen. Direkt daneben befindet sich ein Swimming Pool der für Erfrischung sorgt. Die gesamte Anlage ist sehr gepflegt, sauber und sehr ruhig gelegen. Der Steingarten mit den mediteranen Pflanzen sieht atemberaubend aus, eine wunderschöne Oase für Ruhesuchende und Naturliebhaber. Das Apartment hat einen guten Standort um Tagestouren in alle Richtungen Nordzyperns zu unternehmen. Wir hatten einen wunderschönen Urlaub und kommen gerne wieder.
Peter
2016-04-02T00:00:00Z
Wunderschönes Quartier in einer geschlossenen Wohnanlage. Großer Pool. Gute Kommunikation. Wir kommen gerne wieder.
Holger
2016-10-12T00:00:00Z
Room Type
Entire home/apt
---
Property Type
Apartment
---
Accommodates
4
---
Bedrooms
Located in a quiet area on the North Coast of Cyprus near the village of Tatlisu about 35 minutes from Kyrenia/Girne. A 2 bedroom bungalow that can sleep 4. It is well appointed with high quality furnishings and is air-conditioned. There is a double bedroom and a twin bedroom. The bungalow has a private roof terrace with beautiful sea and mountain views with a superb large private pool beside the bungalow. Wi Fi and satellite TV is available.
Coast/Beach: There are quiet coves 7 minutes walk away and other beaches 15 minutes drive away. If you can tear yourself away from the pool there are quiet coves 7 minutes walk away and other beaches 15 minutes drive away, local castles and historic buildings to visit and if you like walking you will enjoy the rugged coastline and the nearby hills. There are many bargains to be found in the local shops and markets. If you enjoy eating out there are several restaurants nearby and in Kyrenia there is a wide variety of restaurants and entertainment.
Room Type
Entire home/apt
---
Property Type
Villa
---
Accommodates
4
---
Bedrooms
Girne
From the apartment you are overlooking the blue Mediterranean sea on one side. Mountains perfect for hiking and running on the other side of the apartment awaits you on the other. You can dine all your meals without leaving the apartment complex by visiting the on-site restaurant while the kids safely swim in the pool 5 meters away. Or you can save money by cooking at home in the fully equipped kitchen. But don't worry. The second pool is only 20 meters away from the apartment.
Room Type
Entire home/flat
---
Property Type
Apartment
---
Accommodates
4
---
Bedrooms
Gönyeli
The luxury "Resort" apartment benefits from 1 large patio/terrace, with sea views. It leads from the open plan kitchen/dining and lounge area, with pergola.
There is a double bedrooms en-suite on the mezanine floor and a single bedroom wit a pull out bed and a shower room and WC downstairs. The design is elegant, with arched windows, giving a modern double aspect to the traditional feel of the apartment. There is a fully equipped modern kitchen, open-plan to a spacious modern furnished lounge and 6 person dining suite. The apartment has 1 double bed, 1 single bed with 1 additional pull out second single bed and a double sofa-bed to the lounge, allowing for a combination of up to 6 people, plus additionally baby sleeping cots can be provided. The resorts gardens and 3 pools are superbly managed and maintained with all the required facilities to make your stay special, including children's pool and play area, gym, entertainment lounge and pool bar.
This fabulous two bedroom Penthouse apartment is nestled in wonderfully manicured gardens, situated on the lush foothills of the Five Finger Mountain Range in the Esentepe region of north Cyprus. It overlooks the Pool and Restaurant complex and through to the sea, as well as panoramic 180 degree view of the beautiful mountain range behind. There is easy access to Crystal Bay beach and the outstanding new 18 hole Korineum Golf Course, Beach Club & Country Club with its golf, tennis, restaurant and spa facilities only a 10 minute drive away. There is a superb "Tempo" supermarket that caters for the international holiday-makers 5 minutes away. Should you wish for further restaurants and shopping, the lovely old town of Kyrenia, with its historic Port and harbour is only 35 minutes away. Almost equidistance in the opposite direction, when leaving the resort is the longest sandy beaches of Iskele and more history in the old city or Famagusta and its castle. The main airport of Lefkosa/Ercan is 35 minutes and the capital Nicosia and Europe is only 30 minutes away!The island hosts almost every water/wind sport and most sports for that matter. Whether its Rambling/walking, title-watching, mountain-biking or jet-skiing
What a fabulous apartment in a beautiful location. We had the most relaxed holiday, it was the perfect venue for our holiday with out little 6 year old. The Crystal Bay Marina complex is wonderful with really friendly staff at Joya Bistro and the food here is fabulous. The pool area is fantastic with ample sun beds and we met some lovely people while we were there. There is no entertainment at the complex but there are nearby bars that host events. We were quite happy just chilling and watching the amazing sunsets each evening. We will definitely return and thank Ilker for hosting us at his beautiful apartment. Thanks also to Halide for helping us during our stay.
Debbie
2016-08-04T00:00:00Z
We can describe the apartment complex in one word: perfect! Not only the staff was very helpful, friendly and relaxed, the other guests were the same. The area is really nice with one of the nicest beaches of Cyprus only 5 minutes away. The apartment was clean and modern. Definitely the best to relax. If you want to have an party trip - that's definitely the last place were you should go. ;-) I recommend the sea breeze restaurant for dinner and go to eagles nest for a good wine while watching the sun go down. We drove around the island, but there was no place we would rather stay next time. Thank you so much for making our holiday trip so wonderful! Best, Elena & Tommy
Elena
2016-06-01T00:00:00Z
Evin bulunduğu tesis ve çevresi mükemmel. Misafirperver ev sahipliğinden dolayı Peter'e çok teşekkür ederiz. Beklentilerimizi tamamen karşılayan, konforlu bir evde kaldık. Ayrıca araç kiralamamızda da bize yardımcı oldukları için çok müteşekkiriz. Kıbrısa tekrar gidersek yeniden kalmayı düşünebileceğimiz bir yer
Sadettin
2016-06-27T00:00:00Z
Room Type
Entire home/apt
---
Property Type
Apartment
---
Accommodates
6
---
Bedrooms
Kucuk Erenkoy, Tatlisu, Cyprus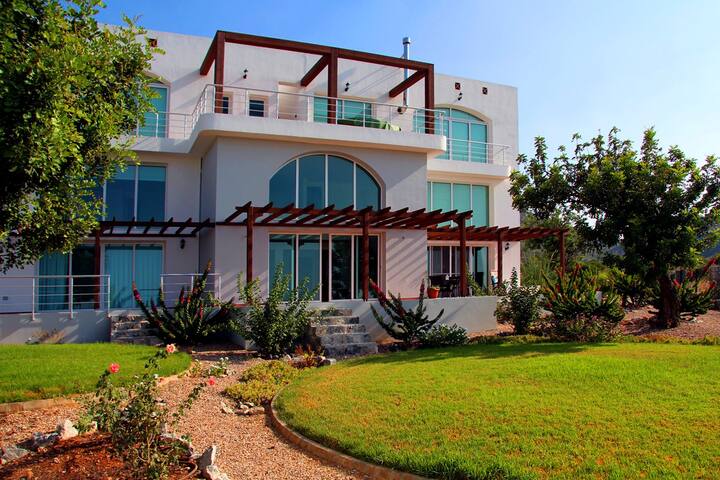 My place is close to the Beach. My place is good for couples, solo adventurers, business travellers, and families (with kids).
Surrounded by breath-taking scenery,this beautiful 3 bedroom apartment plus sofa bed (sleeps 6) is situated on an award winning development. The apartment is modern, light and has been nicely furnished. It has satellite TV, DVD Player and Wi-Fi access on request. You can enjoy the terrace with rattan garden furniture for unforgettable breakfasts in the open air, for an afternoon rest or for spectacular sunset views. The apartment is located next to the pool. The site offers you full range of facilities including 2 large pools & a children's pool, sauna, jacuzzi, table tennis, games room, fully equipped gym, children's play area, tennis court, basketball court and poolside bar. One pool boasts a shaded indoor area which provides shelter from the hot sun in summer months and is heated in winter months. Full air-conditioning in all rooms, with appropriate fly screens to all windows should you not wish to use air conditioning.
Activity and Interests Nearest Golf : (URL HIDDEN) at 10 Kilometres Nearest Restaurant : at 500 Metres Coast/Beach: Private shingled beach is 2 mins walk from the property. Lots of beaches available around North Cyprus including luxury beach clubs such as Escape beach (40 mins), Cornaro/shayna beaches (30 mins), Acapulco beach (30 mins) and the new Karpaz marina beach (50 mins). There are various other beaches closer by with their own bit of personality, including turtle beaches.
Room Type
Entire home/flat
---
Property Type
Apartment
---
Accommodates
6
---
Bedrooms
Girne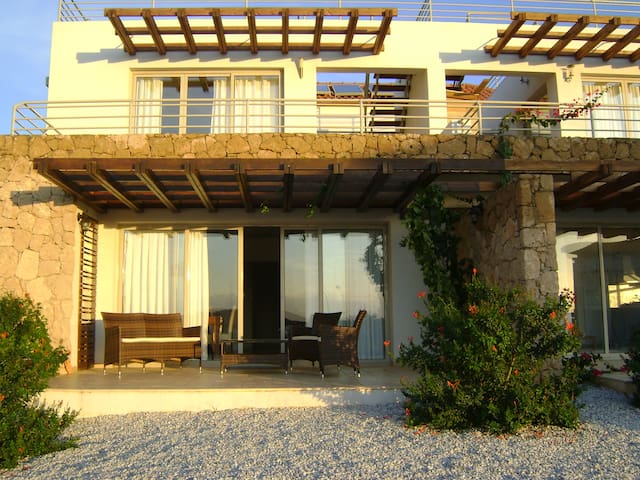 My place is close to the sea and mountains, great views, restaurants and dining. My place is good for couples, solo adventurers, and families (with kids). The apartment is on the ground floor (1 apartment on top) with access to 3 on-site pools. private beach, gym with jacuzzi and steam room. Car hire is essential to get around. Assistance with taxi pick up and car hire can be arranged. A cleaning fee of £50 is required on top of the nightly charge.
Whole apartment available. Lovely large lounge with open plan kitchen. Master bedroom with en-suite (bath and shower) and 2 further bedrooms. Family bathroom with wet room shower. Significant patio areas and garden area. White goods include fridge freezer, washing machine and cooker with hob. BBQ also available.
Beautiful gated complex with 3 pools. Sea and mountain views. Complex kept beautifully with lovely plants and trees. Children play area available and children pools. Sun loungers and covers available in common areas.
Room Type
Entire home/flat
---
Property Type
Apartment
---
Accommodates
5
---
Bedrooms
Tatlısu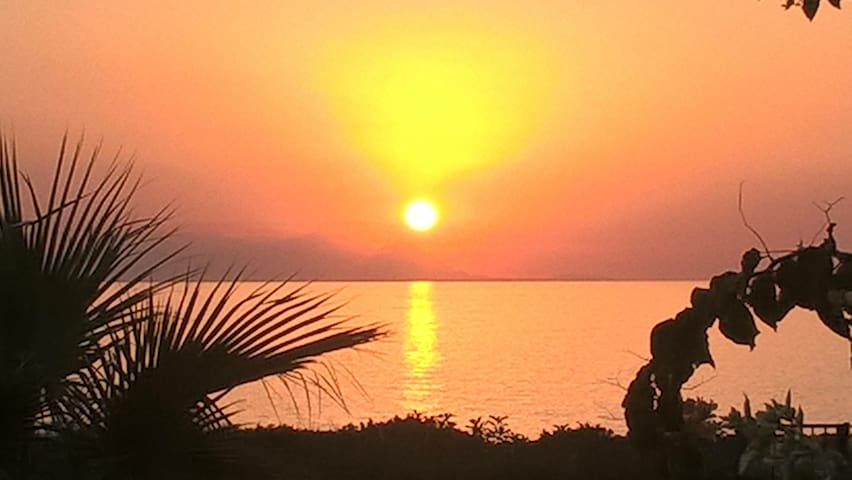 This gorgeous appartment next to a cool swimming pool and a walking distance to the sea has everything a family needs for a great summer holidays.
Beautiful garden apartment in a calm complex with all amenities The apartment consists of two bedrooms, two bathrooms, spacious living room and a fully equiped kitchen. Each room has its own powerful air/conditiong with a cooling an heating option that can be quite useful in the winter months. Bedroom 1: Decorated in a green and brown colours with a kingsize bed and fitted wardrobes Bedroom 2: Decorated in a marine style with two single beds and fitted wardrobes. Living room: 3-seater sofabed and two armchairs, mounted TV, DVD player and HI-FI systém. A collection of DVDs in English is available for the guests as well as some games to play with the family or friends. Kitchen: fully equiped with all kitchen utensils, there is an oven, gas stove, citrus juicer, kettle, toaster, dishwasher, fridge-freezer, washer and a hob. There are plates, cups, glasses, cutlery and pots and pans as well as other items you might need to comfortably live on the premises. Terrace: sun-lit terrace from the early morning allows you to enjoy the breakfast with the first rays of the sun and to enjoy the evening in the cooling shade of the setting sun. Garden furniture available. THE COMPLEX: The apartment is a part of a calm development with three swimming pools – a shared olympic size swimming pool, smaller swimming pool and a pool for small children right next to the big pool. The sunbeds are available in the pool area. Furthermore, there is tennis court only 10 metres from the apartment and tennis and badminton equipment is available. There is also a gym for the morning or evening workout equipped with cardio zone (bicycle, running belt and stepper) as well as with body-building machines. Coast/Beach: The beach is about 30 metres from the apartment and it is a natural wild beach with crystal clear water and pebbles. The sand beaches are about 10 minutes ride from the apartment, the most famous is the Alagadi where you can watch the baby turtles. Golf: There is a new golf course only about 15 minute ride from the appartment. Travel: The nearast airport is Ercan which is about 30 minutes away from the appartment. Most people, however travel to Larnaca (direct flight from London by EasyJet) which is about an hour ride to the appartment.
The place was for us a great spot to stay while exploring north Cyprus. It is only a short walk to a nice and almost empty pebble beach. The area is very quiet and safe. Apartment is modern and clean - a real bargain for this price.
Grzegorz
2016-08-15T00:00:00Z
Všetko uvedené v ponuke bolo pravdivé.Nič nás v zlom neprekvapilo.Radi by sme sa aj v budúcnosti na rovnaké miesto vrátili.
Miran
2014-08-26T00:00:00Z
Room Type
Entire home/flat
---
Property Type
Apartment
---
Accommodates
4
---
Bedrooms
Kalograia, Kyrenia
Enter dates to see full pricing. Additional fees apply. Taxes may be added.