My house is located in a quiet location at the sunny upper hillside of the Schönbach valley. The 3 double rooms are large with views over the Breg valley towards the forest on the opposite side of the valley. On the same floor, for the 3 rooms there is a common toilet and, separately, a common bathroom with shower. A breakfast is included in the price, the breakfast is served in the large living room. I used to travel a lot and I can speek fluently English, French and Spanish. Directly accessible from my home there are beautiful walks - the Black Forest Middle and Western Route both traverse Furtwangen. In winter it is possible to do cross country skiing and snowshoe walking directly from the house (ski tracks with prepared tracks after 5 km forest trail up the hill). Ski lifts can be reached by car nearby. The nearest railway stations are Triberg, Donaueschingen and Freiburg, there are hourly bus services during the day, see website of German Railways, look for Furtwangen Roessleplatz. Beautiful destinations in the vicinity include the Brend, the German Clock Museum, the source of the Danube river, the historic Hexenloch water mill, Triber waterfalls, Titisee/Schluchsee lakes. It takes nice 15 minute foot walk to reach the city center of Furtwangen. I have a ver good little dog and a very nice cat, both very clean and not in the area of the guest rooms.
MARVELOUS !!! My host, Kristin, and her lovely home in Furtwangen in the Black Forest exceeded my expectations! My Black Forest holiday whilst staying at Kristin's fantastic home was the most fun, enjoyable and relaxing holiday ever in all of my 3years in Germany! It was my first out-of-town holiday alone in Germany and the first B&B experience of my life too. Kristin is a warm-hearted, caring, tidy and interesting host who always saw to my needs and whipped up wondrous huge breakfasts in the dining room or the terrace with breathtaking views of the Black Forest. She and her son, Michael, were incredibly helpful with planning and organising my daily trips (Triberg, Freiburg, Titisee, Schonach and Furtwangen), I wouldn't have had such marvelous Black Forest experiences if it were not for their assistance! They're so fun to be with – Kristin brought me up the Bernd mountain peak so I could enjoy the Furtwangen views, take pictures and hike down to explore Furtwangen, Michael dropped me off the bus stop on my way to the Titisee, I went with them for a walk on the hills with Pinot, their dog, I jogged in the Black Forest hills around their neighborhood, enjoyed with them interesting conversations and laughter over breakfast and a glass of wine to end the day and so much more. It was just heaven with total relaxation, recovery and adventure, I didn't want to leave! I would definitely stay in Kristin's beautiful home when I come back for another Black Forest holiday...
Angela
2013-07-29T00:00:00Z
The host canceled this reservation 2 days before arrival. This is an automated posting.
Martin
2016-12-25T00:00:00Z
If you are looking for a place to stay in the Black Forest, this is your place. Kristen was an amazing host and her house is just divine. We arrived to tea,coffee, cookies and Cava. her breakfast was amazing and her conversation was even more rich. The bedroom was delightful and the most comfortable beds we have stayed in yet in Europe, with views of green hills and flowers. This is not only a place you need to stay but this is a woman you need to meet! Don't miss out on her hospitality, kindness, and wisdom.
Jennifer
2016-08-13T00:00:00Z
We had a wonderful time with Kristin in the Schwarzwald. Furtwangen is a fantastic base from which to explore (assuming one has a car - the Black Forest is serviced by various buses/trains, but it is far easier to explore by car in our opinion). It is midway between two top attractions, Triberg (quaint town with an impressive waterfall) and Titisee (lakefront resort town). From Furtwangen, it is easy to reach Brend, an excellent hiking/walking starting point (we recommend the restaurant at the peak, with spectacular views and wonderful "maultaschen soup", and the short but pleasant walk to Martins Kapelle and the head of the Danube river). We were also only an hour from other Schwarzwald gems such as Freiburg (brat in the market square under the shadow of the Munster is a must), Staufen (quaint German town with amazing Black Forest cake cafe) and, further afield, Hohenzollern castle. All of these places were gorgeous, but we didn't really need to do any research, because very morning Kristin was at our disposal, ready to provide recommendations, tips and advice on how to make the most of our four days. She is an incredibly gracious host - great company, always available to answer questions and just chat if that's what you're looking for, but also giving us space and privacy - who prepares a wonderful breakfast daily. The room is downstairs, with a separate bathroom/toilet from the main living area, and was equipped with everything we could ask for. We felt very at home here, and would heartily recommend this listing to anyone who wants to enjoy the natural beauty and quaint local culture of the Black Forest. Thanks, Kristin!
Anna
2014-08-22T00:00:00Z
Kristin is a fantastic hostess. My two nights spent with her was an amazing experience. The place is super cozy, spacious and comfortable. I was travelling across the whole Germany so it was great to have some really good sleep. Breakfast is beyond my expectation. Conversations with Kristin were what made my experience there more extraordinary. Kristin speaks perfect English and has a lot of life experiences to learn from. If you could it's really worth getting to know more about her. Her place is not that easy to get to though if you're taking public transport. Sometimes it can take a two hour wait from Trigerg train station. Check the bus schedule before you go.
may
2014-06-25T00:00:00Z
The accomodations more than met my needs. Kristin was a phenomenal host. She kept in good contact with me prior to my arrival to ensure everything would be in order and if I needed any assistance. When staying with Kristin, do yourself a favor and sit down and have a chat with her. She was very interesting to talk with. If I'm ever in the area again, she would be more my first choice.
Troy
2012-10-15T00:00:00Z
Kristin is a wonderful host, and I am looking forward to the chance when I can stay with her again in Furtwangen :-) Thank you Kristin!!!! You really made my stay in the Schwarzwald a memorable one.
Sabrina
2013-07-13T00:00:00Z
An excellent location from which to explore the Black Forest, Kristin was a very friendly and helpful host, with lots of good suggestions for filling my time over breakfast and always ready to chat, I only wish I spoke German as well as she spoke English.
Paul
2014-04-15T00:00:00Z
Room Type
Private room
---
Property Type
Bed & Breakfast
---
Accommodates
4
---
Bedrooms
Furtwangen, Baden-Württemberg, Germany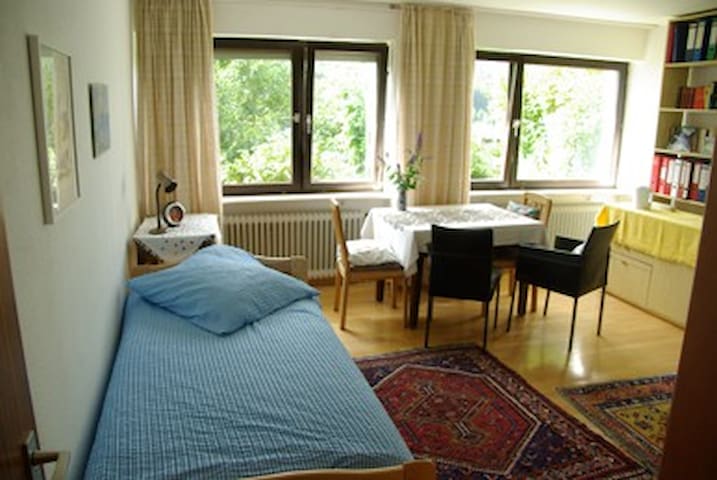 You can expect a somewhat "special", in many ways still quite original Black Forest house (built about 1650.) In so-called Outside: small side valley with three courtyards, to about 1000m. Please read VERY carefully my offer! eg: NO Internet! NO WLAN! hardly phone reception! NO Kitchen use! Winter tires + snow chains!
It is a very old, partly bauzeit asking Scharzwälder wooden house where centuries besides man (useful) animals lived - not a hotel. nor a pension. But I offer in my private living area, a room 18m2 (see picture) + shared bathroom + breakfast. The access to the house through the barn where still hay and div. Riding / Horse utensils store.
In the neighborhood there are two organic farmers. The farm shop is open on Fridays (cheese, sausage, Schafwollprodukte etc.).
I was greeted with the joy of someone returning home from a long journey. I instantly knew I was welcome as her enthusiasm was easy to see. I received a quick tour of the common areas, shown all the important parts of the home and introduced to her very large but very friendly dogs. The dogs were healthy and well behaved. I was given lots of privacy and invited to take advantage of the dining room and front porch. In the Black Forest during snow season I would highly suggest snow tires or a set of chains just in case you get stuck or if they are required in the surrounding mountains. Ulrike's home is located about a kilometer off of the main road up a steep road and may be difficult to reach if you are not prepared in the winter. I personally had no problems despite a foot of snow that fell overnight. Breakfast was good with no meat products but you will be fine. When you visit bring slippers, snow boots, extra/emergency winter blanket for the car, robe or huge bath towel, cash only everywhere, list of places you want to visit because Data is slow, adjust the overhead lights in the room to point wherever you need, a few magazines, binoculars for the birds, and a flashlight. Be careful not to place your room key inside your room and then close the door, the locks are from 1650 and seem all unique. The tenant who lives upstairs in the attic is a nice person who speaks good English. The farmer up the hill makes cheese for sale on Fridays, I put him on YELP under BIO farming. Get to the Feldberg with your skis in hand by 0830 and park near the overhead bridge to avoid the 10Euro parking fee not to mention be closer to the better party scene. On the way to or from the Feldberg grab food at the new corner shop across the street from the Schnapps museum because its Aspen style awesome. Lenzkirch makes its own beer, go to the brewery. Yukon makes burgers near the ski bridge so get a good parking spot early and go grab some of that Lenzkirch beer you bought! Lift is 33E, rental skis is 20E, helmet is 4E, Parking is 10E, ski storage with boot dryer in the garage is available but I didn't use it.
William
2016-02-28T00:00:00Z
Ulrike's house was as described. It was >300 years old. We hesitated when we got off our car. We found inside was much more impressive, comfortable, warm (cold outside, the evening we arrived). Ulrike was helpful and straight to the point. It took some time for us to line up our expectation, as we did not take note of her description of no WIFI, and we did not check beforehand and found the kitchen was not available to use. After settled down, we really like the interior of Ulrike's home. We are from crowded busy city. We liked the sunshine in dining room when we have the nutritious breakfast prepared by Ulrike; liked the fantastic view from balcony, with sunshine on chairs; liked the starry night, a glance through the window from sleep; liked Ulrike's big dogs and cat; liked the swing and tree house, the natural environment. Even like the keys. The keys of the doors are like the keys from the castles from 15thcentury. Big old fashion keys. It turned out to be one of our best memories in Black Forest. The drive for supplies to Schluchsee, the nearest town, is a good ten minute drive. To Freiburg, the beautiful city needs more than 1.5 hr drive but it's still prefect because away from the city , you have more fresh air.
Ada
2016-07-15T00:00:00Z
An enchanted house with a lovely host!
Joan
2016-07-04T00:00:00Z
We had a really nice time at Ulrike's place. It corresponds exactly to the description that made us interested in the accomodation. It is a typical old wooden black forrest house that has been refurbished so that it has all what you need for your confort. The location is also really nice, directly in the nature. Ulrike is really hospitable and will make your stay enjoyable. To sum up, I can definitely recommend Ulrike´s home. Wir hatten einen sehr schönen Aufenthalt bei Ulrike. Es entspricht genau was in der Anzeige beschrieben wird. Es handelt sich um eine typische alte Schwarzwald Holzhaus, das schön renoviert wurde, sodass man alles für sein Komfort hat. Die Lage ist direkt in der Natur, und deshalb sehr friedsam. Ulrike ist auch sehr einsatzbereit und gastfreundlich. Alles in allem, ich kann Ulrikes Heim nur empfehlen.
Olivier
2016-04-24T00:00:00Z
Ulrike was really a great host! It was so snowy when we came, she arranged with neighboughrs and so on... the place where we had to put the car (couldnt reach the house because of so much snow!!!), then gave us a snow shevel to remove snow from the car in the morning. it was an amazing true week end in the deep black forest! also we appreciated the cat-door near the bed (in case you are cat lover) from through the farmer-cat could come in and out the bedroom (not sure it was really allowed sorry Ulrike ;) ). In conclusion, if you dream of something typisch and confortable just go for it!
melanie
2016-01-18T00:00:00Z
Ulrike well welcomed us. We had relly good breakfast. The bedroom is big and beautifull.
Lucile
2016-04-16T00:00:00Z
Ulrike was an amazing host, he provided everything we needed and gave us a couple of very valuable tips. The home was also very clean and it fit perfectly what we were looking for: tranquility, silence, surrounded by nature, cosy and comfortable, yet easy to reach.
Jose
2016-10-16T00:00:00Z
It decorates exquisitely. The environment is very comfortable and the owner is very nice and kind. The breakfast is nutritious. We love the big but lovely dogs and the cat is very adorable. We love this place.
xue
2016-06-20T00:00:00Z
Room Type
Private room
---
Property Type
Bed & Breakfast
---
Accommodates
2
---
Bedrooms
Schluchsee, Baden-Württemberg, Germany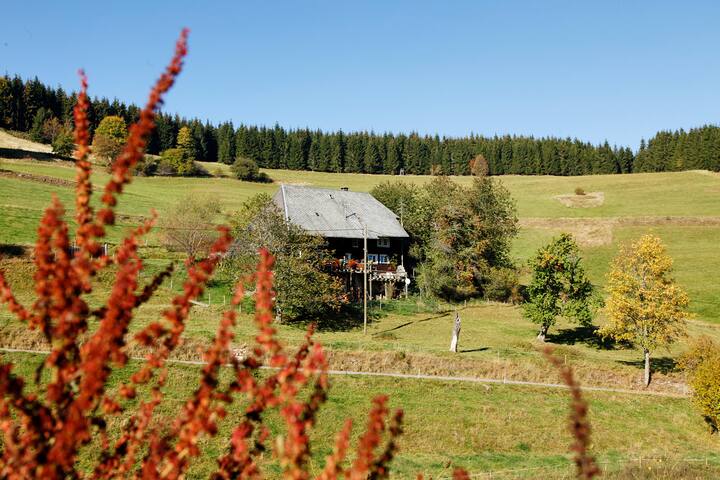 Sleep peacefully in around trees. Our property has 4 hectares. Place where you can relax in the new Camping PODHouse. For 2 persons. Kneipp facilities (Wassertretstelle) is in our village. We rent on request 2 mountain bikes (1x female / 1x masculine). Guests have a separate bathroom and toilett. B&B (Breakfast) is incl. in the price. @ the breakfastroom you can use a fridge to put your foodstuff.
Quiet (tranquillement) place. Relax!
Sue and Ronald we're amazing hosts. always so helpful, nice and really thinking about all the small details of how to make us feel welcome, at home and also helping us to know the area. we were not easy guests because we are eating only Kosher food, but sue was so excepting and really opened her mind to let us have the most comfortable experience possible. we are already thinking about when is the next time we'll come. don't miss it!:)
Yohai
2016-08-03T00:00:00Z
Accueil chaleureux, d'une famille très sympa et aux petits soins pour nous, Sue avait plein de bon conseils pour visiter la région. Petit déjeuner copieux.
Thierry
2016-09-18T00:00:00Z
Alles sehr herzlich und angenehm, gerne wieder !!!! Danke schön liebe Sue!!!
Alev
2016-09-12T00:00:00Z
Très bon séjour chez Sue. La cabane et le lit sont très confortables. La région est magnifique, on a pu admirer les étoiles avant de dormir. Et le petit déjeuner le matin à l'allemande (sucré et salé) était très copieux et délicieux. Sue est adorable, disponible et de bon conseil. Ce fut un court séjour excellent.
Fleur
2016-09-04T00:00:00Z
Room Type
Entire home/flat
---
Property Type
Bed & Breakfast
---
Accommodates
2
---
Bedrooms
Ühlingen-Birkendorf, Baden-Württemberg, Germany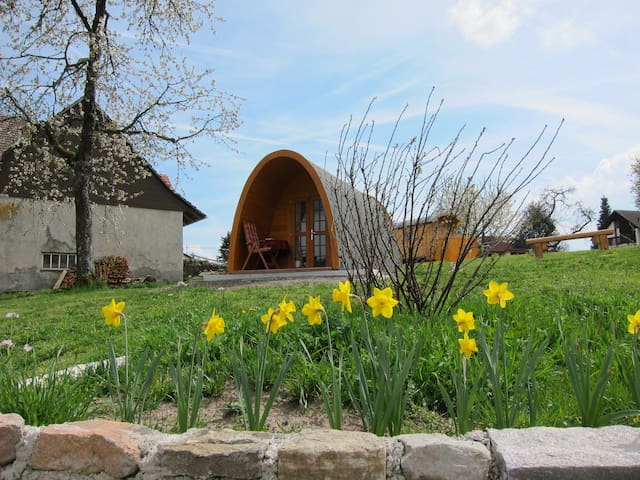 Die Gästezimmer befinden sich auf einem separaten Stockewerk und verfügen über einen separten Eingang. Bad&WC befinden sich ebenfalls auf dem Stockwerk. Den Gästen steht ein Aufenthaltsraum mit TV zur Verfügung in dem auch das Frühstück serviert wird. Die Unterkunft ist der perfekte Ausgangsort für unterschiedlichste Aktivitäten. Hierzu gehören wandern, mountainbike, klettern. Sehenswürdigkeiten in der Nähe: Freilichtmuseum Vogtsbauernhof, Triberger Wasserfälle, Sommerrodelbahn und vieles mehr
Wanderer, Mountain Biker, Monteure
Room Type
Private room
---
Property Type
Bed & Breakfast
---
Accommodates
2
---
Bedrooms
Gutach (Schwarzwaldbahn), Baden-Württemberg, Germany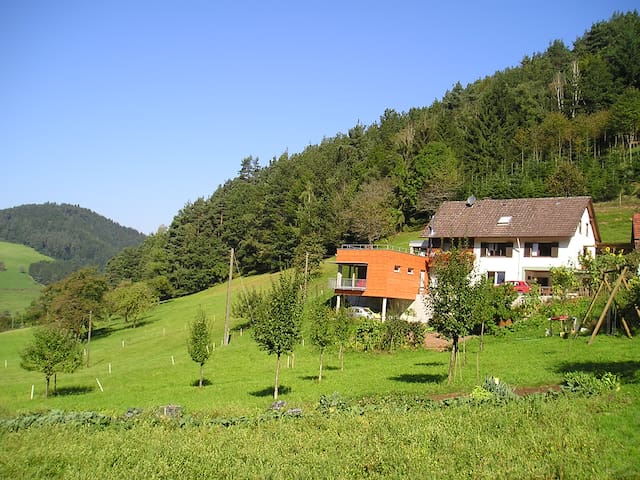 Du wohnst in Böhringen, einem kleinen Ortsteil von Radolfzell am Bodensee, in sehr ruhiger Wohnlage. 1,5 km zum Bodensee und 150 m zum Böhringer See, ein romantischer kleiner Badesee.
Das Haus befindet sich in einem schönen Neubaugebiet. Wir sind eine Familie mit 3 Jungs und zwei Katzen und freuen uns immer auf's Neue, Menschen aus aller Welt kennenzulernen.
Due to car trouble (ah, french cars! ;)) I had to extend my stay in Radolfzell (see my other review). Suzanne kindly accepted to host me for a few extra days and also introduced me to her local mechanics. A couple of days later and I was on my way :) I'll miss Suzanne and her boys and I hope that either I'll have the opportunity to come back to Radolfzell and see them again or that they will be visiting me in the south of France one day! :) Please see my other review for details on the place, area etc.
Pierre
2016-04-27T00:00:00Z
My time staying at Suzanne's could not have been better. Suzanne and her 3 boys made me feel at home on day 1 and always went above and beyond to make sure that my stay in Radolfzell was enjoyable. Especially as my car broke down and I had to extend my stay... The house is modern, well equiped and super comfortable. The area is very quiet with woods and trails only a few hundred meters away (great for jogging, walking, cycling...). There is also a co-working space 2 minutes drive away (search (SENSITIVE CONTENTS HIDDEN) for co-working Radolfzell). I've used AirBnB dozens of times and I can highly recommend staying at Suzanne's as this is one of these listings that perfectly highlight why an AirBnB experience is so much more than what hotels can offer.
Pierre
2016-04-23T00:00:00Z
Ich wurde von Susanne gut aufgenommen und fühlte mich sehr wohl. Und so ist es nicht erstaunlich, dass ich sehr gut geschlafen habe – anders als früher in den Hotels in Radolfzell. Ausgezeichnet, wenn auch für mich zu viel, war das Frühstück. Nochmals vielen Dank Susanne.
Werner
2016-08-06T00:00:00Z
Susanne ist eine sehr nette Person, freundlich, verständnisvoll und sehr hilfsbereit, auch ihre drei Jungs sind freundlich. Das Haus ist neu und modern eingerichtet. Susanne hat ein prima Frühstück vorbereitet und hat sich für mich für ein nettes Gespräch Zeit genommen.
Gisela
2017-03-11T00:00:00Z
Ich habe mich sehr wohlgefühlt, nette Familie, freundlich und zuvorkommend. Ein entspannter schöner Aufenthalt, kann ich auf jeden Fall weiter empfehlen! Danke
katharina
2017-03-26T00:00:00Z
Ich habe mich gleich super wohl gefühlt ich wurde herzlich aufgenommen! Es war für alles gesorgt das Frühstück war super lecker und eine Tasse Tee auf der terasse war ein perfekter Start in den Morgen !! Die schöne Umgebung und der super schöne See gleich um die Ecke haben für eine tolle Erholung gesorgt!! Ich würde jederzeit dort wieder meinen Urlaub verbringen eine herzliche Familie und eine erstklassige Unterkunft !
Sophia
2016-07-11T00:00:00Z
Susanne ist eine super nette Gastgeberin mit ausgesprochen freunlichen Söhnen! Ich habe mich sehr wohl gefühlt!
Julia
2016-09-23T00:00:00Z
Es war das zweite Mal, dass ich bei Susanne übernachtet habe. Und ich war, wie beim ersten Mal, sehr zufrieden. Vielen Dank Susanne und ihre drei Jungs für einen angenehmen Aufenthalt.
Werner
2016-09-16T00:00:00Z
Room Type
Private room
---
Property Type
Bed & Breakfast
---
Accommodates
1
---
Bedrooms
Radolfzell am Bodensee, Baden-Württemberg, Germany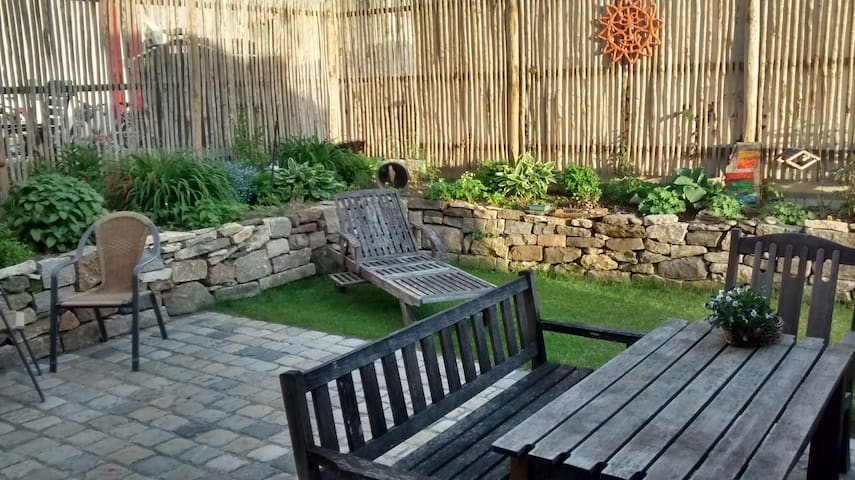 SBB-Bahnhof 250m, See 750m, 1 Gäste-Schlafzimmer mit Doppelbett, 1 Gäste-Bad mit Badewanne, Dusche, Waschbecken und WC reichhaltiges gesundes Frühstück ist selbstverständlich inbegriffen, moderne Küche, WLAN, Fernsehen, Office-Mitbenutzung mit PC + Farblaserdrucker, sonnige Südterrasse, Gartenmöbel, Grill, abschliessbarer Fahrradplatz, Gästeparkplatz
Die Gäste haben innerhalb der Wohnung nicht nur ihr eigenes Schlafzimmer sondern direkt nebenan ihr eigenes Bad. Das Schlafzimmer ist sehr gross und hell mit einem modernen komfortablen Doppelbett. Das Bad hat Dusche, Badewanne, WC, Doppelwaschbecken und Terrassenzugang. Parkplatz ist vor dem Haus.
Die Wohnung liegt in einer ruhigen Lage in Seenähe, direkt am Bodensee- Radwanderweg. Es gibt wunderschöne Wanderwege mit herrlichem Ausblick, verschiedene sehr gute Restaurants, ein Strandbad, Trimm-Dich und Fitnessparcours
Mr Harald is very friendly and nice, he always give you good tip for restaurant and sights. The location is very convenient and quiet,the house is modern bright and roomy. You can also enjoy hearty breakfast.
Emily
2016-06-30T00:00:00Z
We had an incredible time staying with Harald. I don't know if I have ever stayed with anyone as accommodating as he is. I looked at review prior to booking here and they speak for themselves. Harald is a fun, smart, and interested host, fluent in English, French and of course German. He knew all the places to go, the really good food places that are cheap in price but great quality, as well as the history of lake Konstanz and the city. He recommended great Swiss foods, and chocolate, provided a great breakfast, and was one of the funnest parts of our visit there. He is very clean, has a great apartment, furnished very nicely. If you are looking to stay in the area, I would not pass up this opportunity.
John
2016-08-22T00:00:00Z
The host canceled this reservation 28 days before arrival. This is an automated posting.
Janet
2016-08-03T00:00:00Z
The host was very welcoming: everything was nice and clean, the breakfast huge and we had a pleasant stay at this house. Highly recommended.
rosella
2016-08-10T00:00:00Z
The flat of Harald was very clean. It is just a couple of minutes walk away from the lake and in a quiet and nice neighbourhood. Harald was welcoming and he even got up at 5.30am for us to make breakfast. Thanks a lot for that, much appreciated.
Marissa
2016-09-03T00:00:00Z
Wir hatten sehr angenehme Tage am Bodensee. Die Wohnung war spitze. Sehr modern, gepflegt und sauber. Harald war super freundlich und zuvor kommend. Wir waren rund um zufrieden :)
Andreas
2016-04-02T00:00:00Z
Unser Gastgeber, Harald, war wahrlich grossartig! Sehr freundlich, Abends und Morgens nam er richtig Zeit für ein Gespräch was uns sehr gefallen hat. Frühstück, Bett, Baderaum, alles top! Ermatingen ist selbst nur ein paar minuten fahren vom Zentrum Konstanz. Die idealle Addresse für ein Aufenthalt in Nähe Konstanz und auch nah an andere Sehenswürdigkeiten im Bodensee Region.
Gil
2016-01-02T00:00:00Z
Harald ist ein sehr herzlicher und zuvorkommender Gastgeber. Leider hatten wir starke Probleme mit unseren Flügen und haben sicherlich die Nerven unseres Gastgebers etwas strapaziert. Harald hat uns trotzdem hilfsbereit bei allem beiseite gestanden. Wir haben uns sehr wohlgefühlt und können Harald als Gastgeber nur empfehlen! Die Wohnung ist sehr schön und wir konnten dort wunderbar schlafen. Das Frühstück war sehr herzig und lecker. Besonders der Kaffee :-) Vielen Dank für Alles.
Juliette
2016-06-27T00:00:00Z
Room Type
Private room
---
Property Type
Bed & Breakfast
---
Accommodates
2
---
Bedrooms
Ermatingen, Thurgau, Switzerland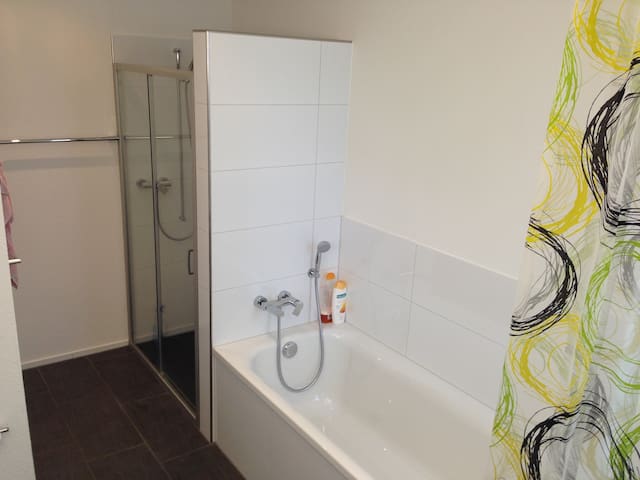 Wir haben schon zwei Gästezimmer vermietet an Studenten- das läuft ganz prima seit einem Jahr. Jetzt in den Semesterferien sind die Zimmer frei. Für Reisende bieten wir jetzt ein etwa 18 qm großes Zimmer mit Balkon an. Bad (Dusche, WC, 2 Waschbecken
PRIVATHAUS mit Einliegerwohnung Das Haus befindet sich nahe des Privatflugplatzes in Degerfeld/Albstadt. Es gibt viele Sportmöglichkeiten in nächster Nähe, z.B. die Degerfeld-Schlossfelsen-Loipe, perfekt für Skiliebhaber. Es gibt außerdem einen tollen Garten und Sie verfügen über einen eigenen Eingang über die Balkon-Treppe. Es gibt eine Dusche, ein separates WC und eine Küche, die auch benutzt werden kann. Achtung: Es gibt Katzen im HAUS! Tierliebhaber also sehr gern gesehen ;-) Direkte Anbindung an alte Römerstrasse B5. Bei der Loipe, die vom Turnverein Bitz gepegt wird, handelt es sich um eine typische Plateau-Loipe mit nur unerheblichem Anstieg und Gefälle. Man möchte sie am liebsten als eine ausgesprochene Schönwetter-Loipe bezeichnen, da sie meist durch freies Gelände führt und dabei neben einer Spur, auf der es sich weit ausholen lässt, auch viel Beschaulichkeit und ein tiefes Gefühl für die Weite der Landschaft vermittelt. Ihren Ausgang nimmt die Strecke am Süßen Grund, wo auch eine Einkehrmöglichkeit besteht, – links von der Landesstraße Ebingen - Bitz und führt zum Flugplatzgelände auf dem Degerfeld. Überquert man die Schwäbische Albstraße L 442 so ndet man auch den Anschluss an die Raichberg-Loipe. Wen es jedoch reizt im Rundkurs diese Region der Albhochäche zu genießen, der kann auch auf einer Länge von 9 Kilometern die Flugplatzrunde drehen. Der südliche Teil dieser Loipe vom Start am Süßen Grund zu den "Hüttenkirchen", einer vorgeschichtlichen Siedlungsstätte, ist für jemanden, dem das Erschließen der Landschaft höher im Sinn steht als das raumgreifende Ausholen in der Spur, vielleicht noch um einiges attraktiver. Auf ihren 8 Kilometern bringt die Schlossfelsenrunde, die durch weite Wacholderheiden führt, auch bei verhangenem Himmel Abwechslung. Es gibt noch viel mehr zu sehen, kommen Sie nach
Am 14.8.15 feiern wir unser diesjähriges Strassenfest. Wenn Ihr dann gard vorbeikommt- seid Ihr ebenfalls herzlich eingeladen!- Nebenan findet in einer Junggesellen WG (ehem. HOTEL ZUR POST) auch dauernd eine Fete statt- wir sind also sehr tolerant.
Elke and Uwe were really friendly and helpfull. We keep an amazing memory from this familly. Thank you so much for your welcome
Laure
2017-03-31T00:00:00Z
Room Type
Private room
---
Property Type
Bed & Breakfast
---
Accommodates
2
---
Bedrooms
Bitz, Baden-Württemberg, Germany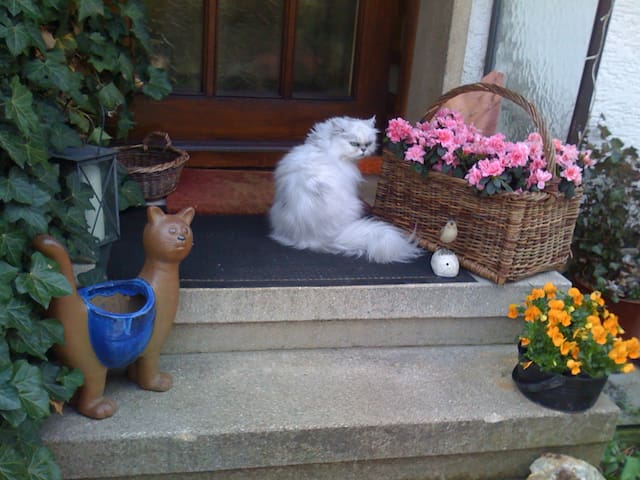 Comfort Double Room with HD TV and wireless connection. Separte WC with shower, wheelchair accessible. Pool and sun terrace. Quiet location close to the beautiful historic center. 20 km to Lake Constance. On request, rich breakfast.
The special is the individual care of our guests (guest card of the city Engen), the possibility of e-bike rental, references to many recreational activities.
A unique feature is the volcanic landscape of the Hegau, the immediate landscape to Lake Constance, near the Swiss Alps, the quadrangle with Germany, Switzerland, Austria and Liechtenstein. Featured villages, all within half an hour: Stein am Rhein, Schaffhausen with Rheinfall, Constance, Meersburg. Bigger cities. Zurich and Stuttgart. Engen has motorway connection, web connection, airports in Stuttgart, Friedrichshafen and Zurich.
Extremely helpful host with excellent English. The room was well appointed and spacious. Tea, coffee, sparking water, chocolate etc. The best bathroom yet. Excellent breakfast choices including eggs 5 euro. Easy walk to old town centre. Safe car paring on the street. Eberhard had excellent and the district and his wife Eva is a very good massage therapist.
John
2016-06-18T00:00:00Z
We had a wonderful Stay in Engen at Eberhard's beautiful house. IT was even better than expected. The bedroom and bathroom word great. Eberhard makes lovely breakfast.
Carla
2017-04-10T00:00:00Z
Accomodation looks better like on pictures. Everything was new and clean. Eberhard with his wife are very good hosts so services were excelent. Eberhard is very good cook, so we could savor on good home cooking. Thank you for everything Eberhard.
Miroslav
2015-09-16T00:00:00Z
We had a perfect stay with Ebe in Engen! We could not ask for anything more during our arrival: due to traffic jams we were in a rush to catch the start of the wedding. Ebe was awaiting us and drove us to the wedding immediately at arrival. The room was very comfortable and clean, and we loved the chocolates on our beds. The next morning he and his wife took the time to gives us information about things to see in the area. Although very short, it was a lovely stay. Thank you so much Ebe!
Marjoleine
2015-09-27T00:00:00Z
Nice room, very comfortable and clean, well thought about what people would like. Good bathroom. Very friendly host, a lot of explanations for our trip in Austria. And a great breakfast. One detail: room teperature not good to regulate, it remained much to warm even after Eberhard put the thermostat lower. But, very good adress, something nice to stay. If you are there, adress to eat good, not expensive and with nice people: grill keller.
Josje
2015-11-09T00:00:00Z
I knew the wife of Eberhard. She is a very nice woman and a careful and polite host. Thank you Eva
Maurizio
2016-08-21T00:00:00Z
Nice room, a bit small but fits for 2. Very new and clean, lovely decorated. The town of Engen is nice too
Aviv
2015-09-26T00:00:00Z
The host canceled this reservation 46 days before arrival. This is an automated posting.
Claudia
2015-11-08T00:00:00Z
Room Type
Private room
---
Property Type
Bed & Breakfast
---
Accommodates
2
---
Bedrooms
Engen, Baden-Württemberg, Germany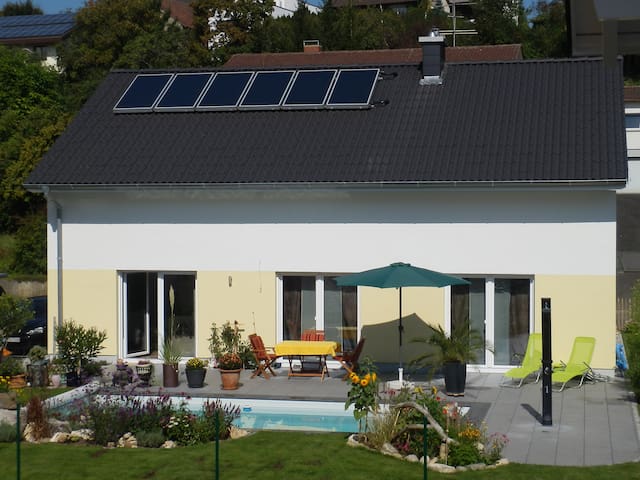 Wir sind eine junge Gastgeberfamilie, gut ausgebildet und haben viel drive. Schon immer haben uns die einfachen, guten Dinge im Leben fasziniert. Wir haben ein Faible für jahreszeitlich wechselnde Dekorationen und besuchen viele Vintage-Märkte im Elsass. Wir schätzen originelle Ideen und immer wieder "frischen Wind" im Haus durch neue Dekorationen. Wir verstehen dies als frische Brise für Leute, die gerne reisen.
Rentner,
Step inside the Goldener Hahn and experience the style and "Gemuetlichkeit" of a Black Forest landhouse. Find yourself surrounded by a blend of old Black Forest charm and modern comforts. Step outside and you will find yourself in the old part of Baiersbronn. The Wilhelm-Hauff-Museum (fairy tale museum) and forest walking ways are all just a short distance from the apartment house. Baiersbronn is a paradise for gourmets: there is a total of six Michelin stars united in Baiersbronn, and one of the restaurants in Baiersbronn ("Traube") is one of the Top Ten restaurants worldwide (according to the International Herald Tribune). The landscape here is the setting for one of the most beautiful vacation spots in the heart of Europe.
Room Type
Entire home/flat
---
Property Type
Bed & Breakfast
---
Accommodates
4
---
Bedrooms
Baiersbronn, Baden-Württemberg, Germany
Escape from everyday life and recharge your batteries amidst the greenery. Nature lovers, hikers, and sports enthusiasts will find here the ideal retreat. Renovated inside, and furnished with modern design, this historic farmhouse is the best place for a relaxing stay, thanks to the peaceful and magical setting.
Our spacious guest room offers a king-size bed and a sofa bed for two more persons. There are of course hand and bath towels, bed linen as well as Wifi provided. We are located in the centre of the village Rüdlingen and easily accessible from Zurich. Only 20 minutes by car to the Zurich Airport, 15 km to the Rhine Falls, 20 km to Schaffhausen, and 30 km to Stein am Rhein.
This location is perfect for hiking, biking and enjoying the idyllic Swiss landscape between vineyards and the Rhine. Family friendly and quiet neighborhood. In our small village you find also a grocery and three delicious restaurants. 5min by car, there are supermarkets, a pizzeria, a bakery and a pharmacy you may need.
Denise is so sweet and caring to her guests, I'd recommend her place to anyone and everyone. Beautiful area too!
Bruna
2016-08-28T00:00:00Z
Denise was an excellent host, communicating in perfect English and providing all the local advice we needed. The room was bigger and better than we expected, and the breakfast, which Denise provides on request, was also excellent. Rudlingen is a very attractive village and a good base for accessing other Rhine villages in the area. We would happily return.
Jim & Rosemary
2016-07-08T00:00:00Z
It was amazing experience in Denise house, everything is clean, new and comfortable! I strongly recommend going there for a good experience in Switzerland!
Viviana
2016-10-22T00:00:00Z
Beautiful location. Very relaxing drive from Zurich. Not too far from Rhein Falls. There is a beach for swimming in the Rhein within 0.5 km from the house. We couldn't have picked a better location for our first experience of Switzerland. The hostess was very welcoming. The house is immaculate and equipped with top quality furnishings - from a Nespresso coffeemaker to villeroy and boch fittings. Also, their breakfast is a must have. We'd love to visit again for sure! Thank you Denise!
Nupura
2016-08-14T00:00:00Z
We stayed in a family room at Denise's house and had access to a bathroom that was just for us. It is an old house beautifully restored, the room was cozy and the beds very comfortable. Denise is lovely and was very helpful. She proposed a restaurant for dinner, and even called to make a reservation for us. A very sweet host, really! The town is lovely, and very very quiet. There are many old houses well restored, and it is extremely peaceful. We walked up to the church, a 30 min walk, and the view is stunning. We will come back!
Sonia
2016-05-08T00:00:00Z
We were very comfortable, everything was very tidy and clean. Denise is a very nice host, always trying to help in everything and taking care of the details. I highly recommend it!
ANA
2016-08-25T00:00:00Z
Wonderful and interactive host. Denise gave us recommendations for eating as well as things to see and places to go. She was always available if we needed anything. Breakfast was great, she even got up early to make our breakfast before we left for the airport. Place was very clean. Location was close to Rhine falls and Zurich. Perfect for having to get up early to catch our flight.
Phil
2016-08-22T00:00:00Z
There is no way to describe the charm and beauty of Rüdlingen and Denise's wonderful place. It is just recently remodeled so though the building is old inside everything is brand new. My wife and are already trying to figure out how to get back to stay longer!!!!
John
2016-07-02T00:00:00Z
Room Type
Private room
---
Property Type
Bed & Breakfast
---
Accommodates
4
---
Bedrooms
Rüdlingen, Schaffhausen, Switzerland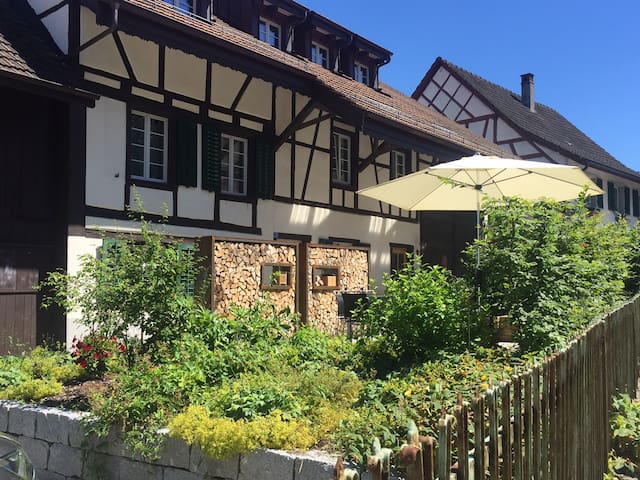 Auf dem Radweg, Pilgerweg ein gemütliches Zimmer mit Frühstück und auf Wunsch mit Abendessen.
Die Unterkunft liegt unmittelbar auf dem Donau - Radweg, Pilgerweg. Für einzelreisende eine optimale Übernachtungsmöglichkeit zwischendurch.
Ildiko nous a accueilli chaleureusement après une journée de vélo épuisante . Chaleur et relief difficiles depuis Konstanz. Sa maison est spacieuse. Pas de facilité pour les vélos mais village tranquille pour la sécurité du matériel stocké en extérieur. Ildiko parle français, elle nous avait préparé un bon dîner agrémenté de thé glacé, excellent par cette chaleur ! Ildiko est agréable et prend plaisir à bien accueillir ses hôtes. Très bon souvenir pour nous ! merci
christian
2016-06-25T00:00:00Z
Ich war leider nur 1 Nacht bei Ildiko zu Gast, hätte es locker noch viel länger ausgehalten. Sehr schönes Zimmer, alles organisiert und sauber. Ein tolles Frühstück war auch dabei, ein wunderbarer Start in den Tag. Ildiko ist ein sehr herzlicher, offener und liebenswürdiger Mensch, mit dem man sich gut unterhalten kann. Wenn man möchte, zeigt Ildiko auch gerne Beuron, was wirklich sehr zu empfehlen ist. Würde sofort wieder bei Ihr Übernachten. Vielen Dank liebe Ildiko.
Nicole
2016-05-17T00:00:00Z
Room Type
Private room
---
Property Type
Bed & Breakfast
---
Accommodates
1
---
Bedrooms
Beuron, Baden-Württemberg, Germany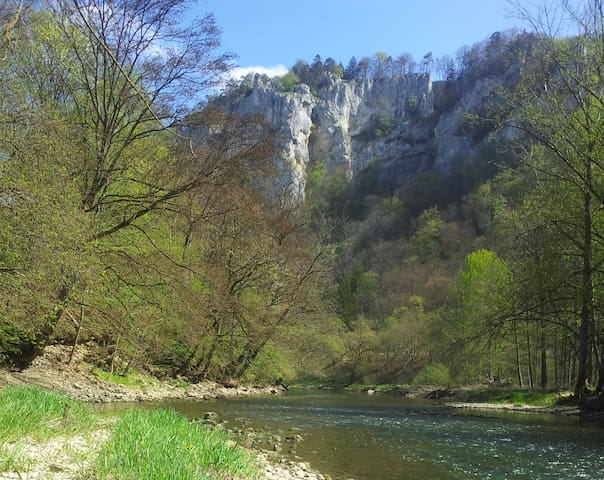 My house is located in a quiet location on the hillside, on the sunny side of the valley Schönbacher. The rooms are a good size overlooking the Bregtal on the opposite side of the forest. On the same floor there are three rooms for a common toilet and separated from a common bathroom with shower. Breakfast is included in the price - breakfast is served in the living room. I used to travel even very much and I speak in foreign languages fluent English and French and Spanish. From the house there are beautiful trails - Black Forest Westweg and balance both run by Furtwangen, in the winter cross-country skiing and Snowshoeing is (uphill gebahnte trails to 5km forest road) from the house possible. Ski lifts nearby via car erreibar. The nearest railway stations are Triberg, Donaueschingen, Freiburg - there are hourly bus, see (website hidden) Beautiful Attractions nearby are for example the Brend, the Clock Museum, the Danube source Hexenlochmühle, Triberg Waterfalls, Titisee / Schluchsee.. Walk to downtown Furtwangen 15 minutes. I have a very good little dog and a very affectionate cat, both very clean and not in the guest rooms.
I had the most wonderful time at Kristin's! The place itself is lovely -- you look out onto the wooded hills, have your own garden, and an extraordinary mountain meadow is literally five minutes away, at the end of the street. Furtwangen's central city is a ten minute walk, and a large supermarket is just down the block. Even better, however, is Kristin herself. She was an extraordinary host, making breakfast every morning, having helpful recommendations about what to do in the region, and she even drove me to one of the best hiking bases in the country. It was an absolute delight.
Loren
2015-07-27T00:00:00Z
Kristin is more like a sister i never had. Also, she is "hostess with the mostest". She is such a kind loving and concerned person and even washed my clothes since i will be away from home about 21-22 days. I could become an "ex-pat" if I had more $$.
Normajean
2015-08-03T00:00:00Z
I felt very welcome in Kristin's home, she did everything possible to ensure I had a nice stay. She went above and beyond the expectation for a good host and I would recommend staying at her place to anyone.
Heidi
2015-08-15T00:00:00Z
Kristin made me feel at home in her lovely, perfectly clean and beautiful house. The view of the room is just amazing: it faces the Black Forest. She gave me a lovely breakfast and talk to me a few hours in German so I could practice the language. I definitely recommend her place to stay in the Black Forest or Furtwangen. Her house is close to Furtwangen town so you can even go there by walk from the bus station.
Gaby
2015-02-11T00:00:00Z
Kristin ist eine supernette Gastgeberin. Ich habe mich bei ihr richtig wohlgefühlt. Schade, dass ich nur eine Nacht bei ihr verbracht habe, aber es wird wahrscheinlich nicht das letzte Mal gewesen sein. Ich hatte das Glück, dass es in der Nacht geschneit hatte und ich morgens einen wunderschönen, winterlichen Ausblick aus meinem Fenster genoß. Das Frühstück war genial und reichlich.Ich wünsche ihr noch zahlreiche Gäste, die bestimmt genauso begeistert sein werden wie ich.
Susanne
2013-12-01T00:00:00Z
Kristin ist eine sehr herzliche und umsichtige Gastgeberin. Ich habe mich sehr über den Willkommens-Tee auf ihrem Balkon und die netten Unterhaltung gefreut. Die Art der Ausstattung und des Service entspricht der des anderen Zimmers. Heißwasserkocher mit Geschirr - und Keksen (!) stellt Kristin im Zi bereit. Bei Vollbelegung steht für Gäste zusätzlich eine zweite Toilette zur Verfügung. Reichhaltiges Frühstück (u.a. mit selbstgemachten Marmeladen!) im geschmackvoll eingerichteten Wohnzimmer und gutes WLAN auch in den Souterrain-Räumlichkeiten. Ich wünsche Kristin noch viele Gäste.
Martina
2014-08-08T00:00:00Z
L'estada va ser de només una nit tal i com estava previst. La rebuda va ser molt correcta, presentant-me la meva habitació i els altres hostes que tenia per tal de fer més agradable l'estada de tots. Ella parla força bé el castellà i per tant va ser bastant fàcil entendre's. L'habitació és molt més gran del que esperava. El barri és a les afores del poble, però molt agradable, de fet em van ajudar a trobar la casa de la que recordava malament l'adreça. Sembla que es coneguin tots allà. Les fotos de la vista són reals. L'esmorzar excessiu.
Mario
2014-08-28T00:00:00Z
Es war eine Freude, bei Kristin zu wohnen. Ich habe sie als sehr gastfreundlich und weltoffen kennengelernt und empfehle sie sehr als Gastgeberin weiter.
Barbara
2016-09-25T00:00:00Z
Room Type
Private room
---
Property Type
Bed & Breakfast
---
Accommodates
1
---
Bedrooms
Furtwangen, Baden-Württemberg, Germany
Das Zimmer befindet sich in einer hellen Wohnung, in unmittelbarer Nähe zum Bodensee. Öffentliche Verkehrsmittel und Autobahn in wenigen Minuten erreichbar. Das Zimmer ist geräumig, das antike Bett mit super Matratze ausgestattet und insgesamt schön eingerichtet. Eigenes Bad mit Badewanne! Meine Unterkunft eignet sich auch für Geschäftsreisende.
Helle, freundliche und ruhige Unterkunft in unmittelbarer Nähe zum Bodensee. Das Zimmer ist geräumig und gemütlich eingerichtet mit antikem Bett (sehr gute Matratze), Schreibtisch am Fenster mit Blick Richtung Wasserschloss Gottlieben. Und einem bequemen Sofa. Bad mit Badewanne zur alleinigen Nutzung. Super Frühstück! Alles sehr sauber. Ruhiges Wohnumfeld. 5 Fussminuten zur Bahn. Zur Autobahn binnen 10 Minuten. Kostenloser Parkplatz.
The host canceled this reservation 24 days before arrival. This is an automated posting.
Mandy
2016-11-16T00:00:00Z
Wenn ich Punkte vergeben müsste auf der Skala von 1 bis 10, wobei 10 die Bestnote wäre. würde ich die Unterkunft bei Gabriele in allen Bereichen mit 12 Punkten bewerten. Im Ernst: Alles sauber, absolut angenehme Atmosphäre, besser könnte es nicht sein. Gabriele ist sympathisch, unkompliziert und konkret. Super Wegbeschreibung, super Frühstück. Wirklich ALLES perfekt.
Peter
2016-11-18T00:00:00Z
Gabriele ist eine ganz tolle und sehr liebenswürdige Gastgeberin. Sie macht einem den Aufenthalt zu etwas ganz Besonderem. Ich fühlte mich schon vor der Abreise sehr wohl und willkommen. Kurz nach der Buchung haben wir zusammen telefoniert und ich durfte alle Wünsche angeben (Frühstück etc.) Sie hatte mir bereits dann den Anfahrtsweg perfekt erklärt. Die Ankunft war so herzlich, und ich konnte ebenfalls frei wählen um welche Zeit ich dort bin. Das Zimmer ist sehr sauber und ganz liebevoll eingerichtet. Zudem liegt es sehr ruhig, man hört nachts gar nichts. Das separate Badezimmer ist einfach super, gross und sogar mit Badewanne. Jeder, der bei Gabriele übernachten darf, kann sich einfach glücklich schätzen.
Katja
2017-02-19T00:00:00Z
Room Type
Private room
---
Property Type
Bed & Breakfast
---
Accommodates
1
---
Bedrooms
Triboltingen, Thurgau, Switzerland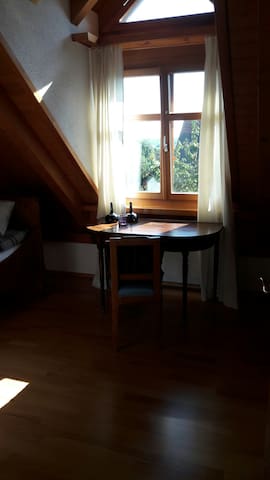 Ihr Gästezimmer ist ca. 10 min. Fußweg von Restaurants/ Cafes, Essen & Drinks, Parks, Bodenseeufer, Kunst und Kultur, Strandbäder, Aussichtspunkten, Ausflugszielen. Du wirst meine Unterkunft lieben wegen der Nähe zum Bodensee. Dieser bietet einfach ein traumhaftes Ambiente. Auch die Umgebung bietet wundervolle Möglichkeiten für Ausflüge, Fahrradtouren, Wanderungen, Erkundungen! Ein Besuch der Insel Mainau, der Uhldinger Pfahlbauten,....und vieles mehr ist möglich!
Ihr Gästezimmer wurde neu renoviert und ist nun bezugsfertig! Es ist hell, in weiss gehalten und sie haben einen Blick in den Garten. Sollten sie 1 weiteres Zustellbett benötigen, kein Problem, sprechen sie mich an! Das Badezimmer/ Toilette liegen direkt gegenüber des Zimmers. Dieses teilen sie mit uns. Gerne können sie auch ein Frühstück bestellen! Bei herrlichem Wetter können sie dieses auf der Terrasse genießen. Das Zimmer ist in einem 9 Parteienhaus im EG, liegt oberhalb vom Zentrum und ist trotzdem sehr zentral. Wir selbst haben Katzen und möchte darauf hinweisen falls sie allergisch sind.
Unsere Umgebung liegt in einer 30er Zone, ist ruhig und es sind nur wenige Gehminuten zu den öffentlichen Verkehrsmitteln. Ebenso erreichen sie in kurzer Zeit verschiedene Einkaufsmöglichkeiten und natürlich den wunderschönen See.
Room Type
Private room
---
Property Type
Bed & Breakfast
---
Accommodates
2
---
Bedrooms
Überlingen, Baden-Württemberg, Germany

Please read the whole advertisement !! Please read the entire listing !! In ancient village situated 200 year old rustic farmhouse with very large garden, the building depending on the season for a snowman or Summer Drinks enjoy inviting. Herrlich to romp for kids and conveniently located between Stuttgart and Lake Constance (Lake Constance). A 200 years old farmhouse between Stuttgart and Lake Constance. A huge garden for the kids to a terrace to sit and enjoy and calm down.
In the first loft located in the neighboring house rooms, with private toilet, cozy furnishings and beautiful views of the surrounding hills and the garden. Three rooms, two with double beds, one with single bed, toilet on the floor. The sharable large kitchen and large bathroom with Jacuzzi and shower are one floor located deeper. At the entrance there is another, very beautifully restored double rooms. The shower is also used by the owner. In fine weather, the use of the terrace and the large garden at their own risk is possible.
Look at www traufgaenge de, since their texts and images found on the surrounding landscape. The town itself has about 2500 inhabitants, a restaurant and a small shop for food. 5 km away there is the water park "BadKap" and about 10 km from the beautiful Hohenzollern Castle / Castle Hohenzollern. 30 km is Sigmaringen with its beautiful castle!
The accommodations were as rustic and charming as advertised. Everything was clean and tidy. Room was spacious with plenty of closet space. Funky wood door with slide latch reminded me of grandparent's attic door. Bathroom big enough to dance in. Michael is a friendly, easy-going host, with a lot of local knowledge which I recommend one take advantage of. Really enjoyed conversing with him. He'll give you all the attention - or space - you want. Would definitely come back and stay longer if I get the chance. Best wishes to you Michael on your next walking tour.
Carole
2016-04-23T00:00:00Z
Michael is a wonderful host. He did anything to make our stay as pleasant as possible. The house is almost antique German building. It is very clean and Beautiful. He sure took a lot of effort to remake it to such a beautiful place! It is a quiet place and perfect to relax. On the other hand it has beautiful sites close by, for example the castle "Burg Hohenzollern" ...(URL HIDDEN) The dog is so sweet that we almost took him with us back home :-) Thank you Michael for all you did for us !!
Tom
2016-07-20T00:00:00Z
Our stay at Michael's house was great. It was very clean and we had all the space we needed. He is a graceous host and made sure we had everything we needed.
Erin
2016-09-01T00:00:00Z
Michael is a very nice, friendly, talkative and unique person. He always makes sure you feel at home and have everything you need. We enjoyed having conversations with him and yet had all the privacy we needed. We enjoyed staying at his old, magnificent house for two nights and wished we could have stayed longer. The house is super clean and cozy. Definitely recommended!
Lana
2016-09-04T00:00:00Z
Great communication, very beautiful house, definitely a nice place for multiple guests, nice breakfast (at extra cost) and very kind host. Thabks again for your hospitality.
Stéphane
2016-07-30T00:00:00Z
Everything was perfect and more than expected with Michael. He was very much welcoming and helped us with most of things making the stay warm and comfortable. The locations is very much ideal and in a very calm locality. Very much recommended
ARUN
2016-03-31T00:00:00Z
we've been booking very spontaneously and Michael gave us a very warm welcome, showing all the rooms and giving advice about the surroundings :) The house is extremely comfy and has a very special flair due to it's age and the very nice renovation done by Michael! All in all we definitely stayed to short, as we just were there for 1 night - but it was an absolute tastemaker to be coming back in future! :) The scenery to enjoy whilst reaching that place is absolutely worthwhile as well - we'd recommend a car though! It's a scenic starting point to explore the surrounding region :)
Leonie
2017-01-16T00:00:00Z
A nice person, a nice house, a nice trip. Michael is the perfect host. Always thinking what you can need. He told us perfect trips around and I enjoyed nice conversations with him. If you like the renewed houses this is your house. A house with history and confortable. Perfect.
Luis Jesus
2016-08-02T00:00:00Z
Room Type
Entire home/flat
---
Property Type
Bed & Breakfast
---
Accommodates
7
---
Bedrooms
Albstadt, Baden-Württemberg, Germany
Our quiet, well restored house from the 19th century. with a special charm, offers the top floor 2 bright rooms with view on Altstadt.Alles is newly renovated. On the first floor, our guests can Cafe and Tea zubereiten.Bei necessary, we provide a refrigerator.
Our rooms are fresh and clean. For the two rooms, there is a shared shower and a shared bathroom. Would you like to use the sanitary facilities on their own, this is possible at an additional cost. You can book the rooms as double or single rooms. We offer a beautiful, rich, organic breakfast. In addition, 12 per pers. Please order in advance! Food can in our fridge dumped werden.Ihre bicycles can be parked in our garage.
We are surrounded by greenery. The Promenandenpark with playground is just next door. Vis a vis is the Park Casino (seminars, events). Our streets is traveled in a residential area and little. In 2 min. they are in the beautiful old town. In 15 .min by bus am Rheinfall. Indoor pool, sauna or Eiskunstbahn are minutes away by car. 5 away. In 5 min. are you in a climbing park, which is next to the Rheinfall.
The communication with Michelle was very fast and efficient and she and her husband very welcoming and friendly. Everything was as described on Airbnb, it was very clean, and I loved the central location! The wooden floor makes it hard to go up the stairs and to walk in the room without making a noise, even when trying, but I luckily did not wake anyone up. I will definately make use of it again when a need arises. Thank you!
Anja
2015-08-19T00:00:00Z
The host canceled this reservation the day before arrival. This is an automated posting.
Andrii
2015-05-21T00:00:00Z
It is comfortable and convenient for us to live in . Thomas and Michelle are so kind to us. The pets are very cute. We had a good night there.
毓珉
2016-08-26T00:00:00Z
This place is very cosy and comfortable. Michelle introduced us even the smallest details and Thomas were very kind and friendly. Easy walk to the main train station as well as many touristic attractions in Altstadt. Short cut through the bridge over the railroad was very helpful. The neighborhood is also very peaceful and lovely. The room is the same as shown in the pictures and the other facilities as well. Recommend this place.
Jungmin
2016-08-20T00:00:00Z
Michelle and Thomas very kindly accommodated my late arrival after my plane landed in Zurich. Michelle was sweet enough to bring me English Breakfast tea to have in the morning which was very sweet of her! Thank you Michelle!
Emily
2016-09-20T00:00:00Z
I really enjoyed my week long stay here. Michelle and Thom were excellent hosts and were available to answer questions while still giving me space. The room was lovely and quiet with a great view of the Altstadt. It's close to the train station and also the rest of the city. I would stay again.
Andrew
2017-04-07T00:00:00Z
Nice host, very warm place with private spaces to feel at ease.
Teryk
2016-09-04T00:00:00Z
NICE STAY IN A FRIENDLY HOME
salvatge
2016-02-27T00:00:00Z
Room Type
Private room
---
Property Type
Bed & Breakfast
---
Accommodates
4
---
Bedrooms
Schaffhausen, Schaffhausen, Switzerland
The Black Forest Lodge is situated in Igelsberg in the middle of the Black Forest and it offers various possibilites to nature. Igelsberg is a community with roughly 250 inhabitants, located around 10 km north of Freudenstadt. The place is idylically situated on a sunny hill, surrounded by fields, meadows and woods. Activities: Hiking, Walking, Running, Swimming, Biking, Mountain biking, Cross-country Skiing, Relaxing, Enjoying the nature and the woods
The accomodations in a typical Black Forest House stand out through very lovely, brightly and modernly decorated rooms, where some special, modern features can be spotted. At the same time, the nostalgic charme of the house and its history is always kept.
Room Type
Private room
---
Property Type
Bed & Breakfast
---
Accommodates
2
---
Bedrooms
Freudenstadt, Baden-Württemberg, Germany

Was auch immer der Anlaß Ihrer Suche ist: Bei uns im Hotel Blume Post sind Sie auf jeden Fall richtig! Wir hoffen also, Sie bald persönlich als Gast bei uns willkommen zu heißen.
Gesch
Room Type
Private room
---
Property Type
Bed & Breakfast
---
Accommodates
2
---
Bedrooms
Albstadt, Baden-Württemberg, Germany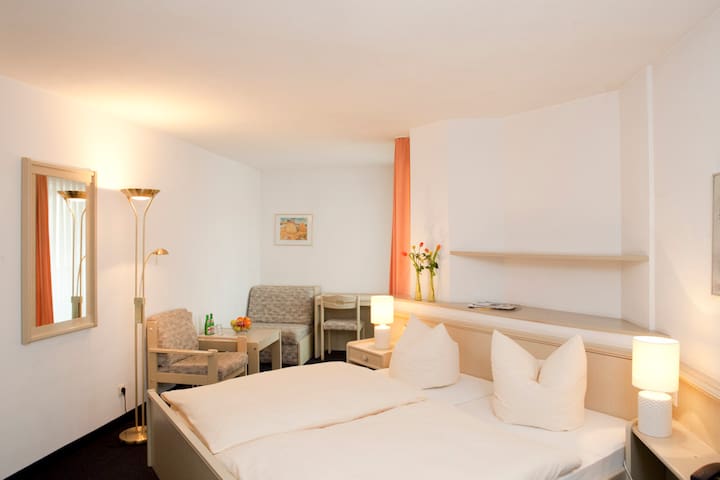 1

–

18

of

124 Bed & Breakfasts
Enter dates to see full pricing. Additional fees apply. Taxes may be added.