Can sleep 2 or 3. Compact & Ergonomic. Like living in a sculpture of wood. sunny, private, newly built studio apartment fully self contained with galley kitchen, 3-piece bathroom and large deck. parking, laundry, and very close to all amenities just an hour northeast of Toronto
Loft beds
Friendly country town. Walk to everything
James was very accommodating and quick to respond to any inquiries we had. The space was lovely, very comfortable with beautiful interiors ... truly like living in a sculpture of wood!
Alice
2016-12-12T00:00:00Z
Great place! We booked this place within 2 hours of arriving and James was quick to respond and flexible with our requests. Great "cottage" feel and a nice place to spend a weekend!
Anesh
2016-08-13T00:00:00Z
My partner and one of our sons and I stayed at James's place for one night, to extend a little road trip we were taking through Port Perry. The weather was rainy and cold, but James is loft was cosy and fun. Our 12-year-old especially enjoyed climbing up into the loft area, and we ended up all sleeping there together. There is only one washroom, and it's on the main floor, so if you are sleeping up in the loft, it's a bit of a trek down to the toilet in the middle of the night. :-) However, the unit is well appointed, has a cottagey feel with a kitchen with everything you need to cook a meal or two, there are tables and chairs to eat and for work spaces… Internet worked well… and the place is well situated, a short walk from the port perry waterfront and many local restaurants, stores and pubs. James himself is an interesting person, we enjoyed chatting with him very much, especially once we found out he was a musician – – my boys also play brass instruments, and we were able to have a nice chat about that. Would recommend it to others looking for their own space to spread out while staying in Port Perry.
Vera C
2016-10-02T00:00:00Z
James turned out to be very personable and helpful. In many ways I think this place is close to the original airbnb idea of letting people know when you have a spare couch for a crash-pad - I think he uses the space himself. Yes, as others note, it's like a cabin - there's no bathtub, just a shower (but good hot water); the finish is almost Scandinavian but a little on the rustic side in places; the beds might not be the best. But it was exactly what we needed. I had problems connecting to the wifi (because my network card was too old I think - had to disable 802.11n) but once I managed it, it was fast and solid; he's recently replaced it. The Android tablet connected easily. Watch that the windows don't all have screens, or have holes in the screens. Renovation work appears to be in progress. The windows themselves are large & solid & let in plenty of air and light. The deck is shared, but the suite feels reasonably private with its own entrance and very safe. We were only there for one night, but if we stayed for longer would have liked to have walked down to the water and to have explored the town, both possible from this location.
Liam
2016-09-05T00:00:00Z
Staying here was like going to the cottage. Don't expect it to be spotless. It's going to be chilly, and the mattresses aren't top shelve, but it has a nostalgic vibe. Wifi isn't very good, but can handle an email, and there's no tv, but you'd not expect that at a cottage. James is a nice person and accommodating. He responds quickly.
Ryan
2016-04-25T00:00:00Z
Very good location. Good parking and good place for work trip.
Louisa
2017-02-03T00:00:00Z
Convenient location, very easy to communicate with and was a great alternative to a hotel to have our workers stay.
Louisa
2017-01-27T00:00:00Z
Comfortable apartment, friendly host, great location. Recommended.
Mike
2016-08-14T00:00:00Z
Room Type
Entire home/apt
---
Property Type
Loft
---
Accommodates
3
---
Bedrooms
Port Perry, ON, Canada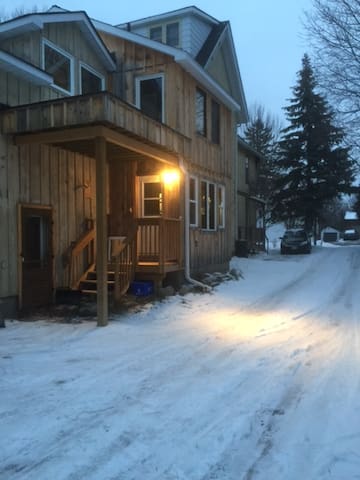 A cool clean bedroom on 21st floor with amazing view with one car indoor-parking. Quiet but sought after area near 401. Gigantic shopping mall, movie theater, TTC GO bus terminal/(URL HIDDEN) subway. Easy approach to downtown Toronto.
A double bed. 2 people comfortably fit. A great view from 21st floor to the civic centre square. Bathroom with a tub. 1 car underground parking.
Near 401. Great shopping area, Town Centre Mall, Sears, Hudson Bay, movie theater, easy access to downtown. Walmart, Canadian Superstore, Milestone, Boston Pizza, Public Library, Centennial College, University of Toronto Scarborough Campus. Outdoor Ice rink for winter skaters.
Had a lovely stay, very close to the shopping area and transport. Breakfast, tea and coffee provided which was awesome. Thanks!
Heidi
2016-11-13T00:00:00Z
Heena is very friendly. The room was clean and has an amazing view. I had a wonderful stay. Thank you so much.
Rashmi
2017-02-20T00:00:00Z
Great for single person on a weekend getaway.
Des'ree
2016-10-23T00:00:00Z
Fantastic first experience. Heena was incredibly accommodating, with a super clean place and a fantastic view.
Zachary
2016-11-20T00:00:00Z
My 19 year old son stayed at Heena's place while he was taking a training course nearby. He found everything was just as described in the listing and it was perfect for his needs.
Lori
2017-01-12T00:00:00Z
Clean condo, clean room. I had a great stay. Heena was a very friendly household.
Myles
2017-04-02T00:00:00Z
Heena's place was great! The room has a very comfortable bed and has large windows from the 21st floor so the view was amazing! She made the check-in and check-out very smooth and provided us with pamphlets for things to do in Toronto! Underground parking was a bonus! She also provided us with a light breakfast which was perfect! Heena was very kind and easy going and made the stay relaxing and enjoyable! I would definitely recommend!
Brad
2016-10-16T00:00:00Z
Heena is so nice and considerate and offers towels and breakfasts for us. The room is quiet, clean and very comfortable. There is a very large shopping mall near the building and parking lot under the building.~o(〃''〃)o
kevin
2017-03-19T00:00:00Z
Room Type
Private room
---
Property Type
Loft
---
Accommodates
2
---
Bedrooms
Toronto, ON, Canada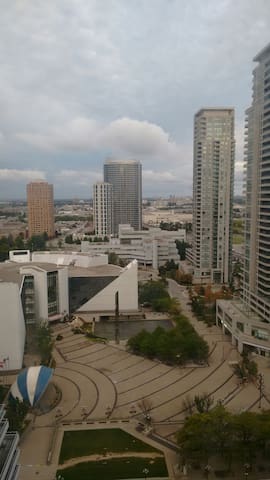 1 bedroom 1.5 bathroom loft. Wifi. Heating & AC. 2 tv's with 1 HDMI cord (no cable tv but unlimited internet). Apple TV upstairs. Full kitchen with dishes, glasses and utensils. 1 Parking space + guest parking (must register through me for over night) feel free to message with any questions!
Loft!
Hillcrest mall 5 min walk Cineplex movie theatre 10 min walk Plenty of restaurants
She toughs of everything. The place was nice, we had beers and candies at our arrival. Just like in a hotel ! :)
Dave
2016-07-12T00:00:00Z
Great Place, will visit again
Tony
2016-11-20T00:00:00Z
Nice, clean apartment and Tally was fast in any concern or questions we had. Perfect.
Babak
2016-12-11T00:00:00Z
Tally's home is perfectly clean and furnished. It's looks so nice and a lovely home. My girlfriend and I think it's a mode of our future own home. I would definitely recommend it to everyone.
Daniel
2016-08-03T00:00:00Z
Tally was a great host and was responsive throughout my stay. She was super accommodating and the apartment was everything I was looking for! It was clean and had everything I needed to make home cooked meals. I will definitely be staying here again the future. Thank you so much Tally!
Joni
2016-08-26T00:00:00Z
Just as described, great location, nice condo and very clean. Would stay here again most definitely .
Danial
2016-08-06T00:00:00Z
Tally was very responsive in both our initial contact and throughout our stay. The home we stayed in was exactly as described and depicted and is extremely clean and well taken care of. Will definitely stay here again when we return.
Allen
2016-07-08T00:00:00Z
Everything was exactly as described; the loft was very tidy and well kept, kitchen had all the appliances you needed to cook and the bathrooms were spotless. Tally was extremely quick to reply to any questions I had and made check-in/check-out very smooth. I would recommend to anyone looking to stay in Richmond Hill and would stay here again myself!
Natasha
2016-10-02T00:00:00Z
Room Type
Entire home/apt
---
Property Type
Loft
---
Accommodates
2
---
Bedrooms
Richmond Hill, ON, Canada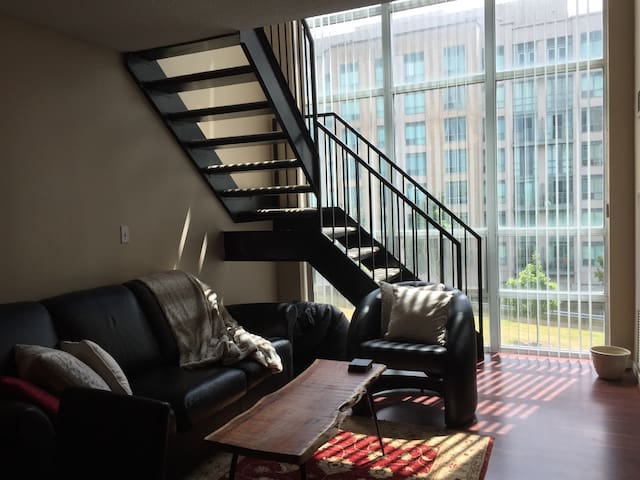 Built in 1869, in the style of Gothic Revival, the Manilla Church has been converted into a luxurious loft style abode. With an open concept design and large gourmet kitchen it is a unique destination for a relaxing get away in the Kawartha Lakes.
The Manilla Church is 5000 sq ft of luxurious modern space with a blend of original features from the 1800s. Once inside the triple brick stained glass gothic church, you're met by the open concept design with 30 ft ceilings supported by exposed hand carved Doulas Fir Beams. There are 3 large bedrooms with queen size beds and a Master Bathroom with a Jacuzzi tub and separate walk in shower. The space accommodates up to 6 guests per night via 3 queen beds, and one single bed. During your stay at The Manilla Church we invite you to treat the space like home. You will have access to all amenities, and are welcome to relax in the backyard surrounded by beautiful English gardens. Your privacy is important to us but we will be available should you require anything, as we live in a separate basement apartment in the home. The Manilla Church is located 1-1.5 hours North East of Toronto in the Kawartha Lakes region of Ontario, with beautiful lakes, beaches, golf courses and so much more within easy access. We are 1.5km from the Trans-Canada Trail with other biking, hiking, and snow shoeing trails at your doorstep. Winter, Spring, Summer, or Fall there is something for everyone to enjoy. Car travel is recommended. There is driveway parking for up to 3 cars and safe side street parking for guests at no additional cost. We provide tea and coffee, and put out fresh fruit and muffins in the morning for all of our guests. We are also an event venue, perfect for photo shoots, weddings, baby showers, parties, live music, exhibitions which can comfortably accommodate 40-50 people. Talk to us about event planning and rental costs for the day, half day or long term rentals.
The Manilla Church is located 1-1.5 hours North East of Toronto in the Hamlet of Manilla, Kawartha Lakes, Ontario. Surrounded by beautiful lakes, beaches, golf courses, hiking trails and so much more. Winter, Spring, Summer, or Fall there is something for everyone to enjoy.
Sarah made us feel super welcome!! The place took a little longer to be prepared when we got there, but she made us feel like home giving us iced water, coffee, chocolate and raspberries. She said her usual friend who helps her was not available at the time. That didn't really bother us, she let us check out a little later on our last day. She gives us fruits and muffins for breakfast, and the muffins were amazing. House was clean, pretty, and I would say it is bit better then what the pictures show. The back yard feels a little smaller than the picture. If you are a person who is SUPER clean freak, I don't recommend because I don't remember what she told us, but the water feels slippery, so when you wash your hands and body, it feels slippery (i don't know if I explained it right). She recommended us a place to rent canoes 10 minutes away and the gentleman who did was super easygoing and fun. Overall experience was 5 out of 5 and we would def. come back.
Robert
2016-06-13T00:00:00Z
What a wonderful, charming, stay we recently had at Sarah & Dan's Church in Manilla. The place is kept immaculately. Every detail in what you would look for in your own private getaway is here - from large open spaces, gourmet kitchen, soaker/jacuzzi tub, large screen TV, internet access, beautiful grounds to soak up the sun in, relax, lay back and literally smell the flowers. Sarah sets up every morning a lovely tray of fruits, yogurt, muffins or banana bread or her incredible homemade granola. We looked forward to seeing what we would get each morning as soon as we woke. Sarah and Dan make you feel very welcome and comfortable from the moment you arrive, easily available throughout our stay to answer any questions we had and to ensure we didn't need anything. We will definitely be coming back again and again!!
Shelley
2015-07-12T00:00:00Z
This place is simply amazing. The old church house with its stained glass windows is very charming and unique. Our oldest son was recovering from a soccer-injury during our stay, so we stayed inside most of the time while we were there, drinking hot chocolate and playing boardgames in front of the fireplace. Sarah and Dan were great hosts and each morning Sarah presented us with a delicious breakfast. Wonderful!
Kristine
2015-12-30T00:00:00Z
Really unique property with nice touches such as fresh fruit and cookies upon arrival and homemade muffins for breakfast. Dan and Sarah were friendly but also gave us privacy.
Mike
2015-05-17T00:00:00Z
Our group absolutely loved our stay at Dan & Sarah's Manilla Church, their place is the true definition of apartment therapy. We couldn't have asked for better hosts - including Sarah's delicious baked goods and Dan keeping the firewood stocked. We are already planning for our next trip back!.Thanks Dan & Sarah!
Shane
2016-02-14T00:00:00Z
Sarah was a great host, she even made us a few baked goods to welcome us. Could not have asked for a better host.
John David
2015-05-05T00:00:00Z
The Manilla Church was excellent! Dan and Sarah were incredibly hospitable - meeting us as we arrived, showing us around, answering questions and even bringing breakfast in the morning! The place is gorgeous - the pictures don't even do it justice. It was perfect for our group - comfortable, relaxing, just what we needed. We'd love to return!
Fiona
2015-01-04T00:00:00Z
My friends and I (8 ppl total) had a lovely stay at Dan & Sarah's place. The place was too good to be true (better than the pictures you see)! They were very friendly and helpful. They gave us tips and recommendations for travelling around (And every time I messaged them, they would reply very quickly). And we love the fresh fruits and breads and muffins Sarah brought us (the muffins she baked were awesome!) I would definitely recommend this place!
Jessica
2015-10-11T00:00:00Z
Room Type
Entire home/apt
---
Property Type
Loft
---
Accommodates
8
---
Bedrooms
Oakwood, ON, Canada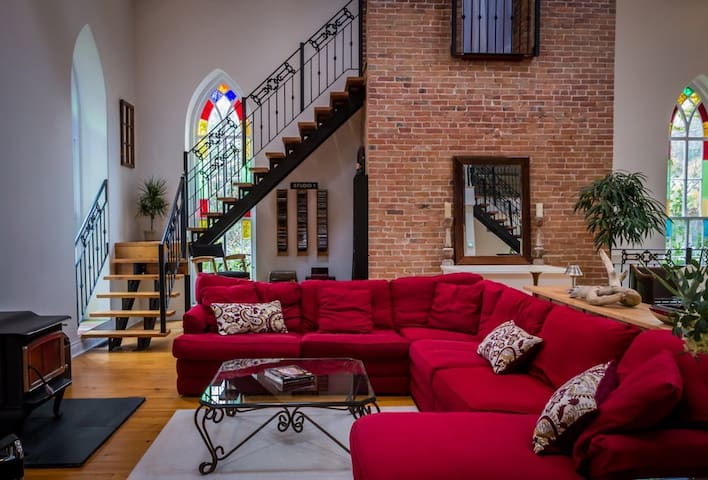 loft style condo with stairs! feels like a house! Close to subway and highways in a great neighbourhood! Great for a couple or a small family. Time frame is negotiable! Walking distance to stores and shops. Free visitor parking!
Imran was a great and very friendly host. He was easy to contact and was able to accommodate all my requests. His 2 floor home is in a great location, clean, and beautifully decorated. Pictures and description of his home are 100% accurate. He even left a nice greeting note with more details on the stay such as home care and things to do near by. Had and overall amazing experience and am looking forward to staying here again in the future!
Richard
2015-08-03T00:00:00Z
This was our first time using airbnb, and it was a very good one. The condo/loft was great, it was completely as described in the listing and other reviews. It was in a great location also. Check-in, parking, and check-out were all simple. We were very happy with everything, and had no problems at all.
Brian
2015-07-06T00:00:00Z
My fiancé and I were looking for a perfect place to get away and to spend quality time together. Imran's place was perfect. The photos do not do it justice, very clean and comfy loft. The kitchen has everything you need, the living room is so comfortable and he provides lots of excitement with the wii and Xbox . The balcony was beautiful to have a glass of wine and watch the busy city of toronto. Everything about this loft I loved. The bed is so comfortable,I wanted to take it home. Overall was a excellent experience from the beginning to end, imran made sure check in went smoothly and left us instructions with a thoughtful note congratulating us on our anniversary. The building has security at all times, clean and beautiful. Even though I never met imran he is a nice guy and I would love to visit this loft again. This is my second time on airbnb and he set the bar high.
Paul
2014-09-07T00:00:00Z
The unit was exactly as described and Nicole and Imran were excellent and thoughtful hosts. Would certainly recommend and would book again. Thanks for a stress free and productive stay.
Gordon
2015-04-22T00:00:00Z
This was my first time reservation on rbnb and won't be my last . Had a great stay at Imran, he was very freindly, welcoming and helpfull ... Everything was neet, tidy and organized ... Really goes the extra mile to make you fell at home . The location was perfect. near some great cafes and restaurants, metro line etc ... Had access to the inside parking and that was an amazing bonus !
Fritz
2015-08-14T00:00:00Z
The condo is nestled in a clean, safe North York neighborhood. Walking distance to several restaurants. Very cozy, perfect for one or two travelers. I suppose a third person (or child) could crash on the very comfortable couch in the living room, if necessary. Speaking of crashing after a long day in the city, the bed was absolutely fantastic. I didn't do any cooking, but the kitchen looked well-stocked with any supplies that you'd need to whip up a nice meal using ingredients from the nearby grocery store. The entertainment options were a nice feature of the space. The hosts provided a speedy wifi connection, which helped with the easily accessible AppleTV (complete with Netflix). The place was very clean, but not in the sterile hotel fashion. It felt like house-sitting for a friend that liked to keep their place clean and tidy. Fantastic experience. I'd recommend it to anyone that I know and I'd certainly stay again if my travels bring me to the Toronto area again! I have nothing negative to say about the space. It was exactly what I was looking for when exploring different lodging options in the area.
Rory
2015-06-30T00:00:00Z
Staying at Imran and Nicole's was the best decision my husband and I made as first timers in Toronto. The condo is just as pictured, gorgeous views of the city , an extremely comfortable bed and very cozy. It was in the most perfect location one could ask for . Close enough to walk to the cities excitement of yonge street where all the restaurants , shopping , entertainment and transportation was centered but yet far enough to escape the cities noisy atmosphere and catch some shut eye. We were offered amenities such as towels , more than enough blankets /pillows ,internet , kitchen utensils , games , just to name a few so we were never bored or uncomfortable. The best features the condo had were the security officers in the building ensuring your safety , free parking , two bathrooms ,and a beautiful view of the city from the balcony . Communicating with Imran was wonderful from the beginning . He was very informative , gave suggestions of things to do in toronto , responded to questions on a timely manner , and even checked to see if we made it to pick the keys up on check in day which was such an easy process. Though the condo is not too spacious to host many people at a time , it is just enough space to entertain a couple or bachelor looking to enjoy toronto in search of a good price and excellent location. I would certainly recommend staying at Imran and Nicole's to anyone due to the great Hospitality ! if I'm in toronto in the future, I will not hesitate to contact them , they are wonderful hosts!!
Chimene
2014-08-05T00:00:00Z
Imran & Nicole's apartment is lovely - cosy, pleasant, well situated, and basically as described. We enjoyed our stay, had everything we needed and had our questions answered when we had any! Definitely would stay here again and recommend it if you want a base in Toronto that's well served by transport and amenities.
Anne
2015-03-06T00:00:00Z
Room Type
Entire home/apt
---
Property Type
Loft
---
Accommodates
2
---
Bedrooms
Toronto, ON, Canada