This cozy cabin is nestled high on a wooded sand dune and steps to beach. Chicago skyline can be viewed from the shore and accessed by train in an hour. Cabin has a deck in the treetops, fireplace, grill, beach toys, and bikes. For the literati, Nelson Algren slept here. Friendly neighborhood surrounded on three sides by Indiana National Lakeshore. The property abounds with wildlife, birds, racoons, and deer. The deck makes for great viewing and you can hear the waves in the distance. The cabin has an airy open layout. The great room has a gas fireplace. Kitchen is fully stocked and has a microwave and dishwasher. Bedroom 1 has a real queen bed and large closet. Bedroom two is very small, full bed and no closet. Folding crib available. Pull out couch sleeps 2, and several air mattresses are available. Sun porch is comfortable in 3 seasons. Ample street parking. Cabin accessed by 30 stairs. Miller is a quiet, friendly neighborhood, surrounded by miles of National Lakeshore black oak savannahs. It is several miles from downtown Gary, which has some dangerous areas. Miller has a train station, 2 miles from cabin, with 1 hour service to downtown Chicago with stops at the museum campus and famous Millenium Park. Price is $10 round trip with regular service starting early and ending late. 2 casual restaurants and an upscale coffee spot with free wifi are within walking distance, as well as a beautiful park and lagoon. 30 minute drive to Michigan City with restaurants, watercraft rentals, outlet shopping and casino. Train also runs to Michigan city. Important: A non-refundable deposit of $75 for 2 night stay and $150 for longer stays is required and will be applied to your reservation. Cleaning fee of $40.
We had a great time at the treehouse. It was perfect. Clean, cute and calming! Just a quick jaunt to Lake Michigan which we got to enjoy every morning of our stay. Thank you Tracy and family!
Brianna
2016-12-27T00:00:00Z
Nice place. Host (Tracy) was great and made arrangements while on her own travel. In the case of something not being quite right, she made it right for us. We would return and hope to in the near future.
Mike
2013-10-07T00:00:00Z
We loved staying in Tracy's cottage! We were there in mid Feb, so it was cold and snowing outside but nice and warm inside. It is fully stocked with a Netflix ready TV, games & a fireplace making it very relaxing and quiet. We loved looking outside at the quiet snow fall. The little town is also very cute! We absolutely loved it & will be returning!
Isabel
2015-02-15T00:00:00Z
An absolutely delightful and special gem just steps from wonderful parks and beaches and an short train hop to Chicago made even more perfect by amazing hospitality! We had an incredible weekend and will be back! Don't miss this one!
clint
2016-09-05T00:00:00Z
We were looking for a place to stay when visiting the area for a wedding and at the last minute decided to try airbnb. Tracy's cottage offered a fun stopover for a couple of nights pre-wedding giving us a chance to go to the beach. The cottage also has some local Chicago history which was great. Tracy was very responsive and professional, and we enjoyed our stay at the cottage. The neighborhood is a bit iffy at night though, so don't plan on staying out late.
Smita
2014-06-07T00:00:00Z
Our stay with Tracy was great. She was there to greet us and show us around, and accessible during our time there. The house was well set up and conveniently located for a girls weekend getaway. We would definitely love to go back!
Abby
2014-06-24T00:00:00Z
The reservation was canceled 10 days before arrival. This is an automated posting.
Jack
2014-09-02T00:00:00Z
I had an absolutely magical time staying in Tracy's very special home. I highly recommend it! It's a simply womderful cottage, cozy and calm, with everything you might need. I followed her advice and was never steered wrong...biked the path to the West beach and dunes, ate at the Miller Beach Cafe and 18th St Brewery, swam a zillion times, walked the beach with my morning coffee, spent time at gems like Miller's Vintage Kitchen, Indie Indie Bang Bang and Chesterton's Orbit Cafe (think I have that right?). I especially enjoyed learning about Nelson Algren. This house has a great feeling; Tracy has created such a lovely spot and is so kind to share it, thank you Tracy!
hope
2014-09-10T00:00:00Z
Room Type
Entire home/apt
---
Property Type
Cabin
---
Accommodates
6
---
Bedrooms
Gary, IN, United States
Wonderful cabin in the woods in scenic Michiana Shores. Peaceful location just a short walk to the beach. A perfect place to spend some time relaxing and enjoying life at a slower pace.
There is a queen bed in the master bedroom, bunk beds in the second bedroom, and a futon in the living room. While there is no cable, there is a TV with DVD player. Please bring your own beach towels. There are towels in the house for showers, etc. The screened in side porch has a table and chairs. There are numerous beach chairs on the porch as well. There is a charcoal grill on the outside deck. Along with a fairly complete kitchen, there is a coffee maker and coffee.
Very quiet neighborhood. Good for lazy walks and bike rides.
Room Type
Entire home/apt
---
Property Type
Cabin
---
Accommodates
5
---
Bedrooms
Michiana Shores, IN, United States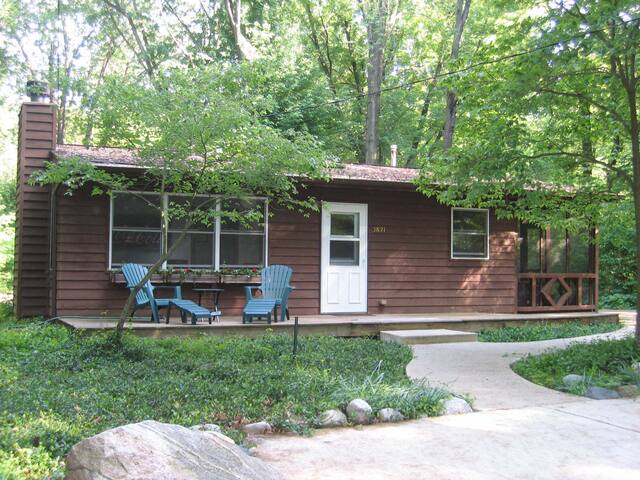 New kitchen! Plus The Woods! The Creek! The Beautiful Beach! You'll never believe our home is only 70 minutes from downtown Chicago. Our family has loved this log cabin for years. Now, it's all yours for your cozy, unforgettable getaway. FYI - because we're in the woods, we have switched from cable to Smart TV (with roku) that runs off our internet.
The house is on the large side (it can easily hosts ten people). The lake view is amazing (the beach is about ten minutes walking distance from the beach) and the hospitality by Terry was extraordinary. I would recommend this getaway to every and anyone.
Agnes
2015-07-06T00:00:00Z
Great cabin in a great quiet neighborhood! The house had a great floor plan for large groups and a ton of space in the newly renovated bathrooms and kitchen! We spent a lot of our time on the deck which also had plenty of room. Make sure to bring bikes and explore the surrounding area and beach. Communication with Terry was easy and fast, we hope to come back next summer!
Matthew
2016-07-06T00:00:00Z
Terry was responsive when I had questions. The neighborhood was nice. The home was not as listed for the following reasons: There was dog urine/musty smell; we had to buy items to make staying here tolerable. The home was not clean; the fridge had a lot of expired items and inside the dishwasher was dirty. The appliances were very out dated; not upgraded as in the listing. Lots of spiders/spider webs and there were mice. The mattresses and pillows had stains. The couches were dirty. The vacuum did not work. There were outlets with out plates on them. There was a vent in the master bath that did not have a vent; no air in here either. The yard was not maintained and the kids could not play out there. We had to clean the chairs on the porch before we could sit out there. The deck needs to be powerwashed there is a green mold on the wood; my daughter fell because it is slimy. We left early because we just did not feel it was safe for the kids; we tried to make it work but it just kept getting worse.
Brandi
2016-07-25T00:00:00Z
Terry was very easy to work with; quick to communicate before we arrived and flexible on the arrival time. Check in was made easy with the key was in a lockbox. Home was as described. Kitchen and bathrooms are updated and the kitchen was well stocked if you like to cook. A large dining table and 2 living spaces with plenty of couches made it comfortable for a larger group. (we had 7) The area is great. Friendly neighbors, well kept homes, etc. The house is definitely walkable to the beach but not so close that you can come and go easily. You'll want to pack drinks and snacks and plan to stay a while. Once you get there the beach is wonderful! Not overcrowded and also well maintained.
Abby
2015-07-16T00:00:00Z
This description was accurate and the cabin was very comfortable and more than large enough for our group (anywhere from 4-10 unrelated adults - note that we don't mind small beds/ sharing beds/ sleeping on couches though). We never met Terry in person but arrival and departure were made easy by the use of a lock box with code provided to us. It was a bit musty-smelling when we entered but we opened the windows and this cleared up in no time. It's about a 15 or so minute walk (on streets, not a path) to the beach and there is NO PARKING there so you have to walk or bike which was only an issue for two folks with us who had physical reasons they couldn't do those things but we got around it by dropping them off, driving back to leave the car at the cabin, and then walking over. Neighbors were pretty relaxed and we had a great time. Be prepared to clean up a bit at the end (wash and fold linens and towels and sweep the floors) but everything you need is provided except the basics you would always expect to need to bring. Towels, toys, books, games, beach stuff, linens, soap, and even some food were there waiting when we arrived. The beach is GORGEOUS and the water was beautiful. Sunset is not to be missed. Overall I'd highly recommend this listing and am very likely to stay here again in the future, possibly as soon as next year!
Kelly
2015-08-25T00:00:00Z
This is a great house if you are looking for lots of space. The bathrooms and kitchen were updated and the kitchen has everything you would need to cook. The house is clean and well-maintained. It is a 10 min walk from the beach, which is beautiful and very family friendly. There is also a park within walking distance of the house. Terry was great to work with, his neighbors are very friendly, and we would definitely rent this house again for our family vacation.
Yury
2015-08-05T00:00:00Z
This cabin is great for multiple generations. The two separate seating areas is a plus. The open kitchen is great. Convenient to the beach. The house is bigger than it looks in the picture. Washer and dryer in unit a welcome touch.
Barbara
2016-08-09T00:00:00Z
We truly enjoyed the house. There was plenty of room inside, perfect for entertaining. Our kids loved the smaller living room area with a TV. The kids were excited to explore all the bins with vintage toys. We loved the fact that both bathrooms were updated and clean. Kitchen was clean and also updated. The large table and huge countertop allowed us to spend a lot of time there- just talking and snacking. Unfortunately, most of the comforters/ linens were stained. We brought our own linens/ towels, but that's just the way we are. Someone else might not even pay attention to cleanliness of couches/ blankets and such. After all, the weather was great and we spent most of our days enjoying the beach which is just 10 mins away. The neighborhood is gorgeous, a lot of beautiful tall trees. Our kids loved the deck and going on bike rides. Terry has a great charcoal grill which we used everyday. Communication with Terry was VERY easy, he answered all of my e-mails within 10minutes. There was cable TV and Wi-Fi for guest use. We strongly recommend staying at Terry's place! It's perfect for family gatherings with small children. 
Emily
2016-08-03T00:00:00Z
Room Type
Entire home/apt
---
Property Type
Cabin
---
Accommodates
10
---
Bedrooms
Michiana Shores, IN, United States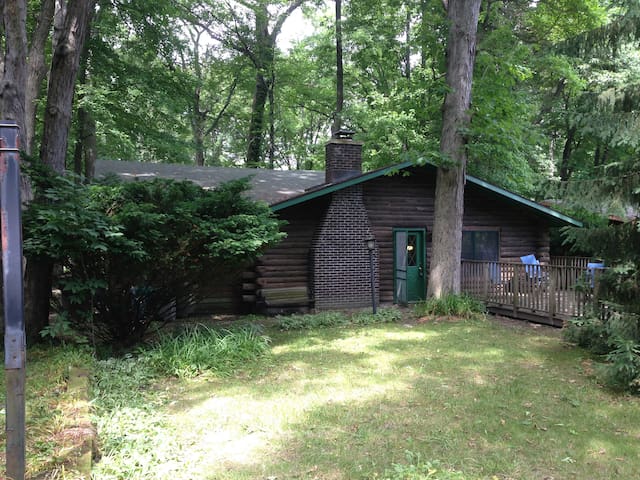 Come see the beautiful fall colors and enjoy a camp fire. Relax, unwind, and really get away from it all! Our cabin combines rustic charm with everything you might need. Located on 20 acres of beautiful wooded countryside, this cabin feels secluded and remote while only being 7 miles from Lake Michigan beaches and New Buffalo. We love this property so much that we also built our home there. Our family (complete with kids, dogs, cats and chickens) look forward to welcoming you to this cozy cabin.
Three bedroom each with a Queen bed plus a loft ( three single beds in loft) air conditioning,warm relaxing and comfortable accommodations. A great experience. This place is great for couples, families, friends, and with children older than 5 years of age.
Rural forestland 7 miles from Lake Michigan (on Michigan side).
Magical cabin! It was a perfect getaway from our busy lives in the city. We had a group of friends and everyone had a great time.
Kasia
2016-10-09T00:00:00Z
Amazing and relaxing! If your looking for a place to take the family, so that you can unplug and get some face time, this is the place. Rustic beautiful and lush with greenery, you will have a folgers moment every morning looking out the porch. Though cell service is spotty I took advantage of this feature with board and card games. Only downfall I'd say was water pressure. I'm already making plans for next year hopefully. The hosts are lovely.
Gideon
2016-08-08T00:00:00Z
Our Host family was amazing. They were so welcoming and kind. They greeted us when we arrived and showed us around the lovely cabin. That evening they brought over fresh cookies and they stocked the fridge with a dozen fresh eggs. The cabin is magical. The beds are all really nice and comfy. There is a wonderful screen porch and the kitchen is really well stocked for cooking.There are great books scattered all over the place, Wedgewood dishes, and beautiful antique quilts on the walls. This cabin easily sleeps three couples and three kiddos. You could even put someone on the couch. There is a family size table perfect for playing games and a lovely back deck with a great gas grill. We absolutely loved this place. We will definitely put it on our favorites list and return. The cabin is close to great parks on the shores of Lake Michigan and the grocery stores are not more than 20 minutes away. This place is ideal of families or groups of friends who want to unplug. It is big enough for everyone, but also cozy enough that two folks could have a romantic getaway as well. We loved the chickens, cats, and dogs. All of it was charming!
Rachel
2016-05-31T00:00:00Z
Unfortunately, we did not get to meet Angeline. But, the cottage was significantly nicer than the photos, which do not do it justice. It is a lovely cabin inside with a homey feel. We had 3 couples and drove back and forth for the Notre Dame game (took us about 40-45 minutes) and had plenty of room for each in the cabin. The hot water held out for 6 showers. The screened in porch and living room were great. Kitchen nice with amenities. Beds very comfortable. Plenty of linens. We enjoyed the fresh eggs from the hens. Definitely would recommend. Only things that would improve it would be more water pressure in the shower, a less squeaky floorboard at the second floor landing (woke all 4 of us downstairs when someone upstairs walked to the bathroom at night), and something to cushion the fireplace slightly elevated brick (my husband hit it with his toe which is now badly bruised). We greatly enjoyed our stay at this relaxing cottage. Great deal, as well. Would recommend it for other people traveling to/from the Notre Dame games. (Town also is nice. Ate there twice).
Roberta
2016-09-26T00:00:00Z
Angeline's cabin was absolutely wonderful. It was scenic, and peaceful along with being well stocked with all the things six adults needed. We all agreed that we couldn't have found a better place for what we were looking for. Come prepared to relax with few distractions, and lots of time for games and conversation with friends. We felt absolutely safe and secure, and Angeline was on site and very responsive when we had trouble trying to turn on the radiators, and respected our space the rest of the time. Also there were the two cutest corgi puppies named Dash and Roo.
Iwona
2016-10-23T00:00:00Z
Angie made us feel welcome from the very start. Once I booked the listing, she contacted me and offered us an earlier check-in, which unfortunately we couldn't take advantage of. Leading up to the stay, communication was very good -- thoughtful and courteous. Upon arrival, Angie met us in person, gave us the tour of this amazing property, and then left us with a dozen fresh eggs from the chickens on the property! We absolutely love this place. As good as the listing is, it doesn't do the property justice. The cabin is gorgeous and rustic yet appointed with modern amenities (kitchen appliances, etc.). It's spacious, quiet, and secluded without being remote. It's shocking to us that the place is only 80 minutes from Chicago -- it felt like being in another world! So serene and rejuvenating. We cannot wait to get back to Angie's place for a longer period of R&R. The property is also located a very easy drive from several towns where they have excellent antique shops. We did a bunch of antiquing while there. We also grilled our food on the deck every morning and night. This was one of the best airbnb experiences I've ever had.
Greg
2016-09-19T00:00:00Z
The pictures are very accurate. This is a nice shabby cabin. Floors are quite sqeeky though. Location is great. We enjoyed fresh eggs and kids loved looking at hens an playing with Tucker. Oliver was not so friendly he attacked our dog but there was no harm to our dog as I stepped in in time. Overall we had a good time.
Kasia
2016-09-05T00:00:00Z
This was the perfect getaway cabin if you want to unplug, relax and just enjoy nature. The cabin is surrounded by beautiful tall trees and the hosts' adorable pets and chickens. Our favorite part of the house to enjoy all of this was the screened-in porch which was the perfect place to have coffee in the morning and to relax at night. The cabin itself was very spacious and it felt a lot bigger than what the photos led us to believe. We had 6 adults, 3 kids and a baby in our group and we had plenty of space for everyone to sleep and roam around. The kitchen was stocked with all the cooking/eating essentials that we needed to make breakfasts and we also enjoyed the keurig and espresso machines too. When we first arrived we had a little bit of trouble locating the cabin off of the main road but Angeline came out right away to point us into the right direction. We would definitely stay here again and highly recommend it!
Matt
2016-08-01T00:00:00Z
Room Type
Entire home/apt
---
Property Type
Cabin
---
Accommodates
8
---
Bedrooms
La Porte, IN, United States
Lovely home featured in Michiana Home Tour! Charming, completely updated, three bedroom-plus cottage just a short two minute walk to Lake Michigan. Fully equipped for fun by the lake. Quiet road leads to Lake Shore. Huge screened porch and second private porch off bedroom, outdoor shower, extra-large private backyard. Great kitchen, large dining area, living room, indoor sun porch, kid's play loft and sitting room. Bonus office in master bedroom. One of the areas most complimented homes!
Great for families, girlfriend get-togethers, reunions, couples. Primary renters MUST BE OVER 25 YEARS OF AGE. WEEKLY RENTALS ONLY IN SUMMER! Memorial Weekend to Labor Day Weekend.
Room Type
Entire home/apt
---
Property Type
Cabin
---
Accommodates
9
---
Bedrooms
Michiana, MI, United States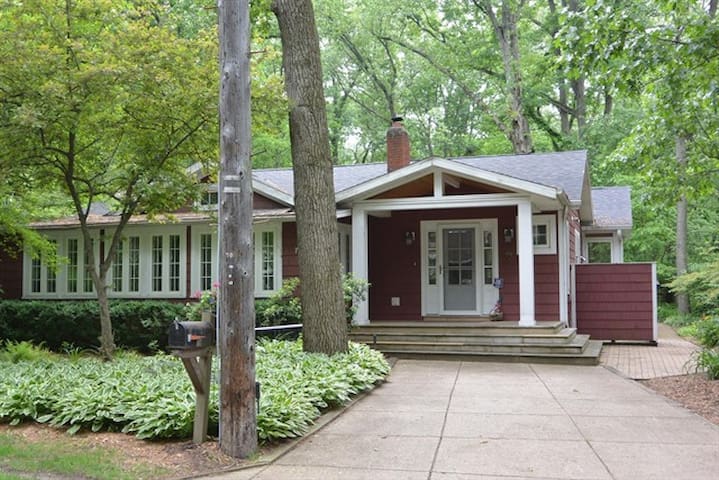 1

–

5

of

5 Cottage Rentals
Enter dates to see full pricing. Additional fees apply. Taxes may be added.