Spacious, clean and comfortable. Located 5-25 minutes from Disneyland, Chapman University, Knotts Berry Farm, beaches, major malls and trending eateries. Private entrance to this detached unit on the residential property of a 7k lot, end of the cul-de-sac of a quiet street. French doors, kitchenette a full-size fridge and induction burner for lite cooking. Grill or relax on your own roomy patio. Queen-size super comfy brand new mattress, pullout sleeper (twin) queen air mattress if needed. Park on driveway.
Nicely converted detached, 450 square-foot loft.
We are in the located in the wonderful town of Orange in Orange County, California. The city of Orange is popular because of antique stores and restaurants at the city's "Circle" and the many movies that were films here, including "Forest Gump". Surrounding cities are Anaheim, Villa Park, Tustin, etc. Close to John Wayne airport, Disneyland, Anaheim Convention center, UCI, Angel stadium, the Honda Center (Twenty-one Pilots, Ariana Grande, Mighty Ducks, LA Kings, Brad Paisley) and the Grove Concert Hall. Position between several major freeways. Also walking distance to shopping and restaurants. Every night at 9:30pm (for 15 mins) you can definitely hear and sometimes see the exciting Disneyland firework display.
It felt like staying with family. Pam, the host, is warm and accommodating. The space is beautiful and located in a quiet yet accessible part of town.
Tanya
2017-03-07T00:00:00Z
Pam's place was a great bargain during a busy convention in Anaheim. It's on a quiet cul-de-sac about 10-15 minutes from the convention center and Disneyland, and will save you hundreds compared to Anaheim hotels.
Jedediah
2017-03-11T00:00:00Z
This large converted space was perfect for my trip. Clean and thoughtfully put together, it's also in a very quiet neighborhood. I really didn't see the hosts except for check in but Pam was very quick to respond. This is a great place to stay for a quiet escape. It's very close to orange circle for evening eats and drinks.
Ryan
2017-03-15T00:00:00Z
Me and my boyfriend took a weekend vacation here and, out of our AirBnB experiences thus far, it has been the best! The place is exactly how the pictures portrayed it -- it was very clean, cozy, and comfortable! It was a little colder in Orange when we visited, but Pam had the loft equipped with enough heaters that we stayed warm all throughout the night. In addition to great decorations, Pam also had supplied towels, toiletries, light snacks, tea/coffee, and hair dryer/straightener (a huge plus for those who are packing light!!) Since our travel plans had been a little hectic on check-in day, we arrived earlier than planned. Thankfully Pam was more than willing to accommodate our schedule and let us check in early -- a HUGE help! She even offered to pick us up from the airport -- above and beyond what we had expected! The neighborhood was very quiet, calm, and secluded but close enough to get around to the bigger parts of town. We used Uber/Lyft while we there and to get to the club area / Disneyland / airport, it only cost about $15.00! I would definitely recommend staying at Pam's loft -- the location was excellent for our needs, the unit was comfortable, clean, and nicely decorated, and our hosts were attentive and quick to respond with any of our requests. Thank you so much for having us!!
Teresa
2017-02-26T00:00:00Z
Pam's place is super cozy and she is an awesome host! Super responsive to any issues and very communicative - just remember to let the hot water run for a while before you plan to take a shower as it takes a while to warm up. Will definitely stay again for future trips down to Anaheim!
Rick
2017-04-02T00:00:00Z
Pam was a great host and easy to communicate with over email.
Josh
2017-03-19T00:00:00Z
This is the perfect place to stay for a quick get away or a business trip. Close to the freeway, a variety of restaurants, and easily accessible, I highly recommend staying here. Perhaps the best part is the friendly smile upon your arrival, Pam is better than any hotel concierge! She knows exactly where to find the best of everything. The room was spacious and clean; the bed comfortable; everything I could/would need was available. I'd definitely stay here again!
Sean
2017-03-27T00:00:00Z
Great location if you are traveling to the Eastern Greater Los Angeles area. Pam is very good with communicating and will help with any issues that may arise throughout your stay. As always, I wish my trips were for recreational purposes but I had a comfortable stay nonetheless.
Richard
2017-04-07T00:00:00Z
Room Type
Entire home/flat
---
Property Type
Loft
---
Accommodates
3
---
Bedrooms
Orange, CA, United States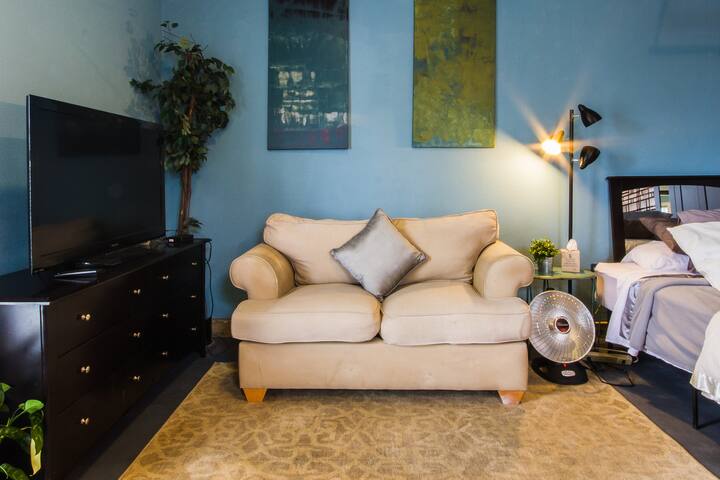 This beautiful creative space can accommodate up to 20 people for a party or group function. It's the perfect location for work parties, photo shoots, meetings, bridal showers. etc. The possibilities are endless. Rowdy parties are not tolerated.
This wonderful space will not only save you money, it will give you the chance to spend quality or working time together without having to separate into different rooms. Unique, spacious and tranquil, it can accommodate an entire film crew, bachelorette party, birthday party Also perfect for photo studio work. A minute walk and you can relax at Glow Day Spa, have your hair done at Synergy Salon, or even do Zumba. There is a CVS, laundromat, department store, arts and craft store and a post office, all within five minutes walking distance. This space has one bathroom and no shower, but I will provide toiletries to freshen up. With lots of natural sunlight, 28 recessed lights, dimmable track lights and lots of table lamps, you can brighten up, or create a warm inviting atmosphere at the touch of a button. There is a small well stocked refrigerator, microwave and very large countertop for food serving. There is not a stove or oven.I will provide an ample supply munchies.
The loft is in the perfect location for privacy, no prying eyes from neighbor's, no need to worry about the noise level, within reason of course. Private, yet is very safe to come and go as you wish. Please note, this is not an overnight venue. Things should begin to wrap up about 10:00pm-11:00pm. Close to everything, 5 minutes from the 55 freeway, 10 minutes from Disneyland, 15 minutes from the beach. Clean, tranquil and relaxing.
It is a really nice place!!! Best experience ever!
思佳
2016-12-10T00:00:00Z
My group and I were all in awe of the studio. As soon as everyone walked in, they were amazed with the design of the place. Leanna met all of our expectations and was very welcoming and helpful.
stephanie
2016-05-16T00:00:00Z
Her studio space was a great place to have birthday party with family and friends. She hand painted and designed the whole place herself and it is just beautiful. One of her paintings had my family in awe as it looked 3D. She was a great host and had plenty of linens and mattresses to use. This studio has a lot of open space and you can make as much noise as you want. There is also a mini fridge to use. She also let us use her fog machine and strobe lights.
Meghan Gabrielle
2016-05-29T00:00:00Z
Great space for big groups. Very open feel and sound proof.
Kylee
2016-08-27T00:00:00Z
Great place! Loved it and host was very sweet!!
Louie
2016-09-05T00:00:00Z
Leanna was great and very accommodating to our needs. Highly recommend.
Gene
2016-12-09T00:00:00Z
Leanna was so nice and accommodating! She went above and beyond and was an absolutely fantastic host! Space was super clean and nice. The pictures do not do it justice, much nicer in person!
Michael
2016-06-10T00:00:00Z
Unfortunately, I didn't get to meet Leanna due to a family emergency, but I believe that she tried to accommodate us as best as she could, given the circumstances. The place is beautiful! Renting out the location was perfect for my little get together. The location comes with many different lights and even a fog machine! I would definitely come back!
Roselle
2016-11-27T00:00:00Z
Room Type
Entire home/flat
---
Property Type
Loft
---
Accommodates
16
---
Bedrooms
Orange, CA, United States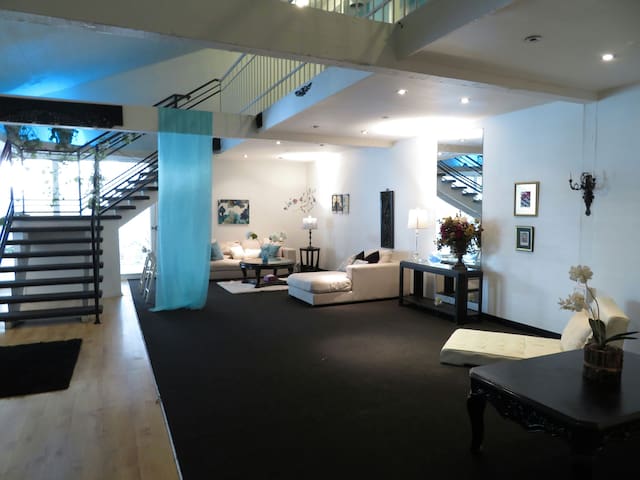 Enter dates to see full pricing. Additional fees apply. Taxes may be added.