The perfect place to stay while visiting the Central and Eastern part of the Netherlands. Relax and enjoy your privacy, surrounded by trees and a flowery meadow. Go for a beautiful walk across the adjacent Estate (with well-preserved old farmsteads). Nearby are the Hanseatic League cities of Zutphen (8km) and Deventer (9km). Also, National Park De Hoge Veluwe (22km), where you will find the brilliant Kröller-Müller Museum with a large collection of Van Gogh paintings, is well worth a visit.
You have the cozy cottage all to yourself, so you will be able to enjoy plenty of privacy. Downstairs you will find a bright living room with sliding doors to the porch with a private terrace. We have a sofabed (to fold out to a spacious and comfortable double bed ) and a large wooden dining table. During spring, summer and autumn you can enjoy the flowers in de meadow and watch a great variety of birds. And perhaps you will even spot a reindeer from your lazy chair. On the terrace is a firepit where you can light a cozy fire. We provide plenty of firewood. Downstairs we offer basic sanitary with shower, toilet and sink. You can use a washing machine and dryer for a small compensation. Also there is a games console and TV with Netflix available. Upstairs there are two sleeping rooms, one with a double bed (hotel boxspring) and the other with two single boxsprings. The cottage is comfortably heated with underfloor heating. The cottage doesn't have a full kitchen, however, there is a refrigerator and microwave. And don't worry about where to park your car. We have on-site parking.
Voorst is a small village with the old 12th Century Church overlooking the floodplains of the river the IJssel. It has a lot of old buildings, including a charming windmill and historical farmsteads scattered over the area. The area is a real gem, untouched by unsightly development and not spoilt by mass tourism. A couple hundred meters away is a bakery, and you can buy your fruits and vegetables at an organic grower, or buy tulips directly from the grower. The cottage is one hour drive away from Amsterdam, and is ideally located to discover the Central and Eastern part of The Netherlands. The historical Hanseatic League cities of Zutphen and Deventer (9 km) are close by. Or visit the very small pittoresque city of Bronkhorst 20 km). You can also take a nice daytrip to National Park De Hoge Veluwe (22 km, with the famous Kröller-Müller museum with the second largest collection of Van Gogh paintings worldwide). Near the city of Arnhem (33 km) you will find some interesting attractions like the Nederlands Openluchtmuseum, Burgers' Zoo, and the Airborne Museum. Near Apeldoorn you can visit Paleis Het Loo (16km). This 16th century palace has beautifully decorated royal chambers and gorgeous gardens with ….symmetrically planted flowerbeds. If you want to relax/pamper yourself, you can go to the nearby Thermen Bussloo (4km, one of the most beautiful and exclusive sauna, beauty and wellness resorts in The Netherlands).
I spent two nights with my young daughters here and really enjoyed the stay. The small cottage at the forest edge allows for some nice walks in the immediate neighborhood. The hosts were very welcoming, and helped me entertain my girls by making sure there were plenty of toys for them to play with.
Ward
2016-10-21T00:00:00Z
amazing little getaway house in a wooden area - comfortable, scenic and fun. If they had a kitchen it would have been absolutely perfect :)
Tom
2016-11-08T00:00:00Z
Great little getaway in the middle of nature! Perfect place to relax. Very nice hosts, friendly and helpful, they make you feel like home! The house is very cute, cozy and clean with a beautiful huge garden and full sense of privacy. It is only lacking a kitchen, not that we needed it since we only stayed for one night, but would be good to have if you are staying for longer. Coffee and tea was available any time. Also very nice breakfast (cost not included) served in the morning ;) Would highly recommend if you want a romantic peaceful getaway in the nature! Thank you for the hospitality! Melina and Tom
Melina
2016-11-20T00:00:00Z
This place is a perfect! A beautiful forest house at this amazing part of the Netherlands. Hosts are lovely and welcoming. Very much recommend.
Aki
2016-12-24T00:00:00Z
Een ontzettend fijn en prive huisje aan de rand van het bos. Goede voorzieningen, warm welkom, lekker ontbijtje en een uitzonderlijk lekker bed+lakens!! Kortom: dikke aanrader!
Nanda
2017-01-31T00:00:00Z
We hebben een heerlijk verblijf gehad in dit huisje, tussen twee dagen Thermen Bussloo. Het huisje is precies groot genoeg voor 4 personen en heeft alles wat je nodig hebt. Heerlijke bedden, een mooie rustige plek en zelfs een houtkachel om nog tot laat buiten te kunnen zitten. Annegreet en haar man Rik waren zeer vriendelijk en reageerden super snel op onze verzoeken. We hebben gebruik gemaakt van het ontbijt, en hoewel het wat minder was dan verwacht, was het erg fijn dat we het bij het huisje konden bestellen. Top!
Nicky
2017-01-15T00:00:00Z
Heerlijk verblijf en prachtige bosrijke omgeving om te wandelen/fietsen!
Linette
2016-11-27T00:00:00Z
Prima verblijf en is zeker aan te bevelen.
Gijsbert
2016-12-30T00:00:00Z
Room Type
Entire home/flat
---
Property Type
House
---
Accommodates
6
---
Bedrooms
Voorst Gem Voorst, Gelderland, Netherlands
Centrally located between the picturesque towns of Zutphen and Deventer is our lovely cottage with private sauna. On the estate the Bongerd you will find peace and relaxation. The Cottage has its own entrance. Het Loo Palace, Spa Bussloo, golf courses and a variety of quality restaurants enrich our environment. Cycling and walking are among the many popular activities, on the edge of the Veluwe. Public transportation is within walking distance. Bicycle rental and parking on site is possible.
The cottage has its own kitchen with stove, refrigerator and coffeemaker. On the first floor you will find a romantic bedroom with a spacious double bed. The bathroom has a shower, sink and toilet. You can also make use of the sauna located in the bathroom for free. We can provide you with a delicious breakfast (optional). The extra cost are 7.50 Euro p.p. We can accommodate more people, please contact us for more information. The cottage is surrounded by our beautiful garden, on hot days you can enjoy the sun and peace and quite on a bench.
Between Veluwe and the river the IJssel, between the beautifull cities of Zutphen, Deventer and Apeldoorn, there is the small town of Voorst. A lovely area for walking and / or cycling and to enjoy the many estates and stately (IJssel) farms. What about a bootcruise in Zutphen or unique golf courses. Or Shopping in Deventer!
Hartelijke ontvangst op prachtige locatie in mooie omgeving met heerlijke privé-sauna.
Arnoud
2017-02-12T00:00:00Z
Een mooi huisje op een prachtige locatie! Echt een aanrader. Prima service en leuk contact met Bernadette. Een bezoek aan de nabij gelegen ruïne slot Nijenbeek is ook zeker een bezoek waard.
Dré
2017-03-17T00:00:00Z
De B&B is top! Niks op aan te merken. Schoon, knus, en vooral fantastische plek!!! Wat een mooie tuin en die ooievaars; geweldig! We voelden ons zeer welkom en zijn in de watten gelegd met heerlijk aankomst chocolaatje en ontbijt! Dank je wel Bernadette. We komen zeker nog een keer.
Sabine
2017-04-02T00:00:00Z
Een prachtige locatie om heerlijk tot rust te komen. Bernadette is een zorgzame gastvrouw. We kunnen van harte het ontbijt aanbevelen!
Sander
2017-03-12T00:00:00Z
Mooie plek met leuk uitzicht op een ooievaarsnest. Alles tot in de puntjes verzorgd en ook het ontbijt is een aanrader!
Nienke
2017-02-27T00:00:00Z
Bernadette is vriendelijk, heel behulpzaam en haar ontbijt was overheerlijk. Het contact voorafgaand verliep soepel. Bijzonder leuk dat er een sauna is. De bongerd is prachtig. Een rustige plek waar je mooi kunt wandelen. Een aanrader!
Martijn
2017-01-15T00:00:00Z
Room Type
Entire home/flat
---
Property Type
Cabin
---
Accommodates
2
---
Bedrooms
Voorst Gem Voorst, Gelderland, Netherlands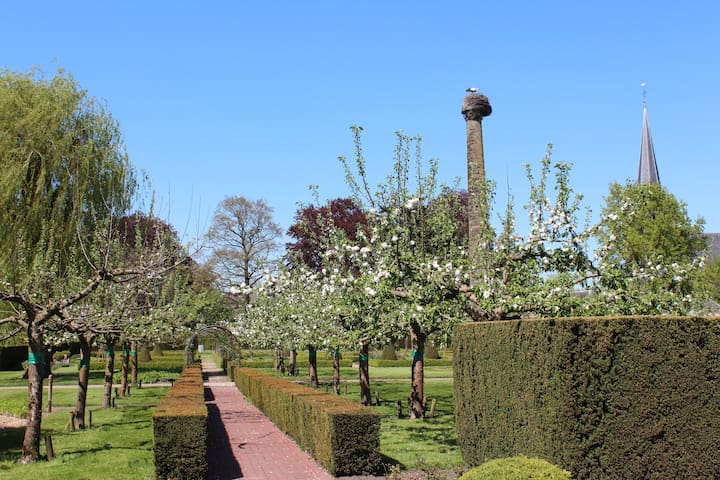 Our new appartment is situated in an ancient presbytery. The perfect base to explore nature in de Achterhoek, biking, walking or to visit the Hanze cities Zutphen and Deventer( 10 min by car),Apeldoorn (15 min) Breakfast is upon request.
Upon arrival I ' ll happily show you around my new appartement where you ' ll stay in cosy relax sittingroom with kitchen and private bathroom with shower and toilet. Separate sleepingroom with 2 box spring beds. You have a private entrance , WiFi. Kitchen supplied for cooking, macrowafe, watercoocker, coffeemachine, tea, sugar, milk, ready for use.Supermarket, restaurants nearby. Within a 5 min walk you find yourself in nature and countryside near by The IJssel . I' ll be happy to make you feel at home and help you out If you have questions. If you would like me to arrange a breakfast for you , please let me know.Extra costs 7,50€ p.p I am also a fully licensed massage therapist with a practise at home. If you choose to arrange a good relax massage after a nice day of sightseeing or walking, you can get an hour massage at reduced cost.
The countryside is nearby, lot of walking near the Yssel or Tondense Hei. Biking trails all around, sauna and wellnesscentrum and golfcourse nearby (8 km), cities like Zutphen, Deventer, Apeldoorn easy to drive to. New museum modern realism in Gorssel .
It was a very pleasant stay. Very good connection to Deventer and Zutphen. The Appartment is just the right size for two people. This was definitely not our last stay with Lieesbeth.
Joachim
2017-02-18T00:00:00Z
Voorst is a nice quiet town close to major centres, good restaurants & a bike path. The apartment is as described. It is beautifully maintained & private and quiet. Definitely one of our best Airbnb. We would stay here again.
Cecile
2017-04-05T00:00:00Z
Na een zeer vriendelijke ontvangst door onze gastvrouw hebben wij een paar heerlijke dagen doorgebracht in het gerieflijke appartement. Heerlijke wandelingen gemaakt langs de IJssel en door bos en weilanden. Zutphen en Deventer zijn leuke steden in de omgeving om te bezoeken. Het appartement en de omgeving voldeed aan al onze verwachtingen.
Marie Claire
2016-03-04T00:00:00Z
We werden hartelijk ontvangen door Liesbeth, het appartement ziet er precies zo uit als op de foto's en is van alle gemakken voorzien. De omgeving is prachtig en Voorst is een prima uitvalsbasis voor een bezoek aan Zutphen, Deventer of Apeldoorn. Een aanrader!
Thijs
2016-07-31T00:00:00Z
We hebben een héérlijk verblijf gehad in het appartement. Het ziet er precies zo uit als op de foto's. Alles leek nog hartstikke nieuw, fris. Prachtig afgewerkte badkamer en smaakvol ingericht, zoals het gehele appartement trouwens. Heerlijke bedden. In de slaapkamer waren mooie luiken waarmee je de slaapkamer kan donker maken, schitterend. Hoge plafonds. De woonkamer/keuken was compleet ingericht, alles aanwezig en ook nog gezellig. We hebben ook nog gekookt, wat prima ging! De hoge ramen waarmee veel lichtinval werd verkregen vond ik een extra cadeautje. Verblijven in een pastoriewoning heeft een extra dimensie, met ramen die je nog ouderwets met een stok opent. De sfeer van een oude woning in combinatie met stijl, comfort en smaak maakt het verblijf bijzonder! Er ligt een mooie tuin voor. Je bent zo buiten het dorp, werkelijk een schitterende omgeving voor wandelen en fietsen. 's Ochtends vroeg net even buiten het dorp op het bankje bij de molen gezeten, in het zonnetje, wat een cadeautje! Liesbeth is een heel lieve gastvrouw. We mochten ook de fietsen gebruiken en ze gaf ons leuke tips voor eten en omgeving. We voelden ons echt welkom en was gewoon heel fijn. Ook haar partner was heel aardig, hij heeft ons welkom geheten en rond geleid. Al met al een heerlijk verblijf en een echte aanrader!
Martine
2016-04-18T00:00:00Z
Ik zocht een plek om even tot rust te komen dichtbij Thermen Bussloo. Hoewel Thermen Bussloo me, vanwege de enorme uitbreidingen, niet de rust bood die ik zocht, vond ik die in Liesbeth's oude pastorie wel. Het appartement is echt met zorg en aandacht voor detail gerenoveerd en ingericht. Zowel de smaakvolle inrichting als de faciliteiten kloppen precies: alles is van hoge kwaliteit en er is niets teveel en niets te weinig. Erg inspirerend voor hoe ik het thuis ook wil gaan doen. Ik was ontzettend blij met dit unieke plekje en zou het iedereen van harte aanbevelen.
Cynthia
2016-09-23T00:00:00Z
We hebben het goed gehad in de pastorie. Mooie omgeving, lekker op de fiets naar Deventer en Zutphen, en dobberen in de thermen van Bussloo. Alles wat je nodig hebt is aanwezig in het appartement, inclusief basisvoorraad in het keukenkastje. Met aandacht verzorgd, tot en met de narcisjes op het tafeltje. Prima.
Irene
2016-03-23T00:00:00Z
Geweldige locatie onder de rook van Deventer. Landelijk gelegen met veel wandel- en fietsroutes
Marscha
2017-01-02T00:00:00Z
Room Type
Entire home/flat
---
Property Type
Apartment
---
Accommodates
2
---
Bedrooms
Voorst Gem Voorst, Gelderland, Netherlands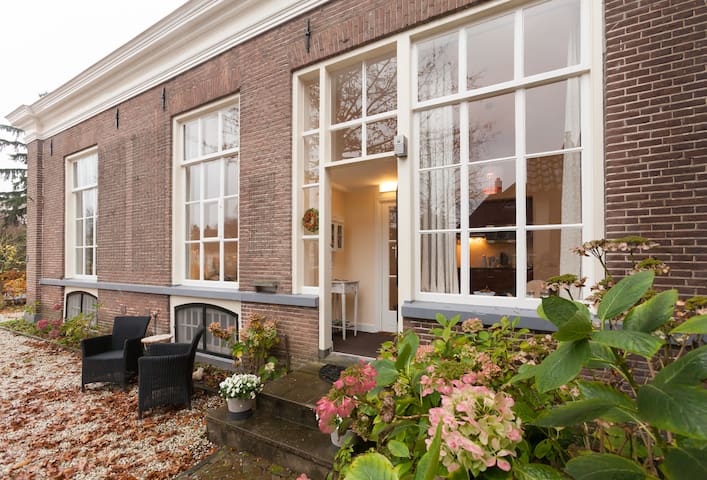 Zwischen den grünen bewaldeten Veluwe und der überraschenden malerischen Landschaft der IJssel-Tal werden Sie diese vollständig und komfortabel eingerichtete Ferienhaus. Sie können Fahrrad und Wanderung, Kultur zu gewinnen, ein Buch lesen oder zu schreiben, nichts tun ... was Sie wollen.
Sie geben durch einen separaten Eingang auf der Terrasse im Südosten. Der Flur führt in das Wohnzimmer, die eine angenehme, ruhige Atmosphäre ausstrahlt. Es gibt Terrassentüren zur Terrasse. Sie sehen von hier auf den Feldern und Hainen von Domain 'De Poll. Im hellen Wohnzimmer mit massiver Eiche Etage finden Sie einen Fernseher, DVD-Player, kleines Audio-System. ... und Sie haben kostenlose WiFi. Für die kälteren Tage gibt es eine Zentralheizung (wie in allen Zimmern), und Sie können ein gemütliches Feuer im Holzofen schaffen. Das Holz ist für Sie bereit. Im separaten Schlafzimmer hat zwei sehr bequeme Betten mit Memory Foam-Matratzen von 90 x 200. Sie können als Doppel- oder ohne Bezug verwendet werden. Sie bevorzugen getrennt schlafen: das Sofa im Wohnzimmer ist eine Bewegung, ein köstliches Bett. Es gibt Seide Quilts für wenn es heiß ist; im Winter die Tempur Quilts. Durch eine Schiebetür erreichen Sie die private Terrasse auf dem Nordwesten des huis.Je über einen separaten Eingang an dem Süd-Ost auf die Terrasse ein. Der Flur führt in das Wohnzimmer, die eine angenehme, ruhige Atmosphäre ausstrahlt. Es gibt Terrassentüren zur Terrasse. Sie sehen von hier auf den Feldern und Hainen von "De Poll. Im hellen Wohnzimmer mit massiver Eiche Etage finden Sie einen Fernseher, DVD-Player, kleines Audio-System. ... und Sie haben kostenlose WiFi. Für die kälteren Tage gibt es eine Zentralheizung (wie in allen Zimmern), und Sie können ein gemütliches Feuer im Holzofen schaffen. Das Holz ist für Sie bereit. Im separaten Schlafzimmer hat zwei sehr bequeme Betten mit Memory Foam-Matratzen von 90 x 200. Sie können als Doppel- oder ohne Bezug verwendet werden. Es gibt Seide Quilts für wenn es heiß ist; im Winter die Tempur Quilts. Durch eine Schiebetür erreichen Sie die private Terrasse auf der Nordwestseite des Hauses. Sie haben eine eigene, großzügig ausgestattete Küche. Finden vierpitter eine Haube setzen, integrierten Kühlschrank mit Gefrierfach, Konvektion-Mikrowelle, Toaster, Mixer und Mixer etc. Es Kaffee auf vier Arten ist, und für die Milchliebhaber gibt es einen Nespresso-Schäumer. Von der Küche aus gelangt man in die Dusche / WC. Mit Handtücher, Fön, Erste-Hilfe-Kit, ein Krug und - wie die Saison schon sagt - Heizung. Alle Zimmer verfügen über Türen oder horramen.
Seine Außenseite ist ein ausgezeichneter Ausgangspunkt für Wanderer und Radfahrer. In einem Augenblick, sind Sie an der IJssel. Die reiche und vielfältige Kulturlandschaft dieser Gegend ist Ihr Hinterhof. Genießen Sie die bewaldeten Ufer, umgeben von Wiesen, Wäldern und Hainen, Auen und alte Deiche. Und natürlich die vielen (Verdrängungs-) Vögel, die Hirsche und die schönen uitkijkjes. Die alten Hansestädte Zutphen und Deventer (beide weniger als 10 km entfernt), mit seinem historischen Stadtzentrum und den wichtigsten kulturellen Angeboten, sind kaum zu übersehen. Sie können gutes Essen bekommen, gibt es schöne Märkte, hübsche Geschäfte und angenehme Terrassen. Bio-Lebensmittel können Sie gehen auch in den beiden Städten. Sowohl Deventer und Zutphen ist eine Stadt, zu Fuß, ob es geht, sehr lohnend.
Een absolute aanrader! Het huisje is heerlijk knus en van alle gemakken voorzien: een goed uitgeruste keuken, een mooie badkamer, heerlijke bedden, een open haard (met hout) en ook nog twee fietsen. Je hebt uitzicht op de landerijen waar je heerlijk kunt wandelen en fietsen. Sarah en Rita zijn hele vriendelijke mensen die alles top voor elkaar hebben: Alles was super schoon en bij aankomst stond er een vaas met bloemen en fruit voor ons klaar. Wat een warm welkom!
Malou
2016-11-27T00:00:00Z
We zijn erg leuk ontvangen en rondgeleid in ons onderkomen. Wat een leuke mensen zijn dit. De omgeving is super, we hebben gefietst naar Deventer en naar Zutphen, onderweg een geweldige natuur.
Ed
2016-07-24T00:00:00Z
Een echte aanrader. Alles is aanwezig, netjes en goed verzorgd. Het huisje ligt in een rustige omgeving en is smaakvol ingericht. In de buurt zijn veel mooie wandelingen en fietstochten te doen (goede fietsen inbegrepen) en als het niet zulk prachtig weer was geweest dan hadden we zeker gebruik gemaakt van de houtkachel. Sarah en Rita hebben ons welkom laten voelen en gaven goede tips over de omgeving. We waren hier met ons 9 weken oude zoontje en ook daarvoor was het huisje geschikt. Wat ons betreft zeker voor herhaling vatbaar.
Jennifer
2016-05-07T00:00:00Z
De verhuurders zijn gulle mensen die je gelijk thuis laten voelen. Het huisje is perfect ingericht met mooie spullen, alles functioneert naar dikke tevredenheid. Aardbeien, courgette uit de tuin werden ons aangeboden en in de koektrommel zaten de lekkerste koekjes..............
Gabrielle
2016-07-31T00:00:00Z
Een toplocatie! Voor wie wil fietsen langs de prachtige IJssel, de bijzondere steden Zutphen en Deventer wil leren kennen en terug wil keren in een perfect huisje waar niet alleen alles is, maar ook nog van een bijzondere kwaliteit qua sfeer en inrichting. Zorg en aandacht spreekt uit de details. En dan ook nog een aardige gastvrouw!
Annerieke
2016-08-09T00:00:00Z
Ga je naar Sauna Bussloo en wil je overnachten? Zoek niet verder! Knus huisje met fantastische bedden en mooi uitzicht over het maisveld. Je wordt verwelkomt door een enthousiaste host en er staan zelfs prachtige bloemen en vers fruit voor je klaar! En dan ook nog badjassen en een extra handdoek voor in de sauna. Om maar niet te spreken van de fietsen om te shoppen in Deventer of een mooie tocht door het prachtige landschap in de omgeving! Wat wil je nog meer? Sarah en Rita, hartelijk dank voor de gastvrijheid. We komen snel weer!
Charlotte
2016-10-02T00:00:00Z
Room Type
Entire home/flat
---
Property Type
Other
---
Accommodates
2
---
Bedrooms
Voorst Gem Voorst, Gelderland, Netherlands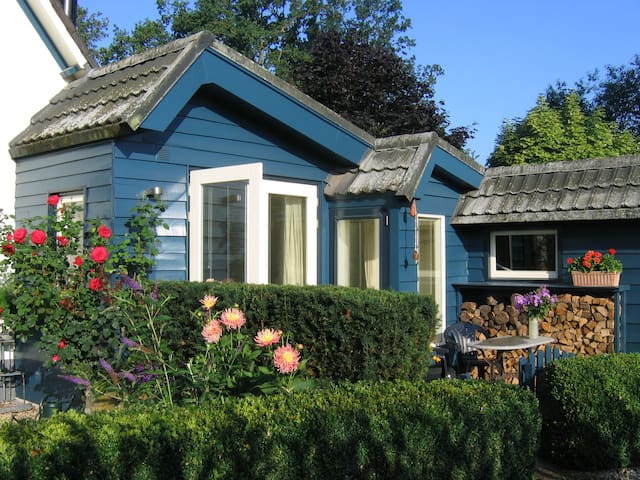 Das Gästehaus befindet sich auf einem privaten Grundstück von 6600m2 gelegen, zusammen mit unserem alten Bauernhaus und ein Pflegeheim. In dem neu eingerichteten Wohn- / Schlafzimmer können Sie die Luxusliegen, Flachbildschirm-TV mit DVD-Player, WLAN und einen sehr komfortablen Boxspring genießen. Die geräumige Küche ist zusätzlich zu den üblichen Annehmlichkeiten wie ein Kühlschrank, Mikrowelle, Backofen, Ceranfeld und Geschirrspüler.
Diese schöne Gegend mit vielen Wander- und Radweg sind ideal für die Wälder und die schöne ijsselstreek genießen. Natürlich ist ein Besuch am Strand Bussloo, Wellness-Resort Spa Bussloo oder sehr wert auf die attraktiven Städte Apeldoorn, Deventer und Zutphen.
Room Type
Entire home/flat
---
Property Type
Other
---
Accommodates
2
---
Bedrooms
Voorst Gem Voorst, Gelderland, Netherlands
Als enige gast geniet u van veel privacy en rust. Eigen oprit, gratis parkeren, terras en eigen ingang, aan de westrand van het dorpje gelegen. Wellnesscenter Thermen Bussloo, de hanzesteden Zutphen en Deventer en National park Hoge Veluwe met het Kröller Müller museum is vlakbij, evenals het Marskramerpad (LAW3). Museum MORE in Gorssel: een mooie fietstocht van 10 km en de IJsseloversteek met het fietspontje.
Wij verhuren alleen dit apartment, dus als onze enige gast bieden wij u privacy and rust. De kunstschilder Thierry Rijkhart de Voogd bouwde dit huis samen met zijn vrouw, de beeldhouwster Maïté Duval, in 1974. Aan het einde van een zeer rustige woonstraat gelegen kennen wij alleen verkeer door omwonenden.
Het is heerlijk fietsen en wandelen direct vanaf ons verblijf. 3 km naar het recreatiemeer Bussloo met Wellness center "Thermen Bussloo", of 3 km langs bossen en velden naar de IJssel. Met het fietspontje naar Gorssel, museum "MORE" is 10 km. In het Nationaal park "Hoge Veluwe" ligt het "Kröller Müller Museum " met de prachtige beeldentuin.
Amazing place, designed beautifully by Detlef himself, it has everything you need for your stay. Detlef and his family were so nice and welcoming and we had the most lovely conversations. If we will ever come back to the area we will definitely come back. Very highly recommended!! :)
asaf
2016-11-14T00:00:00Z
Fijn verblijf gehad. Goede uitvalsbasis voor Zutphen, Deventer & Thermen Bussloo. Heel net, schoon en warm huisje. Zeker een aanrader. Janne & Stan
Stan
2017-02-12T00:00:00Z
Detlef is een vriendelijke gastheer.Hij verteld graag over zijn verbintenis met het Atelier. Een heerlijk ontbijt bijboeken is een aanrader.
Anneke
2017-03-05T00:00:00Z
Detlef was heel flexibel met de afspraak over tijd van aankomst. We hadden deze tot twee keer toe veranderd. Allemaal geen probleem. Een heel hartelijk ontvangst met duidelijke instructie hoe alles werkte. Een super gezellige ruimte. We voelden ons heel welkom. Bedden sliepen goed. En het luxe ontbijt was ook ECHT luxe.
Mw. E.
2016-11-06T00:00:00Z
Room Type
Entire home/flat
---
Property Type
Apartment
---
Accommodates
4
---
Bedrooms
Voorst Gem Voorst, Gelderland, Netherlands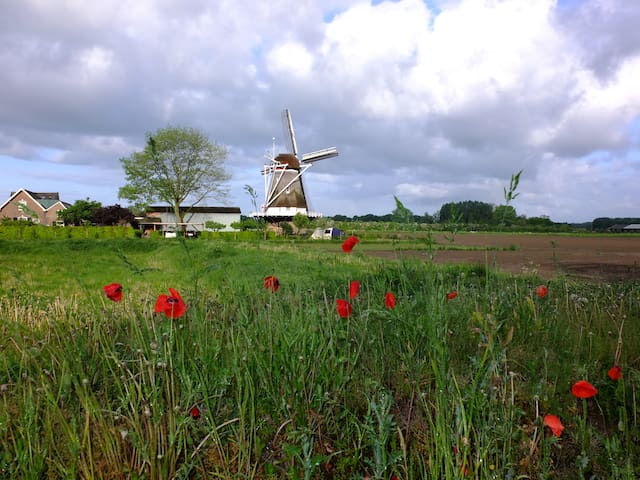 My house is too big for one person and I love to meet people. That is why I offer you one of my rooms The room has a comfortable bed, a cupboard and a table with chairs. If you like, you can make your own tea in your room.
I live on the second floor in one of the three apartments. The apartment is situated in a beautiful manor house. I also have a small garden. The room is situated in a historic building and very high: 3,60 mtr. You have an extra room for your luggage. In the extra room is a small sink.
My house is situated in one of the most beautiful streets of Zutphen, nearby a wonderful fountain. The distance to the center of Zutphen and the railway station is 700 meters.
Marianne was an absolute delight. Natural, down to earth, good humoured and welcoming. Her place was extremely comfortable, warm and quiet. I would thoroughly recommend staying there.
Richard
2016-02-29T00:00:00Z
Marianne made me feel very welcome and she even met me at the station. She does this for her guests when she can and it's a kind gesture. We walked for 5 minutes back to her place. A pleasant walk that takes you past a pretty lake. Her apartment is lovely and as dedcribed. The room is large and comfortable. I stayed for 3 nights over a long weekend and Marianne and l cycled to Deventer, a town 15 km away, to go to a festival there. She even lent me her spare bike on Monday when she went to work. A great stay with a lovely lady.
Paul
2015-07-07T00:00:00Z
The reservation was canceled 3 days before arrival. This is an automated posting.
Saara
2014-09-09T00:00:00Z
Such a lovely place in small town, Zutphen 3
Erwin
2016-05-02T00:00:00Z
Marianne was the best host! She picked me up from the Zutphen train station (next to her house, and still!). The area was beautiful and quiet and the room was spacious and comfortable. I'm grateful for the visit.
reem
2015-05-03T00:00:00Z
A superb room in a lovely house in a beautiful part of Holland. Marianne is an excellent host and I would highly recommend this accommodation to anyone looking for a clean and peaceful place to stay.
steven
2015-05-23T00:00:00Z
I had the pleasure to stay at Marianne`s lovely flat which reminds you of a fairy tale scenery, wooden fire, lovely arranged flowers, a kitchen with a oven in a huge size that make my mouth water. But most of all the personality of the host is the so very good experience. Talking for hours, laughing, very nice moments on a rainy weekend. Dont judge the place by the photos you see on the profile, it is much much nicer than displayed. And Marianne offered a lovely breakfast. What can you ask more for? I was totally happy and only sad to leave after 24 hours...
Jörg
2014-12-22T00:00:00Z
Marianne was a lovely hostess and the room was very cozy with a comfortable bed, gas fireplace and a kettle for tea. Her home is only a 5-10min walk from the train station and 10-15min to the city centre. She had an extra bicycle for me to use. Zutphen is a lovely old small town.
Miriam
2015-11-29T00:00:00Z
Room Type
Private room
---
Property Type
Apartment
---
Accommodates
1
---
Bedrooms
Zutphen, Gelderland, Netherlands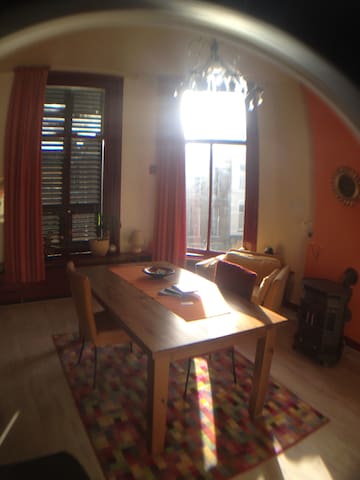 This great and renovated authentic house in the centre of Zutphen, will absolutely give you the feeling of being at home. It has place for 6 guests.
The house, has two living rooms on the ground floor. The open kitchen is located in the basement of the house, and is a true authentic place. From there you can also access the little patio where you can sit as well. Awesome in summer! On the first floor you'll find the bedroom. There is a double (180x200) and equipped with TV. On the second floor you'll find two bedrooms with single beds. There is Wi-Fi throughout the whole home, which makes it appealing to bring your own laptop too. Also on the first floor you'll find a just renovated new bathroom, with toilet and shower Het huis heeft twee woonkamers op de begane grond en een open keuken. Vanuit de woonkamer heb je ook toegang tot de patio waar je geweldig goed kunt zitten . Op de eerste verdieping vindt u de slaapkamer. Er staat een dubbel bed ( 180x200 ) en de kamer is uitgerust met TV. Op de tweede verdieping vindt u twee slaapkamers met eenpersoonsbedden. Er is Wi - Fi in het hele huis, dat maakt het aantrekkelijk om uw eigen laptop te brengen . Ook op de eerste verdieping vindt u een net gerenoveerde nieuwe badkamer, met toilet en douche
Walking is the easiest way to travel in the city of Zutphen. The center is very compact, with almost all points of interest being within walking distance to each other. To use the public transportation in the Netherlands, it is recommended to buy an OV-chipcard. The OV chipcard is valid for bus, train and tram and works like a debit card that you must first charge with an amount. We supply the house with an extensive book with tips and information about sightseeings and get-arounds.
This is very meaningful in the three days of my life!Anke is a very very nice , She was Waiting for me in the house and bring my show every room!and she's house is so wonderful and romantic!if I come zutphen again,I would be stay here again.i love here ,very very much!
Lisa
2016-02-19T00:00:00Z
Anke was very friendly and nice. She showed us around the house and were all things were. This is a very nice place and feels very homey. The pictures really don't do it justice. The location is also great in central Zutphen. Love the patio as well.
Paula
2016-05-21T00:00:00Z
Wonderful house, wonderful patroness.
Sonus
2015-10-17T00:00:00Z
Two out us three unfortunately got the flu just before our stay, so we kept on postponing arrival – Anke was very sympathetic the whole time, but finally we didn't manage to come at all... Hopefully we'll stay in her house some other time!
Jaap
2015-04-13T00:00:00Z
Anke's house was as shown in the photos and very welcoming! We had muffins and strawberries to welcome us plus the bonus of lovely sunny weather. Our stay was very peaceful, exactly as we had hoped. The terrace is lovely when the sun comes out, the kitchen is well equipped and the location perfect for supermarket and the sights of the town.
Merrilyn
2016-06-13T00:00:00Z
Absolutely great. Great location, great ambience and great host. Een echte aanrader! Thank you Anke.
Karl
2016-04-19T00:00:00Z
Beautiful home, well positioned with only a short walk to supermarkets and the town centre. We were there a week but wish we could have stayed longer. Zutphen has much to offer the tourist who wants to get away from the tourist crowds.
Robyn
2016-07-02T00:00:00Z
Very Pleased with our stay at Anke's house in Zutphen. The house is as described, the neighbourhood is very nice, walking distance (s lovely house
michael
2015-05-21T00:00:00Z
Room Type
Entire home/flat
---
Property Type
House
---
Accommodates
6
---
Bedrooms
Zutphen, Gelderland, Netherlands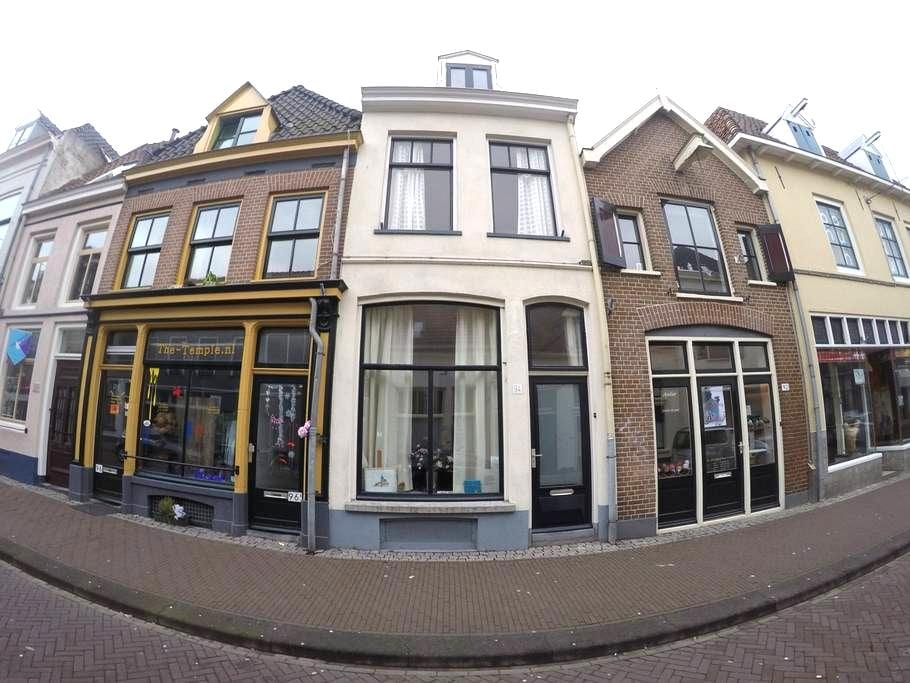 Nice room in a house on the other side of the river. Perfect for cyclists: you can start your tour right away. There is a small supermarket in the neighborhood.
Perfect spot if you want to be in Zutphen and be in a quite place and even more perfect spot if you want to cycle in the area. The house is 5 minutes bike / 15 minutes walk from the old town and direct on the cycle network of the region, terrific to get out! The room is bigger as it looks in the picture, it comes with a comfy bed, a small fridge, coffee and tea maker. Marloes is a 'city refugee' who is clearly enjoying her new found space and quite life, she is a nice and flexible host who brings interesting conversation and personal space when you need it.
Ties
2016-08-29T00:00:00Z
Marloes is a very friendly host, who responds quickly. The room and the bathroom were clean. We slept very well.
Ingrid
2017-04-07T00:00:00Z
Marloe's place was situated in a peaceful and lovely area outside the main town. The whole place was beautiful, and the room that I got was bright at spacious. Marloe helped me out with everything I needed and and very thankful for that.
Nanito
2016-07-21T00:00:00Z
I've stayed at Marloes' place for one night. She's very hospitable. The place is very clean and cozy. It's within a walking distance from the city center. The neighborhood is quite calm and relaxing. The breeze there is extremely refreshing. I really enjoyed my stay and will definitely stay at her place again in case I revisit Zutphen.
Ossama
2016-09-18T00:00:00Z
Marloes is such a sweetheart! Her place was perfect for what i needed. Comfy with a cute little kitchenette setup in the room. Right on the river in beautiful Zutphen!
Keith
2017-02-12T00:00:00Z
My stay with Marloes was really comfortable. I arrived a bit earlier but this was not a problem. She had prepared my room really nice and left a small refrigerator at the room for my personal use. I also had the possibility to boil my own water at the room and make a coffee for myself. Nice view from the house to this historical city Zutphen with lots of things to see. Perfect stay for me for a really fair price. Thanks again!
Giovanni
2017-01-09T00:00:00Z
Marloes is a very friendly landlord, her room is very nice, and close with the train station. The view is very beautiful, there are a river.
Yifan
2017-02-01T00:00:00Z
Marloes is a kind and very helpful host. The neighborhood is friendly. Her house is next to a busy street. Recommended for smokers!
Julia
2016-08-06T00:00:00Z
Room Type
Private room
---
Property Type
House
---
Accommodates
2
---
Bedrooms
Zutphen, Gelderland, Netherlands
Het pand heeft historie, ligt rustig en toch in de binnenstad. Van hieruit kun je van alles ondernemen. Kunst (musea zijn gesloten om in 2017 op een prachtige nieuwe plek open te gaan), sauna, historische-en architect.wand. Voor nog meer wandelingen kijk bij www.infozutphen. 7 hofjes (-wand.) en de Librije! Er is veel aan renovatie/restauratie gedaan voor het behoud van historische panden. De natuur in. Langs de IJssel fietsen of wandelen. Op loopafstand vh winkelgebied/station.
Het gastenverblijf is ondergebracht in het achterhuis van Halterstraat 9, en is op de begane grond gelegen. Het achterhuis dateert uit het begin van de vorige eeuw, en is in 2003 volledig gerenoveerd en verbouwd tot appartement. Ziet u het als een veredelde Bed and Breakfast en verwacht geen compleet huis. Er is ruimte voor 2 personen. Vanuit het appartement hebt u uitzicht op de stadstuin, die vooral 's zomers een prachtige aanblik biedt. En als u eens wilt genieten van een mooie nazomeravond in de buitenlucht, dan kunt u natuurlijk gebruikmaken van het terras. Het logement is gelegen middenin de historische binnenstad en toch is het een oase van rust. Op loopafstand van het station (plm. 5 min). Bossen in de omgeving. De IJssel. 3 sauna's waarvan 1 op 3 km. afstand. LAW-paden en diverse fietsroutes. Eigenlijk zijn er talloze mogelijkheden vanuit Het Achterhuis omdat het heel centraal ligt. Als u na een ongestoorde nachtrust een vers ontbijt wilt dan kan dat voor 9 euro pp. Er wordt zoveel mogelijk geprobeerd om natuurlijke en omgevingsprodukten te gebruiken. Koffie en thee kunt u onbeperkt schenken. Magnetron en koelkast aanwezig. Tevens kunnen de haren gedroogd worden met föhn. Toeristenbelasting pp is inbegrepen. Huisdieren in overleg (€10,00).
Het betreft een oud historisch pand in de binnenstad (aanloopstraat)van Zutphen. Vlakbij winkels, station, bussen en de bossen. Zutphen heeft erg zijn best gedaan om zijn oude panden te renoveren. Bijzonder zijn de librije, bibliotheek in de kerk, musea en unieke winkeltjes. Een rondvaart met de fluisterboot over de Berkel en diverse wandelingen (hofjes, vesting). Ook met gids. En dat allemaal om de hoek van het logement.
The reservation was canceled 20 days before arrival. This is an automated posting.
Menno
2014-04-22T00:00:00Z
We had a marvelous stay at Ineke's apartment. It was a five-minute walk from the train station and the town center. The garden and terrace right outside our door was abuzz with bees and simply delightful to experience. The apartment was clean and quaint with a sink, microwave, dishes and utensils for home cooking. She provided a cooler for refrigerated items. The bed was very comfortable and her addition of a mint on each of our pillows was much appreciated. Ineke provided maps and guides to the city although it would have been helpful to have English translations. All in all, a perfect match for us.
Emily
2014-04-26T00:00:00Z
The cute little B&B was the perfect place for my aunts to stay for a long weekend. They had everything they needed and a lovely, friendly host. The tiny apartment was in a courtyard which made it very peaceful and quiet. The bed was very comfortable and breakfast was a delight. We would definitely recommend this place for anybody who wants to have their peace and quiet during the nights but still wants to be close to the translation and city center.
Tamara
2017-03-15T00:00:00Z
The reservation was canceled 21 days before arrival. This is an automated posting.
Yvonne
2014-09-05T00:00:00Z
Really enjoyed my stay with Ineke in Zutphen. She made it really easy to feel at home. Was all very organised and cosy. Cute room and garden right in the middle of the city center. Central station shopping street with little cafes all walking distance. I also enjoyed her really delicious breakfast. Thanks Ineke and see you again! Best p. (from Hamburg)
Petra
2013-12-21T00:00:00Z
Ineke is a very interesting und friendly host, the flat is clean, bright, and well and caring furnished. The garden full of flowers, good situated in the centre of Zutphen. Absolute to recommend.
Mathias
2014-07-29T00:00:00Z
The host canceled this reservation 35 days before arrival. This is an automated posting.
Adrie
2016-01-29T00:00:00Z
It was very nice, great location, she is very nice!
Marco
2016-10-13T00:00:00Z
Room Type
Entire home/flat
---
Property Type
Bed & Breakfast
---
Accommodates
2
---
Bedrooms
Zutphen, Gelderland, Netherlands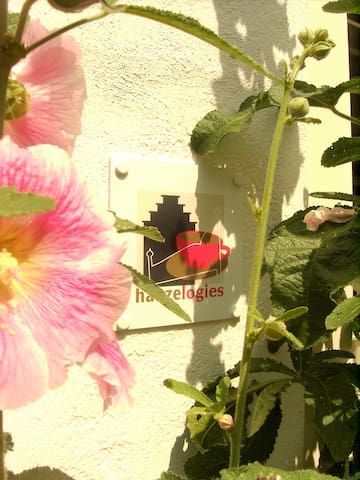 Fijn appartement op loopafstand van het Centrum van Zutphen en van het Station. Twee slaapkamers, een kleine keuken met alle voorzieningen, badkamer en toilet apart. De woonkamer is voorzien van grote ramen en zo kijk je uit de berkel, bomen en als je goed kijkt de Oude IJselbrug.
Je komt binnen en loopt twee trappen op. De gang loopt uit in de keuken. Eerste links is slaapkamer 1 met een eenpersoonsbed. Slaapkamer twee heeft een tweepersoonsbed en een klein balkon. De woonkamer heeft een eettafel, twee banken en een fijne leren stoel. De grote ramen zorgen voor veel licht en een mooi uitzicht.
Op 2 minuten lopen van het centrum en het station Enkele minuten met de fiets/auto en je bent in een bosrijke omgeving Grotere steden als Arnhem en Deventer zijn goed te bereiken
The host canceled this reservation 3 days before arrival. This is an automated posting.
Oussama
2017-04-04T00:00:00Z
Prachtig uitzicht en lekker dichtbij het centrum.
Nicole
2017-03-19T00:00:00Z
Room Type
Entire home/flat
---
Property Type
Apartment
---
Accommodates
3
---
Bedrooms
Zutphen, Gelderland, Netherlands
Ruime gemeubileerde woning op een unieke locatie in Zutphen. De woning is recentelijk gerenoveerd en voorzien van nieuw meubilair. Deze woning is tot in de puntjes verzorgd en van alle gemakken voorzien. Station en centrum zijn op korte loopafstand.
Prachtige locatie middenin het centrum bij de oude stadsmuur van Zutphen. Ruime gemeubileerde woning op een unieke locatie in Zutphen. Zutphen is een historische stad met veel monumentale panden, groene hofjes en op verschillende plekken in de stad staan gedeeltes van de oude stadsmuur. De woning is recentelijk gerenoveerd en voorzien van nieuw meubilair. Het station en het centrum van Zutphen bevinden zich op korte loopafstand. Deze woning is tot in de puntjes verzorgd en van alle gemakken voorzien. Indeling Men komt binnen in de hal met rechts een deur naar de bibliotheek/kantoorruimte. Via deze kamer betreedt u de hal waaraan zich het toilet en één deur verder, de moderne badkamer met ligbad, aparte douche en dubbele wastafel bevinden. De rustige hoofdslaapkamer bevindt zich naast de badkamer. Via een trap komt u op de eerste etage, hier een tweede toilet en de woonkamer met open haard en aangrenzend het eetgedeelte en de open keuken, voorzien van vaatwasser, 5 pits gasfornuis, combi-oven, vriezer en koelkast. Het eet- en zitgedeelte wordt gescheiden oor een karakteristieke wenteltrap naar de tweede verdieping. Hier bevinden zich nog twee lichte slaapkamers. Tevens is er op de eerste verdieping een ruim dakterras aanwezig van ca. 23 m2.
Zutphen is een stad (Hanzestad) in de Nederlandse provincie Gelderland, gelegen aan de rivier de IJssel. Het is de hoofdplaats van de gemeente Zutphen en heeft een kleine 50.000 inwoners. De geschiedenis van Zutphen bestrijkt meer dan 1700 jaar. In die tijd is het uitgegroeid van een Germaanse nederzetting, via een belangrijk machtscentrum rond 1000 en een succesvolle handelsstad rond 1300 tot een middelgrote stad anno nu. De stad kreeg stadsrechten aan het einde van de twaalfde eeuw en trad toe tot de Hanze. Het Wapen van Zutphen draagt nog altijd de symbolen van een Hanzestad. In 2005 is de voormalige naastgelegen gemeente Warnsveld gefuseerd met Zutphen. Topografie Zutphen ligt in het noordoosten van de provincie Gelderland. De stad is gelegen aan de rivier de IJssel (voornamelijk aan de oostelijke zijde) aan de monding van de Berkel. In sommige gevallen wordt Zutphen tot de streek de Achterhoek gerekend, dit is echter niet altijd het geval. Nabijgelegen plaatsen zijn Apeldoorn, Arnhem, Deventer, Doesburg, Doetinchem, Lochem en Brummen. Cultuur Bijzondere bouwwerken en pleinen Vanwege het grote aantal historische gebouwen met een toren wordt Zutphen ook regelmatig aangeduid als Torenstad. Omdat er in het centrum van Zutphen weinig tot geen moderne hoogbouw staat zijn de historische torenspitsen van onderstaande gebouwen goed zichtbaar en vormen zo de skyline van Zutphen. De titel Torenstad wordt vaak gebruikt in reclame-uitingen om toeristen te trekken. Monumenten De stad neemt met bijna 400 rijksmonumenten en ruim 500 gemeentelijke monumenten de eerste plaats in onder de Gelderse monumentensteden. In Nederland is Zutphen een van de belangrijkste historische stadskernen (beschermd stadsgezicht) met een bijzonder groot aantal middeleeuwse, vooral 14e-eeuwse, huizen. De in de laatste 20 jaar opgedane bouwhistorische kennis over deze huizen komt niet tot uiting in de rijksbeschrijvingen van de Zutphense monumenten (zie lijst van rijksmonumenten, met de stand van kennis van 1966). Musea Zutphen heeft een aantal musea, waaronder: het Museum Henriette Polak, een museum voor Nederlandse figuratieve kunst uit de twintigste eeuw, vernoemd naar Henriette Polak-Schwarz het Stedelijk Museum Zutphen, een cultuurhistorisch museum dat de geschiedenis van de stad Zutphen en omgeving in beeld brengt. Voor aanvullende informatie m.b.t. winkels, musea, galeries en tentoonstellingen, uitgaansgelegenheden zoals restaurants en cafés, uitgaan, doorlopende activiteiten zoals evenementen, stadswandelingen, fietsroutes en activiteiten in de omgeving van Zutphen kunt u googelen op: ZUTPHEN BRUIST
Fantastic accommodation!! In the heart of the medieval centre lies this 3 storey tastefully renovated old mansion. The atmosphere of the spacious place is wonderful. The beds are good, bathroom very luxurious and the kitchen fully equipped. The owners even welcomed me with fresh vegetables, bread, juice etc. for my first breakfast. Thank you for a great stay and your kind and effective communication. I can highly recommend staying here!!
Michael
2016-03-23T00:00:00Z
My Family from the UK had a wonderful stay at 't Pelgryms Huis in beautiful Zutphen at the beginning of August. The house was beautifully restored, clean, fully equipped, very well located in the City Centre and contact with the owner was quick and pleasant. We recommend this accommodation to everybody wanting to visit Zutphen and/or the surrounding area for a few days! Thank you! Nick Paterson
Nick
2016-08-13T00:00:00Z
We had a really nice time in Zutphen. Arno was very flexible on the arrival date and welcomed us in this characteristic house in the centre of Zutphen. Everything was very clean and well organised for us. I'd recommend this place to everybody.
Kerstin
2016-05-04T00:00:00Z
We stayed at this house during the Christmas holidays for a 15 night stay and the absolute best part of this listing is the location. The house is located at the heart & center of the lovely city of Zutphen, which makes for easy access to shopping, restaurants, tourist highlights and even a fairly large supermarket. This made it easy to enjoy our stay in Zutphen. However being in the city center of an old city like Zutphen, makes this house somewhat compact. Unfortunately, the house is much smaller then appear on the photos. It has a well equipped, but very small kitchen. Upstairs it has 2 small bedrooms with slanting roofs making it impossible to stand next to your bed. Being an old house it is also very noise sensitive. Which can be a problem if you have kids that go to bed earlier then you do. But all of this is inherited to staying at an old historic city center house. And if you can accept that, you will have a lovely time. The only true negative aspect of our stay was our contact with the host Helene & Arno. Our biggest nuisance, which tainted our entire stay, was the fact that there was no way to dispense of the trash. Apparently the previous tenants lost the key card needed to do that and the hosts didn't think it necessary to provide a solution. When inquired about how to solve this problem (and a family of 4, living 15 days with trash really is a problem) we were told that they live 1,5 hour away and can't just drive back and forth for 'every little thing'. In addition all the beds have different sizes and none had an extra sheet in case of an emergency (which happened when my daughter got sick in the middle of the night). When Arno finally decided to make the drive over to provide the extra sheets and collect the trash, they failed to check if we were home beforehand so they left the sheets with the neighbors and left us with piles of trash. Really disappointing. We had a very good impression of the hosts before we arrived. They were very kind, provided all the necessary information and even offered to provide a high chair for the kids at no extra charge. I still believe they are genuinely good people but they truly underestimate how big of a nuisance it is to live in a house where you have to look at your trash everyday. It ruins the whole experience.
Carmen
2016-12-31T00:00:00Z
Helene's house in Zutphen was absolutely beautiful, and the perfect base for us to choose to explore Holland from. We stayed for 3 weeks, and it was the most amazing experience for our family. It is ideally located in the heart of Zutphens shopping district, very close to all restaurants, cafes and markets, and easily within walking distance of everything. The train station is only 10 minute walk, a large supermarket no more than 5 minute walk, and shops etc right outside the front door. Hosts Arno and Helene have left nothing unthought of, and have set this house up with everything you could wish for. It was all spotlessly clean when we arrived, and felt brand new. We had no concerns about the neighborhood or walking around late at night, it was very safe and comfortable, and after a few days familiarizing themselves, even our kids would go for walks through town on their own. We loved the town Zutphen, as it was small enough to be free of the hustle and bustle and noise of a city, but still big enough to have everything we needed. It is also centrally located in the Holland that we were able to explore most parts of the country with the hire car. We parked the car in the Park and Ride car park at the train station free of charge and walked to the house through town. It was easy, and no inconvenience at all. Our hosts were so hospitable and thoughtful, that they even provided 4 brand new bicycles for the length of our stay, which we hired for a small fee, and were able to do bike trips through the countryside and day trips to nearby towns and villages. It became the highlight of our holiday, following the numbered bike paths for hours on end, discovering all the little wonders and delights that aren't in any of the brochures or magazines, which the average tourist might miss in their car or bus. We will undoubtedly return to Holland, as we have fallen in love with their relaxed attitude and laid back approach to life, and we will most certainly return to stay at this little house in Zutphen, which has provided us with by far, our best experience of an AirB&B property to date. Thank you Arno and Helene, for making our family holiday wonderful and unforgettable for all the right reasons, and we look forward to seeing you both in the not too distant future. Best wishes with your windmill project, we are sure you will see your vision come to reality. Kind regards, Pete, Jo, Jeremy and Dylan.
Johanna
2016-07-19T00:00:00Z
Met zeer veel plezier ben ik en midweek in Zutphen geweest. Het huis is tip-top in orde en van alle gemakken voorzien. Je voelt jezelf er echt thuis. Bij aankomst stond er een echte Zutphense fles bier klaar en lagen er diverse actuele folders met informatie over de stad en de streek. Het contact vooraf en tijdens het bezoek verliep eveneens enorm prettig. 't Pelgrymshuis is een echte aanrader voor mensen die het Oosten willen verkennen!
Gerard
2016-04-29T00:00:00Z
Als elfde gast in het verbouwde appartment hebben wij ons goed verbouwd. De communicatie vooraf was helder, net als de instructie ter plaatse. Schattig en lekker schoon appartement van alle gemakken voorzien.
Nataly
2016-05-30T00:00:00Z
We hebben een heerlijk Paasweekend doorgebracht in dit mooi gerenoveerde huis in het hart van historisch Zutphen. Van alle gemakken voorzien, ruim, verzorgd, aangenaam, heel prettige sfeer. Op zaterdagochtend om de hoek het krantje, broodje en koffie halen was een genot. Een aanrader, zeker als straks de wifi ook werkt!
Maaike
2016-03-30T00:00:00Z
Room Type
Entire home/flat
---
Property Type
Townhouse
---
Accommodates
6
---
Bedrooms
Zutphen, Gelderland, Netherlands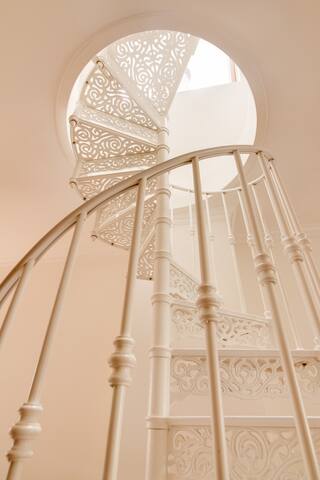 De woning is gelegen is vlakbij dichtbij het centrum en op loop- en fietsafstand van het buitengebied. Je zult genieten van het huis omdat het een sfeervolle 30 jaren hoekwoning is met een gezellige tuin in een prettige buurt. Het huis is geschikt voor stellen en voor gezinnen met een kind. Er is een kinderstoel en speelgoed aanwezig.
The host canceled this reservation 2 days before arrival. This is an automated posting.
Shane
2016-09-05T00:00:00Z
Corrie heeft er voor gezorgd dat we het echt naar ons zin hadden! Wij kwamen met het ov en zij heeft ons opgehaald en weggebracht naar het station wat wij reuze fijn vonden ! De buurt waar haar benb is is nl niet dichtbij het station. Mooie gezellige woning met leuke tuin, waar wij ons onmiddellijk op ons gemak voelde. We mochten zelfs 2 fietsen lenen. Zutphen is een fantastisch stadje reuze gezellig en veel aparte winkeltjes. Corrie is een gezellige symphatieke vrouw. Kortom wij komen zeker terug!
Monique
2016-10-30T00:00:00Z
Bij aankomst kregen we onmiddellijk een heel hartelijke ontvangst met thee en koffie. De kamers waren heel mooi en proper. Corrie is een heel lief en vriendelijk persoon. Als we nog eens in de buurt zijn, verblijven we zeker terug bij haar.
Jelena
2016-09-25T00:00:00Z
We zijn twee nachten geweest bij Corrie. Wat een heerlijke plek voor een weekendje weg. Zutphen is een leuke stad met een mooie stadswandeling en leuke winkeltjes. Het huis van Corrie ligt iets buiten het centrum en is heerlijk rustig. Met 10 minuten lopen ben je in het centrum van Zutphen. We zijn vriendelijk ontvangen door Corrie en kregen wat tips voor de omgeving. Zutphen ligt centraal dus met de fiets of auto een goeie uitvalsbasis voor het bezoeken van andere plaatsen. Wij komen graag nog eens terug bij Corrie. Familie Zonneveld
Lente
2016-09-04T00:00:00Z
We hadden het hele huis voor onszelf. Het huis was mooi ingericht en brandschoon. We verbaasde ons over hoe mooi het huis opgeknapt was. De bedden lagen heerlijk. Het huis ligt in een rustig wijkje. Het centrum was prima te belopen.
Elise
2016-12-10T00:00:00Z
Na een hartelijk ontvangst van Corrie, hebben we genoten van het mooie Zutphen: leuke winkeltjes, mooie straatjes, prachtige gebouwen, fijne kroegen en heerlijk eten. Terug in het huis van Corrie kropen we heerlijk op de bank met een kop thee. Het gezellige huis van Corrie voelt direct als thuis.
Judith
2017-03-05T00:00:00Z
Wat een leuke keurige nette woning. Geheel jaren 30 stijl. Er zit een knusse tuin bij waar je heerlijk kunt vertoeven. Corrie heeft een goed compleet ontbijt voor ons klaar gezet waar we van hebben genoten. Wat ons opviel was de rust in de tuin terwijl er toch veel tuinen aan grenzen. Dit huis is echt een aanrader voor een stel of max 3 personen.
Ard
2016-08-14T00:00:00Z
Corrie is zeer gastvrij en ontzettend vriendelijk. Haar huis is heel sfeervol, comfortabel, schoon en netjes. We mochten in de keuken thee en koffie pakken. Tegen een vergoeding heeft ze een lekker ontbijt voor ons verzorgd. De badkamer wordt ook door Corrie gebruikt, maar voelt toch privé omdat al haar spullen opgeborgen zijn. Het is wel ruim 20 minuten lopen naar het station of de binnenstad van Zutphen.
Carolien
2017-01-15T00:00:00Z
Room Type
Private room
---
Property Type
House
---
Accommodates
3
---
Bedrooms
Zutphen, Gelderland, Netherlands
Geweldig huis in centrum van Zutphen te midden van het historisch centrum. 3 verdiepingen geheel tot beschikking. Twee buitenterrassen op zuidwest (15m2) en (12m2). Beschikt over goede keuken. Badkamer met bubbelbad en aparte infrarood sauna.
Bij 4 of 5 personen tweede warme douche op eigen kamer extra buiten de badkamer met bubbelbad en douche.
Op loopafstand van binnenstad en winkels.
We spent two nights here and had a lovely time. We were friendly welcomed by Jan and he showed us where to find everything in the house. The house is located on the edge of the city center and all the lovely shops, restaurants and cafes are just a few walking minutes away. There is a great organic supermarket a few doors away. Our favourite place in the house was the sunny terrace! Although Zutphen is a small and rather quiet (and beautiful!) town, you can hear people talking who pass by the house. We found this rather normal as we were in the city center.
Simone
2016-08-24T00:00:00Z
Our hosts met us at the station, which was very welcome. The house is bright, spacious and sparkling clean. Our host had put vases of fresh flowers in the kitchen and living room. There was a bottle of wine to welcome us. We particularly enjoyed sitting in the little roof garden in the evening sun. There is also a comfortable living room to relax in. The house in in a quiet street very close to the centre of the beautiful historic town. There is an organic food shop just a few doors away, a Thursday and Saturday street market with wonderful fresh produce, and a large supermarket within two minutes walk. We thoroughly enjoyed our stay and would recommend this house and Zutphen to anyone visiting the Netherlands.
Jacquetta
2015-09-13T00:00:00Z
Augusta and her husband were wonderful hosts and the apartment was just perfect. The two decks really make the place so comfortable and it's located on a fun little street close to the center of town. The apartment is separated by three floors, which makes it a little different than what one may be used to, but after you get used to getting up at night to go downstairs to use the bathroom you're good to go. The sauna was terrific and the jacuzzi jets in the tub made the experience pretty plush. The hosts were really nice and welcoming. They even gave me a ride to the train station to make my travels a little easier. I would recommend this property both because the hosts are really nice and the property is comfortable and well priced. I hope to return again one day.
Jeff
2016-05-28T00:00:00Z
The house is located on a busy street only a few minutes walk to the center of Zutphen and shopping center. A very comfortable home with plenty of room and all the conveniences of home (including a sauna!). Met the owner at the appointed hour and turn over was easy. Our stay was very pleasant and enjoyable and we'd definitely stay again.
Helene
2016-12-26T00:00:00Z
The home is very beautiful- spacious, with tasteful decor, and the luxury of a wonderful big bath and sauna. We could really relax and treat ourselves well there. The area is also picturesque and convenient, with easy parking, a big supermarket very close, great cafes and dining plus the centre nearby. Checking in and out was easy, with good communication with Jan. It was a pleasure to be there!
Emily
2017-01-18T00:00:00Z
Our stay was lovely. Nice spacious house with a balcony for those summery nights. Sweet hostess.
Jolyon
2016-08-29T00:00:00Z
The apartment was very clean and spacious. We enjoyed sauna and the bath, and relaxing on the terrace. Augusta and her husband were very friendly. They even came to pick us up from the railway station which was very welcoming. Good location near the center of the town. We had everything we needed! We would be happy to go back if we ever visit Zutphen again.
Sofia
2016-07-03T00:00:00Z
Very warm welcome upon arrival, good communication and very pleasant to deal with. The location is great, walking distance to town centre and the supermarket, the home has everything required to make for an enjoyable stay.
Shane
2016-09-21T00:00:00Z
Room Type
Entire home/flat
---
Property Type
House
---
Accommodates
5
---
Bedrooms
Zutphen, Gelderland, Netherlands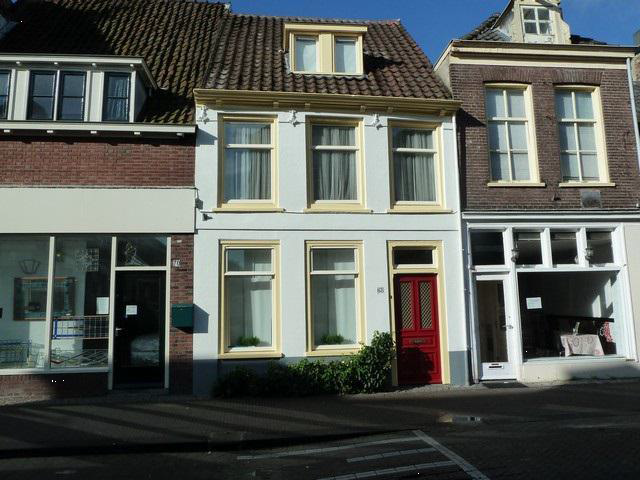 Hanzestad Zutphen Historisch centrum, cultuur, unieke winkels, vestingwerken, evenementen Zutphen, aan de Berkel en de IJssel, is een van de oudste steden van Nederland. De stad kent een rijke geschiedenis, waarvan je vele sporen in het centrum kunt vinden. Kerken, delen van vestingwerken, statige pakhuizen en koopmanshuizen zijn nog steeds te bewonderen. Deze fraaie architectuur vormt het decor voor een aantrekkelijke mix van winkels, horeca, evenementen en (URL HIDDEN) bent van harte welkom!
Room Type
Entire home/flat
---
Property Type
House
---
Accommodates
6
---
Bedrooms
Zutphen, Gelderland, Netherlands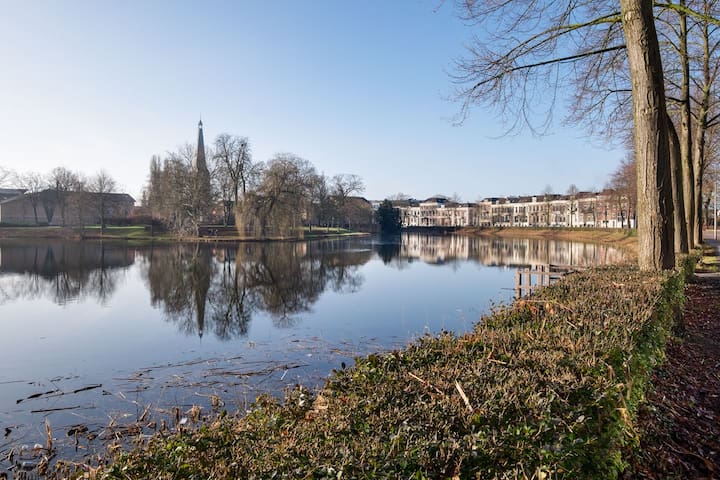 Onze mooie, ruime, schone, authentieke, betrouwbare oldtimer camper is te huur! Van alle gemakken voorzien zoals koelkast, gasfornuis, kachel, toilet, wastafel, stromend water, tweepersoonsbed in de alkoof en een tweepersoonsbed van tafel en banken te maken.
De gezellige rondzit met tafel biedt veel ruimte en licht. Rondom zijn kasten met volledig keukeninventaris zoals pannen, borden, glazen etc. Ook vind je in de camper o.a. een barbecue, hangmat, schoonmaakspullen, speelgoed en reisgidsen. Ramen hebben blinderingsgordijnen en/of horgordijnen. Verder is er een luifel, fietsendrager voor 4 fietsen en een tafel en 4 stoelen voor buiten. Er is tevens een zonnepaneel geïnstalleerd zodat je geheel vrij op pad kunt en zelfvoorzienend kunt zijn. De motor is gereviseerd en in goede staat. Vakantieklaar!.
Room Type
Entire home/flat
---
Property Type
Camper/RV
---
Accommodates
4
---
Bedrooms
Zutphen, Gelderland, Netherlands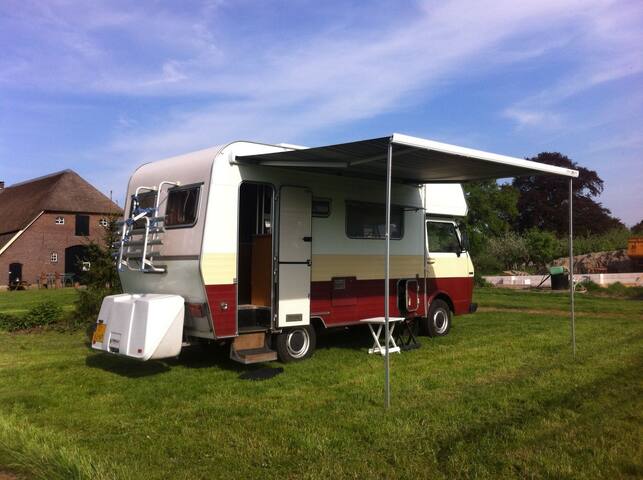 A sittingroom, bathroom for own use, seperate bedroom and a lovely breakfast. In a quiet neighborhood, close to the center of Zutphen.
The sittingroom is on the first floor. The bedroom on the second floor. Bathroom is for own use. There is a small balcony, with view on the garden. You can store your bicycle(s) in the barn. Free carparking: in the street or on a small parkingplace at the end of the street.
Zutphen is one of the oldest Dutch towns in The Netherlands and is famous for history as an important trade-city because the river De IJssel flows through it. The old center of the town is a popular daytour location for foreign tourists. Important touristic destinations like Open Air Museum, Park Hoge Veluwe, Kroller Muller museum, Paleis Het Loo, Airborn museum and Burgers' Zoo are only a half our drive away.
We decided to stay in Zutphen because we wanted to see the Open Air Museum. We strongly recommend that visitors to the Netherlands see the museum and stay with Gretha. Gretha's communication was great, her welcome was warm, the space was comfortable, the breakfasts were most appreciated, and we enjoyed Gretha's company and kindness.
Ann
2016-10-17T00:00:00Z
I had a peaceful time. She was very kind to offer food after I got in late and the groceries were closed., plus a brilliant breakfast She's also great at making you feel at home, she even drove me to the bus station early in the morning! Thanks Gretha
Alex
2015-03-11T00:00:00Z
Luxourius privacy in the old city centre of Zutphen. We loved Zutphen and our very hospitible host Gretha. We had a great time exploring the old town. And staying over at Gretha's made it even better. Great breakfast, spacious rooms and a lot of privacy. We definitely recommend this place to everybody!
Kristen
2013-12-18T00:00:00Z
We had a very comfortable place to stay with lots of room and privacy. Gretha greeted us warmly even though we came early and we had a lovely time.
Richard
2015-07-24T00:00:00Z
We had a great stay at Grethas place. Unfortunately the host was away when we arrived but her lovely friend greeted us and helped us with our questions and also managed to get us an ironing board. It was a quiet neighborhood and we enjoyed our stay. Highly recommended!
Daniel
2016-08-14T00:00:00Z
The family house is located in a quiet residential area. When we arrived Gretha showed us around and made us feel comfortable. The family house has a large living/dining area and bathroom on the first floor and large bedroom on the second floor all for private use, clean and tidy. Gretha let us borrow her bicycles for a ride to the center of Zutphen, which is only a few minutes away and also easily accessible by public transport. Breakfast is very good with lots of choice and prepared with great care. Gretha's family house is well recommended! lendhad lekkere dingen voor ons klaargezet (koffie, thee , wijn, chocola) en de volgende ochtend een prima ontbijt. En goede zorg toen we het koud bleken te hebben. Rustige buurt en lekker dicht bij het centrum. Een aanrader!
Ronald
2014-12-21T00:00:00Z
This is a lovely little place to stay. The hostess is extremely nice and helpful and there are many nice touches in this accomodation.
aysin
2016-12-02T00:00:00Z
Gretha' s accommodation is perfect for a stay in Zutphen and east Holland. The rooms were really cosy and so clean. Gretha is a great host! She was so friendly and helpful! The breakfast she prepared was absolutely delicious! We truely recommend it and would go back if we were in the area again.
Sonja
2017-03-04T00:00:00Z
Room Type
Entire home/flat
---
Property Type
House
---
Accommodates
2
---
Bedrooms
Zutphen, Gelderland, Netherlands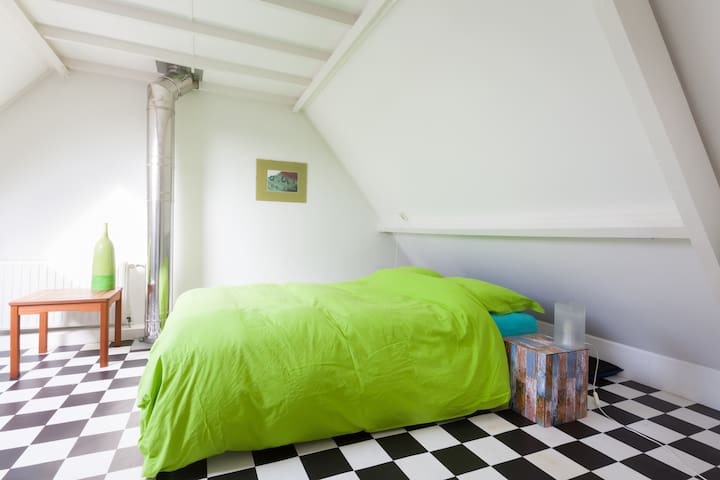 Licht, rust en ruimte staan garant voor een weldadig verblijf in de nok van ons huis met prachtig uitzicht over natuurgebied en maar 5 min. lopen naar centrum en station. 't Appartement heeft een vloeroppervlak van 72m2, een eigen badkamer + w.c en keuken. Er is een gezellige eettafel bij het raam en een leeszitje met luie stoelen bij de tv. Voor een prettig verblijf en voldoende privacy is er ruimte voor max. 4 pers. (€20,= p.p.p.n. voor 3e en 4e pers.)
Het appartement heeft alles wat je nodig hebt voor een wat langer verblijf. Voor bed- en badgoed wordt gezorgd. Meer dan 'n pyjama en 'n toilettas heb je niet nodig! Was- en strijkgoed kun je laten verzorgen door de gastvrouw tegen een af te spreken meerprijs. Kom ervaren hoe fijn het is om dit appartement te bewonen voor een weekendje of voor langere tijd, WELKOM!
Ons huis staat aan de rand van een prachtig natuurgebied met veel water en geweldige fiets-, kano-, en wandelmogelijkheden. Fiets- en kanoverhuur op loopafstand 5-10 (URL HIDDEN) als de binnenstad, station, musea, theater en bios. Bushalte bijna voor de deur.
Hi Elly, Thank you for being our host! We had a great time at your appartment! Everything was taken care of, cozy and the view is beautiful. Altough we haven't had much contact, you warmly welcomed us and were very flexible. Thank you we would surely recommend you and your appartment to everyone. Kind regards, Dineke & Gersom
Gersom
2017-04-02T00:00:00Z
Room Type
Private room
---
Property Type
Bed & Breakfast
---
Accommodates
4
---
Bedrooms
Zutphen, Gelderland, Netherlands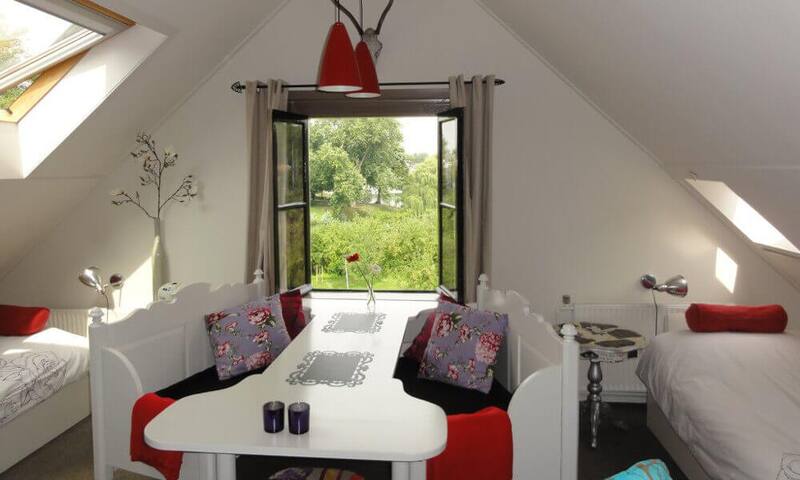 Enter dates to see full pricing. Additional fees apply. Taxes may be added.