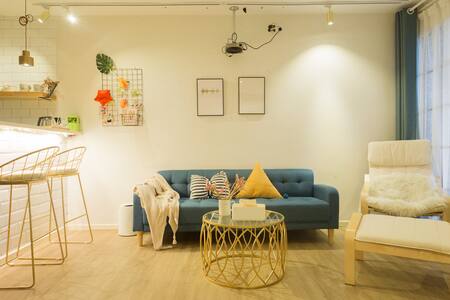 SUPERHOST
Entire apartment · 2 guests · 1 bed · 1 bathroom
【百分之百推荐率】We onの金色年华/120寸超大投影/美食地图中心点/多免费车位/暖气
★ Nordic style, golden texture ★ Extra large 120-inch projection that cannot fit in the elevator, XGIMI Z4X projector ★ 1.8-meter bed is exhausted ★ The window on the floating platform closes the view and looks directly at the old city Rolls-Royce in sanitary ware --- Duravit ★ Hansgrohe hardware, top luxury configuration ★ Optional drum washing machine for washing at 90 degrees Celsius, assured of transportation advantages for babies: ★ Location: The center point of the food map. There is Zhujiang Road in the north, Fuyuan white porridge in the east, the promenade in the south, and the net red sanctuary of the old city in the west. Even the downstairs community road is full of gourmet food. 100 meters walk from the high-speed rail express and airport express to the terminal (Golden Gulf Station) ★ 12 bus lines lead to Shantou ★ Come by car, there are dozens of free municipal parking spaces downstairs, no worry about parking. If you have other needs, I have multiple suites. Click on the picture to learn more
What guests are saying:
"The landlord is really super nice. I said to the landlord, "Let's stay for two people and then come with four friends to cook hot pot." The landlord agreed. Two days before the stay, the landlord had all kinds of troubles. Help us to prepare a portable induction cooker, pot, and ask the landlord to help Place some stools. On demand! It's really good! The decoration and hygiene in the room are naturally nothing to say! Friends who come to play say that they look good and beautiful, and they are ideal for a small home. Anyway, super happy!"
1, the room is carefully arranged, more beautiful and more comfortable than the picture. 2. Please fill in the number of guests when booking (this property is normally occupied by 2 people (more than 2 people need to inform in advance) Know the landlord) Please bring your valid ID card when you check in, and cooperate with the landlord to do a house scan check-in. formalities. 3. Please keep self-discipline during your stay. Sorry for those who cannot comply with national laws and regulations. Unable to receive. 4. There is a separate bedroom in the house, the night view of the high-rise building, the residential area is located in the city center, quiet and safe. suitable. 5, clean, professional washing company and aunt to clean, each change. 6. The building has an elevator and it is easy to go upstairs. 7, independent large bathroom, brand new bathroom, disposable supplies are provided free of charge 哟 8, can cook and wash, there is a washing machine. The kitchen has induction cooker, soup pot, wok, fully equipped 9, the room is equipped with a washing machine, independent balcony, super vision 10, the hotel 24 hours security, safe and secure. 11, 24h hot water, bathroom spare toothpaste toothbrush, hand soap, shampoo, body wash, towel. 12, the room is equipped with high-definition projector, three or five small gathering, high-definition theater-style audition environment let you experience respect worship. More uno, poker, chess and other board games are available. 13, the room has been configured with a password lock, the password is changed by one guest. 14. I hope you care for health and save water and electricity. Our homestay welcomes you to go home.
What guests are saying:
"The best thing about this house is its good location. Downstairs is Changping Road. Shantou's delicious food is distributed on this road. Stations, as well as bike sharing, are too convenient. The rooms are well ventilated, the floors are high, and the rooms are clean and simple."