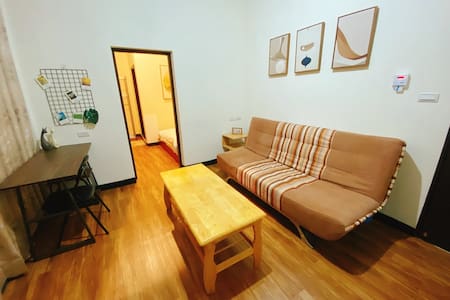 SUPERHOST
Entire apartment · 2 guests · 1 bed · 1 bathroom
下田人家- A3床頭有插座 一房一廳 「免費接送 」金城鎮 全聯 康是美 711 海邊 WiFi
What's so good about being quiet! Address: No. 155 Guangqian Road, Jincheng Town, Jinmen County (Exit of Civil Defense Tunnel) Nearby Attractions ● Quanlian Welfare Center: 5 minutes on foot ● Ferry boat head: 2 minutes on foot ● Jincheng Houpu Town: 7 minutes on foot ● Jincheng Station: 15 minutes on foot, 5 minutes by car (There is a bus stop at the entrance) ● Shenghengchang Duty Free: 15-20 minutes by car Kang Shimei and Watsons: 15 minutes on foot Attentive service ● Free airport and terminal transfers (reservation required in advance), limited to 6 people per car. ● Provide free washing machine use (excluding laundry detergent). ● Free parking, TV, air-conditioning, hair dryer ... ● Free barbecue place use, 50 / person cleaning fee will be charged. ● Supplies: shampoo, bath milk, comb, towel, bath towel, brush set, paper slippers. ● Tea bags are provided free of charge (depending on the actual situation). Check-in time ● Check-in time: 3:00 pm, check-out time: 12:00 am, if the check-out time exceeds half an hour, a fee will be charged (per hour) 250 yuan). ● This homestay provides equipment according to the number of people booked; rooms are not actively cleaned during the stay. (If you need to clean, please inform the counter staff.) When going out, please lock the doors and windows and close electrical appliances.
What guests are saying:
"The location is great! It's very convenient to go shopping for bicycles. The environment is very good, very quiet, and the room is simple and clean! The landlady is super nice and patiently answers various questions and recommends various activities and various play places. Very happy staying!"
Cozy and comfortable small apartment with full floor rent for two bedrooms, one living room and one kitchen for four people When you are away from the hustle and bustle, choosing the Outlying Island Resort Golden Gate is a duty-free island that provides shopping needs. Whether you are on vacation or business travel, our listings are in line with your needs. Our listing is close to Jincheng District, 1.5 km from Shangyi Airport, 5 km from Shuitou Pier, and 6 km from Jincheng District. The transportation is convenient. The location is near the Taoyuan Road (Bouyu Road) near Linhu Road. It is located on the first floor without having to climb stairs. We respect personal privacy and life, and the whole apartment is rented out. It is completely independent of you, warm and comfortable. Perfect for family travel business travel and three-five friends for a relaxing stay!
What guests are saying:
"Refill ~ highly recommended! 4 people, the facilities and equipment in the room are all available. The unfamiliar, enthusiastic Mr. Fang, personally went to Jinhu to pick us up, along the way also took us to a few beautiful photo spots, refills~ Thank you Mr. Fang. The location of the house is very good, away from the hustle and bustle, clean and quiet! For those who have shopping needs, you are blessed, next to the accommodation is the newly opened Kang is beautiful ~ to meet your heart to buy and buy, and then Kang is beautiful next to the 7-11 convenience store ~ to Jincheng Center minutes away ~ . Car rental is also very convenient, just nearby. Come back next time~ Thank you, jiao feels!"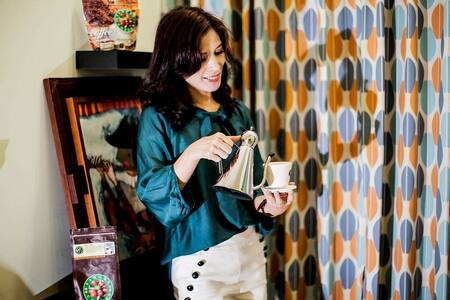 SUPERHOST
Private room · 2 guests · 2 beds · 1 private bathroom
文藝旅 小資房2 市中心 康是美 屈臣氏 全聯 家樂福 金城車站附近 環境優美 免費免稅店接送
The museum is a multi-style room type, each room has a separate balcony, separate bathroom, heating in winter, novel architecture, complete equipment, electronic equipment (password entry), rare elevator equipment in the area, underground parking lot, There is also a saloon, free coffee service, tea supply, a gathering of friends, a good venue for company meetings! The corridor is spacious and is an art creation gathering area! The garden coffee area is a good space for outdoor recreation, as if walking into the garden city! Time travellers welcome you to stay
What guests are saying:
"The location of the B & B is very good, it is very close to the street, it is very convenient to go out for shopping and walking. The public areas are quite large, the environment is nice and quiet, the rooms are simple, clean and very refreshing. I feel okay, just wait and chat in the bed and breakfast. The daze is also very good. The boss and the lady are super nice and super. The speeches are gentle and gentle. They answer our questions patiently and recommend us activities to go. Help us a lot ~ very happy staying at the homestay!"