『做airbnb的故事』 知道airbnb是因为去日本旅行,朋友推荐使用这个软件来预定住宿,我们住在京都的一个小山上,虽然住宿条件不比酒店,但是那种走过社区、小路,到达小窝,可以和日本房东交流,了解当地生活,感觉格外棒。
What guests are saying:
"The location is very good, inside the West Lake, the bus station is also very convenient, but unfortunately it has been raining for the past two days, and I returned early and late, and have no time to stay in the bed and breakfast, the grandma is very cute hhh unfortunately did not see the kitten, compared to In other words, sound insulation is still not good enough. I was awakened once at night, which may be the reason for my light sleep hhh"
Hello, welcome to Hangzhou, and welcome to choose my home. It is close to West Lake; along Wulin Road, it only takes 5 minutes to walk to Hangzhou's largest shopping mall; convenient transportation, full subway and bus coverage. There are family convenience stores and Starbucks near the neighborhood. My house is on the first floor, there is no need to move boxes up and down. The house is a two-bedroom and one-living room. Now that my home is almost filled with the old props I collected, I hope you will have an inclusive heart to appreciate and accept.
What guests are saying:
"The price/performance ratio is too high, really, the location is really convenient, wherever you go quickly, anyway, it is really a happy week in Hangzhou, the last day lying in the place where I lived for a day hahahaha is really great"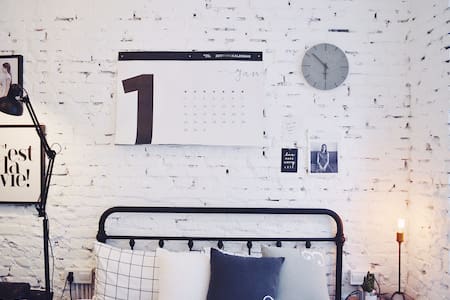 SUPERHOST
Entire flat · 2 guests · 1 bed · 1.5 bathrooms
【立夏】独立设计师在西湖边的工业风一室公寓(出于环保考虑不提供毛巾、牙刷,介意者绕行谢谢!)
Independent designer new work - located in the center of Hangzhou West Lake side of the new decoration industrial wind independent apartment, West Lake, Hefang Street, the Southern Song Dynasty Royal Street, Lakefront shopping district and Nanshan Road Bar Street are within walking distance. Subway, bus and other places leading to the city, suitable for travelers and business people. Newly renovated stylish 1-bedroom apartment with 1 bathroom and 1 balcony. Located in the heart of Hangzhou, only 6 minutes walk to Wesklake and several other famous animals spots. Steps away from my place to subway station and bus stations. Ideal place for solo Adventurers, couples and business travelers.
What guests are saying:
"The landlord was very warm and the house was quiet and clean. The house was clean and tidy. There was a hand-washed coffee shop downstairs. Because it was early, I ate a lunch nearby and drank a cup of coffee downstairs. The cleaning time was just right. The house was very close to the West Lake. There are pub cafes and snacks nearby to recommend everyone to stay."