Qiyu B & B is located at the junction of Guanshan Road and Wuhu Avenue. The subway station and high-speed rail station are directly connected to Metro Line 1, and Exit A of Culture Palace Station is 5 minutes away. It is 35 minutes drive from Sunan Shuofang International Airport and the transportation is very convenient. There are elevators installed in the residential area, the corridor is cleaned by cleaning staff every day, and the property security is patrolled 24 hours to give you peace of mind. The surrounding area is complete with facilities. Metro Line 1 is directly connected to the city center and Sunac Amusement Park. It is about 700 meters away from Coastal City, Financial Street, and Wuxi Municipal Government (the surrounding area is in good order). It is about 10 minutes from Jiangnan University and the National Digital Film Industry Park By car; 15 minutes by car from scenic spots such as Three Kingdoms City, Shuihu City, Yuantouzhu, etc. The community is located in the middle of the business district and tourist attractions. It is very convenient to play during the day and go shopping at night!
What guests are saying:
"The house is a duplex, and I like this kind of layout. I like the small living room with two people. There are two rooms on the second floor. One is a projection room. It is great to watch movies at night. , Such as toothpaste, it will not be so wasteful, there are too few tissues, but it is not a big deal!"
Great location! Travel is super convenient! It is very close to the high-speed rail station, Nanchang Street, etc., and the exit of the Victory Gate subway station is about 300m. Absolutely super cost-effective! Come and experience! _________The following are some of the details in the apartment __________ The apartment belongs to the middle and high level and is quiet and has a wide view. The night view is super nice! ! Details (continuous update): 11080p resolution meter projector (Manhakaton Audio), enjoy private theater (∩_∩)~ All the 2 bedding products are purchased from IKEA, which is soft and breathable. After a day of travel, you can sleep comfortably~ 3 toiletries are not bad, may not be the best, but can meet the basic needs of the little fairies: Pantene CLINICARE Time Damage Repair Shampoo + Essence Milk, Johnson & Johnson Baby Milk Nourishing Body Wash. 4 bedding and bath towels are changed, washed and disinfected, and there are no need to worry about the clean baby.
What guests are saying:
"The hostess 's sister is very nice ~ if you have any questions, the reply directly asked on WeChat is also very fast. The house is clean and tidy. The location of the house in the city center is very close to Yunfang T12 Chong'an Temple. It is also very close to the subway station. There is also a convenience store downstairs. I really like the projections and bay windows in the house. The bed and sofa are super soft! ! I will order this next time I go to Wuxi! ! !"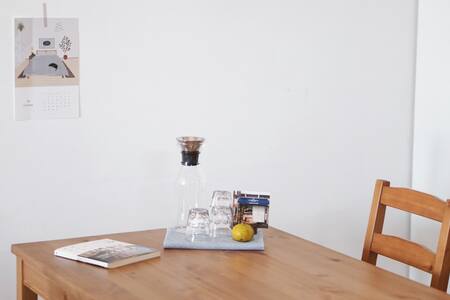 SUPERHOST
Entire apartment · 2 guests · 1 bed · 1.5 bathrooms
独立整租 地铁1号线太湖广场站/南长街可步行/电梯楼/自助入住/厨房可做饭/中央空调/干湿分离浴室
最近邻居装修,除了周末以外,可能会有吵闹的声音,建议的亲可以优先选择其他房源哦~ 点开图片浏览时,请阅读图片下方的文字介绍,帮助您更快了解房间格局与细节。 房源内设施齐全,适合喜欢独立空间的朋友,独立卧室、客厅、厨房、干湿分离的卫生间,一大一小两间阳台。 床上用品和毛巾浴巾是一客一换,舒适整洁是基本,可以放心使用。 我们提供: 牙刷/拖鞋/吹风机/浴巾/洗头膏/沐浴露/洗手液/电蚊香/书籍/国际象棋/洗衣粉等 厨房提供:小汤锅/炒锅/器皿/筷子/汤勺基本佐料以及清洁用品,适合入住天数较长的朋友。 小区位于市中心最生活化的板块,去哪都不远,南长街一直都是散步走过去的,想去南长街玩的小伙伴选我! 距离苏宁广场、恒隆广场、八佰伴等高级购物中心都很近~ 除了位置优越,周围商店小吃也相当多 - 全家便利店(小区门口) - 鲜丰水果店(全家隔壁) - 家乐福大型购物超市(楼旁边) - 肯德基/麦当劳(隔着马路彼此对望) - 毛华美食(无锡老字号大众点评一下) - 无夕(大众点评一下) - 熙晟源(馄饨、小笼包非常地道)
What guests are saying:
"The most satisfying homestay so far! The location is next to Carrefour, and there is a subway station nearby. It is easy to go to Sunac IKEA Coastal City, which is a short distance from Nanchang Street and Wanda downtown. I also like changing the shoe stool from the door, the shoe cabinet, the coffee table, and the four-piece suit! The homeowner is also very timely to solve the problem. The check-in strategy is very detailed. I recommend everyone to check in!"