页面显示为过夜价格 ⏰〖钟点房〗如要预定钟点房价格为(3小时85元)联系客服改价或预定后退差价 入住时间14:00 我们尽可能为提前到达的客人安排清理 位于漳州古城(东山岛火山岛云水谣土楼皆在县城,需高速1.5小时车程,提供包车方式及大巴预定公众号) ①提供电动车②古城内,近闽师大、市医院③提供神秘特产④独套公寓⑤电视带会员(电影免费看)⑥ 提供日本"资生堂"洗浴用品⑦洗衣机冰箱等家电⑧只有本地人知道的地道本土漳州攻略推荐⑨可开发票
What guests are saying:
"The house is very close to the ancient city in terms of location and can be reached within a few minutes walk. Is a community room, self-check-in. The interior of the house is neat and tidy, and everything is quite complete. OK for this price"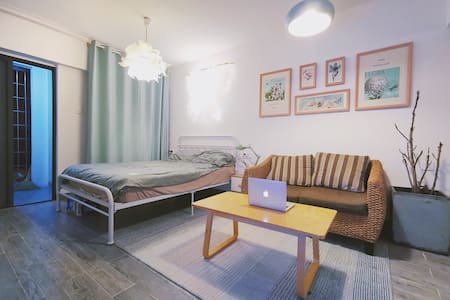 SUPERHOST
Entire flat · 2 guests · 1 bed · 1 bathroom
Empty House「耶加雪菲」5分钟到古城/公车直达/电梯公寓/中山公园/新华西商业街/繁华中心
房东目前有三套房源哦~~,「瑰夏」、「耶加雪菲」、「曼特宁」位于同一栋楼,「瑰夏」「耶加雪菲」「曼特宁」如有需要请点击我的头像查看其他房源~ 住房小贴士!!! 【不怕没得吃!】此房源临街于漳州市南昌路,楼下超多饮品店、小吃店、零食店!妈妈再也不用担心我找不到吃的了! 【去哪都方便!】出门步行3分钟便是九龙公园,离新华西路、古城、中山公园、沃尔玛都很近,步行5-10分钟均可到达! 【住这啥都有!】自助入住,自助退房,采用全智能密码锁,安全方便.免费无线wifi、24小时热水、网络电视/投影仪(海量电影电视剧随意看)、空调、拖鞋、一次性牙膏牙刷、洗发水,沐浴露、护发素、烧水壶等! Empty House 房子是空的只有你们住进来给了房子定义它就成了Home了 我们不给房子定义 您自己定义 这里是家,我希望您能感受到家的温馨舒适和自在,希望您每一天都能在慵懒的阳光里醒来,享受爱意满满的早餐,开始新一天愉快的旅程,慢慢感受这座城. 我们注重每一个细节,为您提供最舒适便利安全的居住体验,感谢每一位房客朋友的体验和建议~
What guests are saying:
"Very tasteful landlord. The room is very clean and tidy, and the overall style is also the IKEA style I like very much, simple and beautiful. In such a small city, the existence of literature and art is very clear. Because the itinerary changed temporarily, I lived in two style rooms, which are quite unique. I always like stories and people with stories, which is why I chose to travel with airbnb. It's a pity that this time there was an incident, there was no time to shake, and there was no chance to go to the landlord's coffee shop to sit down and taste it. Very good host, very enthusiastic and active. Have time to pesticide duck"
Centrally located within Zhangzhou. About 40mins away from Zhangzhou Train Station by bus.10mins away from Zhangzhou center station on foot.The nearest bus station is "Gui Xi Hua Yuan(桂溪花园)"and"Ke Yun Zhong Xin Zhan(客运中心站)". This is a one Private bedroom,including bathroom .If you need a temporary extra bed, you can provide it. Enjoy the free internet and living room .We have two cats, I hope you do not mind.
What guests are saying:
"Very nice, the place is very easy to find, the landlord is also very good, very enthusiastic, gentle and young, and the room is clean and hygienic. The key is that my favorite cat children are cute and docile. I stayed for three days. There was a family member who ordered other good places in the middle, and I was not willing to change! Anyway, I'm very satisfied with the feeling of going home, thank you!"