Luxury flat in the best and most convenient area of the city. The Marina is the most eclectic and vibrant area of the "Miami of Morocco". The flat is nicely decorated and well fitted for a couple or a family.
What guests are saying:
"This is an absolute gem of a find and i would highly recommend you stay here if you are visiting Agadir . .The flat is located in the most perfect location you could imagine . The marina is a vibrant location with all the shops , restaurants and dessert shops you could want . It's is a very clean and safe location suitable for couples and families , which you will often see walking down the promenade late into the night. It is waking distance to and beautiful 8 mile stretch of beach of perfectly soft sand . The flat easily held 5 of us and the two bathrooms was a godsend. Leila was always quick to communicate and kindly allowed us a later checkout and luggage storage. Thank you again Leila for hosting us , we wish you all the best Shehzad"
Appartement avec accès direct sur plage, au cœur du village de pêcheurs. Vous apprécierez le thé sous la tente berbère privée après le repas. Une femme de ménage/cuisinière est à votre disposition pendant le séjour. Idéal pour se reposer ou surfer.
What guests are saying:
"We have just spent a fabulous week with our 3 children in this apartment whose location is exceptional on the beach of Taghazout. We return enchanted by this sunny and summer break in the middle of February: we leave with the smiles of Sadia (cook) and Younès (driver) engraved in our memories, as well as the comings and goings of fishing boats, fishing neighbors crab, camel drivers, and surfers ... We greatly appreciated the cooking skills of Sadia, who concocted delicious tagines, couscous, fish, donuts and pancakes! It's better than at the restaurant! Sadia is always ready to help! Thank you for your little attentions Sadia, see you next year !! This small village of Taghazout is a real gem and a haven of peace for all those who would like to disconnect ... go ahead with your eyes closed!"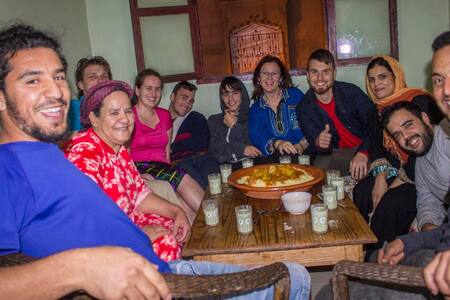 Private room · 2 guests · 1 bed · 1 shared bathroom
Real Moroccan lifestyle| FREE WiFi | Sunny Room#3
The house Located in a truly local Moroccan neighborhood, I will tell you something " No one will bother you to buy from or guide you home for money " People here are like a big family known for its generosity and love for guests . Our home has a shared living room, western style toilet, shower with hot water, a kitchen and a rooftop to enjoy the sun and the stars.
What guests are saying:
"Staying at Ahmed's home was much more than finding a bed. In this great tourist city and more similar to our European cities, we have found all that Morocco has more beautiful to offer: warmth, smiles, traditions and sharing, and above all hospitality. Ahmed welcomes his guests in all simplicity but with all his heart, he is an extremely sociable, passionate, caring host, he will know how to help and advise you! The house is slightly out of the center, in a quiet and lively neighborhood. It's easy to find with Ahmed's tips! A beautiful sharing experience not to be missed! Thank you soooooo much Ahmed for everything ... I'm feeling so honored to have met a beautiful person as you! Stay as you are and continue to make the world better! Thanks again to your mother for those delicious meal we shared together and thanks to your cousin for the fantastic tattoo! Remember you will always have a place to stay and Florence and Marseille !! Hope to meet you soon!"