SUPERHOST
Entire flat · 3 guests · 1 bed · 1.5 bathrooms
Perfect View and Cozy in 36th Floor Kamala Lagoon❤
Dengan fasilitas WIFI SUPER CEPAT nikmati ketenangan dan Kenyamanan dengan pemandangan kota bekasi dan jakarta dari lantai 36. Unit kami berada pada lantai yg BEST VIEW dan fasilitas moderen dan lengkap. terdapat Kolam Renang, Gym, Poket Garden, Mall, dan CGV cinema yang pas dibawah apartemen, jadi memudahkan dan tidak perlu khawatir untuk berjalan jarak yg jauh dgn mall dan mencari berbagai jajanan karena tepat di lantai dasar adalah mall kamala lagoon. karena semua sudah lengkap disini.
What guests are saying:
"The host is very good, the apartment unit is very clean, even the balcony is clean so it can be used to relax while enjoying and enjoy the beautiful view from the 36th floor, provided with snacks and drinks too, provided towels, slippers, soap, shampoo, toothbrush and toothpaste also, access to the apartment is also easy because it is very fast with the entrance of the mall, the wifi is smooth, it's just that it is not possible to cook because their apart is indeed based like a hotel. Everything is very ok Next time maybe I'll stay overnight again"
Apartmen Grand Kamala Lagoon Tower Barclay North florr 27, 1 bed room fully furnished AC, water heater, refrigator, stove, kitchen set, TV With lagoon avenue as a life style mall. Many famous tenant : Hero supermarket, Burger King, KFC, Solaria, Starbuck, Excelso, Chat time, Steak 21, etc Facity : pool(rooftop pool),play ground, gym, basement parking, lift with access card 500 m form exit toll Bekasi Barat 9 km from Halim Perdana Kusuma Airport 1 km from damri pool to Soekarno hatta int airport
What guests are saying:
"Stayed yesterday to evacuate from the flood. Excellent view, nice furniture, clean room. Unfortunately yesterday the signal was not good maybe because there was also a lot of power outages around there so the signal was not good. Complete facilities, comfortable mall, really ok. Want to go there again"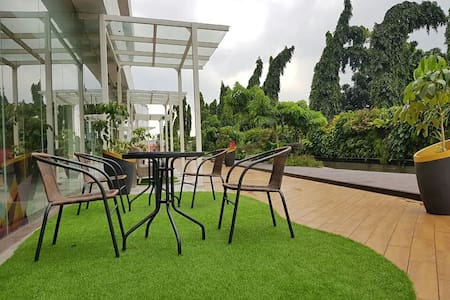 SUPERHOST
Entire flat · 3 guests · 1 bed · 1 bathroom
Kamala Lagoon Avenue Bekasi (Free Wifi Unlimited)
(WA : 085946536102) Lokasi sangat strategis di jantung kota bekasi dan tepat di atas Lagoon Avenue Mall, jadi mudah dan praktis ketika menginap, bersantai, bermain bersama keluarga tercinta. Beberapa tenant ternama : CGV, Hero Supermarket, Ace Xpress, Starbucks, Excelso, KFC, Solaria, Chatime, Steak 21, Miniso, Samsung, ImperialKitchen&dimsum,Kidzilla, Optik melawai, Guardian, Kaizen Haircut, Trusty Laundry. Lokasi 500 meter dari tol bekasi barat dan dari tol becakayu.
What guests are saying:
"The place was nice and comfortable. Additionally, Pak Ketut is such an amazing host. He will quickly response to your messages and gives a detail explanation on how to do everything related to your stay."