Residence of 3 levels 5 c, 5 b excellent location. 20 minutes from San Juan airport, excellent location to visit El Morro, El Viejo San Juan, El Yunque Forest, beaches, Fosforescent Bay and much more. Enjoy at home your entrance to the garage with garage door, go to your living room and enjoy the pool, gazebo, bar, and a mega garden, and if you have a special celebration, you have an activity gazebo and area for parking for your guests.
What guests are saying:
"Thank you for being the best host, your nephew is amazing he's such a good boy and talk so highly of his auntie he was really amazing we cooked out and while he came by fora concern i has and he was there within mins and he also took his time and double checked make sure everything was perfect for us an even cleaned up and showed us how to do a few things he stayed for dinner he was like family that's how nice he was so I can only imagine how amazing gloribel is in person. She was so Specific in her directions and how to maneuver in the house as far as the pool Jacuzzi lights the TVs remotes to every little detail of the house they were absolutely amazing to us, and how caring and loving they are checking on me when we had left and came home they both were asking if we had made it safe gloribel thank you again for that. The house is beyond my expectations It reminded me like I was home I have a pool and a Jacuzzi it was just so comforting it felt like home every detail in the house she made it so much as if you were just right in your own home. There's a pantry in the kitchen with everything you can think of full of different foods spices anything that you need to cook she has in that home she also in the fridge in the garage had a whole refrigerator stocked full of everything that you would need and more to cook and all refrigerator were all stocked with drinks, it really felt as though I was in my own home it was that comforting the rooms were amazing it was very clean the area is beautiful anything that you would need or you would have questions about you can always call them in either they will come by to show you in person and check and see how things are going or they can give you details over the phone they are very responsive it was the most beautiful time being in the home in Puerto Rico with the jungle right behind you with the river and all you hear is the sound of the jungle nature it's also very private so you have all the privacy in the world while you're out by the pool and Jacuzzi it was just all around amazing I couldn't explainHow amazing it is you would actually have to experience for yourself and it was about 10 minutes away from San Juan, Isla verde party life and tourist life to Stores malls casinos, you name it it's close by 5/10 mins from everything 24 hr security you feel as safe as it can get they are responsive and amazing, if you wanted to plan an event at your home they will set it up for you I mean everything you want and more you can achieve while staying in this beautiful mansion like house 3 floors all private bathrooms and bed rooms, garage fits two vehicles.. if you want to come to Puerto Rico to have fun, with friends partying to having family and kids relaxing and and playing by the pool making beautiful memories it's also so affordable but looks like out of price range this is the house you want to stay in you would be lucky to fine availability but if you do I would book it right away! And I'm not easy to please I'm very picky and i called them he came right over with a concern I had and actually stayed and cleaned up more and making sure everything was perfect for us without asking him the family is so sweet you would not want to miss out on the opportunity to experience staying in this house 😉 thank you again for everything gloribel and Derick I appreciate both of you words couldn't describe how thankful I am 💕"
Colonial décor home with 4 comfortable rooms, patio with gazebo, perfect for BBQ family time, 3 car garage, laundry, fully equipped kitchen. The house is nearby shopping centers, El Yunque Rainforest and the beautiful beaches of the North East of Puerto Rico. Route 66 will take you to San Juan in 15 minutes where you can enjoy the many activities Puerto Rico has to offer. The house includes a power generator in case of power outage and a water cistern.
What guests are saying:
"This beautiful little house is smack dab in the middle of San Juan and the El Yunque rain forest so my family and I never had to drive far for a good time. The house was very spacious and had an extraordinary amount of character to it. We all absolutely loved the back porch area! Luis set us up with all the necessary items and amenities and was quick to respond to any needs. Would definitely use this location again for another family adventure to Puerto Rico!"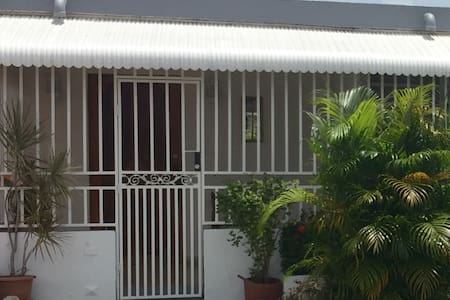 SUPERHOST
Entire guest suite · 3 guests · 0 beds · 1 bathroom
PRIVATE Studio/ central air, newly renovated.
Studio apartment private entrance with parking and private bathroom. Central air, kitchenette, queen size bed and loveseat. Just come stay and enjoy the quiet atmosphere, 5 min to mall, 12 to beach and 10 to airport. TRANSPORTATION available (there is a cost for this service).
What guests are saying:
"The place was great. I was alone and took a Uber there from the airport at 1am. I called ahead on the drive and I was greeted right away by a very sweet lady!! The apartment has a private entrance but attached to the main house. You have all the privacy with the comfort of someone being near. I was tired and thirsty at 1 am and there was cold water & snacks in the apartment. The room was very clean, the ac was great and there were great TV options. The bathroom was very clean and the shower was hot and spacious. Safety was my priority and I felt very safe. I would highly recommend this location because it's in Carolina which is a short drive from the airport. The hosts responds quickly!! Thank you for making me feel comfortable for my first trip alone to the PR."