We offer spectacular views, thrilling local adventures, culture, cool nights & memorable experiences all in a safe area. Our property is surrounded by lush rainforest-like conditions and still under 15 minutes from restaurants, pubs, churches, and supermarkets with an easy drive from San Juan, and under 1.5 hours to most airports. We are also 30 minutes from larger rivers, caves, historic sites, coffee plantations and under 1 hour from science sites, canyons, waterfalls, and a beach.
What guests are saying:
"This place is AMAZING! I would travel to Puerto Rico anytime just to stay there. It was my first time glamping and I enjoyed a lot. The owner and staff made everything possible for us to have an outstanding time. Not only you have one of the best views in all the Caribbean, but the meals there are delicious! Real home-made Puerto Rican food. The tent was in perfect conditions and we had everything we needed.....even wood for the bonfire. I'm working on a video of this property to post on @ travelcarlitosway. There is nothing to think about...book this place right now!"
*** RECENT UPDATES** JUNE 2020 * Washer & Dryer * Ceiling fans in both bedrooms in addition to the air condition :) * 5 beach chairs & cooler.
What guests are saying:
"Let's begin by saying that Kim is a great host. She never hesitated to answer any question. Staying atLa Casa del Rio was a great experience for me and my wife. It's located in a humble community, surrounded by nature and beautiful animal sounds. The GPS will not drive you directly to the house, but with Kim's directions it is very easy to find it, plus there is a huge red Airbnb sign on the mountain behind the house that's easy to spot. It is at walking distance from the river and Los Chorros (a beautiful waterfall) very visited by locals and tourists as well. The house is in a narrow road, on car at a time, but we never found another car driving by. It is a family road, one way in and one way out. The house was sparkling clean, it has everything you need to make your stay comfortable. You have a parking garage for two cars, a bit hard to get into it with pickups or SUVs, but you'll manage it. The master bedroom is super big and sheets were fresh and clean. There is another room with 2 beds that we didn't use. The patio is really nice. We spent a few hours there listening to nature. La Casa del Rio is very close to main attractions, beaches, rivers and shopping centers. This place is definitely a must if you want to have the full experience of "el campo" in Puerto Rico. Will stay here again for sure!!! Thank you Kim!"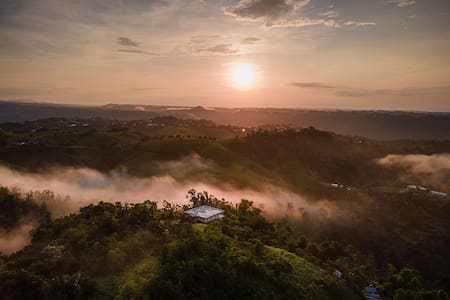 SUPERHOST
Entire house · 16+ guests · 26 beds · 6 bathrooms
Rainforest,Mountains,Waterfalls,Views (Sleeps1-40)
Welcome to our beautiful property nestled in the Utuado Mountains overlooking Lake Dos Bocas & 2,000 mountain tops. If you like the tranquility & beauty of nature, you will love the lush rain forest conditions & the cool nights this side of the island offers. We also offer plenty of Adventure & Culture + minutes from rivers, caves, history, coffee plantations & under an hour from the beach. We also have hiking trails, waterfalls, a river, campfire area & even meals available during your stay!
What guests are saying:
"I must say that I had my doubts about renting a large home in the mountains to spend a long weekend with Family members that had arrived from all over. That ALL CHANGED ONCE WE ARRIVED and SETTLED IN. The home was very spacious with everything one could hope for in a mountain retreat. Well equipped kitchen, large living room, bedrooms and bathrooms. The Large patio in the rear of the home had a spectacular view of the lake, valley and mountains in the background. So much to view and enjoy in a relaxed setting. The interior of home was well furnished and allowed for the interaction of all those present be that during moments of dinner time or just socializing with family. The whole atmosphere in and around the house that we stayed in exuded a GREAT SENSE OF PRIVACY for all of us, a factor, besides accommodating UP TO 40, that was pivotal in our requirements. The location, the setting, the accessibility and the availability of things to do nearby or in the properties such as the nearby fire pit, walking trails, and streams that allowed for further enjoyment of the place we stayed in. Our stay here created family memories of a lifetime. We left the place with a sense of overwhelming joy and satisfaction .We were so  happy we made the choice to stay here. The pictures and videos taken will reflect the love , joy, fun and memories created here at this mountain Airbnb. We highly recommend this place for large family or group gatherings. This was the perfect house and my family had the best time. We will definitely be back! Thanks again Adam for everything! You are truly a SUPERHOST!"