We offer a stunning luxury loft located on a rooftop in the city center of natanya, 8 minute's walk from the beach . The loft contains heated jacuzzi & seating areas and a sunny terrace, kitchen, bedroom with 1 double bed and 3 mor sofas that open to double beds, and most importantly full privacy. On Saturday only Entrance time is approximately one hour after Saturday's departure. Varies from 4pm to pm8 :Waiting for you guys!.
What guests are saying:
"We had a lot of fun. The response was quick, we were greeted with a smile .. Take care of the little things. The place is clean and equipped with things Think of everything you will only bring yourself."
EXTRA CLEAN🥇60 Meter open space, renovated and design, mirror TV, Smart lights and a perfect Big couple bathtub 🛁 (There is one more shower with a glass wall next to the bed) לופט מדהים בלב ת״א! 60 מטר חלל פתוח, משופץ ומעוצב! טלוויזיית מראה בסלון, תאורה חכמה ואמבטיה זוגית מפנקת במיוחד! (יש גם מקלחת עם קיר זכוכית ממש ליד המיטה ☺️) הדירה מאובזרת לחלוטין בכל מה שצריך בשביל חופשה כיפית בתל אביב המושלמת! רמקולים בקירות סביב הדירה! מכונת קפה (קפסולות חינם!) מכונת כביסה פשוטה להפעלה (יש אבקה ומרכך) מצעים ומגבות (תמיד מכבס על 90 מעלות!) הדירה מבריקה במיוחד! (כמו שאפשר לראות בחוות הדעת של הדירה ⭐️5)
What guests are saying:
"Loved everything about this Airbnb super clean ,modern , In the city perfect location everything is walking distance. will definitely come back. Highly recommend this place!!! Din&Luis are amazing thank you ☺️"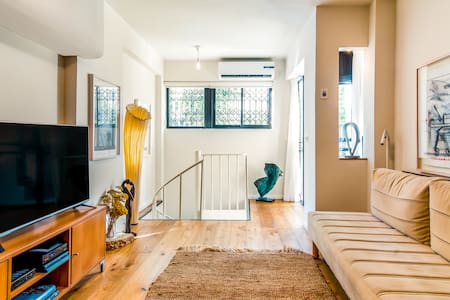 PLUS
Entire flat · 3 guests · 1 bed · 1 bathroom
Peaceful Luxury Duplex Apartment close to Dizengoff Square
Unwind in the small, beautiful garden at this luxury apartment. Located in a highly-furnished duplex with all the modern amenities, including a Bose sound system, a fully-equipped kitchen, and wood floors and furnishings throughout.
What guests are saying:
"It was absolutely wonderful! Shoshi and Itzak really cared about us and made our stay perfect. They gave us helpful tips to explore the city, brought us some extra coffee and also said that we can have some more if we need it, more shampoo, towels, and everything. The location was great, the apartment was perfectly equipped (washing machine, kitchen stuff, TVs with netflix, coffee, etc.) and we felt really at home. We enjoyed it and would absolutely recommend it."