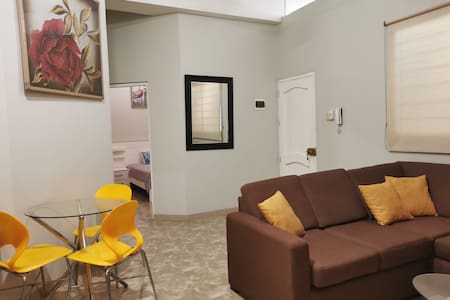 SUPERHOST
Private room · 2 guests · 1 bed · 1 shared bathroom
Private room in a very good condition apartment.
Private room with a double bed, wardrobe and ceiling fan, with a bathroom just outside the room which is basically exclusive for the guests, for the host has her own toilet.
What guests are saying:
"I had a great stay at Cecilia's flat, the flat is gorgeous and Cecilia is a pleasant and very attentive host. The bed is comfortable, shower is powerful, everything is super clean. The kitchen is great too. I do recommend this flat. Some things to note which are important for you to take a decision: The room can be very bright, there are many windows in the room, those windows lead to the corridor, there's a strong light there which can be turned on during the night by the neighbors. Real WiFi speed is 0.2mb dowload so you will need a local sim card to use internet. The flat is silent during the day and evening during the week, on the weekends as it is a ground floor close to the main entrance there's a bit of noise till 1am from neighbors going in and out. There's no noise at all from clubs or bars though."
This TinyHouse is 25m2 in downtown Iquitos. It has a loft with a full size bed. We can set it with 2 twin size beds. The TinyHouse is within walking distance from Gustave Eiffel's Casa de Fierro Architecture, Boulevard Iquitos, Main Square, Itaya River, Estadio Max Agustin, Fresh products markets. The TinyHouse is surrounded by several restaurants, laundromat. Iquitos is beautiful but noisy. Internet service is in general probably the slowest in the whole country.
What guests are saying:
"Ben is the best host ever. Quick response and so efficient to answer you back. During my booking he helped me so many times that I felt ashamed asking more questions. This place is a nice efficiency it's all the needs you need in with a nice decent bed, glasses, cups, plates, Silverware and more!!! Great location and feels like home. WILL definitely come back to the tiny house"
Puka Wasi Posada es una casita acogedora decorada de manera rústica, pero manteniendo el confort como para descansar y disfrutar de la naturaleza. Para llegar, debes tomar un avión que te lleve a Tarapoto (1:15 min desde Lima) Ofrecemos servicio de traslado del aeropuerto hasta Puka Wasi a S/.30 aprox. También, podemos alquilarte moto para paseo a $16.00 dia. El pueblo cuenta con un buen Restaurant con comida elaborada y hay bodegas que venden productos para poder preparar sus propios alimentos.
What guests are saying:
"Katia's house is the perfect place if you want to live a unique experience in the jungle. It is located in a village with very kind, nice, respectful people. From Tarapoto you can easily get to the motorbike taxi, it is also worth the trip, since the road you walk has incredible views. You listen to the birds, you watch beautiful sunsets. The house is surrounded by lots of vegetation and very close to the river, where you can bathe as the locals do. But the most beautiful thing is that every night you can see fireflies and hear the thousand sounds made by frogs. And if it's clear, see thousands of stars too. Simply a delight for sight and hearing. The outdoor kitchen has what it takes to cook. The communication with Katia was always quick. She is very kind and will help you with any questions you may have. We will definitely be back."