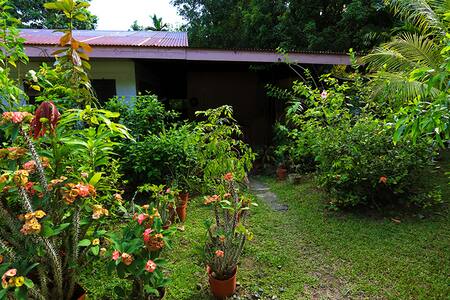 SUPERHOST
Entire guest house · 4 guests · 1 bed · 1 bathroom
Room separate from house w/ separate entrance, A/C
Separate room with A/C, private bathroom with hot showers, and private kitchenette that's just outside the room. Public access dock within 3 minute-walk. Close to rock islands, but far from downtown. Great hosts who want you to see the Palau they know.
What guests are saying:
"We really enjoyed our stay at Enitha and Uherbelau's house. They had tons of interesting local, historical, and cultural information, staying accessible while giving us as much privacy as we wanted. The room stayed nice and cool which was a welcome break from the heat outside. There was cable and wifi so we were all grateful to have wifi access. The neighborhood is out of downtown (which we liked) so it was convenient to be able use the car they rent for the days we needed it. It's small but had room for the four of us and easy to drive around Koror through tight parking spaces. All in all a great experience."
Apt bldg is situated by the lagoon/seaside, across famous Palau Sunset Park. Guest may go to the sea for quick dip or just walk in the park, savor fresh air, enjoy the local neighborhood. Pizzeria, cafe is about eight minutes walk.Convenience store to get basic needs is nearby.Walking to downtown area is approx 10 minutes. Walkers are on the safe side always,as sidewalks are uncommon in the island. Property owner manages rental car,grocery,restaurants,souvenir shops,convenience,hardware store.
What guests are saying:
"To me, it's a great place to stay for a short term. Kitchen equipment is all set and you can cook by yourself. The balcony is great that you can have a beer and watch the ocean. As long as you will rent a car, then the location is not a problem. It's quiet and comfortable, and the host is really helpful and kind. A great place for short term stay!"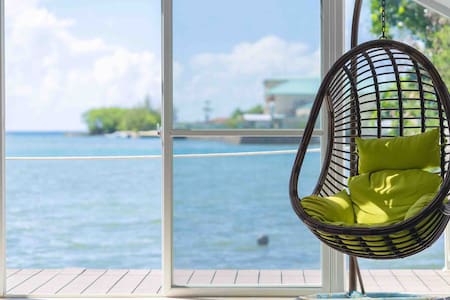 Private room · 2 guests · 0 beds · 1 private bathroom
SEAWARD 270-degree sea view big bed room 无敌海景大床房
Located in the center of Koror, less than 10 minutes' walk away from WCTC, the largest supermarket in the city, the apartment is in the city that is truly built on the sea surface for leisure and vacation. The apartment enjoys an excellent location to watch the sunset from the balcony of the room. The decoration style is warm, simple, exquisite and comfortable The apartment is located in the center of Koror, less than ten minutes walk from WCTC, the city's largest supermarket. It is a leisure holiday apartment built on the sea in the center of Koror. The location on the balcony of the room is excellent. The decoration is warm, simple and exquisite. , With Chinese front desk, facing the sea, spring blossoms
What guests are saying:
"I have been to 105 countries, often staying at AirBnBs and I have to say that this was a very unique experience. The room is not the largest nor the bed the softest, but has a truly magical, epic view. Keep in mind that it is Palau, which at the time of writing, isn't the most luxurious, so this is really great by local standards. It's also very centrally located and well appointed. However, what stood out was our host: Lily is hands down one of the most kind, hospitable, and thoughtful hosts I've ever met. Not only did she kindly pick and drop us off at the airport, but she also let us take her car around the island, gave us some incredible tips, and made us breakfast every morning. She was truly a nice, gentle soul and went above and beyond! I would gladly stay here in a heartbeat just to experience her warmth again and highly recommend you do the same!"