O χώρος μου βρίσκεται πολύ κοντά στο αεροδρόμιο Μακεδονία στο κέντρο ήσυχου προαστίου 15 χιλιόμετρα ανατολικά της Θεσσαλονίκης διαθέτει σαλόνι, κουζίνα,υπνοδωμάτιο και μπάνιο.Είναι πλήρως επιπλωμένο με κουζίνα,κλιματισμό, διπλό κρεβάτι και tv.Απέχει 10 λεπτά από το αεροδρόμιο 5 λεπτά από το εμπορικό κέντρο και από το ιατρικό διαβαλκανικό κέντρο 50 μέτρα από αστική συγκοινωνία, εστιατόρια, fast food και καφέ. Το διαμέρισμα ειναι ευρύχωρο ειναι ημιυπόγειο και βρίσκεται στο κάτω μέρος μεζονέτας
What guests are saying:
"Marina is very kind and communication was impeccable. The house is clean, tidy and in a nice quiet area. Especially for me when I traveled by motorcycle and was worried about where to park and if it was safe, eventually it had space just outside the house. Generally however it is a quiet area and there is ample parking near the house."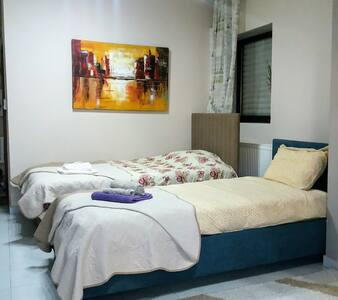 SUPERHOST
Entire flat · 3 guests · 3 beds · 1 bathroom
Οικείο περιβάλλον ,όμορφος χώρος ,ήσυχη γειτονιά
Διαμέρισμα 40 τ.μ. με αυτόνομη θέρμανση (φυσικό αέριο). Αποτελείται από σαλοκουζίνα και μπάνιο.Πολύ εύκολο και ελεύθερο πάρκινγκ δίπλα στο σπίτι.Το διαμέρισμα απέχει με αυτοκίνητο: 10' από το αεροδρόμιο " Μακεδονία" (6,1 Km), 7΄από το ΚΤΕΛ Χαλκιδικής (2,9 Km), 5' από το εμπορικό κέντρο "Μακεδονία" (2,25 Km), 5' από το νοσοκομείο "Άγιος Παύλος" (1,3 Km), 9' από το ιατρικό διαβαλκανικό κέντρο (4,83 Km), 7' από το εμπορικό κέντρο "Απολλώνια" (4,39 Km), 15' από το "Mediterranean cosmos"(5,59 Km).
What guests are saying:
"Communication ... Full Communication ... Willingness and immediacy in whatever is needed ... In combination with the facilities, the cleanliness, the comfort and the warmth of the space ... It gives the visitor exactly what he needs. To feel, that is, how to find his home .. !!! This is the second time I have visited your place, friend Spyros .. And I was completely satisfied .. I would come again with closed eyes that say .. !!! Thank you for the hospitality .. !!!"
SUPERHOST
Entire house · 4 guests · 3 beds · 1 bathroom
Apartment near airport SKG and close Thessaloniki
This house is in a quite place in the nature!! It has many trees and flowers!! We have our dog and cats and sweet kittens!! If you love the nature and the animals this is the right place!! It's very close near the airport about 15 minutes and 30 minutes from the center of Thessaloniki. This place is also near from Halkidiki. So if you want a place for a station is perfect. In this village we have taverna and a traditional coffee place for coffee, pie,and delicious sweets, and small super market.
What guests are saying:
"Irenes place is in a beautiful surrounding, near the airpoart of Thessakoniki but far away from the crowd. The house has everything you need and was clean. Irene was very hospitable, friendly and helpful. And we enjoyed the acompany from our catfriends a lot :)"