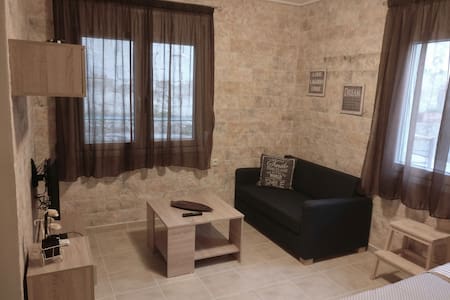 SUPERHOST
Entire flat · 4 guests · 1 bed · 1 bathroom
Διαμέρισμα στο κέντρο δίπλα στην παραλία , WiFi !
Το διαμέρισμα είναι μια φωτεινή ημιυπόγεια γκαρσονιέρα 32τμ πλήρως επιπλωμένη και εξοπλισμένη που βλέπει σε κλειστή και ασφαλής αυλή . Μόλις 100 μ. από την παραλία του Βόλου και από το πάρκο του Αγ. Κωνσταντίνου μπορεί κανείς πεζός σε μερικά λεπτά να βρίσκετε σε όποιο σημείο θέλει απολαμβάνοντας την βόλτα , τα εμπορικά , τα καφέ , τα Bar , και τα φημισμένα τσιπουράδικα του Βόλου . Είναι μια ιδανική και οικονομική λύση για την εξόρμηση ή τις επαγγελματικές σας υποχρεώσεις στον πανέμορφο Βόλο .
What guests are saying:
"Elegant space, neat and mostly clean ..... The location is a must for a tour of the city of Volos without a car. The host helpful but also discreet ..... I recommend it without any reservations "
Ο χωρος φιλοξενιας ειναι ενα διαμερισμα 32 τ.μ. αποκλειστικης χρησης του φιλοξενουμενου. Αποτελειται απο ενα υπνοδωματιο, ενα μικρο σαλονι το οποιο συνυπαρχει με μια κουζινα καθως και χωρο μπανιου. Στον χωρο φιλοξενιας "La Casa de Spyrakos" μετα την ολοκληρωση καθε διαμονης επισκεπτων, πραγματοποιειται απολυμανση του χωρου με την χρηση ειδικων απολυμαντικων καθαριστικων καθως και με την χρηση ατμοκαθαριστη ο οποιος καθαριζει το 100% των μικροβιων. ΑΜ:12705.
What guests are saying:
"So. I visited the beautiful place of Thanasis and my experience was something more than grate. The house was clean and very "cozy". There is a very nice sensation from the first time you step into the house, that you already know this place. It just made me feel comfortable to spend time there. Thanasis (the host) was friendly and more than ok about the first meeting and the timing. I would definitely visit it again and i strongly recommend it to everyone. Especially couples .."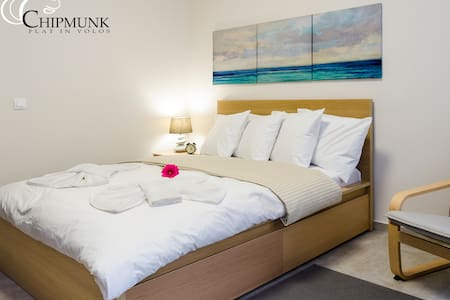 SUPERHOST
Entire flat · 3 guests · 2 beds · 1 bathroom
Chipmunk flat in Volos -1 min walk from Port -NEW!
Chipmunk is PERFECTLY situated in the Centre of Volos, with a Minute Walking Distance to the magnificent Port. 30 m2 totally brand new, consisting of a private BE, BA and a fully equipped kitchen, all sparkling clean.WACHING-DRYER MACHINE for your clothes,plus a 65'' Samsung smartTV-NETFLIX. Ideal for travelers, couples, 3 member families &business people.Surrounded by shops,cafes and restaurants, energetic during day yet safe at night.An incredible flat,with gorgeous views & 6-star hospitality!
What guests are saying:
"The place is wonderful, it offers all the amenities one needs. It's friendly, clean, the bed is fantastic, the TV, the kitchen and the bathroom. It is a small palace in the city center. The service and hospitality are fantastic. Well done to Hara, apart from the external beauty she is a wonderful person. Glad to thank you for everything, we'll talk again soon."