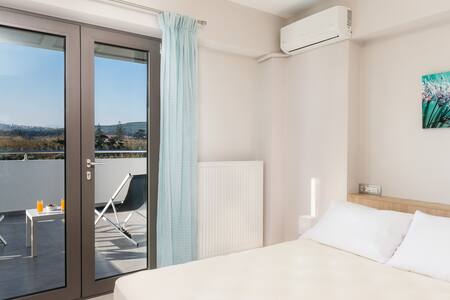 SUPERHOST
Entire flat · 4 guests · 2 beds · 1 bathroom
Jasmine Cozy & Modern Flat, steps from Sandy Beach
At 400 meters of distance from the sandy beach of Maleme, our beautiful flat, fully equipped, is ready to comfortably accommodate 2 people in 1 bedroom plus a sofa bed. Enjoy your stay with features such as fully air-conditioned spaces, fast wi-fi, balcony with view, steps from the beach, fully equipped kitchen, washer, cable tv. Spend your relaxing holidays in a brand new, stylish flat and explore sunny Crete!
What guests are saying:
"We had wonderful 8 days in the cozy jasmine apartment. It was all super clean and comfortable. Especially the bedroom balcony with an amazing view made us relax in the sun a lot. Although Maleme itself is not a highlight, it is a good starting point for driving to many nice places in the west area of crete. Our host Damoulis cared a lot and we felt more than welcome. At the beginning we received a bottle of white wine (very good!), some fruits and bottled water. Damoulis also gave us many recommendations for activities in the area and was available 24/7. Two times we visited the Drosia restaurant which is run by the family of Damoulis wife Ritsa. We were treated like VIPs and the two visits there were definitely our highlights of the week: delicious foods, a variety of homemade products, and amazing service. Also, the best Raki ever! To go there is a must do for everyone. Thanks for the great hospitality and for the good communication!"
Niriis hotel is located 100m from the sea, in Herakleous street, Agii Apostoli area (Agii Apostoli street next to Herakleous street), 4km west of Chania. The room is a 6-bed dormitory, you will share the room with 5 other persons. Within one minute walk, there are 3 beaches, swimming pools, mini markets, restaurants, park. Rooms are equipped with small kitchen, cooking utensils, fridge, free WiFi, TV, air-conditioning, safety box.
What guests are saying:
"Oh yeaaah! Like classic koolaid oh yeaaah! Insanely cheap price & location. The hotel management team & George are top-notch. They are practically giving rooms away. Go see the sunset on the church cliff at the beach 100 meters away from Niriis, and rent a jeep through them to visit the unforgettable, not possibly regrettable, Baaalos!! Swim and climb the gorgeous grand rock guarding the turquoise fantasy before you. I never believed I would have the privilege of existing in such a place. Lie down in the shallow area in the middle section and make sand angels, as a wise German Niriis roommate [Oskar] suggested while slipping into bliss a few feet to my right. Yes, yep. Timeless & Priceless. Sand Angels!!! Sand!!! Angels!!! Oh, what else was I going to say.... hmm.. ohh what was it what was it what was it... oh yeah, SAND ANGELS!!!!! Proactive appreciation will skyrocket the power of your insides, and this place was abundantly generous in assisting that. It is like the way dogs inherently give their heart to the world without demand. Speaking of dogs, there is a community of them that walk the beaches by Niriis hotel. I wanted to find out who their masters were so that I could see if it was okay to feed them. Some foods are bad for dogs and overfeeding could be trouble. I was actually sad when I left because they were so sweet with their comforting interactions and I wanted to spend more time with them. After the city was fast asleep, I walked the beaches & forests for a few hours every night, to stare at the twinkling city glow as it shouted to the starlight, and they just followed me anywhere I went. Peaceful, playful, endearing, smiling. Emma & Shania, best wishes to all of your passion. A real Australian smile lights the world. We agree, don't ever leave the child of your past in the past. It is the first item to pack. I can't write what I really want to say, so I'll just phrase it this way, "you will be in my movement & in my heart every miserable & joyful day." Oh if only hugs could last forever.... <3 Ako 6"