Axos Apartments are located in Analipsis, a small, traditional and picturesque village in the center of the northern coast of the island of Crete, 20 km east from the city of Heraklion. Axos Apartments are eco friendly, fully equipped, beautifully decorated and brand new apartments. They appertain to 4 keys category. The apartments are approximately 800 meters away from the sandy beach and provide guests with the opportunity to enjoy peaceful vacations full of sun sea and warm hospitality.
What guests are saying:
"Lovely and hospitable hosts! Despina is an open and sociable person. I was always ready to help. Has presented our son a toy, treated with grapes) ... We all lived together in the same house. The house is nice. A bit far from the sea. But walks wandered and kept in shape). Waking up to the cries of local cocks) ... We recommend a place - quite quiet, there are interesting bars and cafes, there is a nice beach from the hotel with enough clean sand and sandy sunset (but you have to go for 20 minutes before it)."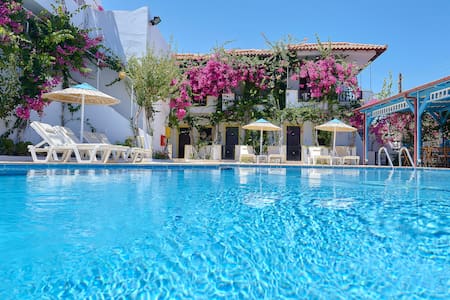 SUPERHOST
Entire apartment · 2 guests · 1 bed · 1 bathroom
Paul Marie stud★3min fr the sea,Breakfast included
There is a charming place, just 3 minutes away from the Mediterranean, decorated by flowers of different types and colours of the area. Paul Marie is a family hotel that looks like more with a picturesque village which exudes Aroma of Greece. Paul Marie is located in Analipsi of Hersonissos. Analipsi is a great choice for travelers interested in relaxation, local food and sunshine. The cosmopolitan Hersonissos city is only 10 min away from Paul Marie by public transport.
What guests are saying:
"Beautiful apartments surrounded with lovely flowers. We thoroughly enjoyed our holiday, the apartment had everything we needed. We had the perfect balance of days by the pool and days out in our hire car to visit nearby beaches, the nearest town and days exploring the city of Heraklion. The hotel was nice and small and therefore didn't feel like a busy complex, we never had to fight for seats or sun loungers and it had a very chilled atmosphere. The breakfast was delicious every morning and all of the staff were extremely polite and helpful. Would highly recommend. Thanks Maria & Paul!"
Svourou Appartment is a newly built apartment in Analipsi - Hersonissos area. Its unique elements are the aesthetics of the house and its strategic position near the most impressive parts of Northern Crete.
What guests are saying:
"Thanks to the detailed descriptions provided by the host finding the building and checking in is very easy. The apartment looks brand new and just like the pictures. There are several supermarkets, restaurants and the beach in walking distance. Behind the building there's a parking lot where we always found a spot for our car. There are two guard dogs on the property of the building which bark quite a lot. They only run around in their territory and have no contact to the visitors, but people who are afraid of dogs or who are annoyed by frequent barking might want to reconsider staying here (or bring ear plugs for the night like we did). The host is very responsive to questions and helps whenever possible. We felt very welcome and wouldn't hesitate to stay here again."