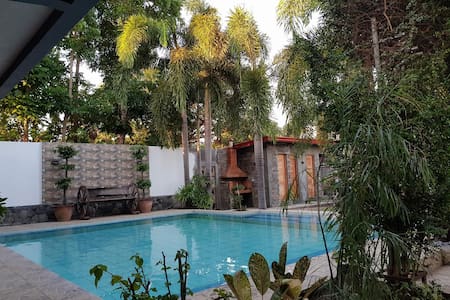 SUPERHOST
Entire guest house · 10 guests · 6 beds · 3 bathrooms
Transient Place with Pool in Orion Bataan
The place is a two-storey guesthouse wherein the kitchen is on the first floor and the rooms are on the second floor. The rooms are fully airconditioned. Each room can fit up to 5 people. The base price is P2,000 plus P500 per pax exceeding 3 pax (without pool). Pay only an additional P1,500.00 for the exclusive use of swimming pool and P100 for the use of gas stove. The place is walking distance from the marketplace and from a famous pizza place in town. Enjoy a homey feel while travelling.
What guests are saying:
"This place is worth your money. The host is quick to respond on all questions. People there are very hospitable, acts quickly on our requests and very friendly. The place is really safe, very clean and quiet. Parking space is not a problem. The family had so much fun. We will definitely rent it out again when we go back to Orion."
A great spot to unwind after a long trip or a hectic week in the city, our #OceanNest is cozy and clean, with many nooks. The neighbours are retirees and our old building is quiet at night. It is a 40sqm 3RD FLOOR UNIT in the rainforest 20 mins drive from Subic Bay CBD. 5 mins to Subic airport, JEST, waterfalls and beaches. Ideal for couples, adventurers, triathletes, business travellers looking for a quiet weekend, or a workspace with a view. @thenestbythesea
What guests are saying:
"I had a great time on the apartment. The place is quiet and relaxing. I enjoyed great breakfast and coffee with the wonderful things left for me like the press coffee, home made peanut butter, oatmeal and bread. The interior design is really unique and beautiful. I can definitely recommend the place to my friends"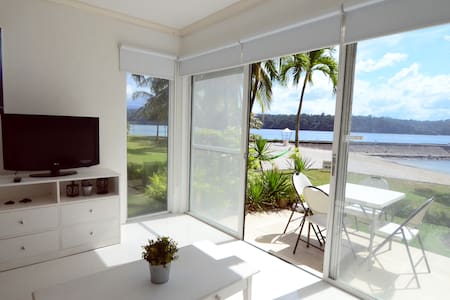 SUPERHOST
Entire townhouse · 8 guests · 5 beds · 2 bathrooms
Paradise Cove Beach Condo... Absolute Beach Front.
Before inquiring please note that the maximum number of guests who can stay at my place is strictly 8 persons. We welcome you to our family beach house facing the clear and calm waters of Triboa Bay, SBMA. Located in the middle of a marine sanctuary, our guests enjoy stunning views of the sea and the virgin rain forest, breathtaking sunsets and access to a private secluded beach. Our beach house - just a few steps away from the shore - offers accommodation for up to (8) guests comfortably.
What guests are saying:
"Marinette's place is amazing. The ocean is right outside your door, and view is beautiful. I have been to Subic before, but this trip in particular really made me appreciate it. The unit itself is quite cozy. I had a party of 7, and we were able to all fit in without it feeling tight at all. The area is safe with a guard at the entrance, and lights are spread throught the area. We were able to have a late bbq dinner outside, followed by a stroll across the beach under the stars. Marinette is an amazing host. She is very accommodating, thoughtful, and quick to respond. My girlfriend and I picked her home to celebrate our birthdays (they are 2 days apart), and we were greeted with a birthday cake once we stepped inside. I highly recommend visiting her place."