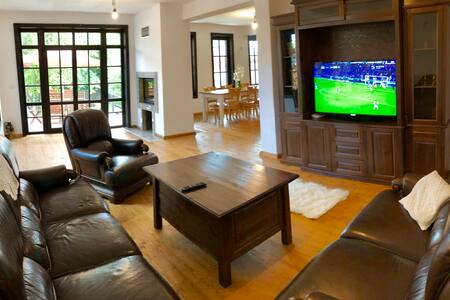 SUPERHOST
Entire house · 8 guests · 5 beds · 2.5 bathrooms
Beautiful traditional home on the edge of a forest
Arabadzhievata Kashta is a newly-built house, designed with respect to the traditional Bulgarian style. It's a 5 minute walk to the town centre, 15 minutes to the mountain lift and paragliding bases. The famous Pine Forest, with its beautiful hiking paths, is right by the house. Sopot is famous for its ice-cold water that comes straight from the mountain springs. One of the spring water taps is right on your doorstep, so you can relax enjoying the benefits of fresh air and crystal clear water.
What guests are saying:
"A wonderful house in historical Bulgarian style in a town and area with rich past. Light, spacious and warm, it has all the modern amenities and touches. Spent a few days with friends in winter and we enjoyed it greatly! It's a quiet place and looks child friendly, too. The terrace and garden are surely a nice addition in the warm seasons. Communication with Ivelina was quick and effective. I highly recommend this place. Великолепно реновирана къща с всички модерни удобства. Просторна и топла, идеална за ваканция с приятели или семейства с деца (има детска стая с 4 легла). Комуникацията с Ивелина беше бърза, точна и приятна."
A fantastic place for relax ,Yoga and people with children.
What guests are saying:
"We just left the Green House and we are already missing it! Me and my friends were amazed by the house, it's style & space and all the nature around it. It is very cozy and warm with both the indoor and outdoor fireplaces! The air was so clean we could enjoy a beautiful starry sky every night. Our experience would not be the same without Nedyalka! She completed our experience with her good and honest spirit! She was very helpful, communicative and made us feel special! We are totally coming back! Julie, Nick, Genadi, Borislava"
The guest house is situated in the incredibly picturesque, quiet and crystal clear village of Bulgaria - Father Paisievo. The village is nestled in the foothills of Sredna Gora and is far away from factories and big cities but at the same time in the immediate vicinity of the town of Hissarya (Hissarya is an ancient historical town known for its curative mineral springs). Just a few kilometers away is another village with mineral springs - the village of Banya.
What guests are saying:
"This is a great place with fantastic views, lovely garden and outdoor cooking/dining area, a swimming pool and a well-maintained garden. It is also very peaceful and a great place to relax. It was also very clean and Ana was very quick to respond to messages throughout! Some things to bear in mind - the house itself is quite small (it would best accommodate 4 adults); the bathroom is also small with no proper shower cabin; we also had no water for most of the day over the weekend, which we were told was normal (when there was water over the weekdays, it was still quite weak). Make sure to bring enough food and other provisions with you as shopping in the village is limited. The road leading to the house is a dirt road, so a sturdy car is also recommended."