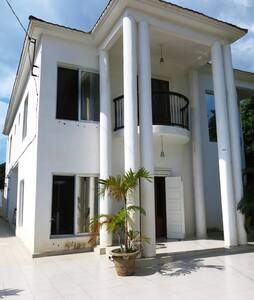 Room in boutique hotel · 2 guests · 1 bed · 3.5 bathrooms
The Tranquil Star Luxury Standard Deluxe Room
The Tranquil Star is a unique luxury boutique guest house nestled in a quiet cul-de-sac among modern and the irregular styled houses of the early Mandinka settlers. It's considered to be an oasis of calm. The STANDARD DELUXE guestroom is ONE out of THREE rooms on the property that can be booked individually. To view or book these rooms, go to Airbnb and type The Tranquil Star Luxury GRAND DELUXE Room (£55 per night). Repeat this for The Tranquil Star Luxury SUPREME DELUXE Room (£65 per night)
What guests are saying:
"I originally meant to stay for just over a week in the Tranquil Star , but because I had such a fabulous experience I extended by 2 further nights. I couldn't have asked for anymore. I was given the very vest treatment from start to finish, from the collection from the airport too the sad goodbyes. The place is very stylish and modern and cleanliness is impeccable. All staffs are very courteous and always are ready with a warm greeting whether in the morning or night. The food was very fresh and you are able too customise to your own desires (due to the very adaptable chefs Musu and Moyin) The gatekeepers are also available day and night for assistance, as well as Ron and Christine. Nothing was too much trouble. I would 100% reccommend."
This high end accommodation with 3 available bedrooms sleeping 7 guests, two upstairs one downstairs all rooms having en-suites, air- conditioning, ceiling fan and two good size balconies on the first floor, giving a wide view of the estate and surrounding area. A modern fully equip kitchen, dining room seating 8, living room, flat screen smart TV, air-conditioning, ceiling fan and Wi-Fi.
What guests are saying:
"We stayed for a week as my friend came from UK as I live local I know the accommodation around this area .I picked here as it was such a beautiful home and so very spacious. You can tell it has been built to a high spec and not just for a holiday let standard. Beds were amazingly comfortable - all towels and.bedding brand new , fully equipped kitchen we love cooking and wanted for nothing . Everything was so clean, fruit trees in garden as well as lovely shrubs. Pool was a great size and maintained. There was lovely coloured lights lighting it up a nice. Gated area so felt safe also David the. watchman /handyman very helpful. This. will be. my go to place. again when i have visitors great holiday. jennifer bensaidane"