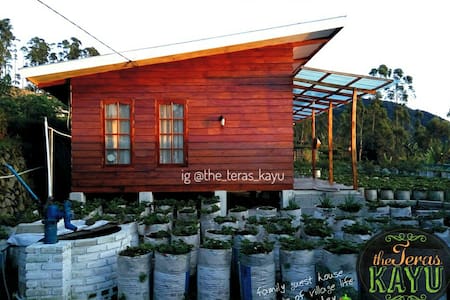 SUPERHOST
Entire cabin · 6 guests · 2 beds · 1 bathroom
the Teras Kayu - family guest house in ciwidey
@the_teras_kayu is not a hotel, villa or anything sounds fancy :D it's just a little cabin in the woods -which is not in the real woods though, so you might not find any luxury stuff it's not even located on the side of the main road (850 m). it's on a small village. that's why we're tryin to offer you something different, things you (probably) might not see/feel in your daily life we expect you to enjoy the nature, the view, sunrise, air, even the view of the rooftops of some houses around :D
What guests are saying:
"I accidentally found this inn when I was looking for on Airbnb. When I arrived at the location, the inn was really nice and comfortable. Far from expectations. The inn is clean, there are lots of freebies, there is breakfast, warm water is there, the place is cold. Anyway great!"
Lokasi Panundaan Valley Ciwidey - 35 menit dari pintu keluar tol Soreang - 41 menit ke Bandung melalui tol Pasir Koja. Dengan fasilitas ruang tengah yang besar dan parkir yang luas (±15 mobil minibus), Panundaan Valley sangat cocok untuk acara kumpul keluarga, acara kantor, ataupun acara komunitas. Panundaan Valley juga dikelilingi oleh pemandangan alam seperti perkebunan strawberry, sungai, dan juga gunung.
What guests are saying:
"It's a great experience to stay here. The host is very communicative and quick response. The house is clean and comfortable, located in the strategic area."
Building on stilts, made of wood, boarded with boards and walled booths (woven bamboo shells), reminiscent of the era house "Baheula" in the rural Tatar Sunda. The location is in the hills with an altitude of 1550 Mdpl, agricultural area in the resident's village. cool mountain air with a good view to be enjoyed with family. The location is easy to reach and close to Kawah Putih sights, Cimanggu hot springs, Walini and Situ Patenggang.
What guests are saying:
"The house bigger than i expected. It was big house, traditional building, clean, and also interesting. Me and my family really enjoy to stay on this place. Kids enjoy the gardening and walking along the vegetables and strawberry plantation. And parents enjoy the view, weather, atmosphere and more. Located on very strategic place. Near to kawah putih also. Thank also for Mr. Cecep and Mr. Uton for helping us. This place highly recommended."