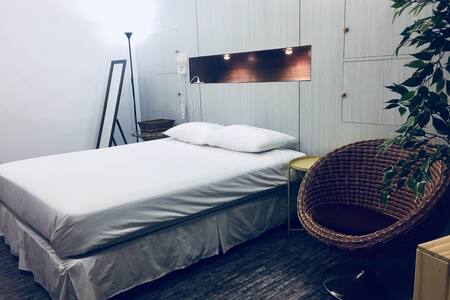 SUPERHOST
Private room · 2 guests · 1 bed · 1 private bathroom
[春光乍現]防疫期間訂一間即包棟☘️雙人套房 / 單獨衛浴 / 恆春墾丁,有陽台(訂房前請先詢問)
位於二樓兩間獨立套房 ·四人房 ·雙人房 防疫期間為維護您的健康,訂雙人房即關閉四人房預訂及上鎖,獨享整棟房源。 ·春光乍現位於恆春半島(26號道上 小杜包子旁)停車方便,鬧中取靜。 附近有銀行,大賣場,連鎖藥局,便利商店,前往各個景點也十分便利。
What guests are saying:
"Let me talk about the house first, the location is very good, very convenient, in the ancient town of Hengchun, go to Kenting Street, a small electric 驴 15 minutes to arrive! The room was clean and tidy. This time I was very fortunate that the entire floor was exclusive to us. Then the boss was too enthusiastic. On the first day, I sent someone to pick us up, arrange a battery car with us, and then give us the route plan because we packed her. The car, the next day, you need to swim the Kenting East-West line, and then bring the fruit to us at night, that Bale is too delicious! sour and sweet! The next morning, we took us to buy breakfast, and then we were responsible for explaining to us. We took a full eight-hour round-the-island tour with me. I took a vacation on the way, and bought painkillers for me. It was more than a male friend. intimate! ! ! ! Hahahaha! This stay is a very happy experience! I have to come back a few times next time."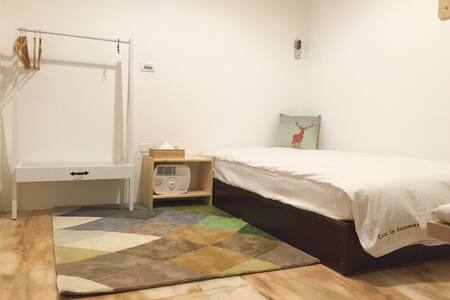 SUPERHOST
Private room · 1 guest · 1 bed · 1 shared bathroom
Cats in summer single room 溫暖舒適的單人雅房 (衛浴共用)
Warm and comfortable single room, need to share the bathroom with others; for travel alone and want to have a private space friends. In order to maintain the quality of the accommodation, the source does not accept the service, thank you !! Our main room is catered to single travellers looking for a cozy private space. Bathroom is shared. To maintain our service quality, adding bed is not allowed.
What guests are saying:
"Not far from the Hengchun transfer station, just five minutes walk. The room was clean and the bathroom did not smell. The owner and lady are very nice, recommended many local restaurants and fun attractions, and the chat process was very pleasant. Hengchun is a quiet, habitable town. Time has slowed down here. I hope to have a chance to come again."
☀Legal homestay, complying with fire safety inspection regulations☀Free to meet you at Hengchun transfer station Newly completed in October 2017, the elevator villa (6 suites) is convenient for tenants carrying large luggage and seniors. Located on Hengchun Road in Hengchun Ancient Town, Hengchun Town (Hengchun Old Street) is behind the villa. Nearby are Hengchun Old Town, Quanlian Supermarket, 7-11 Convenience Store, and well-known local snacks "Village Winter Duck", "Aber Mung Bean Dish", "Little Du Bun", and our Hengchun Night Market on Sunday. ・ Hengchun Transit Station 10 minutes walk, take Bus to major attractions 7 minutes by car from Bay Beach ● 13 minutes by car from Kenting Street (free pick up once) ・ There is a car rental shop next door ★ FREE WIFI, washing machine, clothes yard, refrigerator, bottled water, water dispenser, public living room, free exclusive parking space, electronic access control system Note: The room is completely non-smoking, no extra guests are allowed, but one child under 6 years old is allowed free of charge. Transportation ● Bus: Kaohsiung (Zuoying) or Fangliao take the bus → Hengchun Transfer Station → free shuttle booking. ● Carpooling: directly to the door of the hotel.
What guests are saying:
"First of all, the room was very clean, comfortable, spacious and bright! Very complete facilities, 24-hour hot water (stable water pressure), air conditioning, wifi all in one! The first floor refrigerator is full of drinks, water, and puddings are free, free, and free! The location is great! 5 minutes walk to the old street and eat a lot. The landlord is also very nice. When we arrive, we will first introduce to us where and how to play in Hengchun, which is very kind. The check-in experience was great! I will choose to live here next time I come to Hengchun!"