新型コロナウィルス感染予防につき5月いっぱいまで休業いたします。ご理解をよろしくお願いいたします。
What guests are saying:
"The facilities, the scenery, the hospitality of Yoshiko, the ease of spending, etc. were all really enjoyable. The baby grand piano in the room sounded neatly on the high ceiling while having a cute appearance, and it was a very pleasant space. The window full of morning sun seen from the hot spring and dining was also special. The image was one or two, and I thought it would be very good to come and enjoy living with Yoshiko. As already noted in all reviews, I would like to report that none of them have changed in March 2020, and that they were excellent. You'll experience excellent facilities, views, and great hospitality of Yoshiko here. I love the sound of baby grand piano, it is sensuous and luxurious with high-ceiling living room. I recommend to watch special sunrise from ocean view dining room and hot-spring bath. The space is comfortable for 1 or 2 persons, and you can enjoy life with Yoshiko there.She is every time open-minded, kind and interesting to talk. As hundreds of same good experiences has already shared here, I would highlight every of these are not changed in 2020 :)"
1 minute walk to Shirahama Beach, where the sea is so beautiful! ! The accommodation style is an inn where you can easily stay at a B & B. There are two private open-air baths that can be used 24 hours a day, and you can see beautiful stars when you look up at the sky. Rooms are based on white, Simple, Clean, Relaxing It has become a space. For breakfast, we make bread and egg dishes, dessert, coffee and American breakfast!
What guests are saying:
"It was a vacant beach because it was a beach before the sea opened. It is right in front of Shirahama Ohama beach, so after swimming in the sea, I was able to take a shower and take a hot spring. I arrived in front of the pension at around 11 o'clock and stopped the car, but I entered because I already have a room. So it was great to be able to change clothes in the room! I walked to the sea and was hungry so I ate snacks at a nearby convenience store. The convenience store was very convenient because Lawson was about 2 minutes on foot and Seven-Eleven was about 4 minutes on foot. There are 2 private open-air baths, and there is a lock on the front desk rather than a reservation system, so if you have that key, you can enter it 24 hours a day, it was a simple mechanism ◎. We took both a wooden bath and a stone bath. The bath after the sea had been out of the sun, so I felt the bath water was hot. Since there is no roof, I couldn't put it in because it felt like hot water was rising in the sunlight. It was raining a bit at night, but it was the best feeling. There was shampoo, conditioner and body soap. There was unit bath in room, and there were the same amenity and toothbrush. For dinner, Uogashi-san, in the downtown area of Shimoda, was satisfied with the boiled set meal of Kinme sea bream! A cafe in the building next door with breakfast? We had a simple and delicious breakfast with delicious eggs and salad, bread and fruit in a very fashionable space. The bread was surprisingly chewy and delicious. We were able to guide us smoothly, and the number of guests was unexpectedly one, so we were able to spend a very relaxing and quiet time. Thank you very much. I also want to use it when I go to Shirahama again."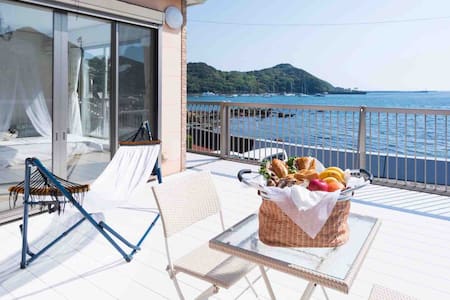 SUPERHOST
Entire house · 8 guests · 6 beds · 1 bathroom
Ocean View 《Marine House 》《Pet, BBQ, Telework OK》
Ocean front (In front of Shimoda port) house. You can use all private place of 2nd floor. Separated entrance. (You can enter the house by Self-check-in.) Two double beds for 2-4 people, two double beds and two single beds for 5-6 people, two double beds and two single beds and two extra single beds for 7-8 people. High speed free wi-fi. Two bed rooms, wide kitchen, bathtub with shower. You can BBQ in front of great sea view.
What guests are saying:
"Mitsuko san was very kind and professional and her communication was fast and easy. The house and its views were just as expected from previous ratings and we loved every moment. When we stayed at the house we had a problem with the wifi and within an hour Mitsuko contacted the provider and had the issue fixed. Also when we asked for extras (futon, knives, towels) she delivered all in not time. The location is perfect. Close to many beautiful beaches, a supermarket within 5 mins by car, Perry Road and lots of cute cafes and restaurants in close proximity. We can recommend this stay. We stayed as a family of 4 and it was the perfect size. Thank you Mitsuko. Domo arigatou gozaimashita! We hope to be return to Shimoda soon."