Unique treehouse cabin with all amenities inspired by forest ranger lookout. Though not actually attached to a tree, the outpost treehouse sits in a white pine forest in the middle of a 65 acre active farm. The 15 hand crafted windows allow for great views watching out for Michigan wildlife--White tail deer, turkeys, owls, coyote have all been spotted from the elevated wrap around deck.
What guests are saying:
"Stan and Deb's treehouse getaway exceeded our expectations by leaps and bounds. The uniqueness of the treehouse setting, the views, the attention to detail and the relaxation factor was stellar. It was so peaceful which is just what the doctor ordered for us. Stan and Deb are a delightful couple and excellent hosts. We loved seeing hummingbirds at the feeders outside of the window and the sky full of stars at night on the deck with a glass of wine in hand. Coffee and Deb's homemade cinnamon muffins on the porch in the morning wasn't shabby either! :) We ventured out a few times to the Ott Biological Preserve and Woodland Park to walk and explore which were relaxing and enjoyable. We got take out from local restaurants and enjoyed dinner on the treehouse deck and s'mores by the fire after watching the sunset across the field. I booked this Airbnb getaway as a birthday gift for my new husband and he has repeatedly said it was the best birthday he's ever had and I believe the accommodations were key. We can't wait to go back!"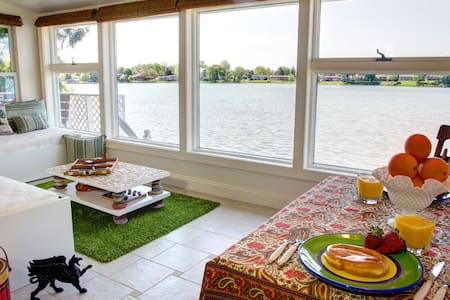 SUPERHOST
Entire cottage · 5 guests · 3 beds · 1 bathroom
Hot Tub Lake Fireplace Boats BBQ Kitchen Fire Pit
The Guesthouse on Schoolhouse Lake has been in my family 1926. A great work & play space. A Sleep Number Bed or an incline bed w/a great lake view. Therapeutic saltwater hot tub, OPEN 24/7/365. Create a meal for 2 or BBQ with friends. Explore the lakes in kayaks, pedal boat or paddle board. We're 5 miles from DTE Music, Great Lakes Crossing, Clarkston, Pine Knob Ski Resort. Close by are Somerset Mall, M1 Concourse, Pontiac, Rochester & Chrysler TC & Tier-1 suppliers. A 55 mins drive to DETROIT.
What guests are saying:
"From the moment I walked in my jaw was on the floor. We were greeted by the beautiful lake through the giant windows and upbeat throw back music. My partner and I did a little dance while we put down our bags and it was honestly magical. I don't remember the last time we busted a move like that. We explored the house and it was like being a little kid again. The little loft stole our attention and we were delighted by the singing bowl and the cushion set up, we both felt like it was a perfect spot to meditate. We were pleasantly surprised by the amount of kitchen supplies, there was literally everything you could possibly need in the kitchen and fridge. The whole space was incredibly clean and that was very important for me because I'm a clean freak. The jacuzzi was PERFECT. There were shades for privacy and the view was incredible. Oh and the bed? SO COMFORTABLE!! I've never been on a sleep number bed, and I am now very interested in getting one for myself. This trip was perfect. I was a little concerned about being so close to the road, but I didn't hear much traffic at all. The noise machine next to the bed was a great touch. I am super impressed with this place and all the little touches from Lori (chocolate on the pillows, checking in, she even brought us fresh robes!) were nothing short of excellent. Thank you Lori!!!!"