日光街道より少し入ったところにある古民家風の建物です。東武下今市駅に近く夕方など運がよければ大樹の汽笛が聞こえます。 8畳の和室(竹部屋)・6畳の和室(お寺風)8畳の居間(レトロ風)IHキッチン・電子レンジ・トースター・炊飯器・冷蔵庫・洗濯機・ガス乾燥機等を完備していますので此処を拠点に日光・鬼怒川・足尾・栗山など連泊してゆっくり観光できます。駐車場もありますのでバイク仲間とのツーリングにも最適です。朝食は焼きたてのパン1斤・シリアル等を無料で提供しております。マウンテンバイク・書道・ゲーム・バーベキュー(炭付き利用料1回2000円お皿等は貸し出しますので食材は近くのスーパーでお好みの物をご用意下さい) 夜は、隣で私が居酒屋もやっておりますので美味しい料理と美味しいお酒を楽しむことも出来ます。
What guests are saying:
"It was a very clean room! Wi-Fi, jam and butter on bread for breakfast. Cereal and milk. Coffee or tea. There are various dishes and pots in the mug, so I think you can do simple dishes. Amenity is prepared from toothbrush to towel and is almost the same as hotel. You only need to bring your clothes. On the same premises as the inn, there is an izakaya where the owner is being worked on, so there is no need to worry about dinner. There is Beisia (supermarket) about 3 minutes on foot, so you can procure locally if it is of super level. The owner was gentle and low-hearted, and was a wonderful person. There is also a guard dog so you can rest in peace. It is recommended."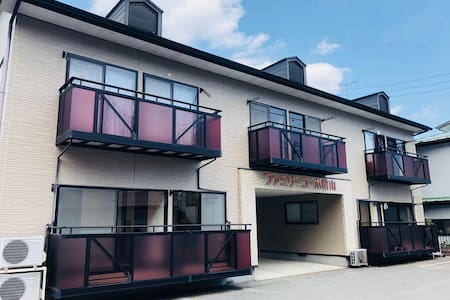 SUPERHOST
Private room · 4 guests · 4 beds · 1 private bathroom
Smile Nikko / Nikko guest house / private house
2DKのお部屋で貸切です。 是非ゆっくり過ごしてください。 歩いて5分でおみやげ屋やコンビニもあります。 和室やこたつがあります! JR今市駅 徒歩6分 東武下今市駅 徒歩7分 最大4人まで泊まれますが、2人は和室、2人はリビングのテーブルをずらして布団を敷いていただく必要があります。 JR今市駅、または東武下今市駅からお越しになる際は、お泊りになるお部屋までの道のりを写真でお送りすることもできますので、お気軽にメッセージをお送りください。 When you come to JR Imaichi Station or Tobu Shimo-imaichi Station, we will send you a picture of the way to the hotel, so please send a message when you need a picture. If there is anything you don't know about how to check in, please send a message.
What guests are saying:
"Charming Ryokan, Nori is attentive to the needs of her hosts and has asked us several times if we need something! It feels like home and the traditional style is really charming Little tips: If you come in winter like us, don't hesitate to take some warm clothes. Indeed the Ryokan have fairly thin walls and let the cold pass which could surprise you If you come from Tokyo and have been accustomed to the constant opening of restaurants, do not forget to check the opening hours of these restaurants in Nikko, indeed outside Tokyo restaurants open and close at stricter hours (necessarily, there there are less people) I thank Nori for her hospitality and recommend this place which will delight you :)"
Welcome to World Heritage site in Nikko.We are looking forward to meeting you (two dogs too).This is a beautiful Japanese house. There is always clean and comfortable.We can prepare a lot of Japanese culture for you. If you like.And It is 6 min walk from Imaichi Stn and Shimoimaichi Stn.The location is surrounded by wonderful natural scenery and traditional culture,it's convenient it's 5 minute walk to the main shopping street.family is so sweetly .You will be a member of the family.See you soon
What guests are saying:
"This is Chen who took care of the host Fukaya couples overnight. It was a great host. I felt like I was back to a very kind relative's house. Three friends and two Fukaya couples were excited while eating a hot pot at home. The talking atmosphere was very good. Then we gave us a handmade gift. Let's go! Of course, get everyone's memorial photos! Two Wang Chan, Mocha and Taka also played together. The house is as beautiful as I can imagine, according to Fukaya-san. It was an unexpected meeting, and my friendship with three of my friends was here. The only thing was that when I tried to take a commemorative photo with Taka and Mocha at the end, Mocha didn't want to be held. ¯ \ _ (ツ) _ / ¯ I want to go again! Next time, I will visit my friend instead of taking care of my host!"