Take a break from the world! Enjoy the amazing land of Ținutul Haitei and the wooded acres from 1043 m to 2.102 m high in the magnificent Călimani Mountains. Sihastru is designed by the architect Ana Hodan, modeled with love, modern design and inspired by hygge-a Danish concept of coziness&simple pleasures. Get cozy, explore, relax, hammock, read, take day trips, #makememories. Be inspired by nature and hygge. The entire property is yours to unwind, rejuvenate, relax, and refocus...
What guests are saying:
"Although I expected it to be a nice and modern cottage with a great landscape, it was still above expectations. It really is a very special place! - the road ends right next to the cottage and is the last one from the top; - behind it is a forest and in front an indescribable landscape; - very quiet, although downstairs is a village (the houses are scattered); - Vlad helped us with advice on the road; - Ramona, who lives next door, offered us the best natural breakfast (+ homemade bread and coffee); - if necessary, you can also ask for lunch (there is a trout farm nearby, Ramona will also help you); - Dornei's hearth is 30 minutes away so I did some shopping there; - there is a refrigerator and barbecue; - Ramona's husband helped us with the fire, and then it was very easy to do. The whole cottage is heated immediately; - the terrace is quite big, you have a lot of space; - the location is for a maximum of 2 people, but a little below the host also has an accommodation for 6 people, exactly like; - everything is very comfortable!"
Die Hütte wurde erbaut als ursprüngliche Sommer Unterkunft ins Gebirge, unter dar Dach haben die Bauern geschlafen und die Kühe waren untergebracht. Es würde Stück für Stück umgebaut und restauriert, um seine Authentizität bis heute zu bewahren, und in eine gemütliche Wohnhütte umgewandelt. Es ist der perfekte Ort Abzuschalten, von Alltag sich zu trennen und auf da zu konzentrieren was im Leben wirklich zählt. Der Gastgeber wohnt in der Nähe de Hauses und hilft Ihnen bei Fragen gerne weiter.
What guests are saying:
"The unique hut on Lake Colibita is an absolute dream! You have a wonderful view of the breathtaking landscape! The location is unique! The hut itself is beautifully built and there is a lot of work in it, which makes you feel very secret! It's just very romantic there: lighting the stove, cooking over an open fire, sitting outside and listening to the silence of nature! The area is very nice for hiking and exploring! (in summer you can also swim and go boating in the lake) Daniel & Adina also live on the property and are on hand to answer any questions and their hospitality was unique and touched us very much! We were warmly felt and were even able to try Romanian cuisine over Christmas! It was beautiful there and we would love to come back & recommend this accommodation wholeheartedly!"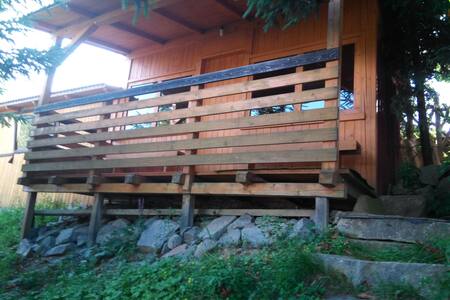 SUPERHOST
Private room · 4 guests · 2 beds · 1 shared bathroom
Casuta din lemn pe malul lacului Colibita
Casuta din lemn aflata pe malul lacului Colibita, cu multa vegetetatie in jur, acces la teren de volei, telescopuri, bucatarie, televizor, gratar. Se pot face trasee montane, proprietarul oferindu-va harti si detalii. Se pot inchiria barci, canoe si caiace
What guests are saying:
"Ioan and Ioana are wonderful hosts, but they make you understand that nature is the main host. They integrated the chalets, the bungalow and the main chalet in harmony with nature. The access to the lake is very generous with views to the mountains and secular spruce forests. Discover many paths and spaces where you can relax, thought and built by the hands of John. The cooking spaces are well equipped. We recommend kayak or boat rides available on site. The surprise is the sculpture salon made by Ioan. We found a place integrated in nature and built in symbiosis with it. Ioan and Ioana are great hosts but make you understand that nature is the main host. The place has generous access to the lake and a great view towards the mountains. The cabins and bungalow are nice and comfy, built by Ioan's hands. You have plenty of places to relax, socialize or cook. We recommend cayac or boat trips which you can rent on the property for a small fee. The cherry on top is a sculptures salon created by Ioan."