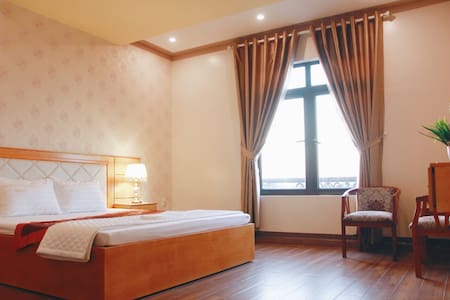 SUPERHOST
Hotel room · 2 guests · 1 bed · 1 private bathroom
Xuan Thanh Hotel - Cheapest price - Thanh Hoa city
My house is very quiet. The room always clean. There are full amenities in my room such as Wifi, smart TV, air conditioner, fridge, hair-dryer, closet, laptop table... My receptionist is nice. My house is very near Big C supercenter Thanh Hoa where bus stops and main road 1A highway. It take only 5 mins to travel by motorbike from my house to the bus stop. So, it is easy to move to the other province. Besides, my house is about 10 km from Sam Son beach which is very famous sea in Viet Nam.
What guests are saying:
"The place is clean and with lots of natural light. The mattress is firm, but it proved to be great for my backpacker spine. These people are one of the nicest I've met in my life. They invited me to eat with them and adapted to my more-vegetables-than-meat preferences. I had to work in my room, so they constantly asked me if I need anything and brought me fruits. Thank you for everything!"
Vị trí trung tâm thành phố, gần quảng trường Lam Sơn, gần chợ Tây Thành, chợ Điện Biện, gần Ga Tàu, khu phố an toàn, view hồ
Cho thuê căn hộ chung cư cao cấp Xuân Mai Tower. Căn hộ 48m2 cho thuê 7tr : Gồm 2pn - 1vs. Có ban công Căn hộ 62m2 cho thuê 9tr. Gồm 2pn - 2vs . Có ban công và logia. Nội thất được thiết kế full như hình, mới hoàn toàn. Ngoài nội thất cơ bản căn hộ được trang bị đầy đủ các thiết bị và tiện ích chỉ cần xách vali đến và ở. Thiết kế theo mô hình dành cho chuyên gia nước ngoài làm việc dài hạn và phù hợp dành cả hộ gia đình nhỏ.