SUPERHOST
Earth house · 2 guests · 2 beds · 1.5 bathrooms
Tida House (Hand-made strawbale house!) ティダハウス
We are at country site surrounded by potato fields. You can stay at self-builded straw bale house. We have two singl beds, and very simple cooking facilities, toaster, microwave oven and a refrigerator.
What guests are saying:
"Truly as what it was described on the listing, Tida House was really an awesome and cool place to live in. Featuring different types of furniture and decorations. The heater was lighted up and ready when we have arrived at Tida house, really appreciate for it as we were freezing cold. Host Yuya was very friendly and welcoming, sharing with us about Abashiri and also directions/places that we wanted to visit. The restroom is just outside/beside the entrance, so be prepared to brace through the cold feel for 5 secs to use the restroom! Overall it was a terrific experience to be staying in Tida house, hope to try out and visit the Suiba Cafe the next time when we are in Hokkaido again! Be sure to drive when coming to Tida house as it is accessible to Abashiri and Shari area to check out for!"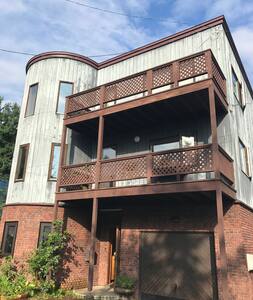 SUPERHOST
Private room · 2 guests · 2 beds · 1.5 shared bathrooms
海の見える開放感ある一軒家 A house with a view of the sea
It's convenient for the Sapporo center and Otaru sightseeing! Convenient for sightseeing in central Sapporo and Otaru! I will pick you up at the nearest Zenibako station We will pick you up at the nearest Zenko Station. The Japanese-style room is 6 tatami mats and can sleep with a futon for up to 2 people. (There is another room for 3 people or more. Please check the listing. Equipped with an air purifier that can remove coronavirus. Equipped with an air purifier that can remove coronavirus.
What guests are saying:
"The host and the couple welcomed me warmly. They were very young, full of energy and full of energy. This is the magical magic of loving and insisting on sports! The large living room and bedroom on the first floor, the sink and the fragrant toilet are all used by me, very good value! The breakfast hostess made was great! It was art-like enjoyment, and the couple was very talkative, and we were able to talk to each other with translation software. They have traveled to many places and have just returned from Beijing. Very nice and hospitable landlord couple, they also gave me a towel with a cartoon image of the hostess surfing, too great! I wish them good health and happiness!"
This room is in the downtown area of ​​Otaru and is located in the place where you feel the living feeling of Otaru people. Because it is in downtown, there are plenty of eateries and it will not endure for meals. Although there is no parking lot, there is coin parking at least. Depending on the season, it is around 600 yen to 800 yen in 24 hours. I do not live here, but I'd like to enjoy my favorite city Otaru as much as I can, so if you have any troubles, please tell us, because it is me of the local people, the shops you know, information I think that I can tell you. . The room is one living room and one bedroom. I have two pairs of futon in the bedroom of the bedroom tatami. On the first floor there is a restaurant open until 11 o'clock and the room is the second floor. It is not a kind of hotel but a simple room, but it is a clean room. The scenery from the window is bad because it is in downtown. Since there are stairs until you go up to the room, we do not recommend it for family with children.
What guests are saying:
"[EN] Super well located apart, quiet, super comfortable futons. Naomi is smiling, available and gave us lots of advice for our stay. She picked us up at the station, with the amount of snow falling it was much appreciated! We could not regulate the heating: she came to help us within half an hour. [EN] Very good location. Super comfortable futons. Naomi is so kind and helpful!"