Beautiful studio apartment located in a quiet safe area, 10 minutes from the center of the port of Piraeus. the apartment has everything you need to ensure that you have a great time. 5 minutes from the house there is a bus stop, 2 supermarkets, a pharmacy, a cafeteria, a confectionery.Уютная квартира студия находится в тихом безопасном районе в 10 минутах от центра порта Пирей.В 5 минутах от дома находится автобусная остановка, 2 супермаркета, аптека, кафетерий и кондитерская
What guests are saying:
"For a start, the neighborhood is very nice and quiet. Irene very kind and helpful house with that I opened the door came an incredible cleaning smell. We will definitely go again peace thank you"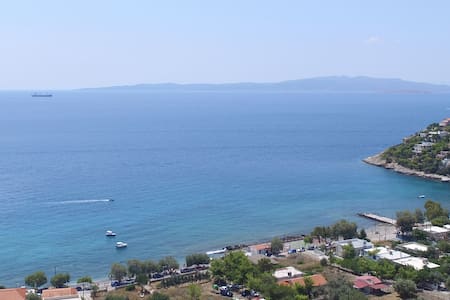 SUPERHOST
Entire cottage · 4 guests · 7 beds · 1.5 bathrooms
Vacation house with majestic sea - mountain views
Η θέα του ειρηνικού αυτού καταφύγιου είναι  αναζωογονητική. Η οικογενειακή, εξοχική κατοικία σχεδιάστηκε σε αναζήτηση γαλήνης και δημιουργίας. Ο αιγαιοπελαγίτικος ήλιος, το πευκόφυτο βουνό, η απέραντη θάλασσα, το φεγγάρι που τα βράδια την ασημίζει, ζουν εδώ σε όλο τους το μεγαλείο. Τα πουλιά την αυγή, ο ήχος της θάλασσας, οι γρύλοι κι η μεθυστική μυρωδιά γιασεμιού και πεύκων απογειώνουν τις αισθήσεις, συναρπάζουν την ψυχή, ανυψώνουν το πνεύμα που βιώνει ηρεμία, έμπνευση, πνευματική υπέρβαση.
What guests are saying:
"We had the most fabulous time at Maria & Panagiotis place in Peristeria. Such a great location with spectacular views of dawn, sunset and everything in between and just a short walk to a lovely beach and excellent, very reasonably priced taverna. The accommodation is equipped with everything one could need, large and very comfortable bed and sofas and beautiful decor and furnishings and spotlessly clean. There is a marvellous feeling of peace, relaxation and beauty all bathed in the wonderful Greek light from the many big windows. A truly special place with very special, kind, sensitive and happy hosts. We will definitely be back as soon as we can! VERY highly recommended !!!"