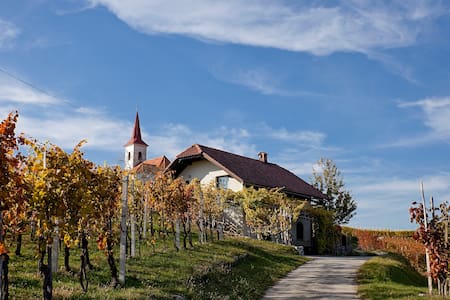 SUPERHOST
Entire house · 4 guests · 1 bed · 1 bathroom
Cottage in the vineyard, airport transfer,car rent
Warm vineyard cottage located 8 km from Metlika and river Kolpa between the vineyards. Peaceful place, no neighbours, quiet time for yourself enjoying pure nature. We can arrange you a car during your stay here so that your experience in Metlika is even better. Also we can arrange you airport transfer to Vidoišiči. You can go swimming to the river Kolpa, go around with our car exploring beautiful Bela Krajina or go hiking to different places around Metlika.
What guests are saying:
"Eva's place was sensational . A perfect little house for a Bela Kranjia escape. The place was super clean and has everything you need. There is a beautiful terazza with vines draping down and divine fig tree. You can walk through the rolling vineyards and stroll up to the neighbouring vineyard Sturm for a tasting. Metlika town is nearby ( a 10 minute drive) and the local castle has the best wine bar in Slovenia. Metlika has everything you need supermarkets etc. If you get sick of the Vidiosici views ( which is nearly impossible) you can spend your afternoons down at Primostek on the River Kolpa to relax and swim or doing wine tastings at the nearby wineries. Eva recommended her cousin Francie who does airport transfers and driving around the region – he was excellent and highly recommendable for any transfers or long commutes you may need. Francie helped us with Airport transfers and transfers to the Coast. Just a handy note if you stay in Vidosici you really need a little car – Vidiosici is a tiny village with no shops so Metlika is closest for buying food but you need a car – it is too far to walk. But as a base in Slovenia it is great – 1 hour to Zagreb, 1.5 hours to Ljubljana and 2 hours to the Croatian Coast or Slovenian Coast. We didn't get to meet Eva as she was away but she left the Keys at the Wine bar and we grabbed them there and we are familiar with Vidosici so find her place was no problems. Visiosici is now on GPS so you can also just punch the address in. I would highly recommend staying at Eva's Zidanica (little house) for relaxing by the vines or for exploring the beautiful region of Bela Kranjia. Thank you Eva , we will see you next year when we return to Vidosici! Hvala Lepa Eva ! ! Martina & Michael"
Placed within a peaceful village close to river Kolpa, where you can enjoy swimming in summer. Great place to relax, to be creative, to gain new energy and to renew oneself. Close to Metlika, where you can buy all your groceries in Mercator or Spar. Five minutes away from the border crossing with Croatia. The two bedrooms are interconnected. The keys will be waiting for you. It is a home away from home.
What guests are saying:
"I stayed with my boyfriend 4 nights. The holiday house is in a beautiful tiny countryside village (20 houses) and has a big garden, perfect for families or perfect to relax. We played badminton in the garden, cooked, played boardgames and so on. The clean river is about 300 meters away we used their canoe to paddle to Krasinec and bought some local stuff from a farmer. We came without car to Otok. There is a train going from Lubljana via Novo Mesto to Dobravice and Metlika. From Dobravice you can walk about 7km to the house or you can take a bus from Metlika or Novo Mesto to Otok (1km walk from main road). Train times: slo-zeleznice dot si bus: avrigo dot si or type your "route" in google maps and click "public transport". However when we arrived Urskas husband took us with him by car. Afterwards we continued our journey to Zagreb (bus from Otok to Metlika, train from Metlika via Karlovac to Zagreb) It was great, thank you."
Cottage house in Nature Park "Žumberak", surrounded by orchard, situated by the river Kupčina, with large natural grassland, outdoor barbeque, park places and winter garden. It has 2 bedrooms, 2 bathrooms, living room and cellar. Nearby, there is born house of blessed alojzije Stepinac, Old town Ozalj, Valley of Cardinals, Slapnica canyon, with two beautiful little waterfalls, "Brisalo" and "Vranjak", as well as couple of excellent trout ponds and vinemakers.
What guests are saying:
"This place truly is a slice of heaven. Cozy house, beautiful landscape arround, with a stream flowing few meters away. Surrounded by woods, clear air and a starry sky, we couldn't wish for a more perfect getaway from the city! Hrvoje is also a really hospitable host. We are definitely coming back, it would be amazing to see this place in every season as the scenery changes."