samodzielny, całoroczny dom z pełnym wyposażeniem, dla ludzi ceniących ciszę, spokój i nieskrępowany kontakt z przyrodą, dla małej i dużej rodziny na niezapomniany wypoczynek lub dla zgranej paczki na wypoczynek lub imprezę, do dyspozycji gości dom, dla dużej grupy dodatkowo domek letniskowy, wiata grilowa z miejscem ogniskowym, wiata parkingowa, świetne baza wypadowa dla osób ceniących aktywny wypoczynek, piękne trasy do wędrówek pieszych i rowerowych, dom na skraju parku krajobrazowego.
What guests are saying:
"This is paradise. Off the beaten path, among fields, covered by an inconspicuous forest. With a place for a bonfire, with a huge area to talk with nature. Even the rainy weather did not spoil the trip - the fireplace did warm, comfortable sofas and armchairs did cozy, and a whole bookcase. There are elegant puddles for children near the plot. Story. We will be coming back :)"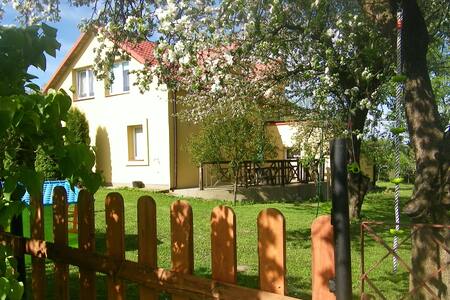 SUPERHOST
Private room · 5 guests · 4 beds · 1.5 shared bathrooms
Agroturystyka Mazury - Elganowo Pokój pomarańczowy
Elganowo 43 to malowniczo położona miejscowość wśród mazurskich jezior. Przygotowaliśmy dla Ciebie jeden pokój gwarantujący spokój, ciszę, wygodę. Elagro zapewni Ci także możliwość aktywnego wypoczynku, na sportowo ;) Znajdziesz tu sprzęt do Crossfit, Street worout.. Bliskość natury, cudowne widoki, cisza..., wszystko co jest Ci potrzebne do prawdziwego wypoczynku :). Elagro jest przyjazne dla: pary, przygody solo, podróżujących w interesach, rodzin (z dziećmi) oraz dużych grup.
What guests are saying:
"Elagro is a true jem! We spent 6 days with 3 children in this unique place. Staying with Grzegorz and his family is a rare opportunity to experience the daily life of a polish family in a mazurian home, and meeting guests from around the world- it's priceless, and you cannot find it elsewhere. Not to mention that the farm and it's surrounding are breathtaking. Grzegorz and his family are very special and easy going people, they treated us like family in a way we will never forget, and did everything to make us feel comfortable. We played with the animals, went fishing with Grzegorz's help, got a lot of recommendations of what to do, cooked our meals but also were invited to eat and taste grzegorz's mother polish dishes and more. The house is very child friendly with a lot of toys, trampoline, swings ext. We are grateful for everything they did for us, and already miss them. We wish them good luck and many good guests :)"
Предлагаю отдых в прекрасной деревне, здесь Вы отдохнете от суеты в тишине. Рядом речка , по которой на байдарках можно доплыть до озера,(400метров. )Озеро в длину 4 км, вода в ней очень чистая. Прекрасный воздух и пейзаж ! Имеется пляж , пешком идти минут 20 . На участке несколько беседок и мангал. В округе много озер и рек, в разных направлениях старинные замки .. Приезжайте и сами убедитесь , как здесь прекрасно !!!
What guests are saying:
"I want to express my greatest gratitude from the bottom of my heart to this simply SUPER FAMILY !!! I WISH THEM FOR GREAT HEALTH))) Над We have come to Hope for more than a year and the time of rest flies by in one breath, we never want to leave it !!! Rest in this cozy place is always not forgotten) If you visit Nadezhda at least once, you will leave this rest forever in your heart and want to come again and again) Hope will always find for any person, whether a child or an adult, an interesting occupation or hobby. Nadezhda and Ezhe- We love you very much, always very warm, cozy and comfortable, thank you for EVERYTHING"