A very tranquil one bedroom art/music studio with a gorgeous view over the hills of Brown County. One does not need to be an artist to enjoy this space. Private entrance, mini kitchen, Huge tub, total privacy. Only two miles to Downtown Nashville.
A one bedroom art/music studio with a gorgeous view over the hills of Brown County. You do not need to be an artist to enjoy this space. Private entrance, mini kitchen and bathroom with 28 woodland acres to explore. Only two miles to Downtown Nashville. Disco ball included. Awesome view, quiet space to create or (website hidden) , mini kitchen, California king Bed Only if they need us. The beauty of the woodland hill surround us. Bird lovers paradise! No public transport
The beauty of the woodland hills surround us. Bird lovers paradise!
My friends and I loved staying at the Nashville Art & Music Loft. We had a wonderful time exploring Nashville, hiking, mountain biking and zip-lining. The property is tranquil and secluded. We'd love to go back, any time of year.
Christie
2015-09-08T00:00:00Z
Beautiful setting, very comfortable accommodations. Toby is a great host, friendly, caring and attentive. Very unique cool loft.
John
2016-10-03T00:00:00Z
A perfect romantic getaway for musicians, artists, and all those looking for peace and tranquility.
Verity
2016-10-23T00:00:00Z
Toby is an awesome host, and his loft is a very special place that you would love to visit. I cannot do anything but highly recommend Toby and his music loft. We stayed at several other places in Brown County, and there is no place as splendid as this.
Tj
2017-02-20T00:00:00Z
Toby is fantastic, from top to bottom, a great gentleman. Kind person with great attention to detail.
Chris
2016-12-09T00:00:00Z
This is my second stay with Toby, and with my son enrolled at IU for three more years, there will hopefully be many more visits to come! If you are a rock-and-roll fan, or if you enjoy a beautifully decorated and secluded place to stay in the southern Indiana hills, then this is absolutely not to be missed. Of course, the best part of it all is your amazing host, and getting to experience his memories from his life in music. Thanks again!
Robert
2017-03-05T00:00:00Z
Nashville West is a wonderful way to escape the doldrums of everyday life. The space is unique and special. There is great artistic energy here and at time you can almost hear Toby and his mates Jamming on the stage and having a grand time. It isn't everyday that you get to experience the energy and magic of a bonafide recording studio loft. The décor is fantastic, the view amazing and the solitude a welcome escape from daily life. The location is a quick 7 minutes to and from Town, so you are so close, yet far enough away to enjoy the peace and quiet solitude provide on this property. This was our first time using AirBNB and it couldn't have gone any better. We would like to return during warmer weather and enjoy more of the property and the surrounding beauty of Brown County.
Eric
2017-03-17T00:00:00Z
Toby's place was everything that we were looking for. We wanted a nice quiet weekend away and that's what we got. Toby was a gracious host and he was cool to talk to you for the short amount of time that we conversated. We would come back again definitely
Mark
2017-03-12T00:00:00Z
Room Type
Entire home/apt
---
Property Type
Loft
---
Accommodates
2
---
Bedrooms
Nashville, IN, United States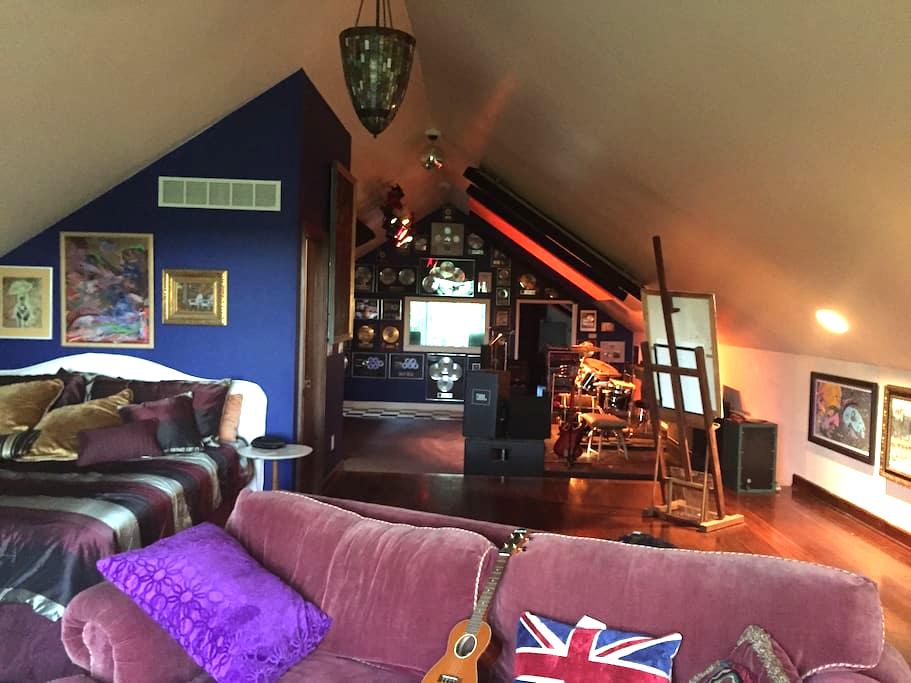 A cozy loft located above Salt Creek Winery's tasting room, downtown Nashville, IN. Walking distance to everything. Full Kitchen, 1 Full Bath, 1 Bedroom with new queen bed, 1 cot bed and 1 new queen sleeper sofa in living room. PRICE INCLUDES ALL TAXES.
There is plenty of room in the loft but it is a "loft", so ceilings are sloped! The tasting room downstairs may be loud with laughter and conversation during business hours.
Located behind Bigwoods Brewery and Pizza in the heart of downtown Nashville. Close to great food and night life. Nashville is a historic artist colony with lots of small shops, dining and galleries. Salt Creek Winery has a tasting room on the lower level of the rental, but the entrance to the upstairs is entirely separate.
Great little space right in the center of town with a small, but private parking spot. The only time we had to use the car is when we went to the State Park. Way better than a hotel room!
Randy
2016-09-05T00:00:00Z
This was a great location in Brown County! The loft is so cute and cozy, I would want to live there. Easy check in and check out.
Allie
2016-09-19T00:00:00Z
This is an awesome little place. It feels like home the second you walk in, just a really great place. I highly recommend it for a getaway with the state park nearby and the shops and nice restaurants within walking distance.
Jess
2016-07-11T00:00:00Z
The Wine Loft is an incredibly cozy, comfortable place to stay in Nashville. It's very convenient to all the shops, super clean and has everything you need for a comfortable stay. Adrian is such a kind host. I can't wait to come back and stay again!
Lauren
2016-10-02T00:00:00Z
Wonderful location and very clean and inviting. The fireplace was a nice surprise too. We knew we were staying over a business and we wouldn't have expected the apartment to be quiet during their business hours. However, we could not even fall asleep at midnight due to the noise downstairs. Unfortunately, we were also awakened at 7:30 am on Sunday morning due to the same banging noise below us. That is unacceptable when your business is open from 11:00 to 6:00. Not sure we would ever be back for a stay here.
Gina
2016-11-13T00:00:00Z
Yes the description is accurate. very comfortable - right in the middle of the town.
John
2016-10-23T00:00:00Z
We had a great stay here at the Wine Loft! Everything was clean. The host was very communicative before and while we were there! It was so nice to be right in town. We would love to come back sometime.
Rachael
2016-07-24T00:00:00Z
The Wine Loft is the perfect spot to explore Nashville from. You're literally in middle of everything. Adrian was an excellent host. I let him know I intended to cook bigger than average meal during our stay, and he responded with considerations re: what items I may need to bring, and even gifted a bottle of Riesling for the meal! Excellent communication and a spotlessly clean and comfy, modest apt. The kitchen was perfectly adequate for my prep, and the next day we enjoyed wandering around town, knowing we were a few short blocks from our place at any moment. Never felt the least bit inconvenienced by the activity downstairs in the tasting room, which we also patronized. Highly recommend the Wine Loft as a base of operations when visiting the area.
Kip
2016-11-26T00:00:00Z
Room Type
Entire home/apt
---
Property Type
Loft
---
Accommodates
4
---
Bedrooms
Nashville, IN, United States
Located 2 miles from the airport and 8 miles from downtown. The carriage house loft has a 2 story solarium with hot tub inside overlooking a woods and pond. It includes a home theater, sleep number murphy bed, with upstairs dining in the solarium.
Calvin was a wonderful host! The description and photos of this place don't do it justice. It was a spectacular place to stay and he has thought of every detail for this home. I would highly recommend staying here, you won't be disappointed. He was very helpful in making some arrangements for me ahead of time and went above and beyond to make our stay great! If you're anywhere near the Indianapolis area, this is the place to stay.
Logan
2016-05-23T00:00:00Z
Room Type
Entire home/apt
---
Property Type
Loft
---
Accommodates
2
---
Bedrooms
Indianapolis, IN, United States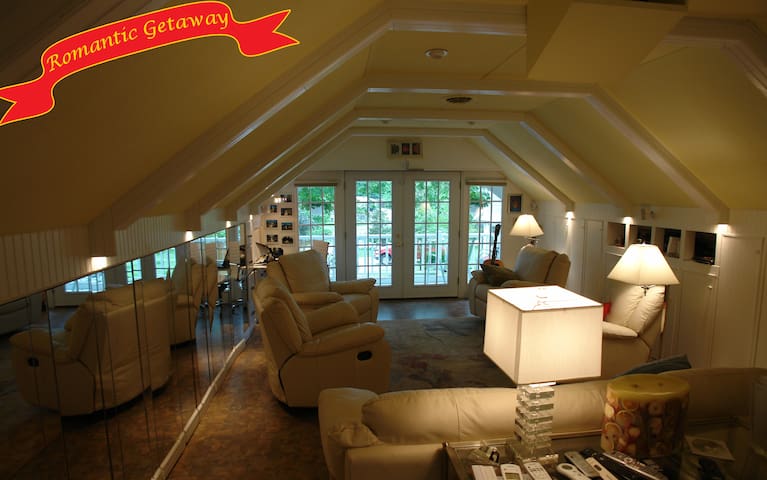 Great Party Space Near Downtown Indy Lots of room nice lounge has 2 bathrooms in a great neighbor hood Feel at home in the heart of Indy's cultural district its also less then 5 miles to downtown indy (Not a house no beds available!) No smoking
I cant say enough good things about the way Walter accomodated us on such short notice. Within a few hours he had his listing up and running and worked with me from the start. Will definitely be staying with him again in the near future!
Paulos
2016-07-24T00:00:00Z
Will definitely be using this space again. Nice quiet area to come back to and have a good time with a lot of room. Was great for our needs and couldn't have done it a better way. Walter was extremely nice and flexible and everything went according to plan!
Matt
2016-08-07T00:00:00Z
Room Type
Entire home/apt
---
Property Type
Loft
---
Accommodates
16
---
Bedrooms
Indianapolis, IN, United States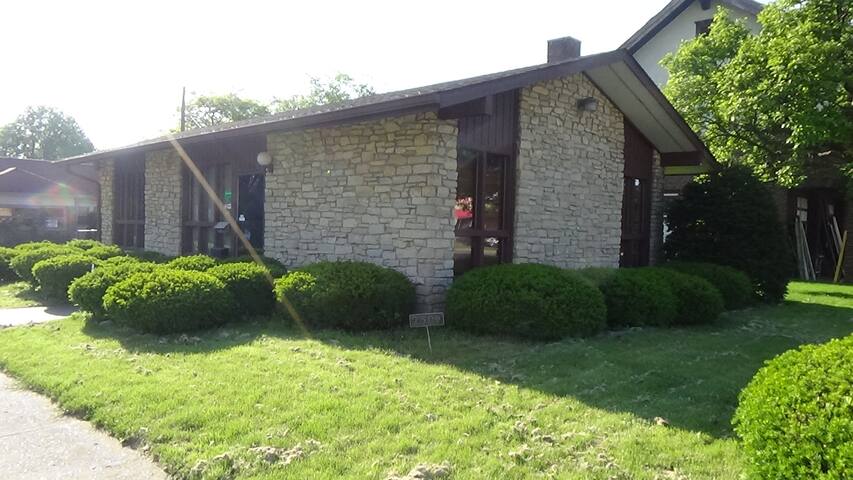 Enter dates to see full pricing. Additional fees apply. Taxes may be added.